It Really is November
I can't figure out why but I just feel like Thanksgiving is a week early. It's that same feeling when your body?knows it's Friday, but the calendar is still insisting that it is only Thursday. So, procrastinating will be the verb of this holiday. I finally got around to Pinteresting and digging up old recipes and finding old links for recipes-I-used-a-million-years-ago-but-now-my-husband-says-hey-can-you-make-THAT-stuffing-you-know-the-really-good-one? So, here's the plan:
---
Thanksgiving Menu
Appetizers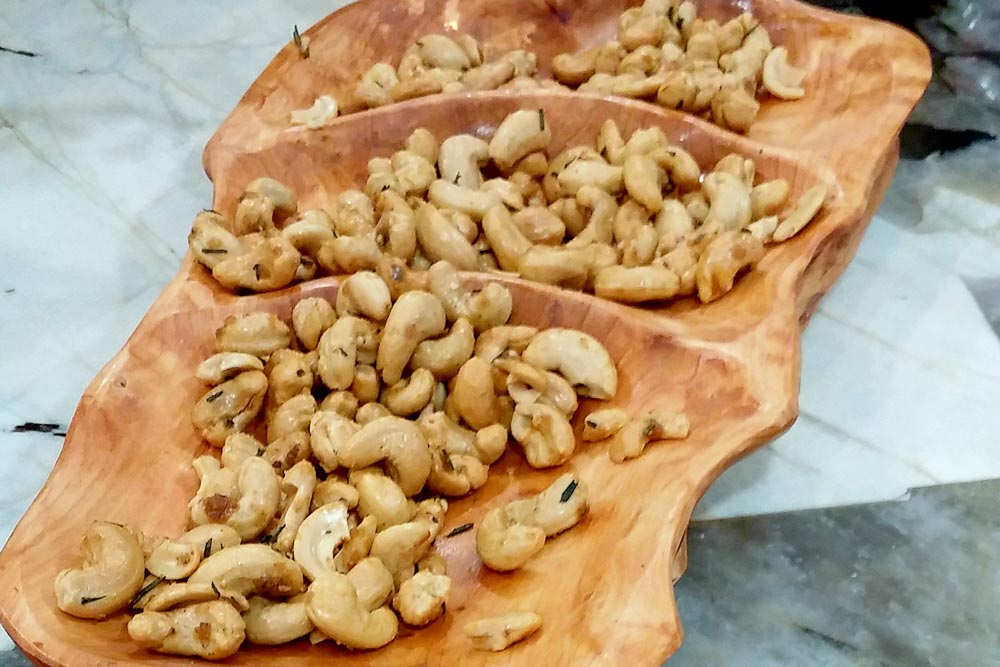 Sausage Rolls with Worcestershire Sauce: Prep and Assembly time 30 minutes, cook time 35 minutes at 350. To make slicing easier once laid seam-side down, cover and freeze until firm, 15 minutes or so; can be made ahead by assembling and cutting then cover and refrigerate for up to 8 hours or freeze until firm; layer between waxed paper in airtight container and freeze for up to 2 weeks, add 5 minutes to baking time; for appearances, add an egg wash before baking whisk together one egg and 1 Tbsp. of water and brush over the rolls; and, if you are really in a rush these can be baked a bit faster in a 425 degree oven for 20 minutes.
Main Dish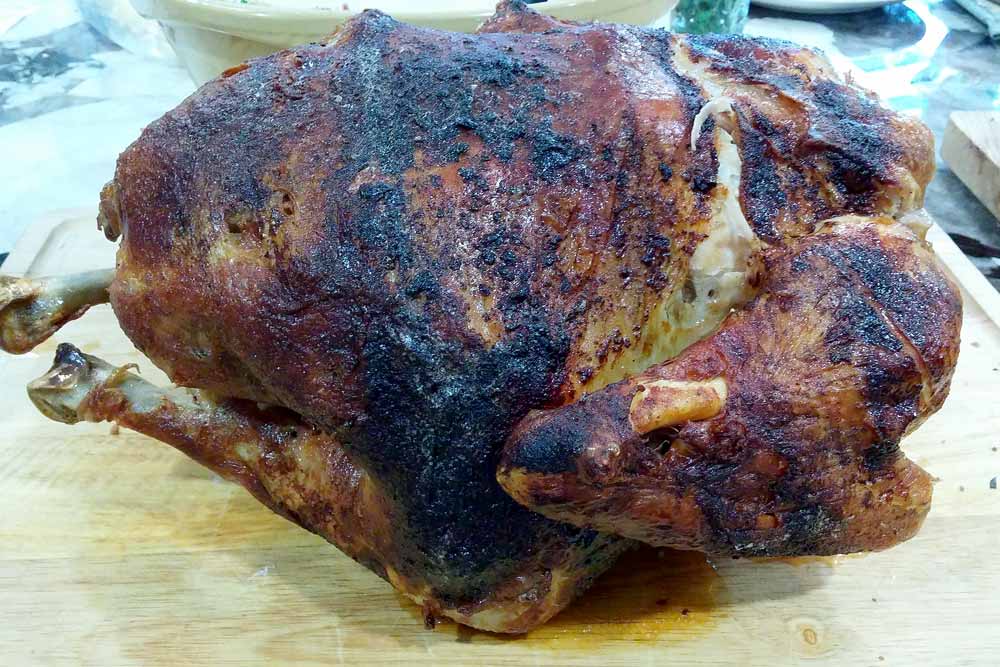 Side Dishes
Stuffing: Bake the cornbread at least a day in advance and go ahead and chop vegetables etc. so day-of cooking is easy peasy. Maybe double so you will definitely have leftovers? Yes.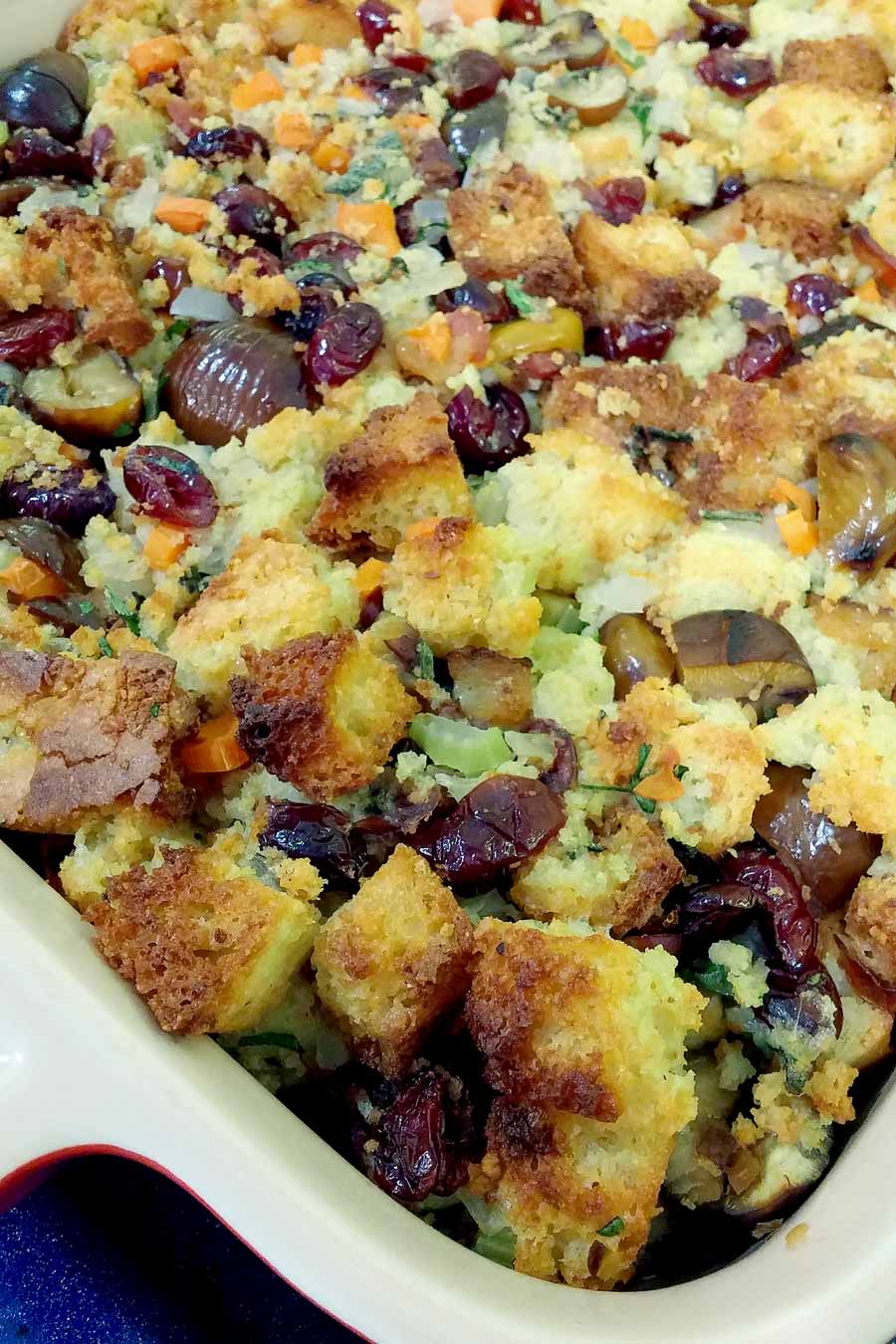 Pan Gravy: Pan gravy is an art, following a recipe for it is hard. Read some recipes, watch some videos, but in the end, you are going to have to rely on your senses – smell it, taste it, watch it. In general, for every 1/3 cup of dripping fat (add butter if you do not have enough), you will need about 1 cup of flour, and 2 cups drippings (not reserved fat) and stock.
Maple Bacon Wrapped Green Beans: Scale to crowd size. I would average 2-3 bundles per person as a side dish; Prep time 20 minutes, cook time 50 minutes at 400; could be assembled and refrigerated ahead and then popped in the oven an hour before dinner.
Melting Sweet Potatoes: Scale up to party size and maybe add some bourbon to the sauce. Prep 10 minutes, depending on your potato peeling skills, cook time 40 minutes at 425. Make the sauce while potatoes cook.
Desserts
Cherry Pie: This is a great recipe but you can substitute canned sour pitted cherries (in water and drained) for fresh. It is way cheaper and easier!? Either way, definitely add more cherries, at least 3 cups. To save time you can easily make the filling ahead and either buy pre-made refrigerated pie dough or make them ahead and freeze them. If you want a pie crust that says so explicitly in the recipe check this one out it also makes a bit more so if you like to have more to work with this may be the way to go.
Pumpkin Pie: See side of can, Libby's it is basically perfect – double the spices.
Drinks
---
Need a shopping list? Well, we have that too! (I'm scaling all my recipes up to feed 8-10 people and the quantities below reflect that)
Thanksgiving Day Shopping List
Produce
1 carrot
1 celery stalk
4 cloves of garlic
1 1/2 lbs. fresh cranberries
2 1/2 lbs. fresh green beans
1 lemon for zesting
1 orange, for zesting
3 medium onions
1 yellow onion
1 baking potato (3/4 c. yield diced)
2 scallions
4 lbs. sweet potatoes
fresh parsley (I prefer the Italian or flat-leaf variety)
1/2 tsp. fresh thyme
4 Tbsp. rosemary
6 Tbsp. fresh sage
vegetables for dipping in cheese
Dairy
1-8 oz. package cream cheese
5 large eggs
6 oz. Gruyere cheese
milk
1 qt. + 2/3 cups orange juice
2 c. sour cream
15 T. unsalted butter + butter for basting
Meat
3/4 lb. ground pork or veal
25-30 slices of thick cut maple bacon
16 slices of bacon, for stuffing
12-14 lb. turkey
Middle of the Store Miscellany
2 liters (or 2 qts.) apple juice
2 liters (or 2 qts.) cranberry juice, unsweetened
2 1/2 lbs. cashews
2-4 cups Chicken Stock, for gravy
6 cups Turkey or Chicken stock, for stuffing
2 cups dried cherries
2-14.8 oz. jars French chestnuts
hot sauce
Kettle Chips or Crostini style crackers for dipping
1 c. maple syrup
1 c. chopped pecans
1 c. Worcestershire Sauce
Pantry
baking powder
6 Tbsp. brown sugar
1 tsp. cayenne pepper
3 cinnamon sticks
1/3 cup corn oil
1/4 tsp. crushed red pepper flakes
1/4 tsp. ground cloves
3 cups all purpose flour, plus more for dusting & thickening
3 cups cornmeal
2 Tbsp. olive oil
1 Tbsp. dry sherry
3 cups + 1 tsp. sugar
Salt & Pepper
Frozen
1 pkg. frozen puff pastry sheets
Other
How about y'all? Link your favorite recipes in the comments!
For more ideas check out our other menus and Thanksgiving Day Plans (2017) and our Thanksgiving Board on Pinterest