A Traditional Thanksgiving Menu for a Simple Stress Free and Delicious Holiday
Looking for an amazing Thanksgiving menu? One that you won't stress over and is impressive and tasty? Here we are. This selection is perfect because I am out of sorts with the feeling that Thanksgiving is a week early. It is that same feeling when your body knows it's Friday, but the calendar is still insisting that it is only Thursday. So, procrastinating will be the verb of this holiday. I finally got around to Pinteresting and digging up old recipes and finding old links for recipes-I-used-a-million-years-ago-but-now-my-husband-says-hey-can-you-make-THAT-stuffing-you-know-the-really-good-one? So, here's the plan:
---
let's get started
Appetizers
These can be made a few days in advance. Double it, triple it, they are so good!
Total time 1 hour, cook time 35 minutes at 425. Pre-slice onions & grate the Gruyere to save some time the day of.
It is easy to prep days in advance and so delicious that it will probably be eaten befor you even get any!
let's tuck in
Thanksgiving Menu Main Course & Sides
If you have never had a rotisserie turkey it is the most moist and delectable bird you will every taste! They are a little more work to set up than a roast turkey but worth every extra minute – and once it's set it is pretty low maintenance!
Pan gravy is an art, following a recipe for it is hard. Read some recipes, watch some videos, but in the end, you are going to have to rely on your senses – smell it, taste it, watch it.
Cornbread Dressing with Chestnuts
Total time 1 hour, cook time 35 minutes at 425. Pre-slice onions & grate the Gruyere to save some time the day of.
Prep time is a super simple five minutes. Cook time is 20 minutes – almost completely hands-off. This recipe is fast and easy, just how I like 'em.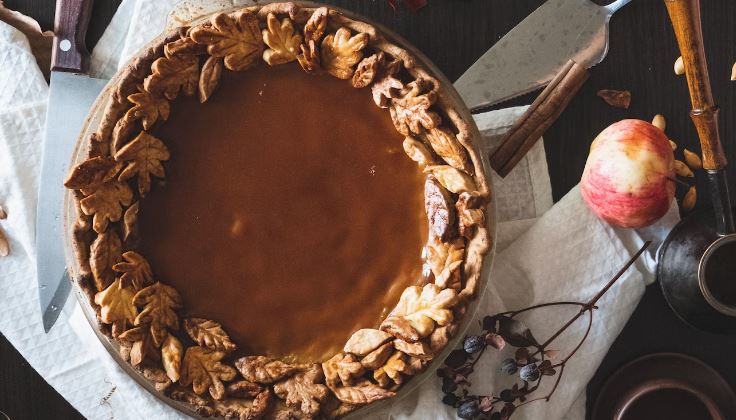 This is a great recipe but you can substitute canned sour pitted cherries (in water and drained) for fresh. It is way cheaper and easier!? Either way, definitely add more cherries, at least 3 cups.
To save time you can easily make the filling ahead and either buy pre-made refrigerated pie dough or make them ahead and freeze them. If you want a pie crust that says so explicitly in the recipe check this one out it also makes a bit more so if you like to have more to work with this may be the way to go.
See side of can, Libby's it is basically perfect – double the spices. One trick for a smooth and creamy pie is to run your pumpkin puree through a food processor. Top with Stable Whipped Cream.
Easy assembly, 5-minute prep, 3-4 hours on low. Really want to impress your kids? Try Hot Butter Beer!
---
How about y'all? Link your favorite recipes in the comments! And, for more ideas check out our Thanksgiving Week Plan and our Thanksgiving Board on Pinterest