Mmmmm, rotisserie turkey! We love cooking our Thanksgiving turkeys on the rotisserie. If your grill has one and you haven't given it a go yet this could be the year for you!
The most difficult part is balancing the weight. Prepare to get up close and personal with your turkey. It's okay to give it a name. You will get intimate. However, once you get it balanced and spinning the pay off is worth the wrangling!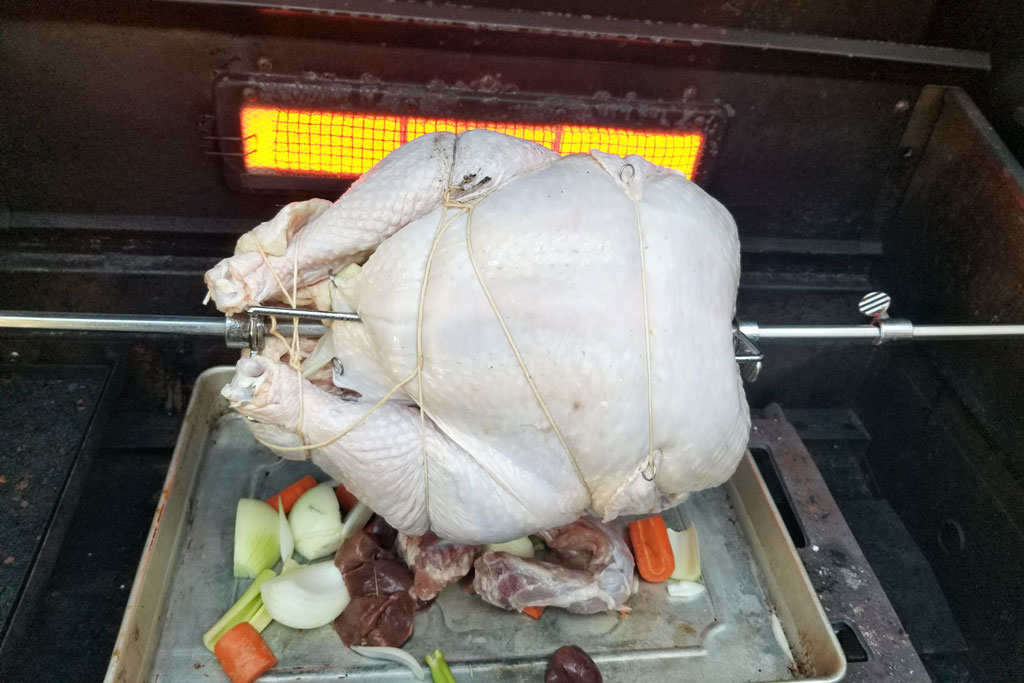 A rotisserie turkey has crispy browned beautiful skin. It is extra moist and, maybe the most important factor, it frees up your oven for other dishes!
A few things will help you out: lots of cooking twine, a smidge of patience, an extra pair of hands, an instant-read meat thermometer, and a roasting pan.
You will still need a roasting pan to catch drippings for pan gravy and depending on your grill you may be able to put it under your turkey. Mine is too deep for going under a large turkey so I usually use a large 12×18 inch half sheet cake pan and throw the giblets and some veggies in there for good measure.
We use a natural gas grill but this can be done on a charcoal grill. You need to preheat your charcoal and maintain the temperature for the duration of the cooking time.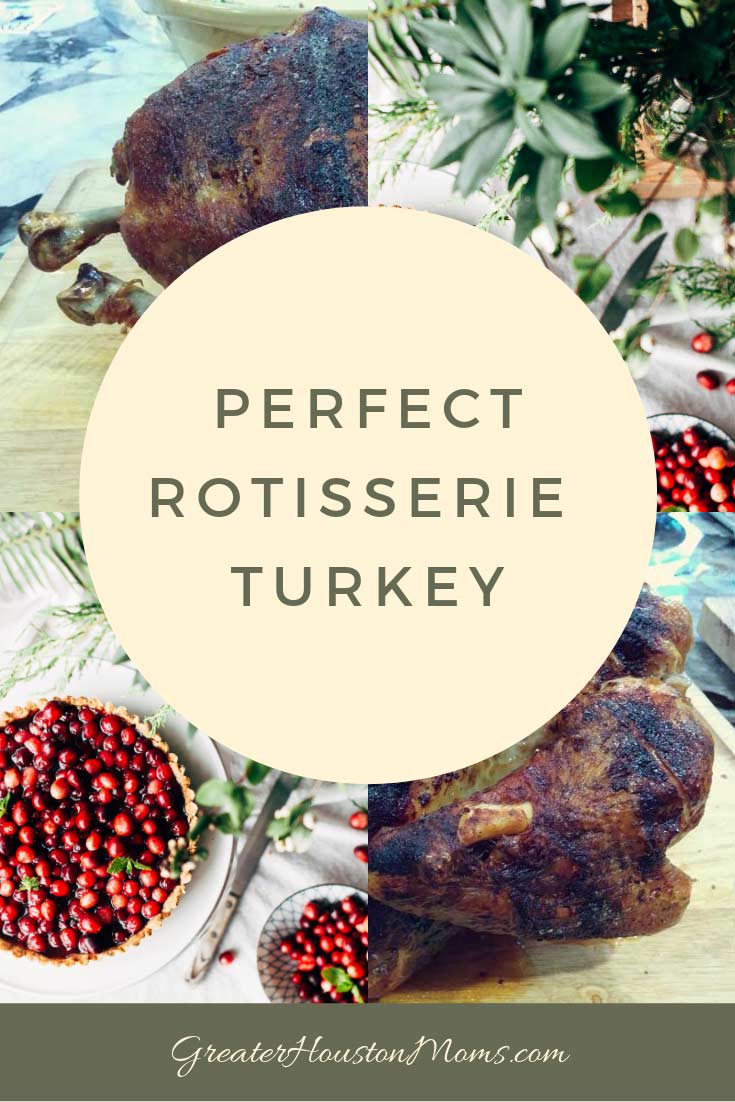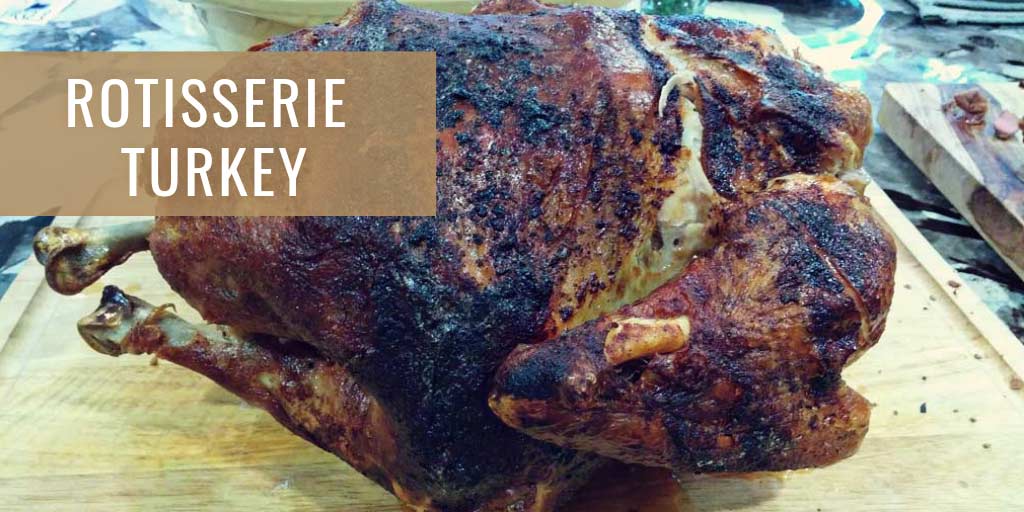 Rotisserie Turkey
Free up your oven space by taking the turkey outside! Plus, it will be the best turkey you have ever made!
Ingredients
12-16

lb.

Turkey

Fresh or Thawed

Salt and Pepper, to taste

Olive Oil

Butter

melted
Instructions
Rinse and pat dry your bird. Reserve giblets if desired. Brine turkey in a brine of choice or a simple mixture. To do this heat 1 gallon water and dissolve 1 cup of salt. Once the salt is dissolved add another 1 gallon of cold water. Insert the turkey so that the cavity is filled. Cover and let sit in the refrigerator overnight.

When you are ready to cook preheat the grill for indirect medium-high heat, 350 degrees F. While you are waiting prep your turkey. Drain and discard the brine. Rinse the turkey pat it dry.

Liberally salt and pepper the turkey on the inside and outside. Rub a thin coat of olive oil across the skin.

Optionally, if you want to stuff it with a lemon wedge and some veggies do so now.

Truss the turkey. This is where the twine comes in. Go liberal. You want that turkey held together tightly so nothing pops out and burns. If you cannot get your wing tips to stay in clip them off.

Mount the turkey on the spit. Push the forks together then tighten the screws. You want the turkey tight and compact.

Place the spit on the grill and set the counterweight opposite the breast.

A 14 pound turkey will take about 2 to 2 and half hours of grilling. It is done with an instant read thermometer is inserted into the thickest part of the thigh and reads 170 degrees F.

We like to periodically baste with melted butter. The Internet chefs would probably tell you to use unsalted but we definitely use salted butter!