Mint Chocolate Oreo Ice Cream Brownie Cake
Fluffy crunchy chewy minty decadence!
I wanted to share this one before summer got a way from us because it is so perfect for summer!
It's also a really great base to make any kind of ice cream cake just switch out your ice cream and toppings and you are good to go.
I really need to make it again because my picture is actually from an earlier incarnation where I didn't use Oreos and it was just too much. Like you couldn't finish a piece because it was so rich and I like to eat my dessert so I found the recipe needed to have the brakes pumped and get revamped to something more taste-bud manageable. Anyway enjoy and I'll be making it again soon too so I can share a brand new picture with you! (Yeah, that's why I need to make it again…)
---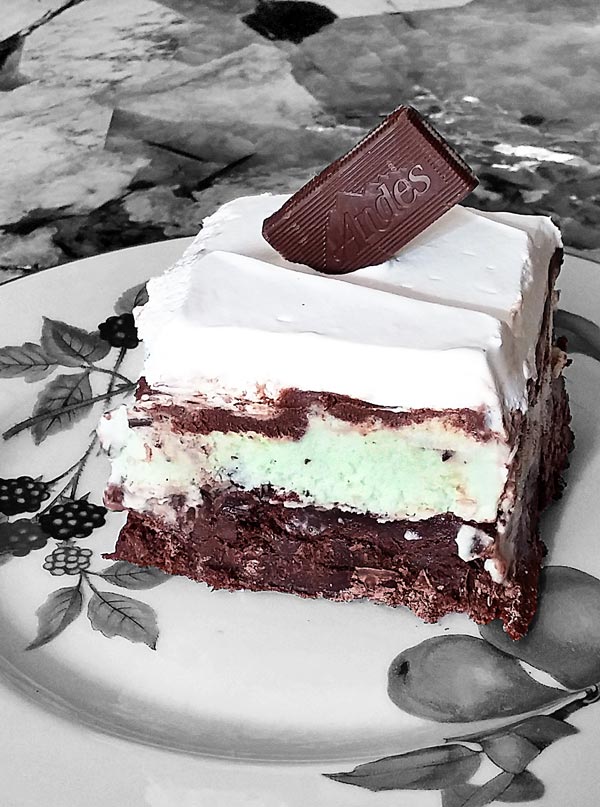 Mint Chocolate Oreo Ice Cream Brownie Cake
Ingredients
Brownie Crust:
1/3 cup cocoa powder
1/2 cup + 2 tablespoons all-purpose flour
1/2 tsp kosher salt
1 tablespoons unsalted butter
4 oz. chopped bittersweet chocolate or dark chocolate chips
1 1/4 cups granulated sugar
2 large eggs
2 tsp. pure vanilla extract

Ice Cream Layer:

1.5 quarts Mint Chip Ice Cream
1 package Oreos, roughly chopped or crushed

Topping:

1-8oz. tub Whipped Topping

OR

1 cup heavy cream
2 Tbsp. sugar
1 tsp. vanilla

AND

Andes Mints, chopped or whole

Recipe

Brownie Crust:

Preheat oven to 350 degrees. Line an 9×13 baking pan with parchment paper so that it hangs over the edges (you will use it as handles for easy lift-out later, if you wish to serve from a platter). Butter the paper. In small bowl, whisk together cocoa, flour and salt. Set aside. Melt butter over double boiler. Add sugar and chopped chocolate and whisk until chocolate melts and mixture is fairly smooth (it will be grainy). Remove from heat. Allow to cool slightly. Add eggs to lukewarm chocolate mixture and beat with an electric mixer on medium for about 1 minute, until smooth. Add vanilla extract and beat to combine. Add flour mixture to chocolate mixture and beat on medium for about 3 minutes, until smooth – do not skip the beating!? Pour into lined pan and spread evenly over the bottom. Bake for about 20-25 minutes, until toothpick comes out clean.Allow the brownies to cool completely.

Ice Cream Layer:

Set ice cream carton out at room temperature for about 15 minutes. Top the brownie crust with the softened ice cream. Use a knife or offset spatula to spread and smooth evenly until it covers the entire crust. Top the ice cream with a layer of crushed Oreo cookies. Gently press in to "set" them in the ice cream. It does not have to be smooth. Place the pan in the freezer and allow the ice cream to re-freeze for 1-2 hours.

Topping:

While ice cream is refreezing either thaw a tub of pre-made Whipped Topping in the refrigerator and/ or room temperature until spreadable or make whipped cream. Do so by whipping heavy cream, sugar, and vanilla together in a chilled stainless steel bowl using an electric mixer until the cream forms stiff peaks. If you make this prior to spreading you may need to rewhisk for 10-15 seconds.

Final Assembly:

Spread the whipped cream across the ice cream/ Oreo layer until smooth. Garnish the whipped cream layer with chopped Andes Mints. Return pan to freezer and freeze for 3 hours before serving. Note: The cake can be made up to three days in advance and stored in the freezer until you are ready to serve.