Helen's Park a Southwest Houston Gem
Helen's Park is a small immaculately kept pocket park in Southwest Houston.  Though privately owned by the Braeswood Place HOA it is open to the public.  The park is named for Helen Dallerup Williams whose late husband provided for its construction and upkeep through The Myron William Trust. It is a quiet park and you won't find a play structure or any of those types of amusements, just lovely lawns, and splendid landscaping.  There are many benches along a lovely two-tiered walking path that wends along with a small stream and a fountain.  Several of the pathways are covered in beautiful vine-laden wooden frames and trellises.
Definitely, visit if you are in the area.  If you are visiting the library or YMCA it would be a great idea to bring a lunch and have a quiet picnic here.  Oh, and your camera, there are plenty of photo ops!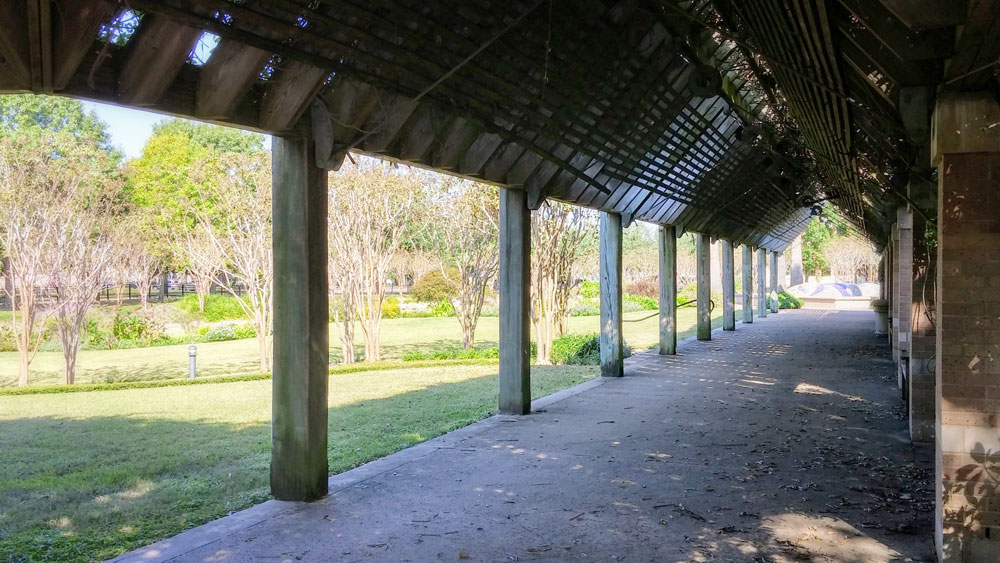 Location
It is located between the McGovern-Stella Link Neighborhood Library and the Weekley Family YMCA.  You should mind their hours and Helen's Park does not have its own restrooms.
Parking
Parking can be found several places but if you are strictly coming to the park they may not be very obvious.  You can park across Stell Link in the neighborhood. At the YMCA – but do check for towing signs or ask inside. The library – if you are looking at the entrance to the library there is a small unpaved beaten path that runs to the right of the building up to the front of Helen's Park.   Also, if you take the block, on the street behind it (running parallel to Stella Link), Braes Blvd. – there is a parking lot for McGovern Park and a path that will lead through to Helen's Park.
You can find it at 7301 Stella Link Rd., Houston, TX 77025