We Are Girls "Ignite Her Power" – GIVEAWAY!
GHM is excited to partner with Girls Empowerment Network (GEN) to share this amazing event with the young women of Houston!
The fourth annual We Are Girls conference is heading to Houston, April 27, 2019, 9:00 a.m. – 3:00 p.m. We, at Greater Houston Moms, are so excited to be able to share this unique opportunity for girls in the 3rd through 8th grades. Even more exciting, through our partnership, for five girls and their adult, we are able to host a
Every era the anthem for women changes. Aretha Franklin pointedly spelled it out by demanding R-E-S-P-E-C-T. And, Dolly made it all in a days work with "9 to 5." The catchphrase "Girl Power" reigned supreme for years. Then the Beehive recognized that change as they chanted and baldly answered their own question, "Who run the world? Girls!"
Yesterday's warrior women have paved a sparkly pink road for the next era and we are so glad to see it is wrapped in support. Supporting other women. Supporting the next generation. And, doing so by bringing conferences like We Are Girls to this next generation.
[hoot_slider id="8299″]
The We Are Girls Conference is specifically designed and targeted to lift up 3rd through 8th grade girls and the adults who care about them (including but not limited to mom or dad, guardians, mentors, and counselors). In Houston, the Girls Empowerment Network is expecting over 1600 registrants to attend. There will be dynamic break-out sessions (those who pre-register can choose workshops in advance), an empowering dance party, and phenomenal speakers. An entire day completely owned by the young women attending.
This year's conference theme is "Ignite Her Power." The young ladies will attend and get inspired by what is possible. They will gain a new belief in their personal power.
The speakers are two powerful women specializing in empowering young girls. Jodi Bondi Norgaard is an expert in creating change and breaking gender stereotypes. Shanterra McBride is an author, speaker, educator, and coach.
CONFERENCE DETAILS
WHEN: April 27, 2019 – 9 a.m. to 3:00 p.m. (Conference Schedule)
WHERE: Hogg Middle School, 1100 Merrill St., Houston, TX 77009
WHO: Girls in grades 3-8, and the adults that care about them
Free childcare will be available ages 3 and up. Please, sign up during registration.
Children younger than 3 may attend breakout sessions with their parents if they do not present a distraction to others.
COST: $30, Lunch and an afternoon snack are included (Scholarships are available)
OTHER DETAILS: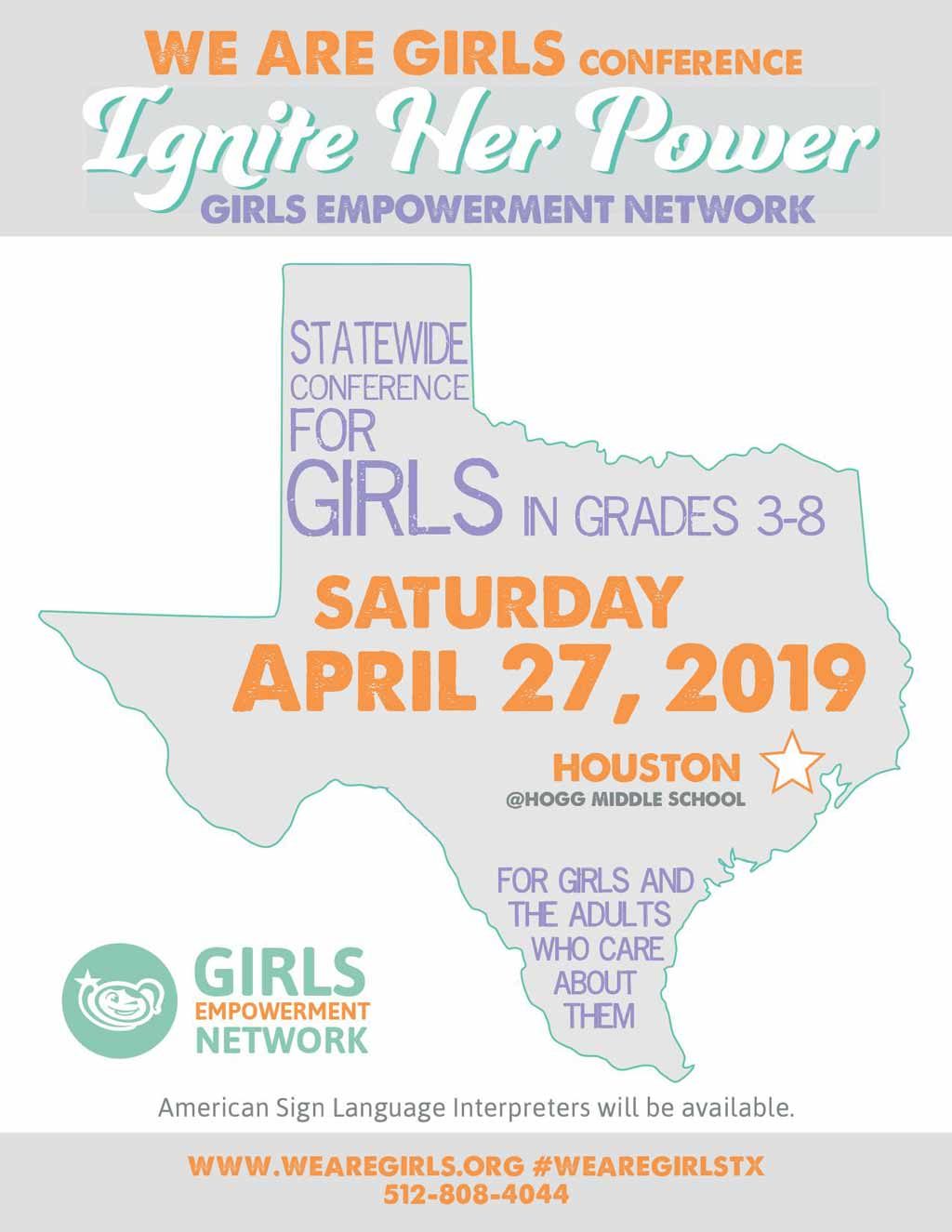 So many great anthems have been written and belted out by some of the most iconic women in media. To ignite our fire we've curated a fun (clean) 'We Are Girls' playlist of some of our favorites.
'We Are Girls' Ticket GIVEAWAY
We are giving away a pair of tickets to five winners!
Entry is easy and fun. Winners will be notified by email and tickets will be sent via digital gift certificate.
a Rafflecopter giveaway
Good Luck!