Packing and Prepping for Big Bend
Packing and Prepping for a Big Bend Road Trip (BBRT)
What does that even mean "Packing and prepping for Big Bend?!". Should you be loading up backpacks with bricks and marching the kids around in the heat of the day?? Uh, no. I mean, maybe, if you don't want your kids to like you or they are super into being hot and carrying around heavy things.
How you pack and prep is going to depend on a couple of things; namely, how old your kids are and the time of year you plan to visit the Big Bend area.
If you have very young kids then the prepping is largely on you, since you will be acting as a pack mule. But, if your kids can hike under their own power they should be prepped to do so.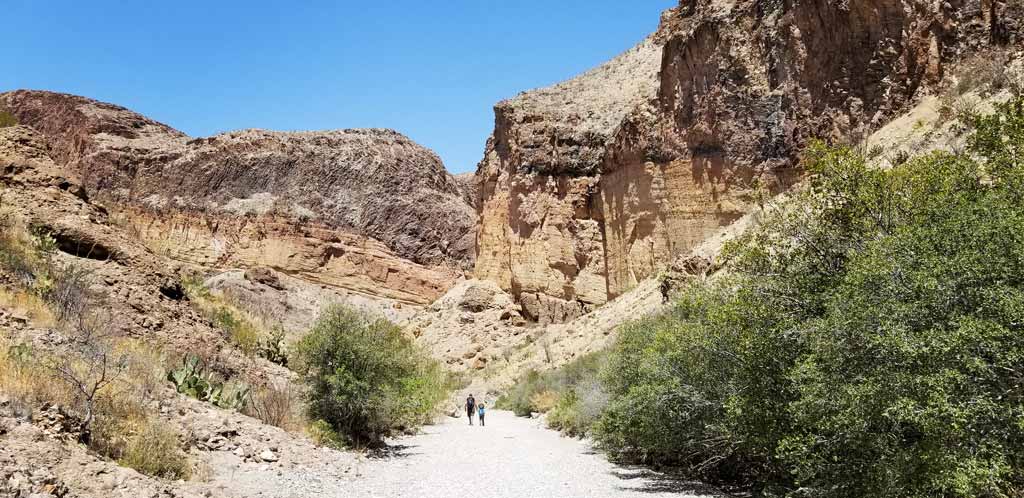 The main component in prepping kids is teaching them to get comfortable carrying their own water and understanding basic safety. In reality, they may be in better shape than you and your party will only be moving as fast as its slowest member.
Which really means you probably do not have much physical prep work to do either. Start doing some basics: pushups, squats, and lunges. Take the stairs when you can. If you are hiking with kids then a basic level of fitness will do you just fine. If you are not at a basic level then perhaps do a bit more, some easy walks that work up to longer hikes are ideal. You really really really do not want to hurt yourself before your trip. Likewise, you really do not want to get hurt on your trip (the nearest hospital is about two hours away).
FYI: Terlingua Medics (915) 371-2222 and Big Bend Family Health Center (915) 371-2661
Essential Prep Work for Hiking with Kids
1. Everyone Carries Their Own Water. Everyone must learn to carry their own water. Water is essential and scarce in Big Bend. You are going to be carrying your water so they need to carry theirs. If they are not used to walking with a backpack start taking walks with their hydration pack. Most likely they will enjoy it. My six year old carried the CamelBak Scout every day without a problem. It has a lot of decent-sized pockets for binoculars, snacks, whatever, a built-in whistle, and comfortable straps. My ten year old likes the slimmer Mini M.U.L.E. which is still large enough for snacks and a few supplies (like band-aids and itch cream – though there were not many bugs!). Each holds 50 oz., which is less than half a gallon but we kept water in the car for refills as needed.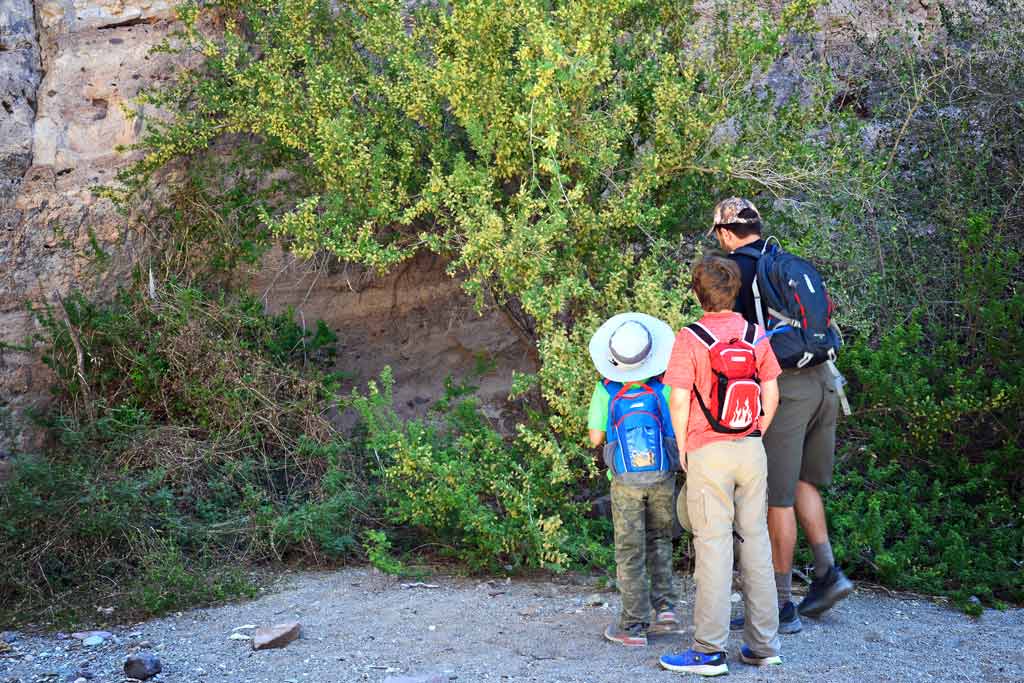 2. Carrying Their Water. That being said, it might be a good idea to make sure your daypack is large enough to put theirs inside. Ideally, they will carry theirs and your hikes will not be so long that they get overtired. But, it might happen. Be prepared to pick up the slack for them a bit.
My husband carried the Camelbak Rim Runner 22. It holds more than half a gallon and has a load-bearing hip belt and straps plus enough room to serve as a daypack. We have a lot of hydration packs but I only had a large backpack. I didn't want another bag so I chose a light foldable daypack that could easily be stored away.
Taking a gamble, I chose the well-rated off brand the TOURIT. I ultimately chose it because it had a pocket for a water bladder (which I took from one of our other camelbacks) and an actual hole for the tubing. Plus, it came with a rain cover, loads of pockets, and packs away to nothing (about 4″ x 6″). It is really light and I was a bit concerned about durability but it was great and a little bigger than I expected. So, I had no problem daily carrying my water, snacks, a compact towel, and my camera (in a slim case). Plus room to help the kids if needed.
3. Two Safety Lessons Kids Must Learn. Children should be taught, first, that if they become lost that they should stay put. Second, they must know that three flashes or three noises are used as the universal distress signal. Most kids' packs have a whistle built into the chest strap buckle. Teach them how to blow it loud and clear. This should be a fun lesson!? If their pack does not have a whistle one should be added and ideally tied on so it won't walk off and find a new home.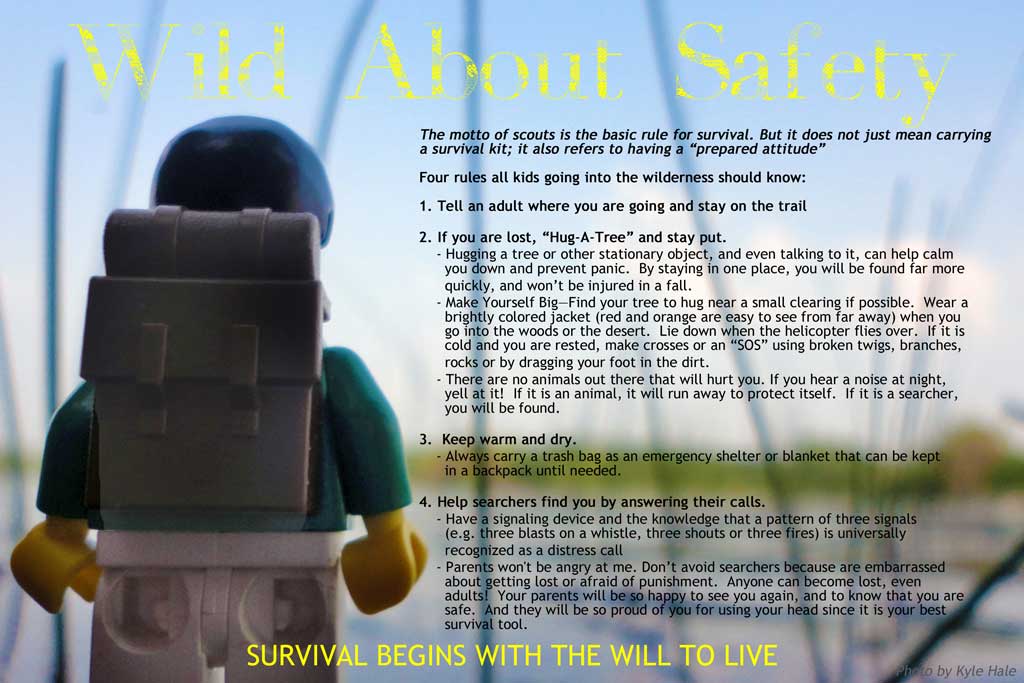 4. Trip Plan. Always leave your trip plan in an easy to access place. It does not need to be a fancy document. You can leave a notepad in the car and leave a page in the driver's seat when you head out. It should clearly state your name, where you went, when you left, and when you think you will return. To access nearly every trail in Big Bend you will be driving. If the rangers see a car left too long in a lot it will be helpful to them and any search parties to know where to look. Here is a handy Trip Plan printable.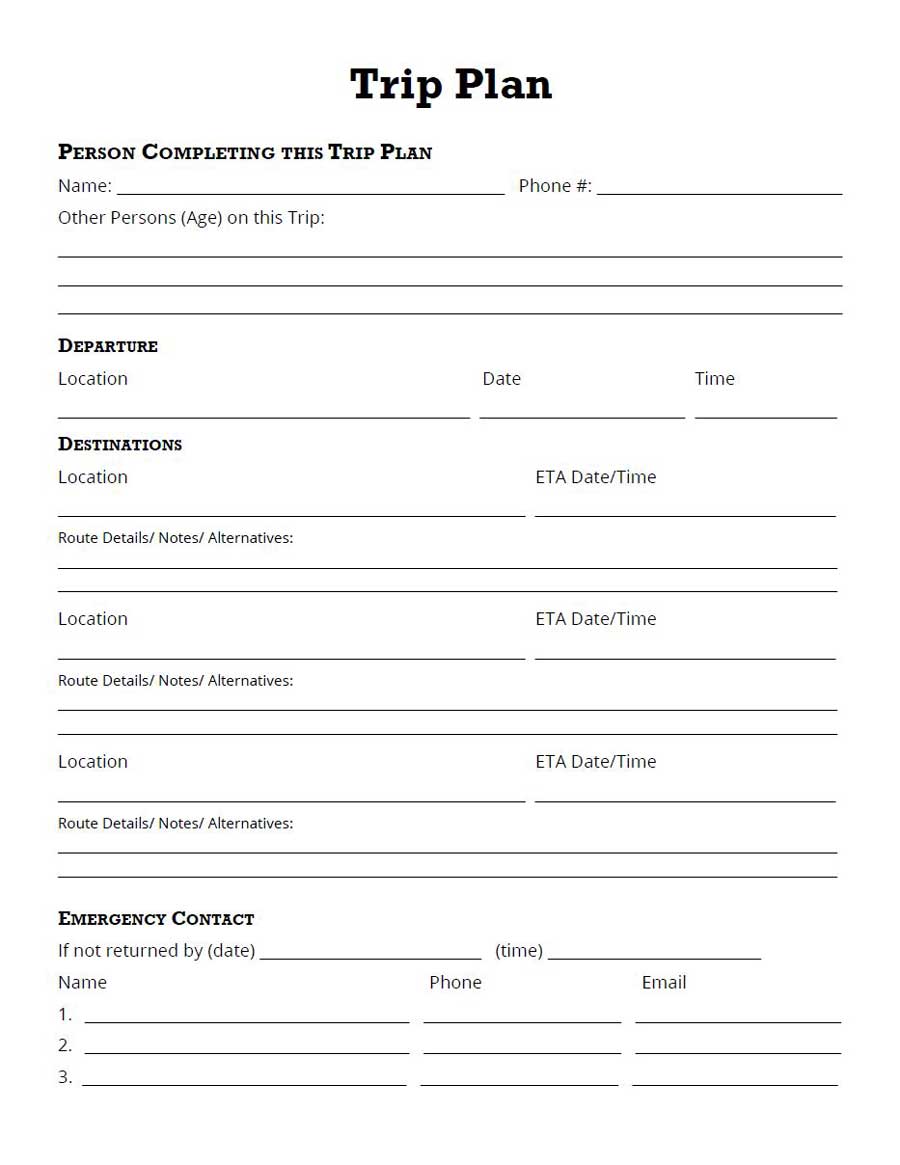 5. Practice with Unfamiliar Items. A whistle seems easy but do not assume your kids know how to use anything. Anything you expect them to use or carry review with them and practice how to use it. This includes the Camelback nozzle, walkie-talkies, new hiking boots, hat straps, etc.
Packing for Your Trip
1. Hiking Boots vs. Tennis Shoes For where you are going with kids tennis shoes will be fine. There are a lot of people in Big Bend in regular tennis shoes. If you are carrying a child [in a backpack] you may want the boots for extra ankle support as even the easy trails can be uneven. Definitely, go try them on! No matter what you are wearing on your feet walking across a dry wash of sand and gravel will be tiring.
2. Socks & Undergarments. Socks can make or break your day. Go ahead and invest a few decent pairs. Socks are weirdly expensive but your feet will thank you for a decent wool blend. Even in the summer because they help keep your feet dry.
Think about your underoos too. If you usually wear cotton think about switching to something more performance-based for your activities. Cotton will get sweaty and wet and cause some unpleasant irritations. My boys prefer briefs but they don't really make active briefs for boys. We ended up going with the Adidas ClimLite Boxer Brief and they, no joke, saved our trip. There was some chafing and unpleasantness and then he finally put them on and off we went!
3. Sun Care. It is the desert. it will not matter when you go the sun will still be there. Bring sunblock, sunglasses, and hats for everyone. It is also mountainous and wide open plains. The wind can really pick up so consider hats with neck strings. They saved our hats from flying to Mexico more than once. I bought this two pack. They fit my adult head and my six-year old's head, they packed well, were a nice quality, light, and reasonably priced.
4. Water. Big Bend has a lot of deserts, water is scarce. While we had no problem finding large jugs at the stores in the park do not rely on this. Availability will depend on how busy the park is and if the store is open. It's a good idea to bring them in and leave at least one in your car. During hot weather, the recommendation is one gallon of water per day per person. If you are hiking half days you will probably need less.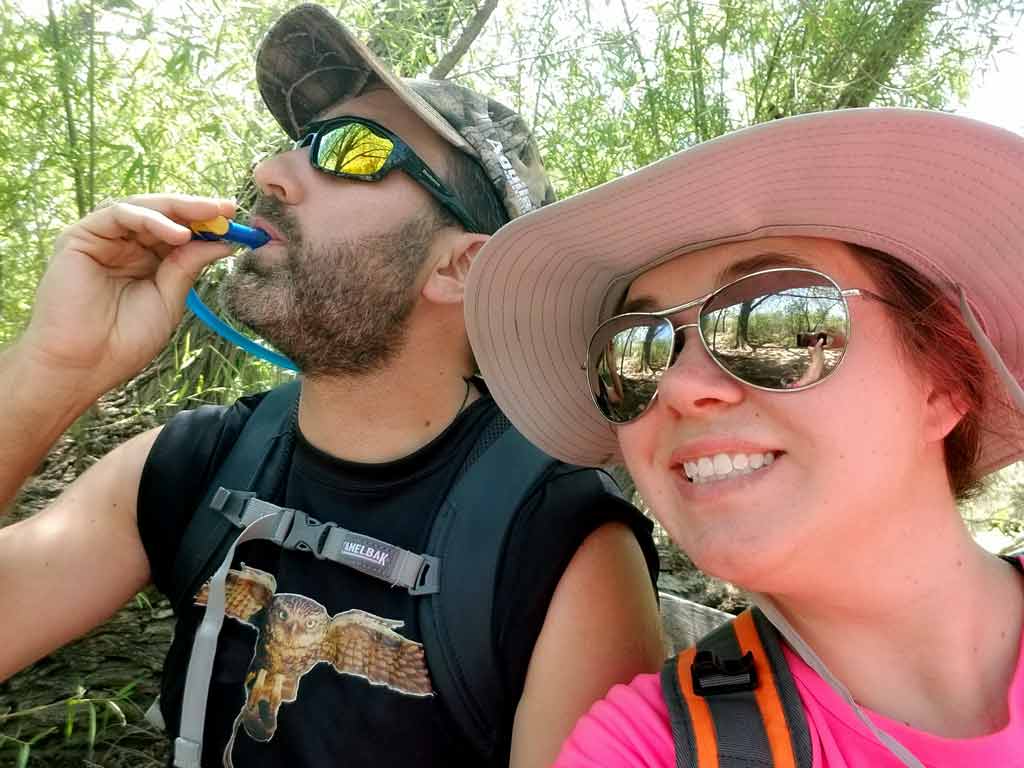 5. Other Gear. If you are going during the rainy season it is a good idea to prepare for that and grab some raincoats. If you are going when it will be cold definitely consider how and what you will layer. No cotton clothes! Wet cotton does not dry quickly and you could get hypothermia.
And, really, really, really consider a travel journal – I like to get one that has a pocket. Your mind may be a steel trap now, but as years go by it might be nice to look back over your notes and remember fondly those children who have shipped you off to the home. Or something. Travel journals are great even if you don't normally keep a journal. Plus, it's an excuse to buy fancy pens!
6. Safety Gear. On the trail carry:
a small first aid kit,
bandana (they're hella handy for loads of things, dust mask, dousing with water, tourniquet,…),
knife,
mirror,
whistle,
sunscreen, and
binoculars.
Prep a more comprehensive first aid kit to keep in your car. Along with the trail gear keep maps, guidebooks, extra food, water, spare tires, jacks, blankets, and extra clothes. Plus identify where gas stations are and keep a full tank
Books for Big Bend
There is definitely some required reading for Big Bend. It has a fabulous history, interesting geology, and cool animals. There is definitely something for everyone. One thing you will not have to search for in Big Bend is a book. Every visitor's center is as well-stocked in books relevant to the area. In fact, the selection of books in the Trans-Pecos will be better than you will be able to find in Barnes & Noble and on Amazon, combined.
Essential List:
Hiking Big Bend National Park: A Guide to the Big Bend Area's Greatest Hiking Adventures, including Big Bend Ranch State Park, by Laurence Parent
This is the book. If you are going to buy a book this is it and go ahead and get the newest edition. Things do not change quickly out west. But, if it is a travel book, you are going to want the newest information and maps available. You may be able to download some maps for offline perusal but this is easier. You will not have cell service in the park. If you want information on a hike, bring it with you.
Big Bend National Park (National Geographic Trails Illustrated Map)
But, I just bought that other book!? But, this is a really big map!? The map is of great quality and of the entire area (not Big Bend Ranch State Park, but it says that in the title). Remember, no Internet. You will most likely still have GPS. So, it is helpful to cross-reference your blue dot with a map that has road names.
Plus, it is a really great opportunity to teach the kids and give them a chance for practical application on reading maps and general orienteering. If you have older kids a map and compass lesson would be awesome.
Other Options to Fit Your Family's Needs and Interests
Who Pooped in the Park? Big Bend National Park: Scat and Tracks for Kids, by Gary D. Robson
The book is written as part picture book and part identification book. I would not plan on taking it on the trails with you it is too big but the kids really enjoyed reading and re-reading it to try to figure out who's poop we saw!
My kids love nature guides! The big accordion-fold laminated ones that are easy to pack and carry on a hike.? And, they make a good "thing to buy" when you go into a visitor's center or store because they are the same price everywhere. Buying on Amazon will only save you tax and if you buy regionally you will be sure to get the guide most applicable to where you are. However, if you want to buy before you go you should look for guides for the "Trans-Pecos" region of Texas (Butterflies, Birds, Plants, Snakes, Wildlife Signs, Night Sky)
Big Bend Is Not In London, by Jennifer Zimmerle
This is an easy chapter book with a bit of a mystery. Read it while you are there (since you won't have TV or Internet) and the kids will love identifying with the things they are seeing!
The Three Little Javelinas, by Susan Lowell
A fun take on the three little pigs story. This one is about three little javelinas, which you are likely to see, and the coyote who wants to make them his meal.
Susan Lowell also wrote some other very Big Bend appropriate picture books The Tortoise and the Jackrabbit, a fun take on the Tortoise and the Hare story and Josefina Javelina: A Hairy Tale. In this book a little javelina, Josefina, wants to be a ballerina. It is good rhyming fun that we had to read every time we went to the visitor's center. Every time.
Lizards for Lunch: A Roadrunner's Tale, by Conrad J. Storad
We saw roadrunners everywhere so this will be a good one to introduce the kids to, espcially if they may be expecting something from the Looney Toons universe.
So, not completely specific to Big Bend or south Texas, but it is about butts and if your kids are like my kids that is a pretty common and hilarious topic. A book about wildlife butts is pretty much in our wheelhouse.
Black Bear Babies!, by photography by Donald M. Jones
There is about a .01% chance of you seeing a black bear in Big Bend, but that they are even there is pretty exciting and your kids will probably want to talk about it. A lot. This is a sweet little board book for the littlest in your party to get in on the black bear mania.
The Lost Art of Reading Nature's Signs: Use Outdoor Clues to Find Your Way, Predict the Weather, Locate Water, Track Animals and Other Forgotten Skills, by Tristan Gooley
For those interested in nature or older kids this books will teach them to see nature. The first part is about British forests but the information becomes more utilitarian as the book progresses
History on the Area:
Each book below is a simple read of about 200 pages or less. Before departing I read the first two. Having a history of the area helps to set the scene before you arrive and deepens the experience while on the ground.
Pack it In, Pack it Out!
As with any time spent in the outdoors, if you bring it in take it out. Always leave an area better than you found it. So, yes, if you see a piece of trash, grumble, pick it up, and take it with you (even if it is not yours). How you pack is up to you. Backpack, luggage, etc. If you are driving you will have space. So, err on the side of too much because picking up forgotten items may involve a long drive. If you are staying at the Chisos Lodge (the only hotel in Big Bend National Park) you may have to use stairs to access your room, but less than one flight.
So, gas up the car and let's get going!