13+ Fantastic FREE Summer Reading Programs your Kids will Love!
Summer is coming and with that summer reading programs! Not every kid loves to read but all kids love free stuff! Even if they are natural bookworms, getting rewarded for something you were going to do anyway is just a bonus. Teachers and parents worry about the "summer slide" which unfortunately is not as fun as it sounds.
The summer slide is the regression of learned material from a lack of schooling throughout the summer. How to lessen it without setting up a summer homeschool? Read! Read! And, read some more!
Fortunately, the summer reading program is a popular idea and your kids can enroll in one or all, maintain their literary fluency, and have fun while earning some cool prizes.
Be sure to also check with your local school district. Many, many, many run their own summer reading programs.
Need some suggestions? We include kids' books in our Book Club Lists check out some past picks. Or do you have a little-little person? We have a comprehensive Kindergarten Reading List that will keep you busy for a bit.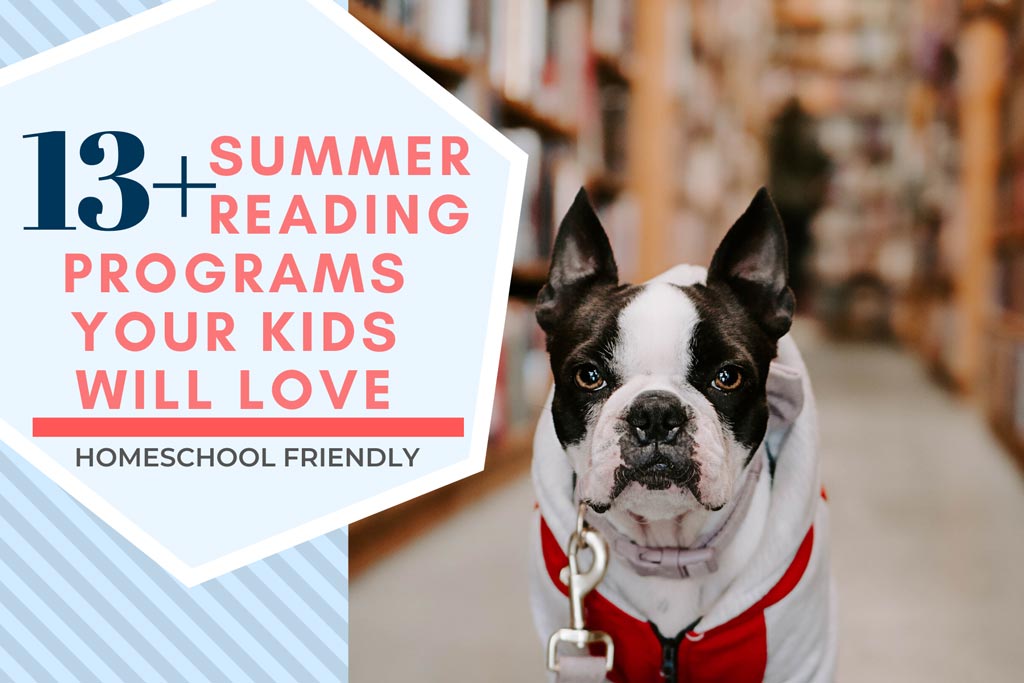 updated for 2020
---
The Barnes and Noble summer reading program is quite straightforward. Keep a journal, log eight books, and tell which part of each book is your favorite and why. Bring the completed journal to a store between July 1st and August 31st, 2022. Then choose a free book from the ones listed on the journal page.
The summer reading program is coming back for kids and moms! This year play Summer Reading BINGO. The program runs from June 1 – July 31 (cards must be turned in by August 1).  Print your card (2023 versions available soon!) and start reading! Plus, this year, there will also be a "Summer of Love" punch card for upcoming Romance events. Ooh la la!
Choose any four books from the summer Reading Adventure section. Next, write about them in your log book. Finally, take your log to a store to receive you Free Dog Man Logo Baseball Cap. Houston-area readers your near BAM is in Katy Mills Mall.
Parents initial a two-week chart. When the kiddo has read daily for two weeks they can exchange it for 10 free tokens (with food purchase). Available year-round.
For all school-age kids. HPB's Summer Reading Program is now Summer Reading Camp. Sign up online to become a camper. Then visit your local HPB to get a copy of your camper's Reward Map and information about how to ear $5 Bookworm Bucks in June and July (Between June 1 – July 311), campers can visit their local HPB to receive $5 Bookworm Bucks. It's good for $5 off anything in store.)
The HEB program is for Texas children between the ages of 3-12. Kids need to read ten books (one must be from the Read 3 Books) and record them in the provided log. An adult initials the log and mails it in by October 1st for a prize.
7. Local Library Summer Reading Programs
Enrollment opens May 23rd and the program begins on June 7th. Earn points by reading, doing activities, and writing reviews. Visit your local branch to redeem your points for prizes!
The program runs from June 1 to July 31. Any day that kids read for 20 minutes they can log online. Prizes can be picked up at local libraries and adults can participate with their actively participating child!
The program runs from May 30, to September 30. You need to register on the main website beginning May 23 (click the 'Summer Reading Challenge' banner on the main page). Kids should log the titles of books read and/ or the number of hours read into the online reading log. They will earn prizes like bookmarks, pencils, and even a trophy! Plus there will be weekly challenges. Open to anyone regardless of residency.
Participants log books to earn digital badges and they can enter drawings to win prizes! Program runs from May 30-July21st.
The Mensa program has families choose a leveled list. As kids read through them parents initial and date the log. Upon completion mail the log to Mensa and in about 6 weeks you will receive a certificate a t-shirt. Books do not have to be read in one summer.
Available to HISD students, myON is accessible through the HUB/ Digital Resources available to student throughout the school year. Here they access level appropriate books. Read in the myON system and time is automatically recorded. Between June 15 to August 15, students who read 1,000 minutes or more will be awarded a Super Star Reader trophy. The top reader in each division will receive a Kindle Fire 7 tablet.
This one does not run through the summer but you do need to register early and it is still fun and free!
You can register as a homeschooler or as a teacher. Each instructor sets a reading goal for each child and when they reach their goal they get a Reading Award Certificate which is good for a free one-topping Personal Pan Pizza. The goal can be individualized to the child based on minutes read or the number of pages or books.
It is for grades K-12 and runs from October 1 through March 31. Registration begins on March 1 for schools and May 1 for homeschool families. Only one per household.
The Scholastic Challenge runs from May 9th through August 19. The challenge is part of Scholastic Home Base. Kids will log their reading minutes and earn digital rewards as they complete weekly reading challenges.
Read great books, record them in the Reading Challenge Chart (in the Summer Reading Challenge Kit pdf), upon completion take a picture with your complete chart and books. Lastly, share the photo on your social media with the hashtags #sonlightstories and #sonlightreadingchallenge and tag @sonlightcurriculum and @sonlight. Complete it by August 31st to receive a t-shirt.
SYNC is a free summer audiobook program for teen 13+. You will need to download the Sora App. Books are available for one week at a time.
The program is from June 1 to August 8. Participants register online. Submit up to five book reviews to be entered to win a $50 Amazon gift card.
2023: The summer reading program is taking a break but they do still offer a printable log, book mark, and free curated book lists.
Each Summer TGTB a Homeschool curriculum company offers a FREE Summer Reading Program pack. There are four levels to choose from and you only pay about $1.50 for shipping. Included in the pack is the book, a chart with stickers, and two book marks.
These packs sell out every year as soon as they are released but they do make them available as a free PDF download as well, you will just need to supplement your own reward book.
Previously Available or Non-Summer or Kid Specific Programs
Previously they rans a traditional summer reading program where you needed to read 8 books. Bring your list to any Amazon Books (brick and mortar store) by September 2. Receive a certificate for $1 off you next book purchase. Now, via their Kindle app, you can participate in Seasonal Challenges.
This summer reading program is defunct but the site does have a lot of options for kids such as reviews and giveaways.
As of 2022, this program is no longer offered.
As of 2022, this program is no longer offered. Kids in grades K-5 participate by reading 10 or more books. Log the books on their form and take it to the nearest TD Bank. Kids will receive $10 in a new or existing TD Simple Savings Account.
What is on your kids' summer reading lists?