The Big Bend Road Trip (BBRT) with Kids
Heading west from Houston is a pretty common occurrence for Houstonians. There's a lot to do out west. But, passing San Antonio, not heading to the valley or veering a bit north to hit Austin is less common. The Big Bend area of Texas is about as Texas as you can still get. Traveling to Big Bend with Kids is a trip worth taking – not only will they love it, you may find that in our techno-crazed over-scheduled lives that this is exactly what they need.
Everything is Bigger in Texas
People outside of Texas have some assumptions about what a Texan is. And, truthfully, many Texans are not quick to correct them since most of them involve us being a bit larger than life. While, in reality, most Texans are urban dwellers with a touch of twang and very little swagger. Heck, it's fair to say many have never ridden a horse or shot a six shooter but Big Bend. Big Bend is still wild and dangerous and certainly larger than life.
The area outlined by the Rio Grande which lends to Texas' distinctive shape has been untamed from the beginning. The Spanish could not conquer it in their quest for gold. The Mexicans and Texans largely worked around it. And, until the railroad went through, Native Americans could still run back and forth across the borders playing both sides.
All those things that made it wild made it alluring. To say nothing of, there is nowhere else like it. And, once its dusty desolate beauty seeps into your soul you are hooked and it is a part of you.
1600 Wild Square Miles
Big Bend National Park exceeds 1,200 sq. miles. Adding in the neighboring 400 sq. miles at Big Bend Ranch State Park there is a lot of untamed wilderness to explore out west.
If you've not stared into an open vista devoid of human encroachment you may not have had the opportunity to feel small. To feel the immenseness of time that has shaped the land against our speck of humanity.
It is humbling and essential to the soul.
It is a perfect place to take the kids.
It is the kind of experience they need.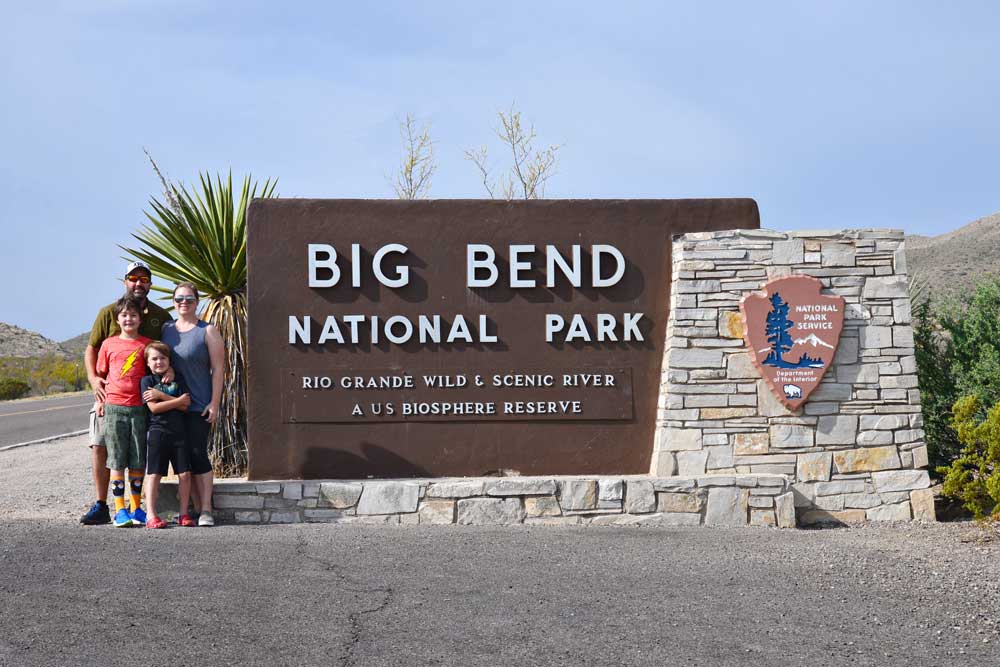 8-Day Itinerary, Big Bend with Kids from Houston
Can you do it in less than a week? Sure. But, that is not how we travel with kids. Big Bend with kids is going to be a memorable trip so don't short change it!
If need be, you certainly could shave the beginning day and/ or an ending day off and just drive straight through.
I like to have time. A schedule with room to roam and change and adapt is best. I do not find 'hectic' relaxing or overtired kids enjoyable. That kind of pace gives you cranky tear-filled children. Which means you tend to get stressed out tear-filled or angry parents. That is not fun. We like fun. We like time. This itinerary will reflect that.
Day One: Houston to San Antonio
(drive time: 3 hours)
Day Two: San Antonio to Fort Davis
(Drivetime: 5 hours 45 minutes, divided)
Day Three: Fort Davis to Big Bend National Park (BBNP)
(Drivetime: 3 hours, divided)
Optional Early Evening Hike: Ernst Tinaja
Barton Warnock Environmental Education Center
West Contrabando Trail
Big Overlook
Closed Canyon
Hoodoos Overlook
Optional: Presidio
Terlingua Ghost Town
(Drivetime: 5 hours 30 minutes, divided)
Seminole Canyon State Park
(Drivetime: 5 hours 30 minutes)
Caverns of Sonora
Home
It's a series, so if the link isn't live yet subscribe to be notified of the next post!

👇 Where's the Subscribe button? Right down there in the footer 👇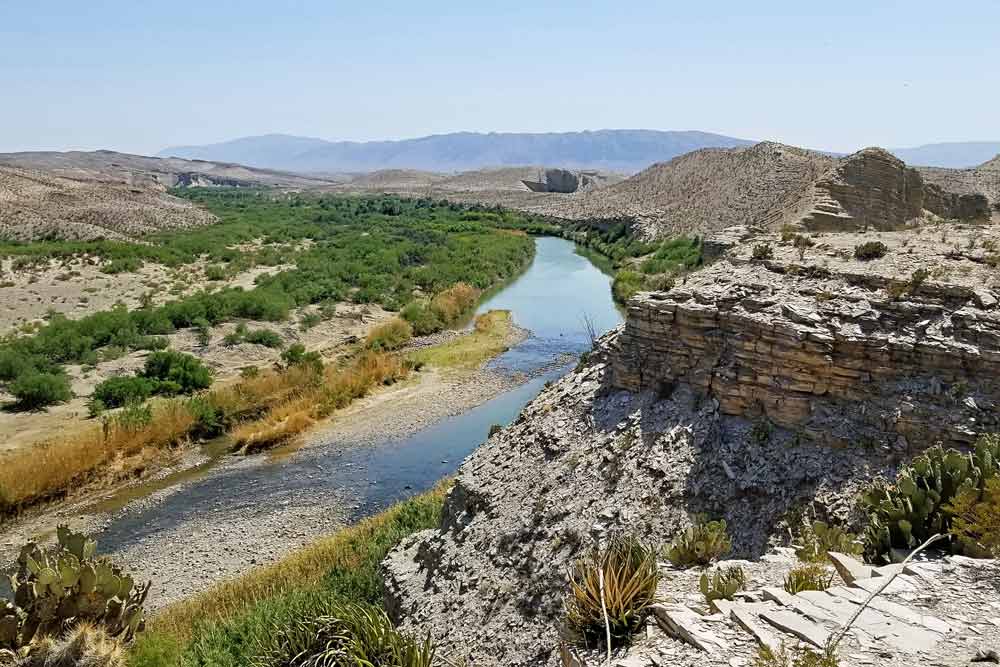 You could easily flip the first and last day if that sounds like something you would prefer or opening and closing schedules at those places will work better with your schedule. On long trips, I usually like to hit a nice hotel like the Omni on the way home. By then my old hips have earned a comfortable mattress and a little pampering, but once I get to San Antonio I would be hard-pressed not to just power through and head home (it's only three more hours?!). With this in mind, we preloaded San Antonio and started with our comfy hotel at the end of a long amusement park day. Worth it.
But, before your Big Bend with kids trip begins you need to pack and prep.
Big Bend is out there.
The nearest general grocery store is going to be about 45 minutes away and the nearest Walmart is two and a half hours away. Though, the onsite convenience stores will probably get you through they are going to be more expensive and may or may not have what you need. Bringing it in is a better idea. Big Bend is not the kind of place you want to "wing it."