How to Hike the Hot Springs Trail with Kids
Our third hike on Day two at Big Bend National Park is the Hot Springs Trail. Like Boquillas, this is rated as a not-to-be-missed hike. Along the Hot Springs Trail, there are ruins of the old bathhouse, post office, and motel; a hot spring (duh!); the Rio Grande; pictographs, and petroglyphs. To get a fantastic history of this trail read "Big Bend: A Homesteader's Story," by J.O. Langford (referenced in the Packing & Prepping article). 
Oh, and did I mention the thrill of almost dropping to your death? Shear fun. This is in reference to the road in. It is terrifyingly narrow. It is only a one-lane with quite an angled drop off. Wide vehicles and RVs cannot take this road (there is a parking lot and you can walk in) and I have no idea what you do if someone decides to leave when you are coming in!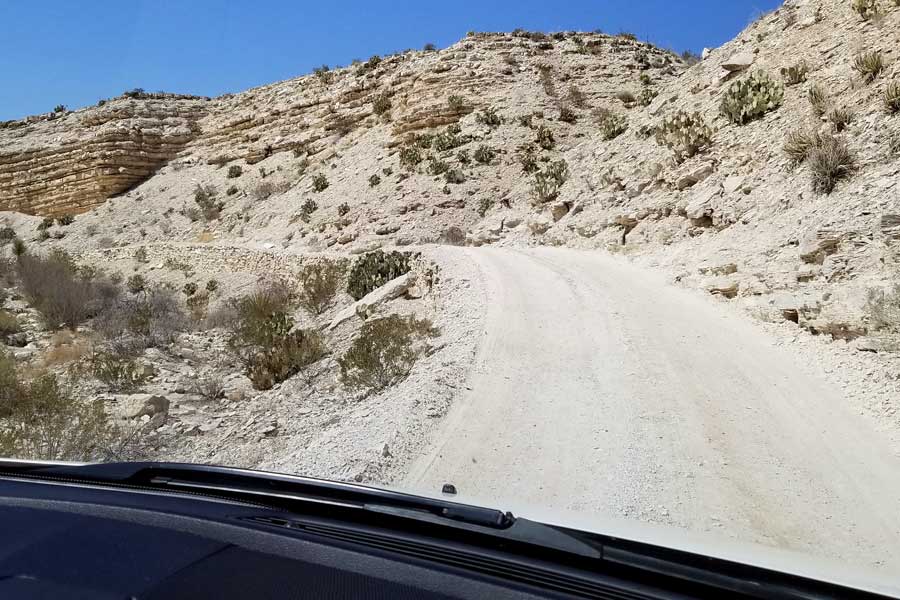 What We Would Do Differently
This trail also gave us some good hindsight perspective. If I did it again I would still make it our last hike of the day, but, particularly with kids, we would only hike the first quarter to half – maybe just down to the hot springs. Everything past the springs is in full sun and at the end of the day, another hot hike is just too much.
Plus, the kids love the springs and would be happy to spend more time in that area. It is also better logistically to actually get in the springs and not have to worry about hiking with wet feet or dripping hair. It is an easy hike from the parking lot so you could very practically throw some sandals on grab your towel and mosey down to the hot springs.
We did not get in the springs or the river. There are some precautions you should take if you do decide to – current conditions, rip currents and unseen debris, bacteria (don't get the hot springs water in your nasal passages) – and be aware it is swim at your own risk.
If you do not have kids or at least older kids we were fine to keep going. But, the littlest of us was done and completely shut down. It worked well for him as he got a fantastic shoulder ride with spectacular views.
If you are feeling up to it I would recommend the full loop because the views are amazing.