Big Bend National Park | Boquillas, Hot Springs, & the Rio Grande
We have reached day five of our Big Bend road trip and it is another amazing day exploring Big Bend National Park! Today our plan is to head down to the Rio Grande Village. This part of the park is southeast of Panther Junction. Once you get down there it has three great family-friendly trails in close proximity.
BBRT Day 5:
Big Bend National Park | Rio Grande Village
Unfortunately, we got another later-than-planned start. My husband had a rough night. He had a raging headache and was dealing with bouts of nausea. Perhaps he was dealing with a little dehydration or altitude sickness but either way, we decided to slow down and head over to the Chisos Lodge for a full breakfast.
Though Big Bend National Park is not at an extreme elevation the Chisos Basin does hit 5,400 feet. Moreover, Houston is basically at zero and different people get affected by altitude in unexpected ways. While something was definitely ailing him I do not think generally you need to prepare for any sort of altitude issues. Like any illness just be prepared to slow down and roll with it.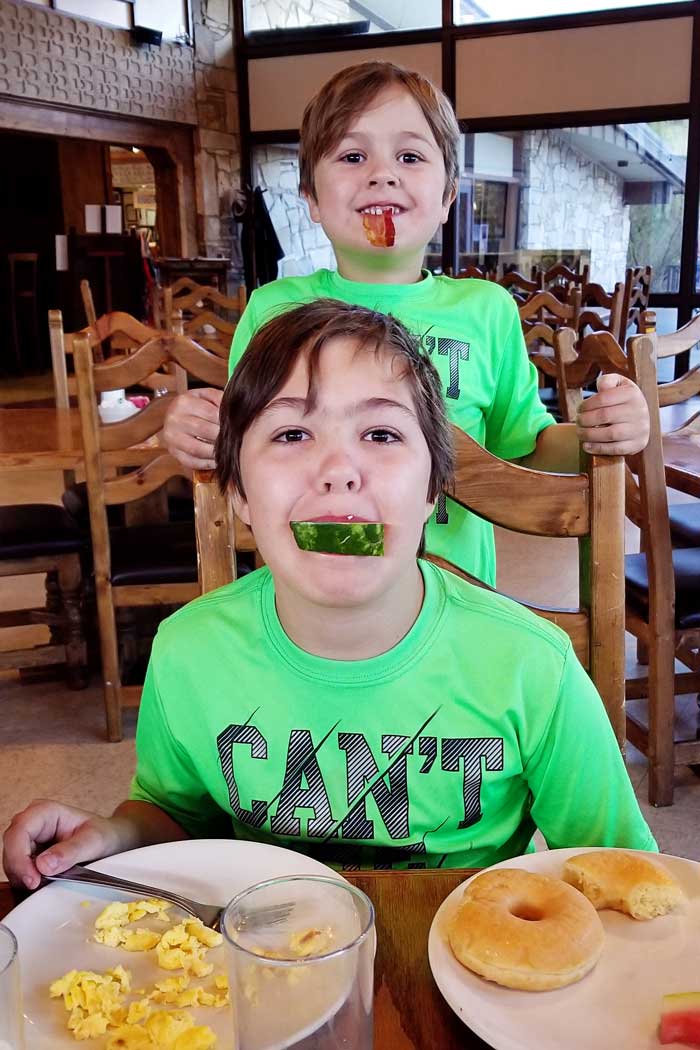 Once we had full stomachs and everyone was feeling better we visited the Chisos Visitors Center. It is an unexpected stop but every previous attempt had found the center closed, despite it being during regular business hours. The Chisos Basin Visitor's Center is smaller than the Panther Junction one nonetheless it is nicely done and houses an exhibit about mountain lions. Then we departed for the Rio Grande Village area.
Hiking with Kids BBNP
Day 2 Itinerary
Boquillas Canyon | Rio Grande Village Nature Trail | Hot Springs
Our plan had us heading to Boquillas Canyon first. It is a nice easy hike that is less than a mile and a half roundtrip. This is one that is best done in the morning so you can maximize the shade.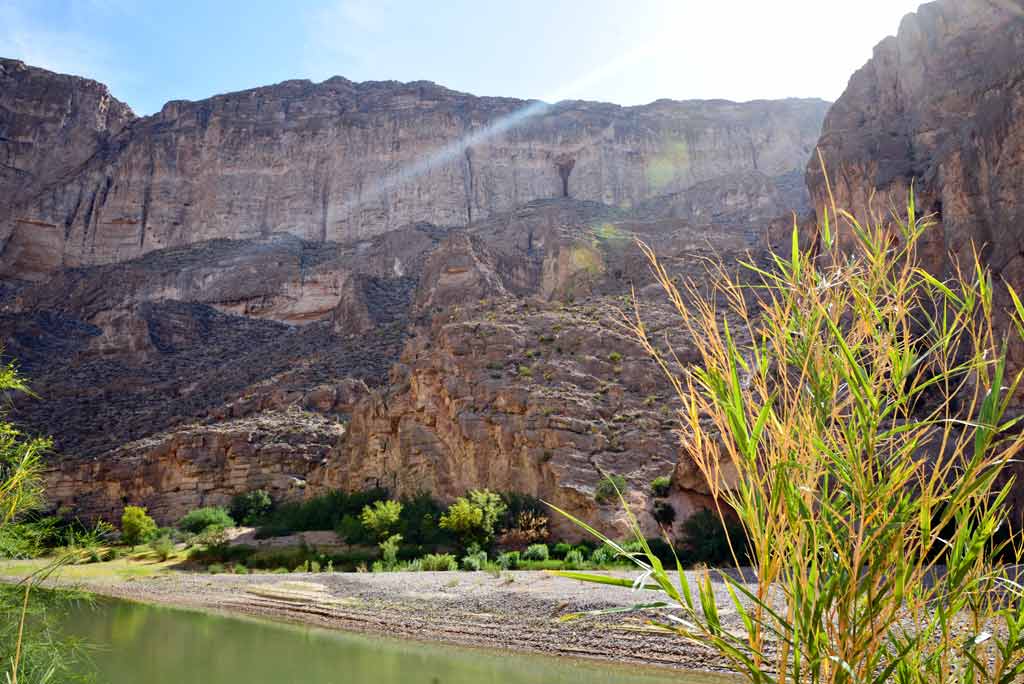 After Boquillas our trip backtracks a bit to the Rio Grande Village and the two trails that leave from that area: Rio Grande Village Nature Trail and the Hot Springs Trail.
The Rio Grande Village Nature Trail is a short 3/4 mile loop with very little elevation change. It has all the ecosystems in a brief 30 minute hike! Make sure you have a hat and water as there is very little cover and it can be hot.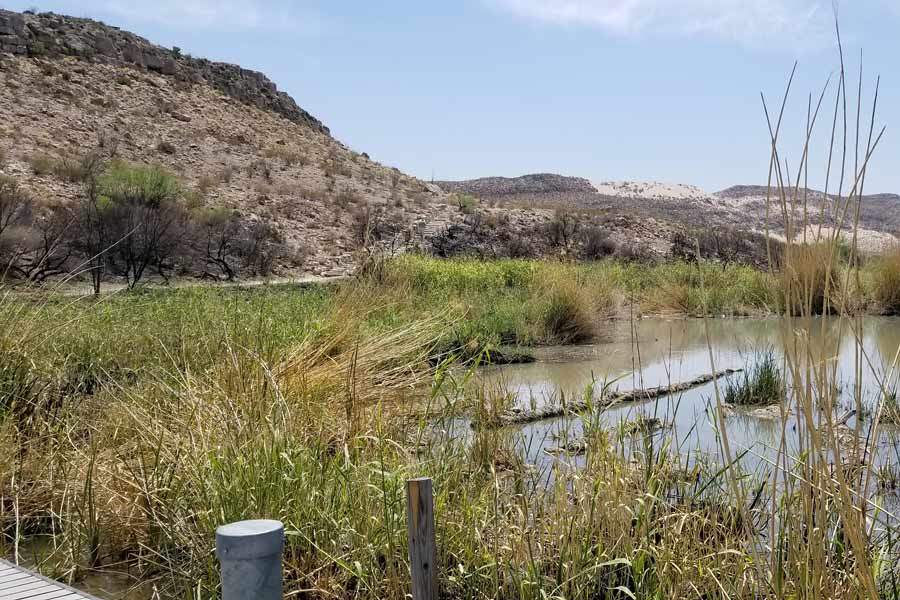 Our last planned hike for the day is the Hot Springs Trail. It is also a loop – though a bit longer than the Rio Grande Village Nature Trail. The first half is the more exciting as it stays along the river and that is where you will see the Hot Springs. The second half climbs the bluff above the first trail and loops back. It is a no-shade section so if you do this trail in mid-day you may want to just retrace your steps from the first part of the hike (especially if you are with kids – definitely speaking from experience here).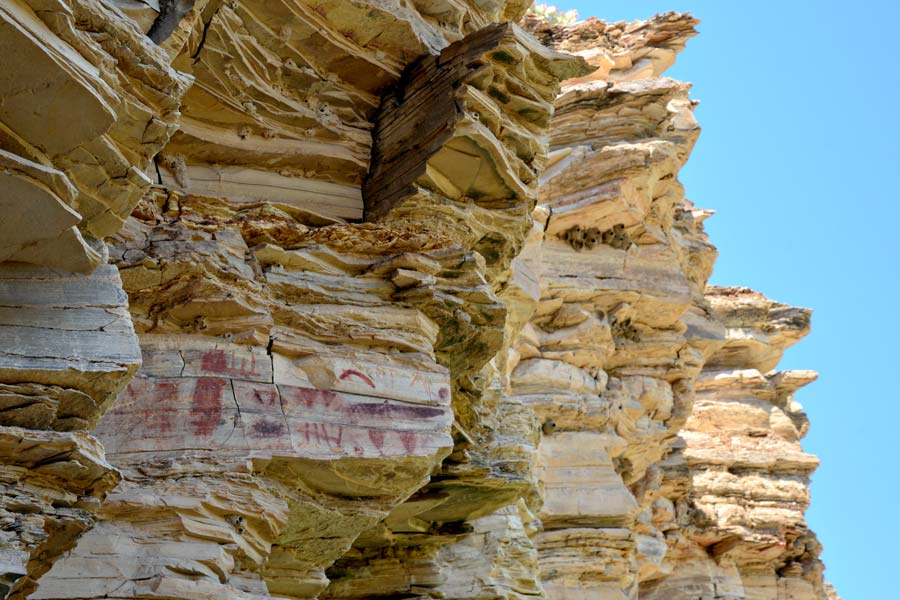 Where to Go If These Three Are Not Enough!
Lastly, if you are still ready to go I suggest heading to Ernst Tinaja. We did not do this hike as our kids were done. Moreover, the first half-mile of the hike in is a dry wash – not hard but not pleasant for tired kids. Still, the hike is under a mile and in the area – which at Big Bend National Park is an important deciding factor as everything is so far apart. It is also a good one for the afternoon or early evening as you can get shade from the canyon walls.
On our way back to Chisos we stopped at the Panther Junction for a rest stop and to get the kids some books they previously wanted. We left when it closed at 5 pm. From there, we went back to the hotel, showered, and got dinner.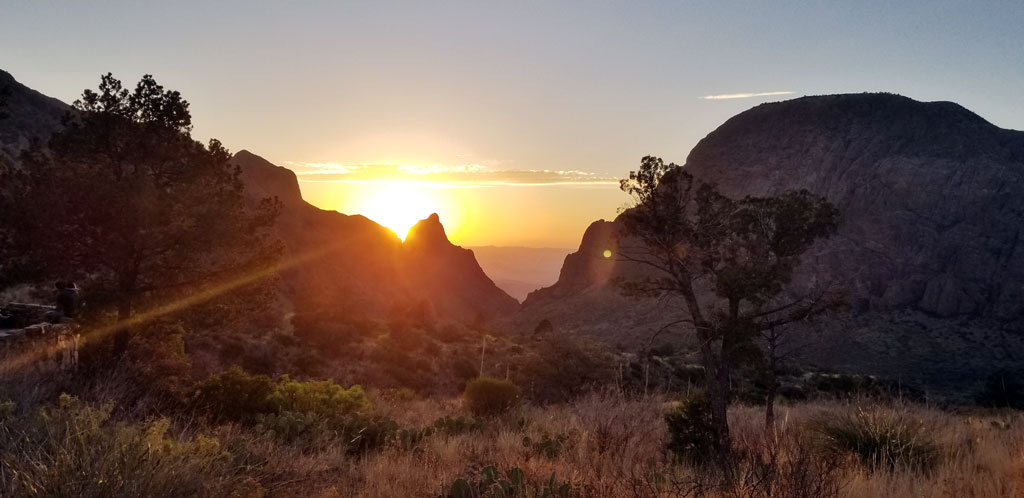 After dinner we did a few laps of the Window View Trail – how can you not want to see that view every night?! Then it was time for bed!
Happy Hiking and check out the links in the Day Two Itinerary for specifics on hiking with kids for each trail!
Next:
Day Six: Big Bend Ranch State Park & Terlingua
It's a series, so if the link isn't live yet subscribe to be notified of the next post!

👇 Where's the Subscribe button? Right down there in the footer 👇