Houston Rodeo Family Guide
We love taking the kids to the Houston Rodeo! It is a great family event. If you have never been it may seem intimidating. But, Rodeo Houston is an experience you cannot skip! If you are frequent flier there is just so much to do that it is easy to miss things. And, every year there are new exhibits and experiences. So, shine your boots, let prairie plaid invade your wardrobe, and do not be afraid of Big Texas Hair.

Don't miss a single thing this season with this Rodeo Round-Up!
---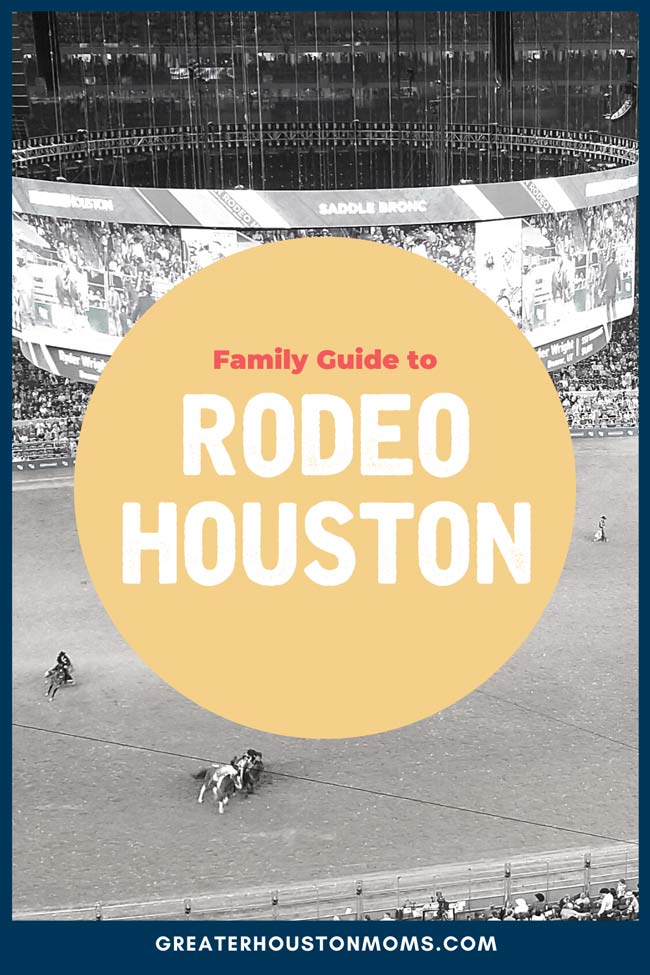 ---
PRE-RODEO
Before we even have boots on the ground the Houston Rodeo is in action. There are more than 35,000 volunteers that work on 107 various committees year-round to put on this event. And, some of the most family-friendly events happen before the gates open: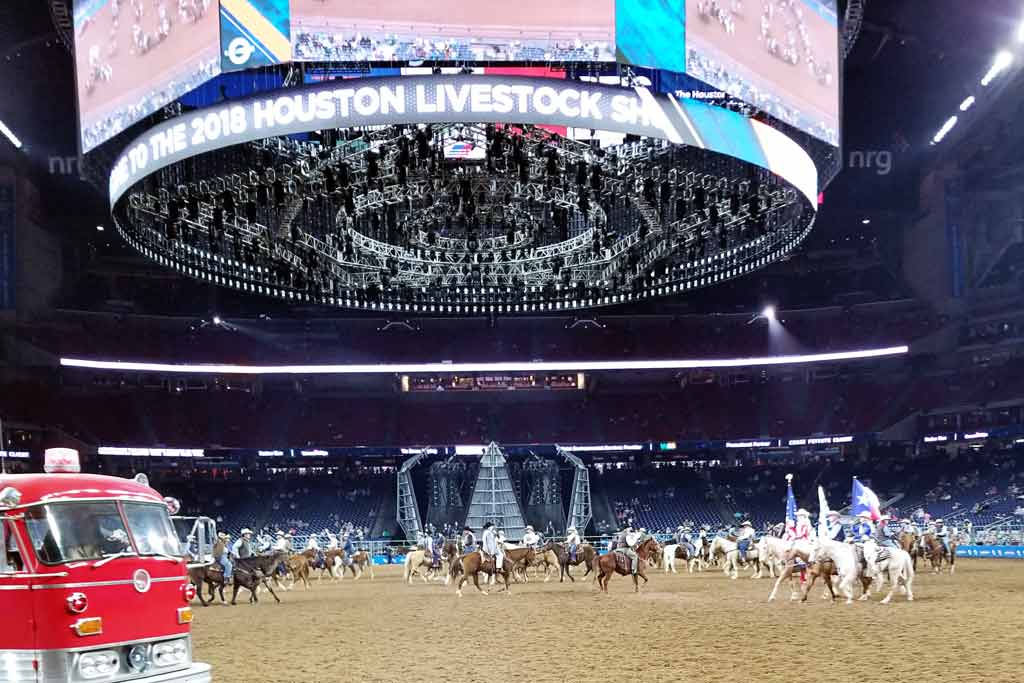 This is the big Mayoral kick-off to Go Texan Day! There will be free food and games downtown in front of City Hall. A perfect outing for the family with dancing and Texas Longhorn steer.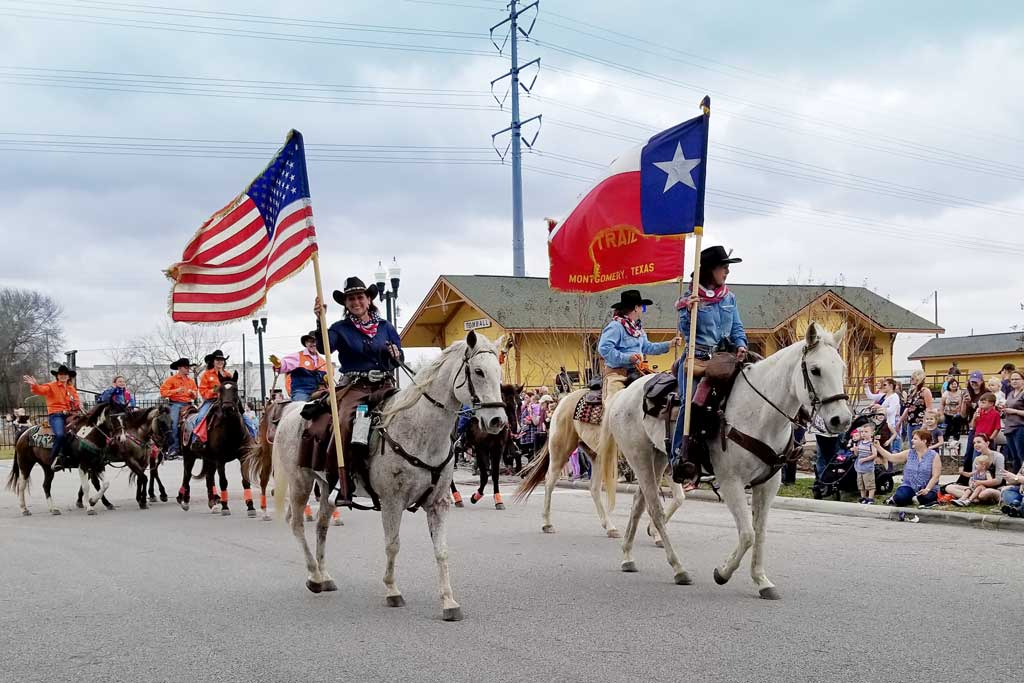 Ten traditional trail rides, complete with chuckwagons and cowboys (and cowgirls) leave the outskirts of Houston and converge on the HLSR. They move slowly and make frequent stops. Finding one near you is easy. So, don your boots and scoot over to visit the Trail Riders. Even if you can not make a pit stop you can probably bring the kids to their route to wave as they pass by. They are pretty easy to find just follow the poop in the streets! (Don't worry, they clean up as they go but you can definitely tell they have been through.)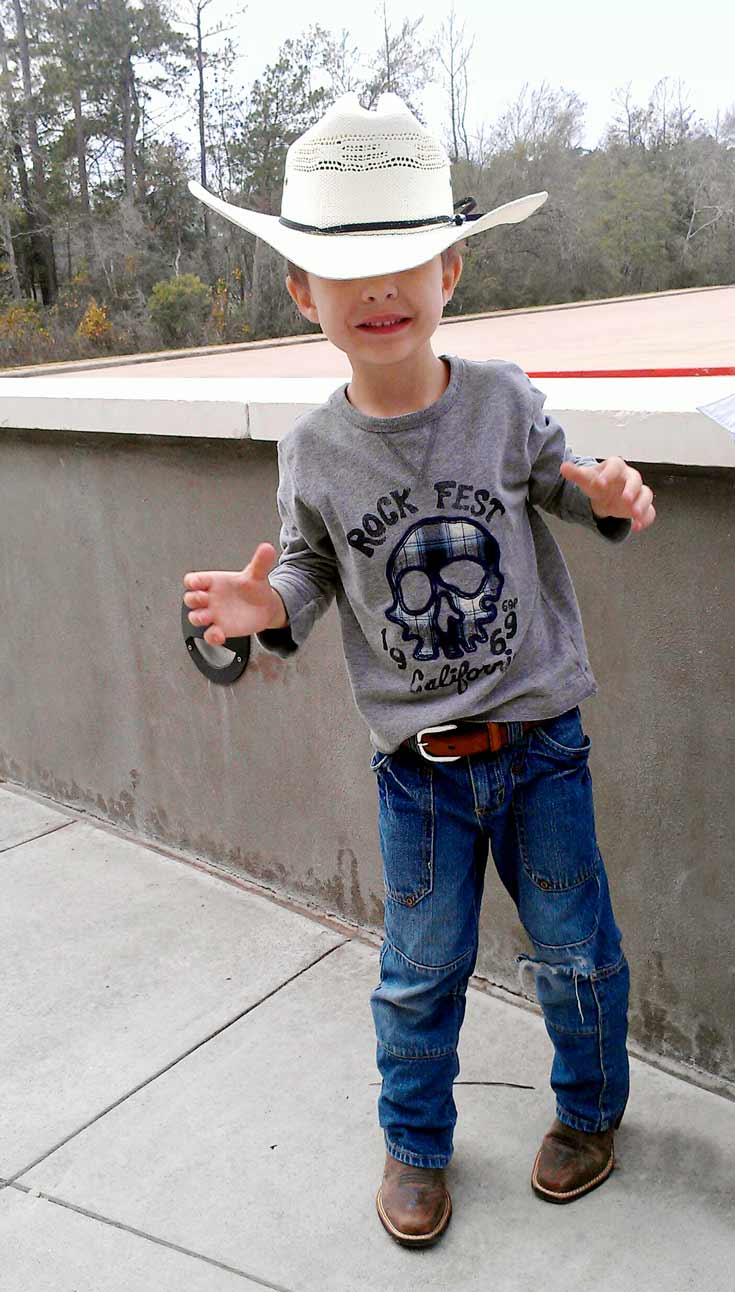 If you were a kid in Houston you are well acquainted with Go Texan Day. Almost every school uses the Friday before the Houston Rodeo begins as an opportunity to encourage boots, hats, and bandanas. Along with celebrating Western Heritage, there is a simple video contest open to all to show off your Go Texan Day event.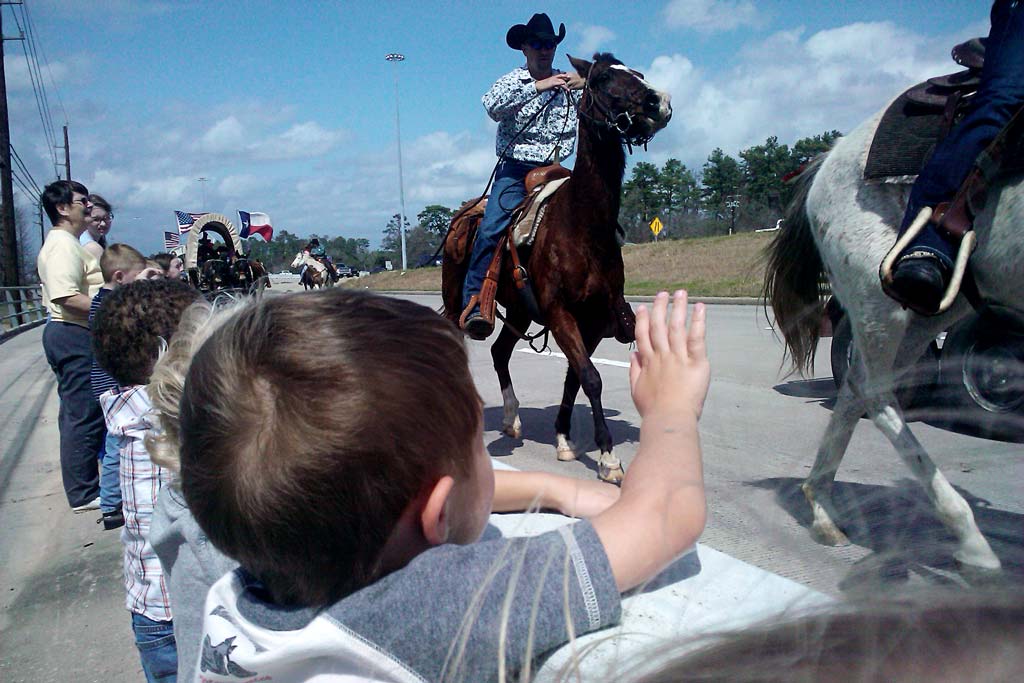 Once the Trail Riders make it to Memorial Park their last stop before the actual rodeo is the Rodeo Parade. The parade will step off near Houston City Hall at 10am.
Immediately, prior to the parade is the Rodeo Run.
---
HOUSTON LIVESTOCK SHOW
Rodeo Houston is too large to expect to see it all in one go. But, if you are bringing the kids there are certain exhibits and activities you will not want to miss! The livestock show is certainly part of that.
You will want to head inside to the large exhibit hall in NRG Center (the Horses are in NRG Arena). If you have younger kids stick with NRG Center. And, do not worry if you end up at the wrong one there is a free Tram that will take you from one to the other.
Your older kids may enjoy watching the judging but younger kids are usually happy to walk around and see all the animals and kid-friendly exhibits.
Like what? Like all the things!
AgVenture
For kids and farm-lovers of all ages, Agventure is the best place to begin your Houston Rodeo adventure! Exhibits are open daily from 9 am to 9 pm. To avoid crowds come early with your little ones or swing in after the concert has started, later in the evening.
What is going on in Agventure? All the animal things.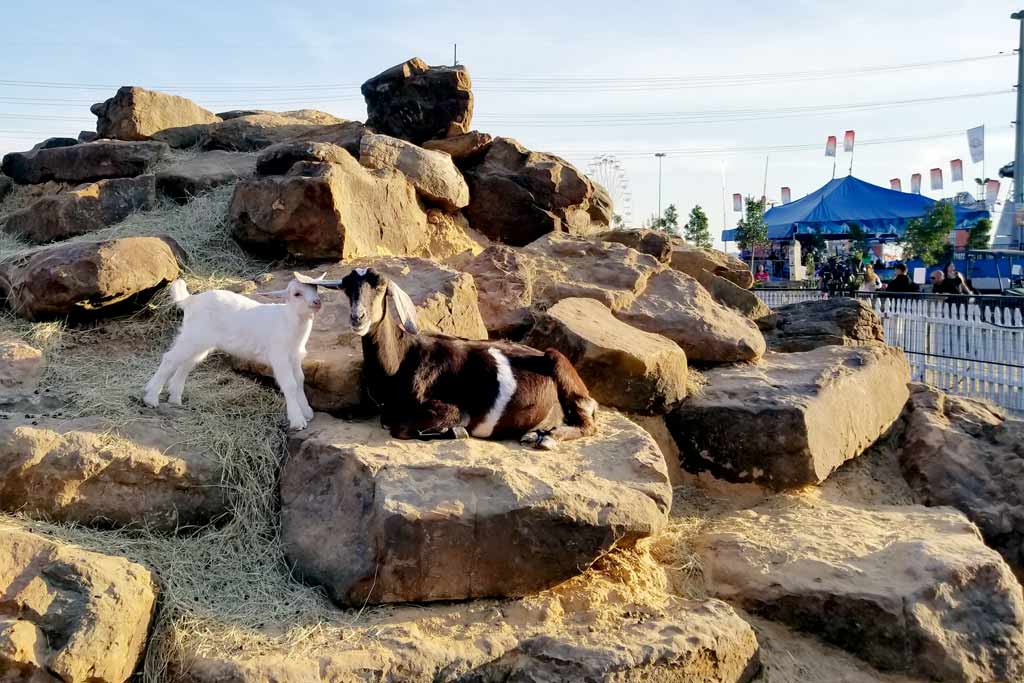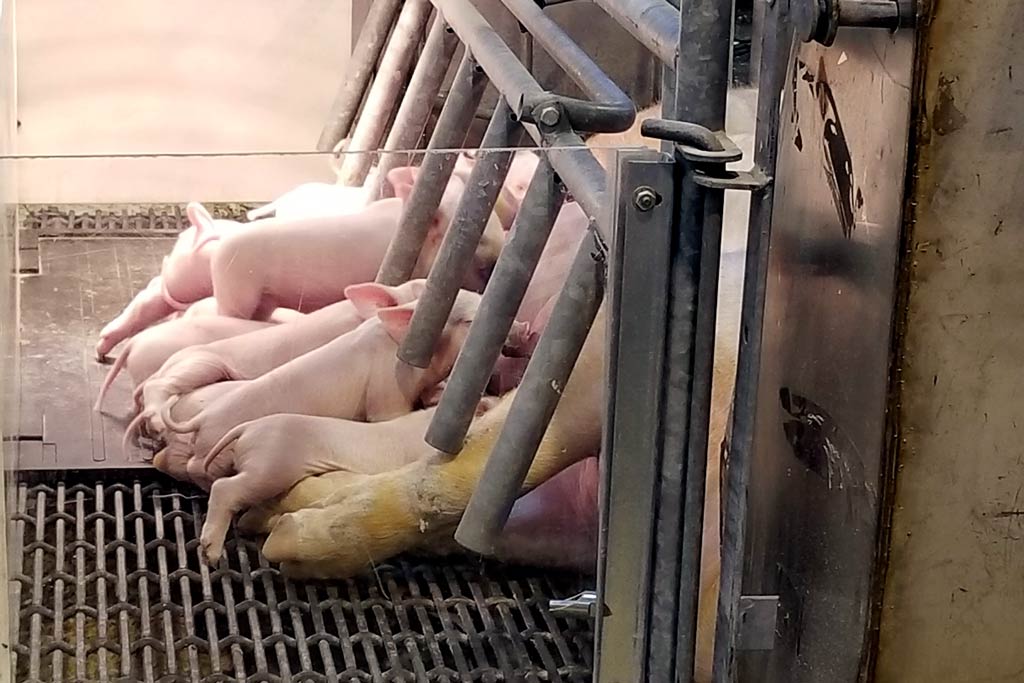 Birthing
The far end of the building has all the mom-to-bes and new moms and babies. These cows, sheep, and pigs arrive at the Houston Rodeo well into their pregnancies and deliver on-site.
Breeding & Animals
On the way to the birthing area, you can walk through the breeding barn. It is a great opportunity to see the different types of breeds within one type of animal. In line with that experience, there are several areas dedicated just to specific animals like rabbits, poultry, and miniature breeds.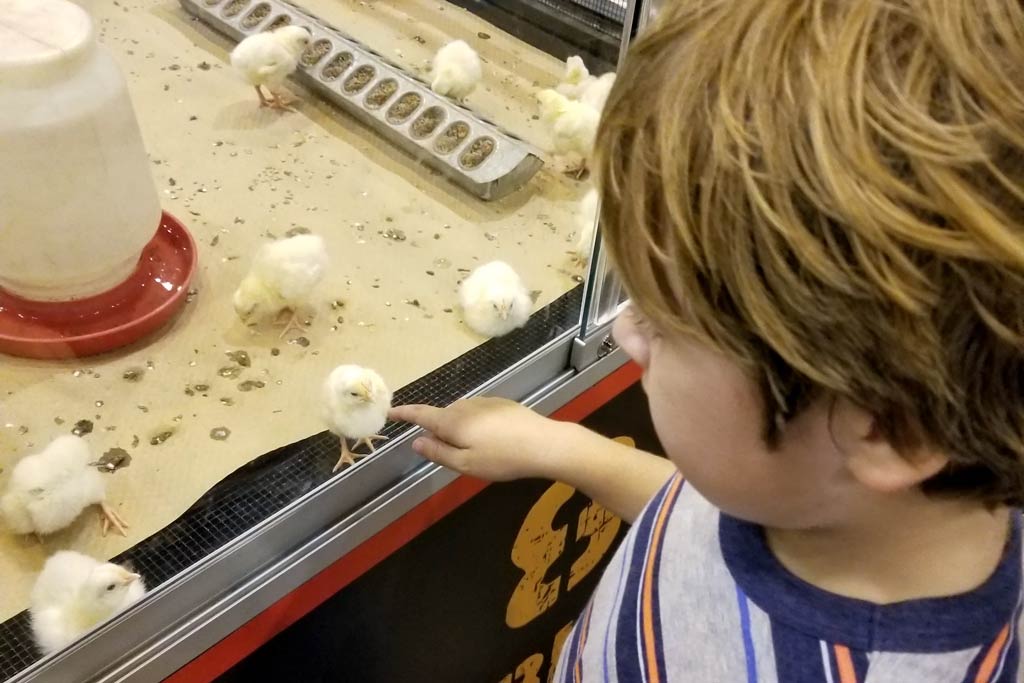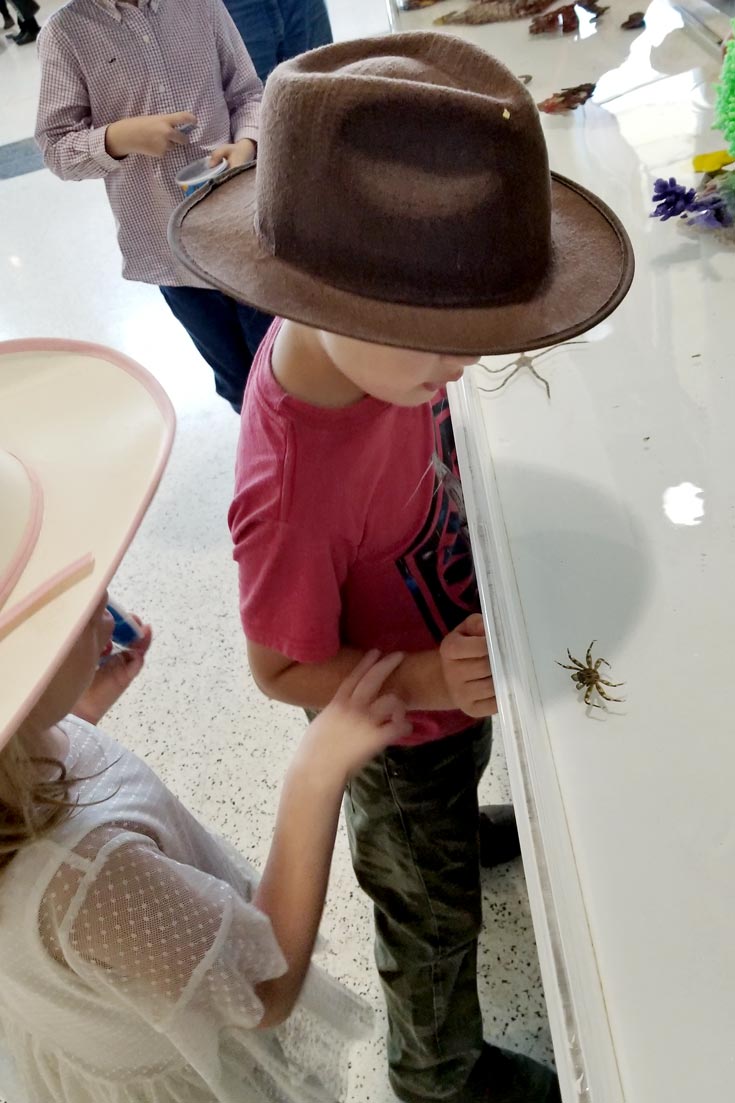 Fisheries
Who does not love a touch tank?!
The fisheries exhibit has a lot of really interesting information about commercial fisheries and aquaculture, as it relates to Texas.
But the best part is seeing how long it takes your kiddos to muster up the courage to touch a crab!
Honeybees
The honeybee exhibit is always fantastic – with an actual colony on site.
The kids love trying to find the queen!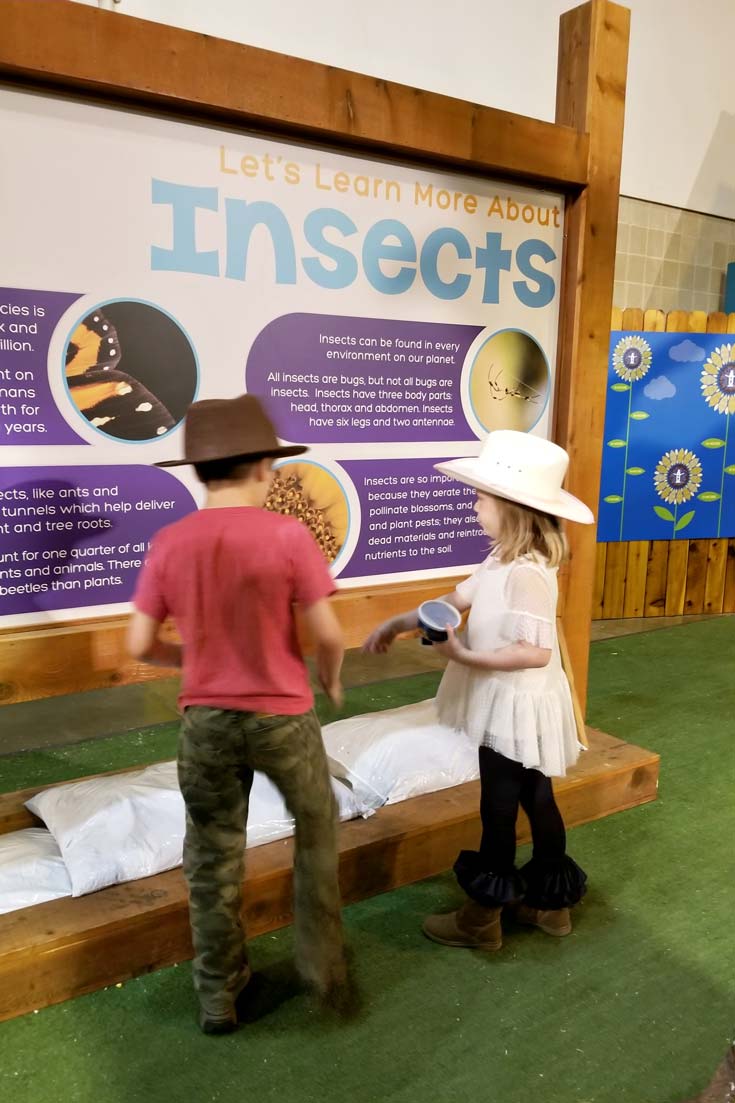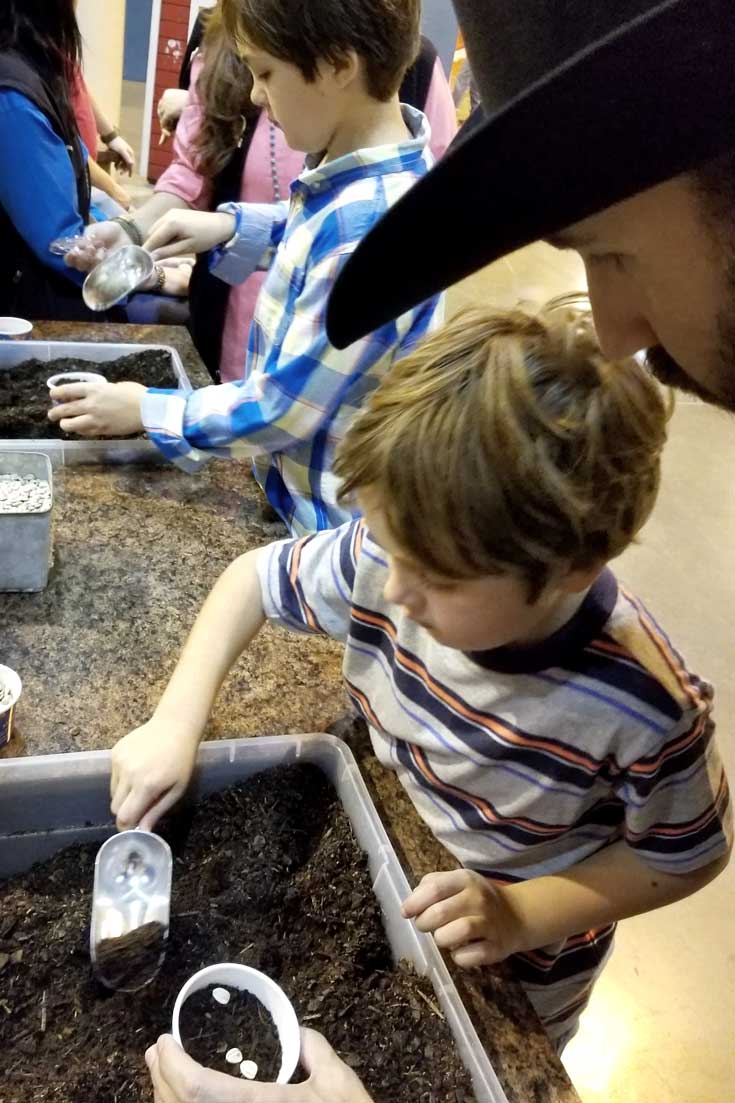 Horticulture
Seeds and dirt = happy kids! Grow your own sunflowers and start them at the Rodeo.
You do have to carry them around (but there are usually lids) so you may want to encourage this activity for later in the day.
---
The Junction
Once you are done inside it is time to head out to FOOD The Junction & the Carnival. Both of these have even more things for the kids. And, the carnival is laid out with all of the younger kids' rides and activities closer to NRG Center and all of the "big" rides further away.
Fun on the Farm
Fun on the Farm is the big draw at The Junction. It is fully immersive with a lot of different interactive parts conveniently located off a nice winding one-way path. It is a great place to meander and let the kids choose their own way.
I cannot tell you how long we stood by the baby duckling slide to see if one would make it down – and, we were as proud as a mama duck when they did!
Once you have made it through Fun on the Farm your kids may want to do it again! We have definitely been through more than once! But, once you are really done there are some other really great activities. The Junction is home to a Petting Zoo, the family-friendly Stars over Texas Stage, Pig Races, Mutton Bustin,' and some other fun activities your kids can sign up for and be a part of – like, Tractor Pulls!
Two of the newer exhibits are the mares and foals – Born to Buck® and Extreme Dogs will be a show featuring rescues doing some amazing stunts!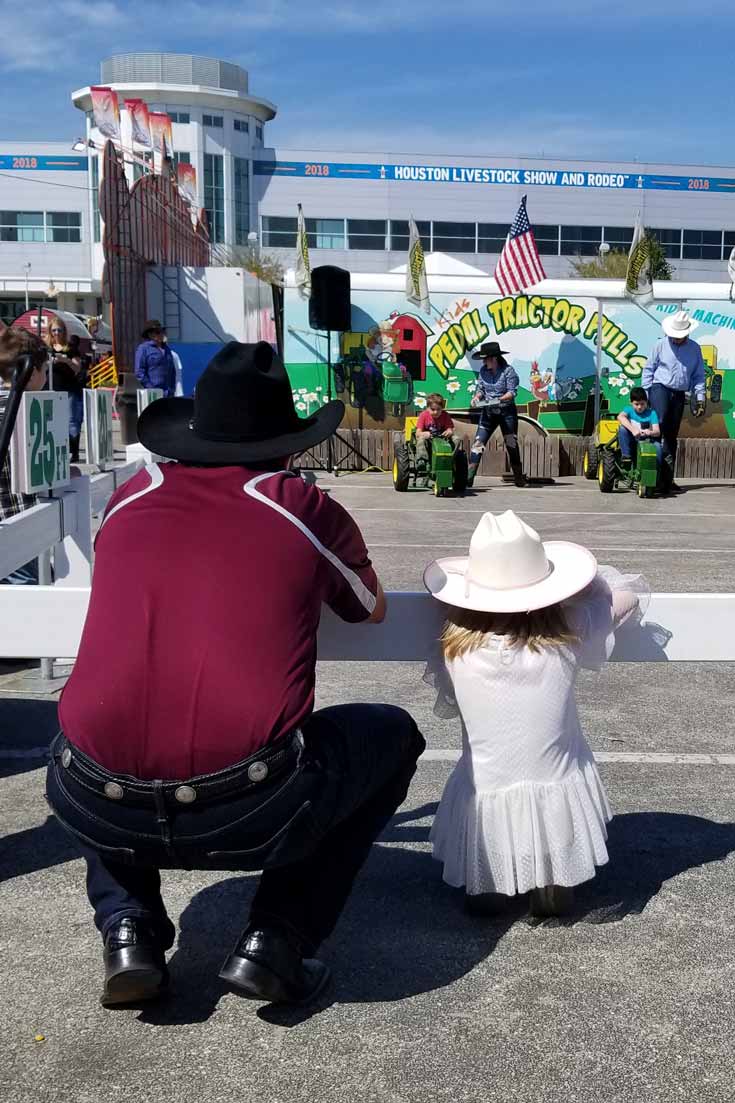 ---
Carnival & Dining
If you have not eaten by now you probably have amazing willpower but if you are looking for fun Rodeo food it is time! There is food everywhere but your best options will be found before you get too deep into the Carnival.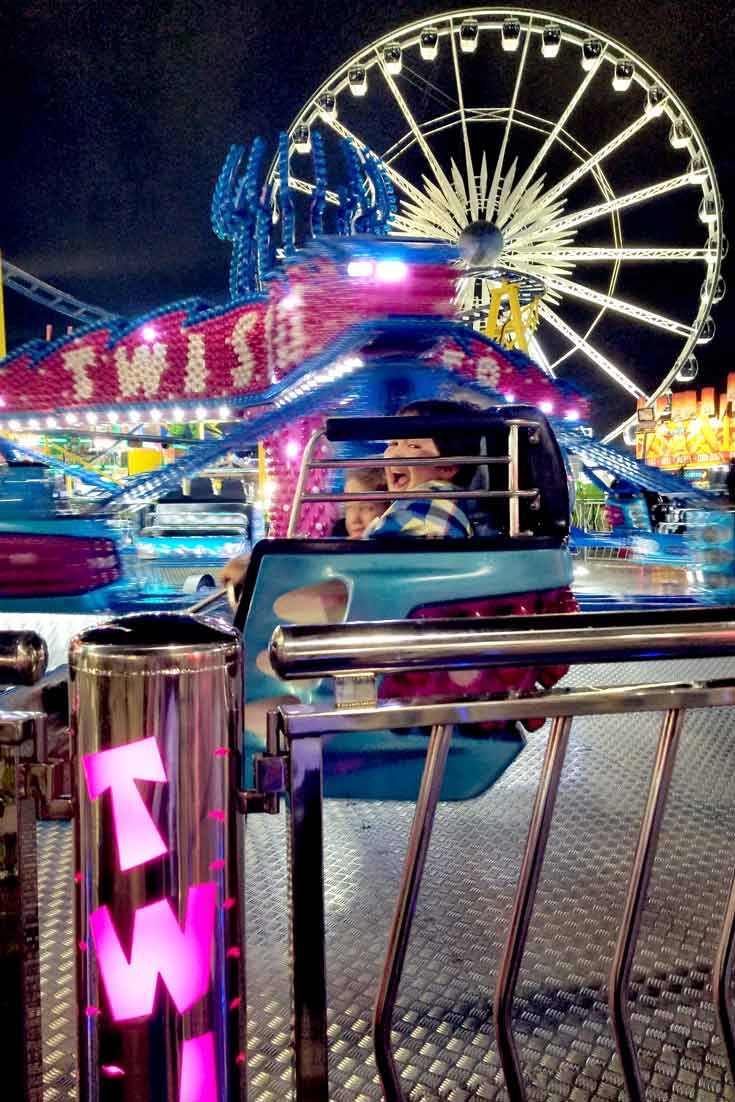 Under the tented section just outside NRG Center is Rodeo Plaza. Here you will find all of the big named barbecue restaurants like Goode Company & Pappas. But, there is a lot more available. Inside NRG Center is a great area too so if one area is too crowded just move on.
Looking for fine dining? Get a reservation at The Ranch Saloon + Steakhouse is bringing a sit-down dining experience. The Saloon is a first-come, first-served casual dining experience. The Steakhouse is fine dining from Houston area favorites B&B Butchers & Restaurant, The Annie Café & Bar and B.B. Lemon – reservations needed.
See more new food items & carnival attractions here. Download the RODEOHOUSTON app to use your phone's GPS to find exactly what you are looking for!
A note on Fried things at the Houston Rodeo
Everyone comes for fried carnival food. And, you will be able to find Fried Oreos, and the like, all throughout the grounds. But, do yourself a favor. Go to 'Fried What!" Yes, the line will probably be long but the quality will be so much better and the options more bountiful. They are always located just inside the entrance to the Carnival. If you go in before you get to all the tent-covered food area it is right around there.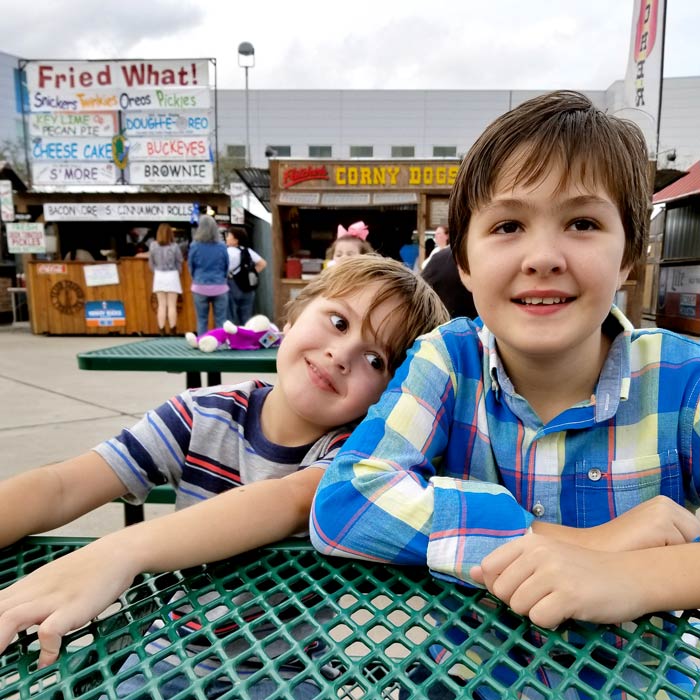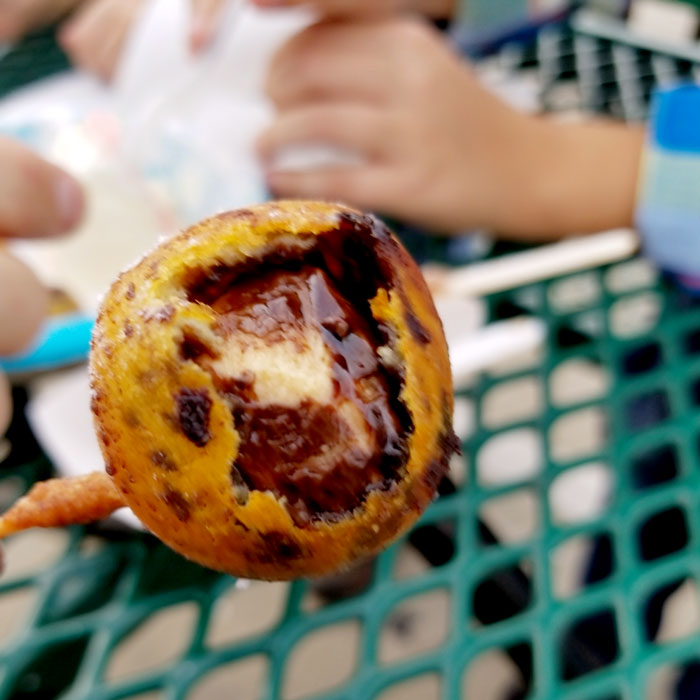 Carnival Tips:
Admission: The carnival is included with a Grounds Pass or Rodeo/ Concert Ticket. You can purchase a $25 Fast Pass onsite to avoid long lines.
Getting Around: The younger options are closer to The Junction (just south of NRG Center). The bigger rides are closer to the southern entrances of NRG Stadium. Stuck on one side? Hop on a free tram and ride from NRG Arena to NRC Center
Discounts:

Half-Price Carnival Tickets: These are only available BEFORE the rodeo begins. If you know you will go at some point it is worth the upfront cost. You can buy them online now and they are entirely digital. Download the Rodeo Carnival Mobile App to redeem them.
Family Wednesdays (formerly 'Value Wednesday')

Free NRG Park Admission for seniors, 60 and over, and children, 12 and under until noon. (does not include rodeo/concert admission)
Enjoy $2 rides and games from 11 a.m. to 4 p.m., along with a $2 food or drink item at select food stands in the Junction Carnival.

The Houston Rodeo will host a Sensory Friendly Carnival Experience. During this time, there will be minimal lights and sounds permitted in certain areas of The Junction and the main carnival area to provide an accommodating and positive experience for guests with sensory sensitivities or challenges.
---
---
HOUSTON RODEO
You can have a full day at the Rodeo without actually going to the Rodeo. All of the Livestock Show and Carnival attractions can be accessed with a Grounds Pass ticket or during Family Wednesdays. But, if you are looking for Broncs and Bulls you will need a Rodeo/ Concert Ticket. These tickets start at $20 and are delivered digitally via axs.com.
What do kids like at the Rodeo? As for the actual Rodeo Events – Bull Riding, Barrel Racing, etc. some kids love them, Some do not care. And, the concerts are loud. You may want to head out or bring ear protection for the little ones who stay for the duration.
What they definitely do not want to miss are:
Selfies on the Big screen
Above the dirt hangs a 360-degree screen so you do not miss any of the action or stats. In between the action, the Houston Rodeo's social media wizards are pulling pictures from Instagram as people post them and broadcasting them up in the arena. So, if you have a great pic set your profile to public and hashtag is #RODEOHOUSTON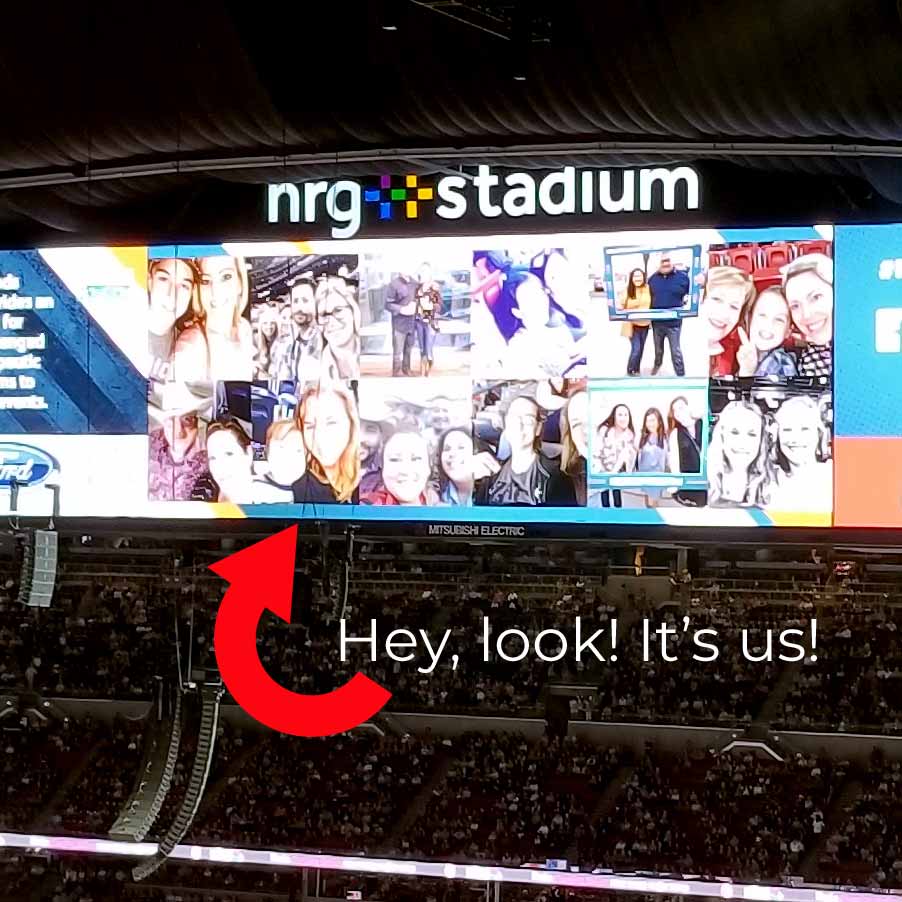 Grand Entry
The rodeo kicks off each evening with the Grand Entry Parade. It is fun to wave to everyone riding by but you could also try to join the parade. If everyone in your party is 4+ you can register. You will have a better chance of your application being accepted if you ask for less popular performance night or know a HLSR Member.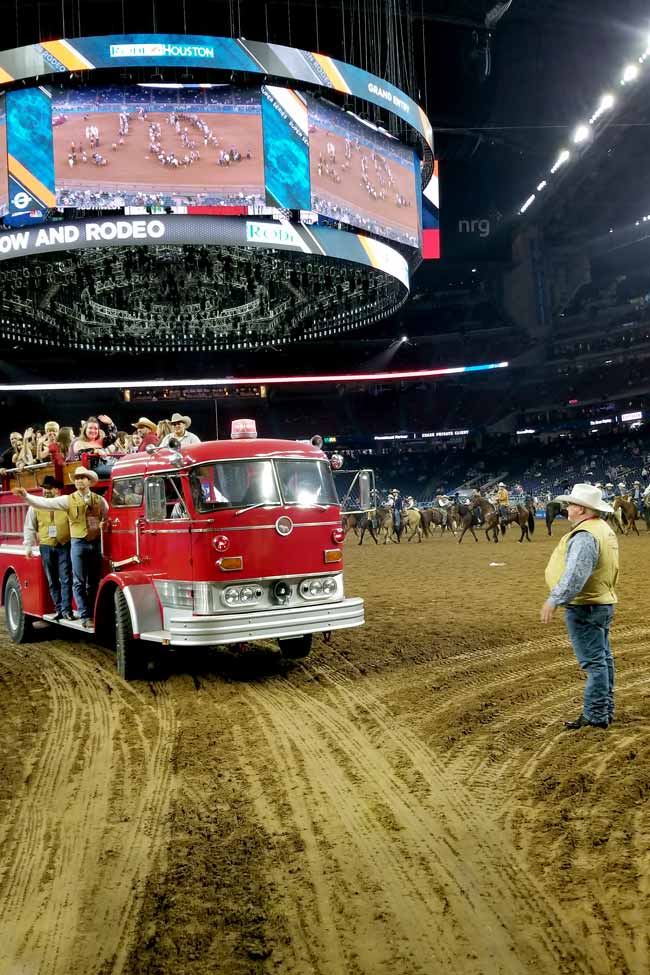 Chuck Wagon Races
The wagons and 18 horses race around the arena for braggin rights! Everyone loves to pick "their" wagon and see which of the three wagon's will win for the evening.
Mutton Bustin'
Five and six year-olds hang on to sheep and ride for dear life across the arena. There is not much that gets a bigger cheer from the crowd than a little cowperson hanging on for 8-seconds! To participate you must register in advance (and it really helps to know someone). But, Mutton Bustin' is available in The Junction on a first come, first-serve basis for $15.
Calf Scramble
There is not much that gets a bigger cheer than mutton bustin' but if there is it would be for the kids participating in the Calf Scramble. Students are ushered to the end of a chalked rectangle and volunteers line the other three sides. In the middle less calfs than kids. The horn blows and they're off! The teens must catch and halter a calf from outside of the center rectangle (or drag it out and back in). The winners get a $1,750 certificate to purchase a registered beef heifer or market steer to raise and show at next years' HLSR.
High Flyin' Awards
The last event that will excite the kids is the High Flyin' Awards. These are generally shown on the big screen during the change over from the Rodeo to the concert and showcase the wildest rides and toughest luck from the previous evenings' event. It is usually funny or cringe-worthy and the crowd chooses the winner by how much noise they make. Two airline tickets are the reward for their pain.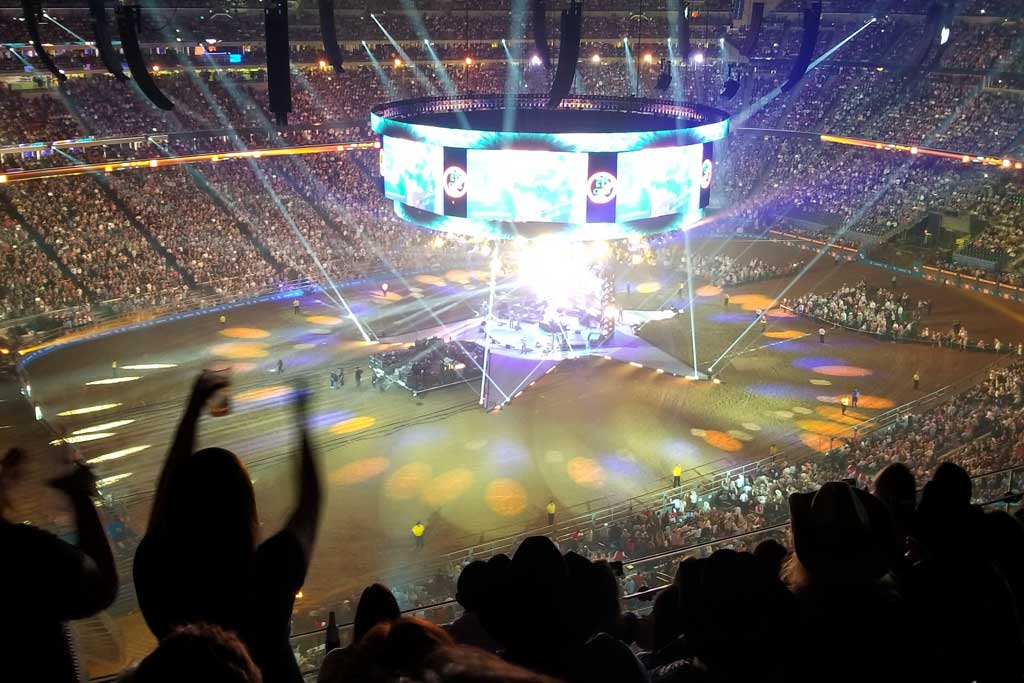 Tips:
There tend to be a lot of open seats until later in the show so if you are just going to watch the Rodeo you could get away with purchasing cheap seats and sitting closer to the arena to watch the early stuff.
Ear Protection is a must for little ones staying through the concert
Finish your food before you head into the stadium – they will not let you bring it in
Strollers are allowed and there are checks inside the stadium (some attendants will let you stash them in the unused handicap area of your section)
Baby Stations are climate controlled and available to offer privacy and a quiet atmosphere. Locations:

Lobby of the first floor of NRG Center
East end and inside Hall E of NRG Center near the restrooms.
Outside in between NRG Stadium and NRG Astrodome
At the exit of Fun on the Farm

Buy your western wear before you arrive! It will be pricier on site.
Download the app (Android, iOS) and check out the complete Visitor's Guide
What are your family's Can't-Miss Rodeo moments!?