Dewberry Farm: Fall Farm Fun!
The Dewberry Farm Fall Festival is in full swing and we were invited to check it out! We headed to the farm on a swelteringly normal fall day in Houston. It was humid. It was hot. It was fun.
WHAT YOU CAN DEW
We had an amazing day at Dewberry Farm. We arrived a bit after the rush and the parking lot was quite full however there was still ample parking.
It started out hot! The farm does have places to dodge the sun here and there. However, we all know that shade in Houston is just a less hot place to stand. But, a lovely little storm was brewing somewhere else. We heard some rumbles, got a slight mist (which, felt amazing!), but mostly we received some shade. Beautiful cloudy shade!
Upon check-in, we received our bracelets and a map. My oldest loved having a map. It is a great colorful design and he planned out where to go and when.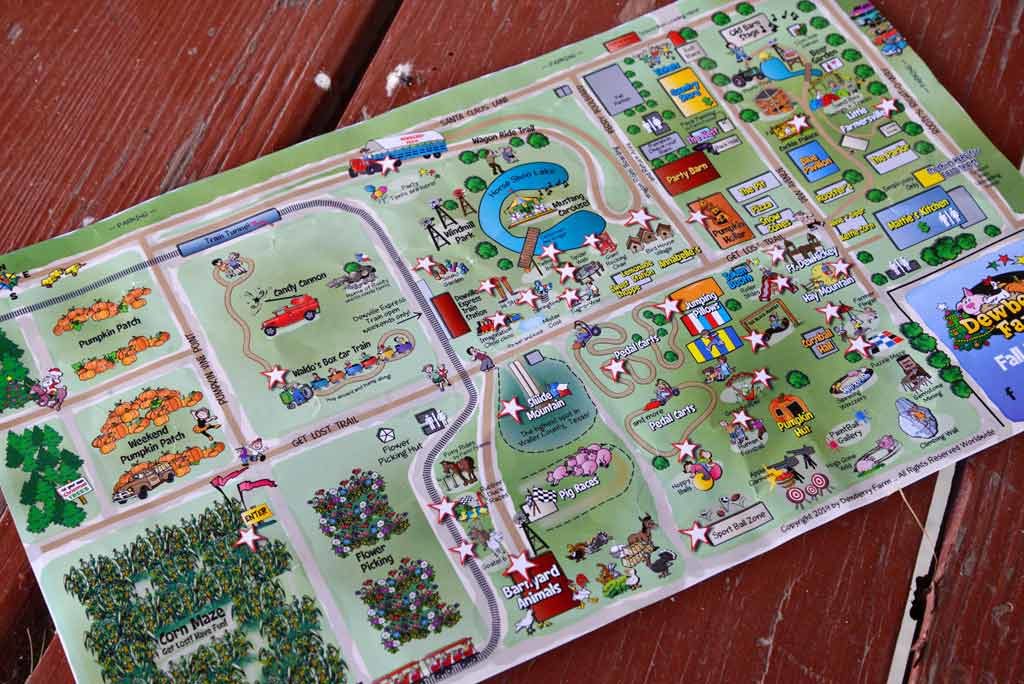 First stop, Ft. Dew Hickey. It is a fun multi-level wooden fort with slides and bridges. It is big enough for adults to enter and surrounded by trees for shade. We very shortly segued over to the neighboring Roller Slides and the Black Mamba.
And, then I lost a few kids to the Hay Mountain.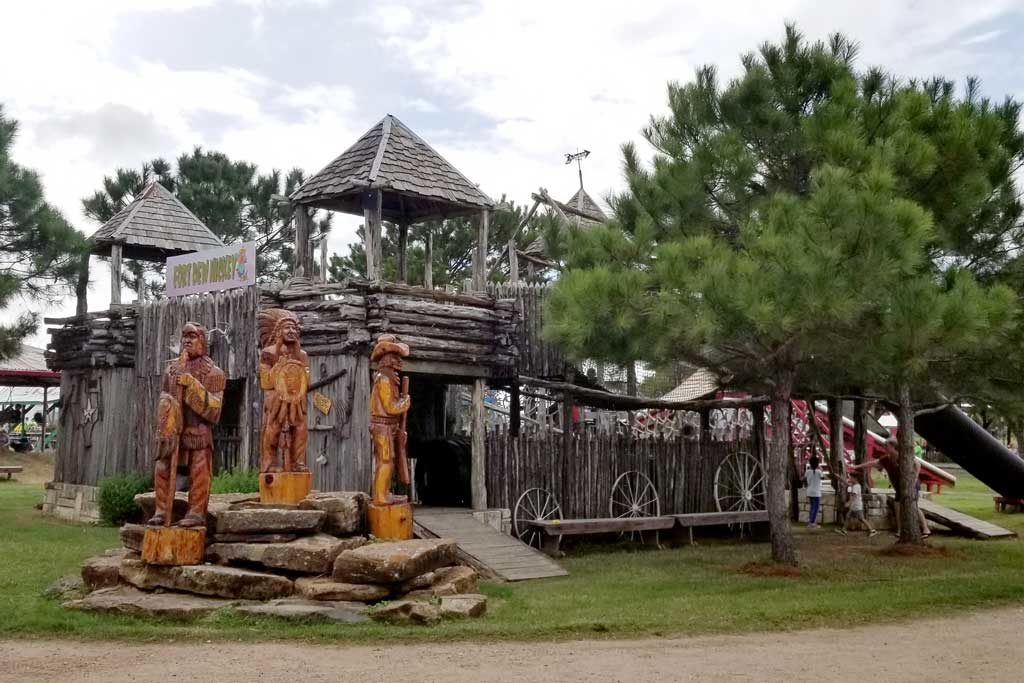 Hay Mountain is exactly what it sounds like – a large pile of hay bales. The best part is the ropes that kids can swing from. So, up they went. Climb, climb, climb. Jump – swing – poof! Repeat. Forever.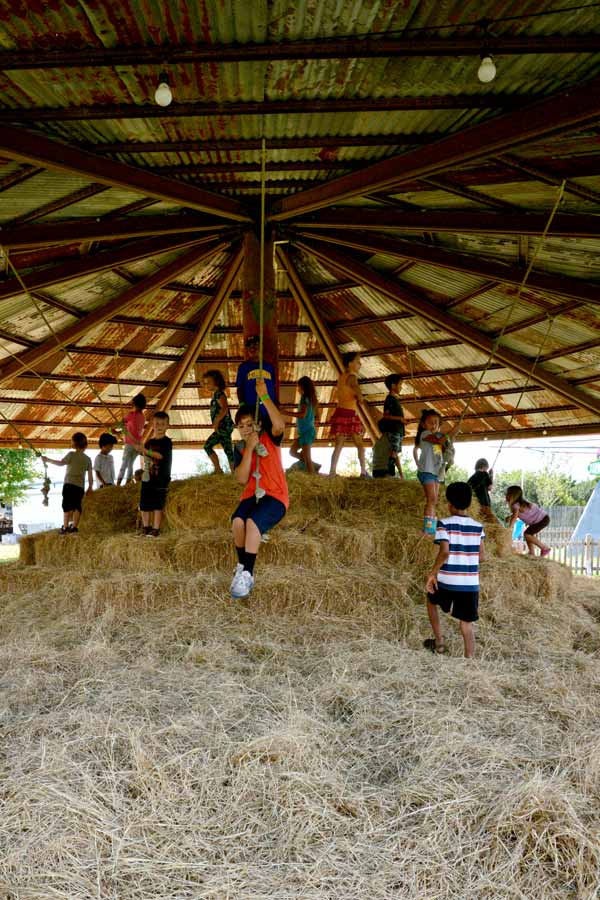 It may not sound like enough time had passed to earn a break but they were in that Hay Mountain awhile. Forever. They came out sweaty and sticky and hot. So, we popped over to Mattie's for an Italian ice break. After that, we refilled water bottles and headed back out. My kiddos had been eyeing the Farm Flinger and Whizzer. Both are self-propelled rides and worth whatever wait there may be.
I watched a child hang on to the buoy, he should have been sitting on, and be drug around and around the circle laughing the entire time. Kids are weird.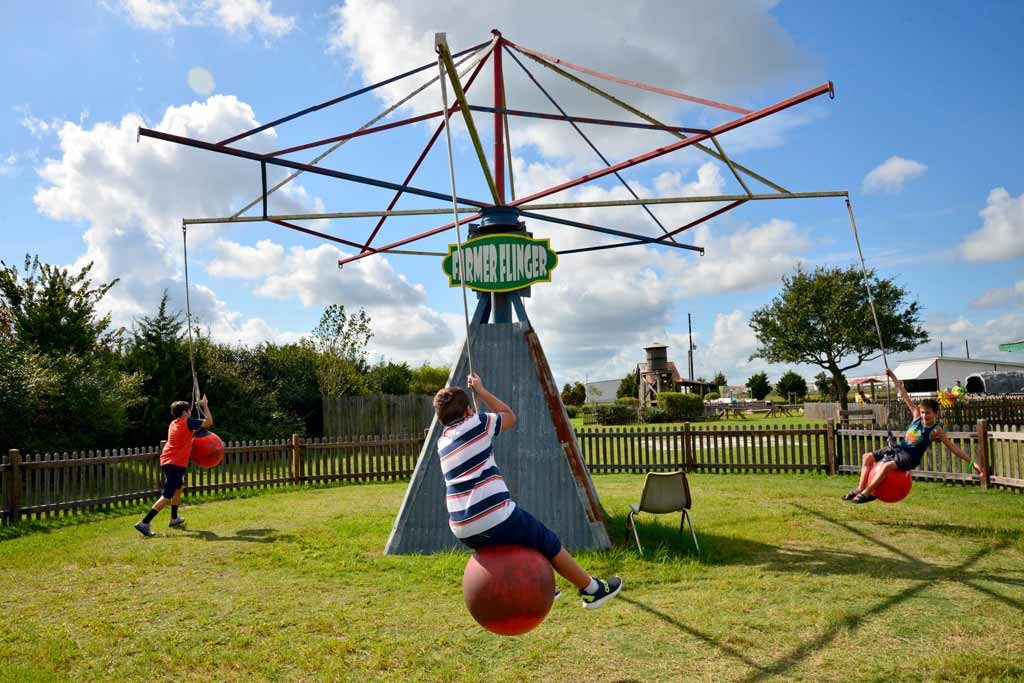 The Farm Flinger is also a place to get super cute pictures of your kids. Like this one: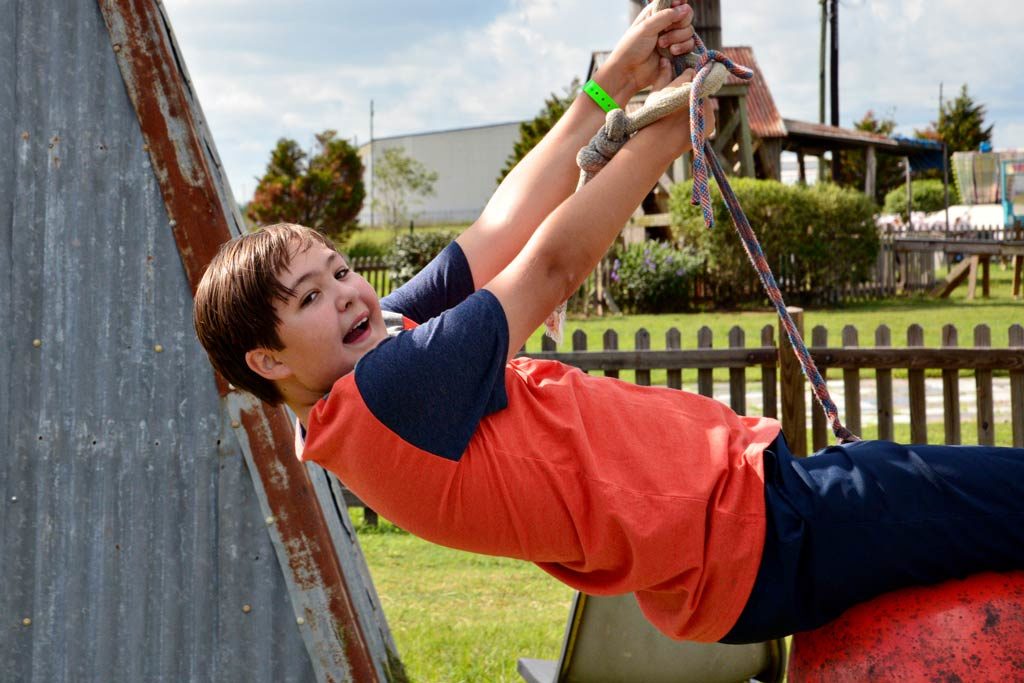 Now, the Whizzer had a longer line but there are two rides going – which helps. It seats four but they do not make you fill them. Your little ones will have to ride with you or someone tall enough to move the bar back and forth. If you have a speed-loving kiddo have him join a group of teenagers. They can get the Whizzer flying!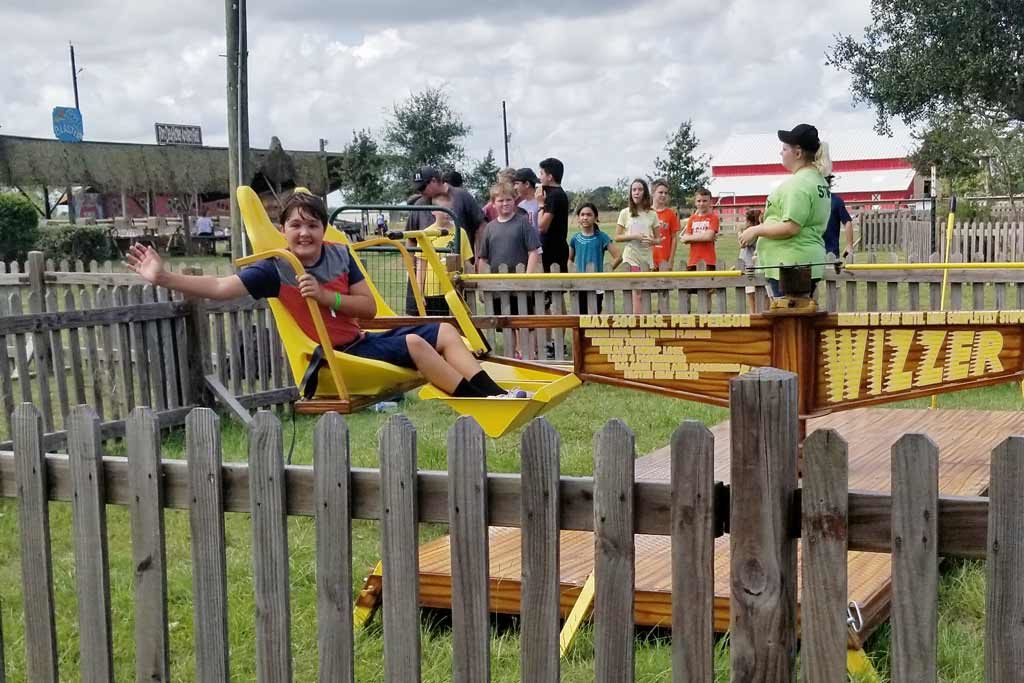 After these labor-intensive rides, you and your kids will be ready for something a little low key. Fortunately, just past these rides are a multitude of smaller activities like Human Foosball, the Climbing Wall, Apple Cannons (which sadly were not an option for us) and the Sports Ball Zone. Thankfully, for us, this is when the shade came.
It was glorious!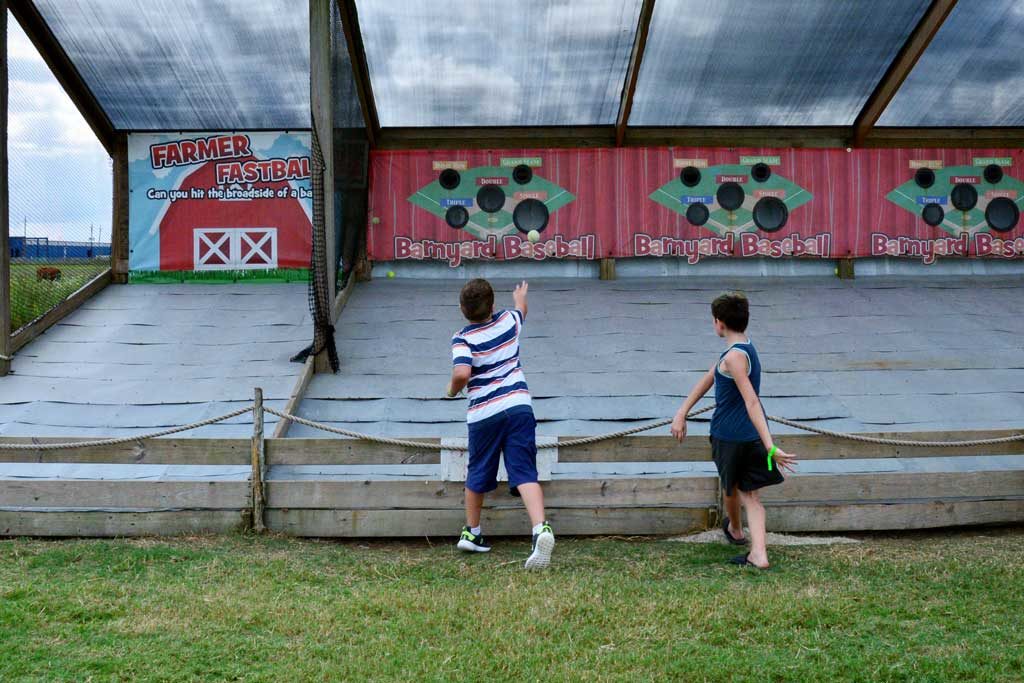 From this area, we cut back to go to the jumping pillows – which are covered – and the Pedal Cars. The Pedal Cars are great because there are two tracks one for the littler pedalers and one for the big kids.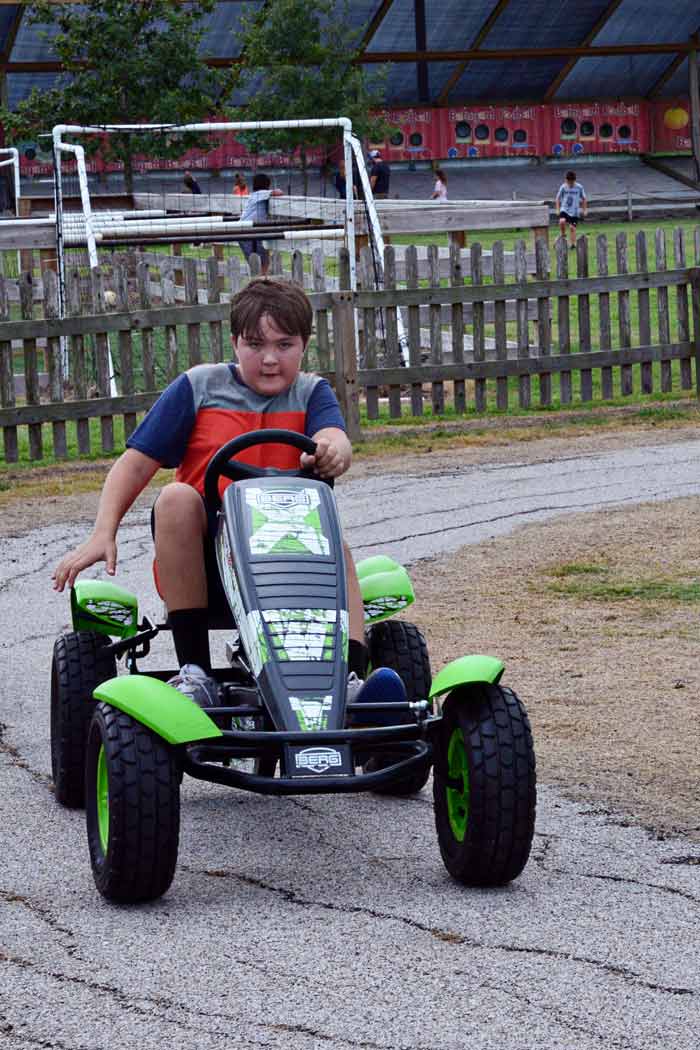 Oddly, we were again quite hot! Weird, Texas in October, who would guess? So, we headed into Pumpkin Hollarland. The super-not-scary jack-o-lantern house. We were hoping for a/c. There is not any but it is still a great exhibit of some really amazing carved pumpkins.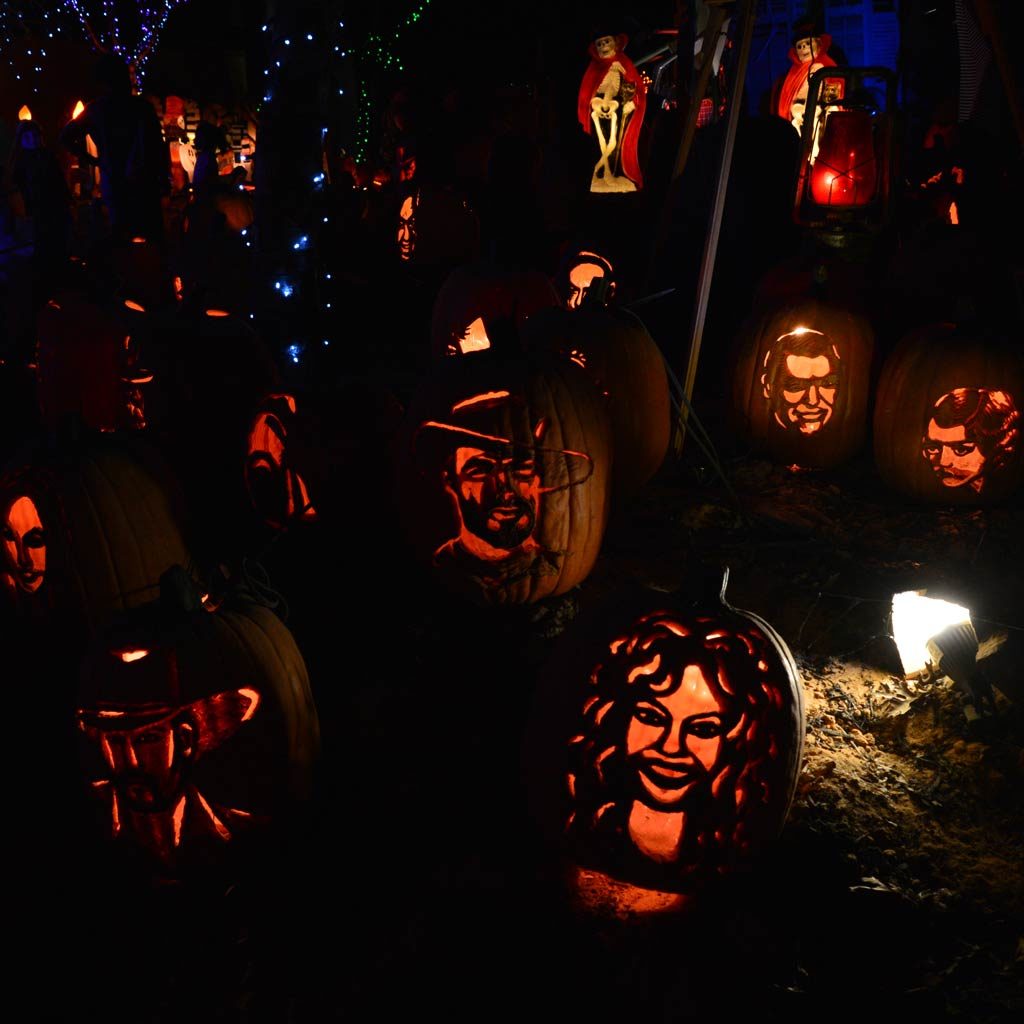 From here we headed to Slide Mountain. It is tall and your kids will probably be begging to go over there as soon as they spot it on the horizon. After Slide Mountain, you can swing left to visit the animals or right to take a train ride. If you have multiple ages and stages this is a good place to divide and conquer. The older ones will run up Slide Mountain and slide back down for as long as you will let them.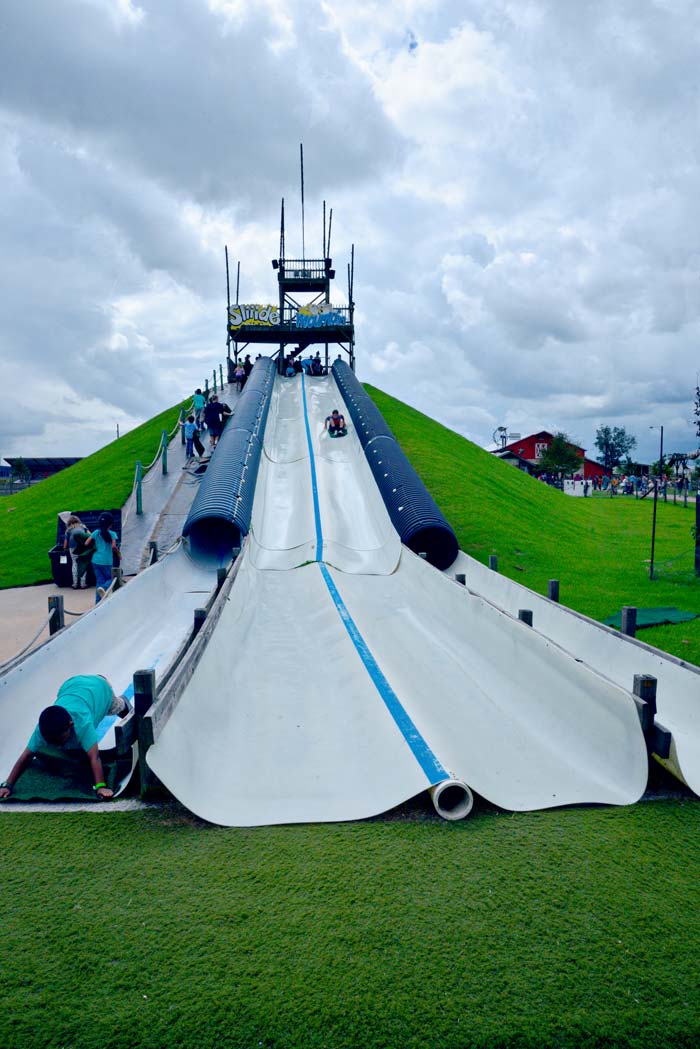 Are you funned out by now? Nope. You can't be. Now we're getting to the main event. The entire reason (okay, maybe just my reason) for all this fall family fun at Dewberry Farm – the Corn Maze and Pumpkin Patch! On your way out to the corn maze, you will pass the Flower Picking fields on your left and the Box Car Train and Candy Cannon on your right.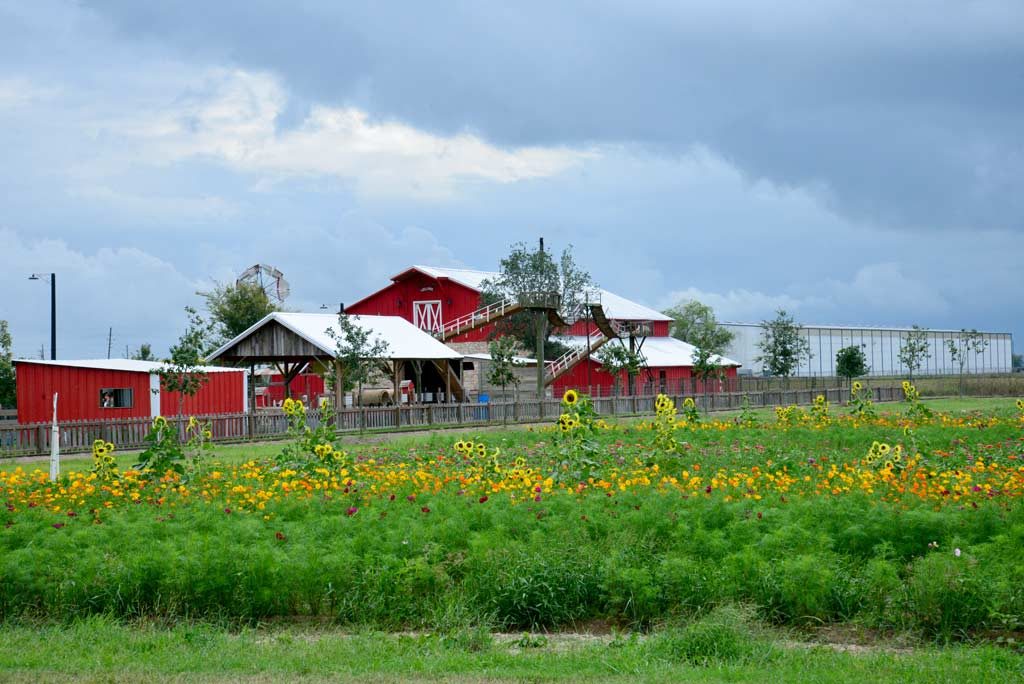 Then there you are. At the Corn Maze! Remember to teach your kids to leave things better than they found them. Meaning, do not pick the corn, do stay on the path, and generally follow the posted rules.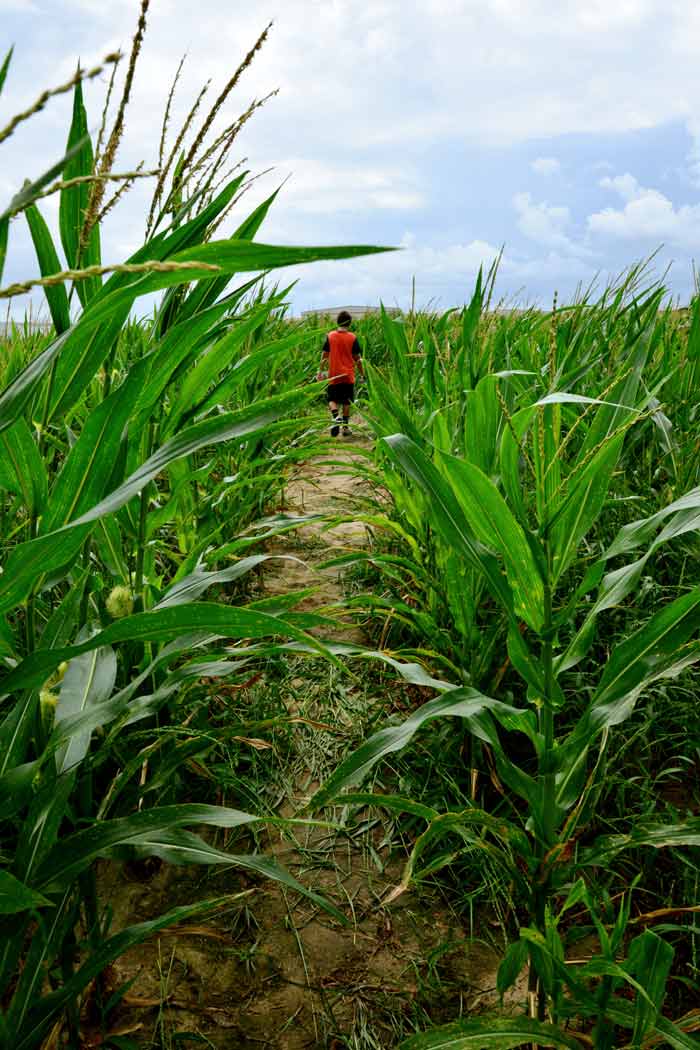 After you have gotten lost and found again saunter across the way to the pumpkin patch. My child said he wanted to hold a big pumpkin. Apparently, I have been depriving him of such thrills. So, we went and held a big pumpkin.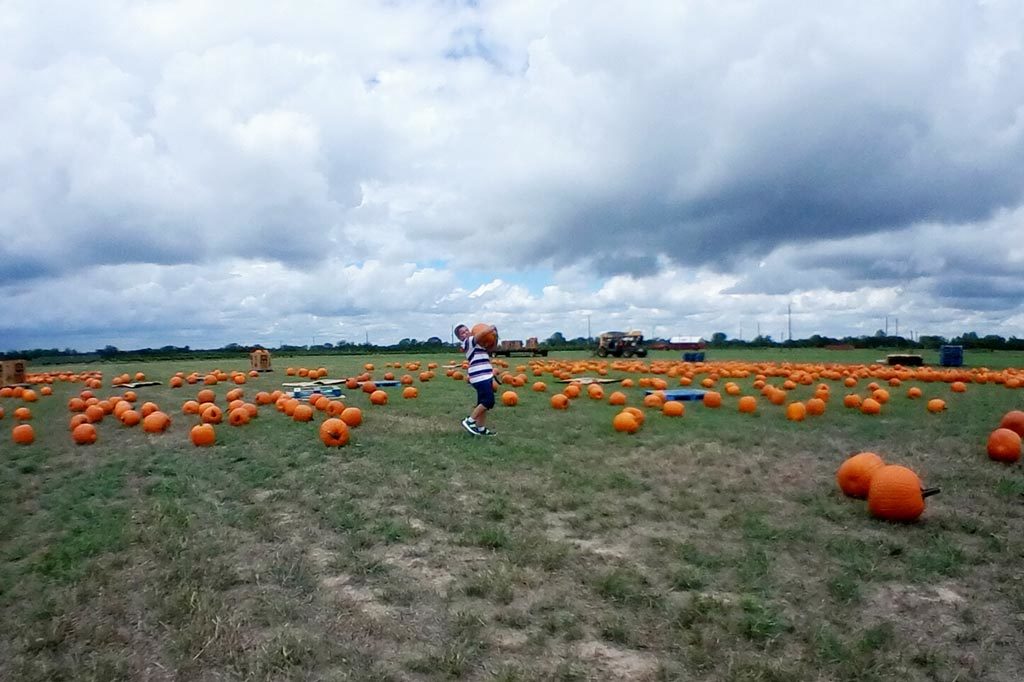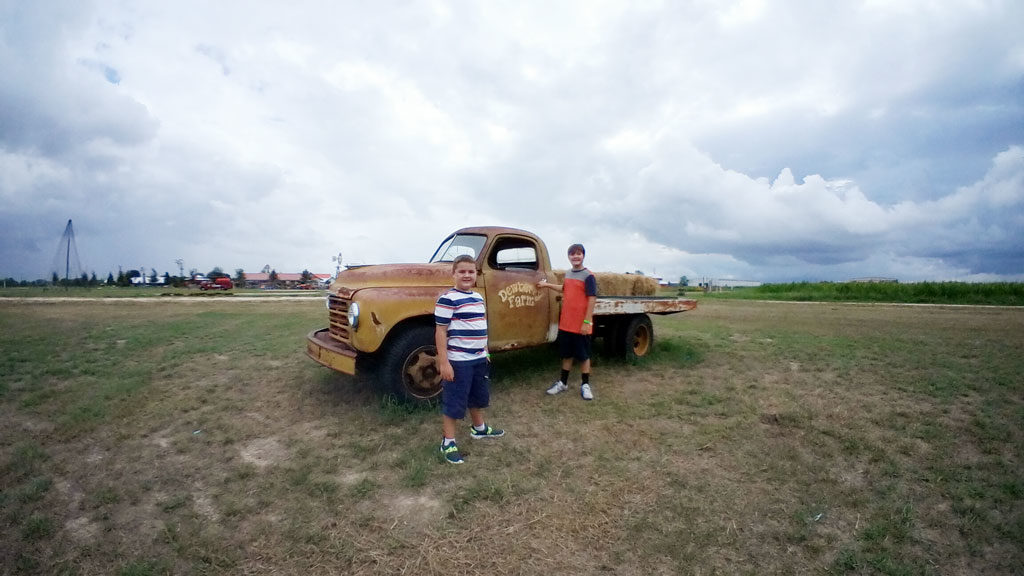 I made them pose. A lot. I am not sorry.
We headed back toward the front. There was still a lot to do but Mama was definitely getting tired. We still managed to find the Spider Web and Giant Rocking Chair next to Horse Shoo Lake. If you have made it this far you have also managed to find the Carousel and the Hay Ride.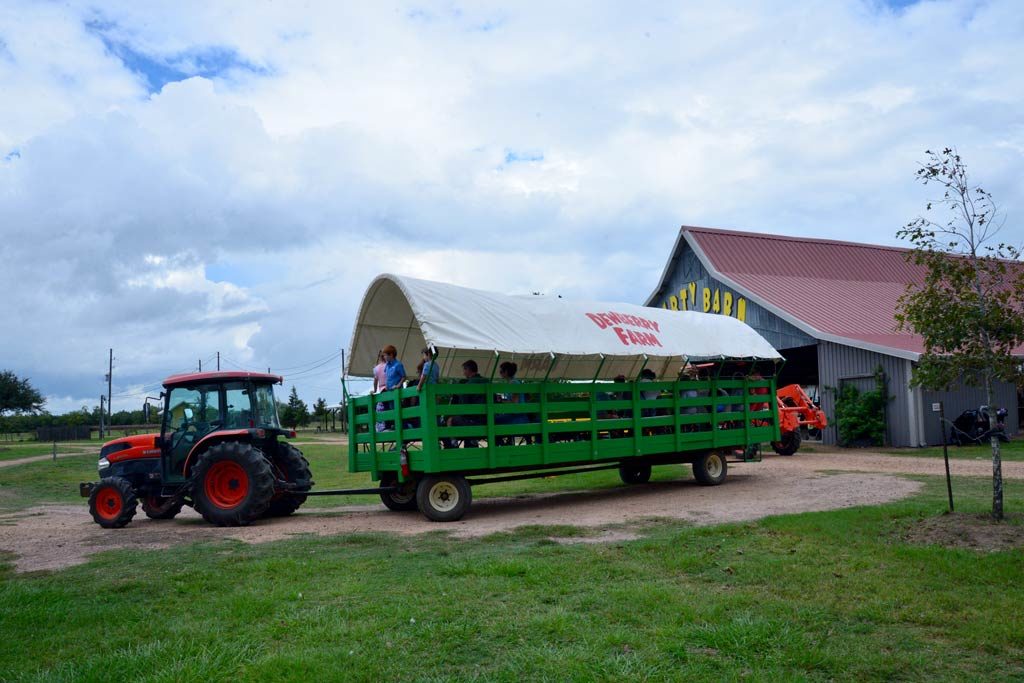 Adjacent to where the Hay Ride picks up is a Bird House Village. Three human-sized playhouses that look like birdhouses. Thankfully, there were benches nearby because my kids legitimately played in these three birdhouses for thirty minutes and I still had to round them up to leave. Between the Bird House Village and Hay Mountain we could have easily chalked up and hour's worth of activity – probably more.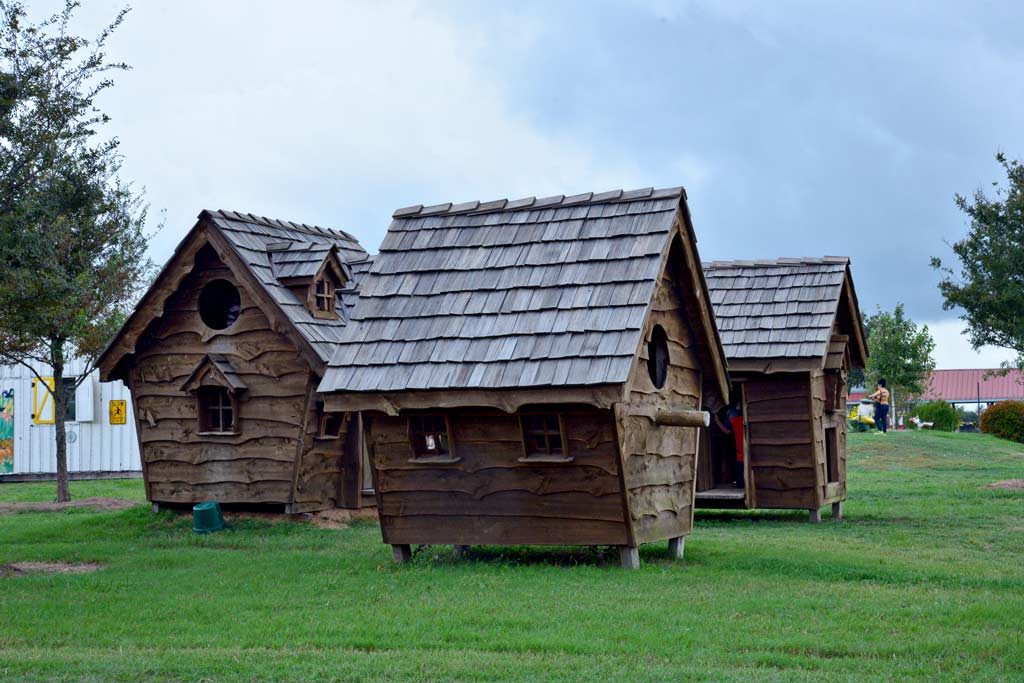 On our way out we meandered and strolled. They wandered and were generally exhausted, sweaty, happy kids. Dewberry Farm has one attraction that naturally leads to the next. Boredom is not an option.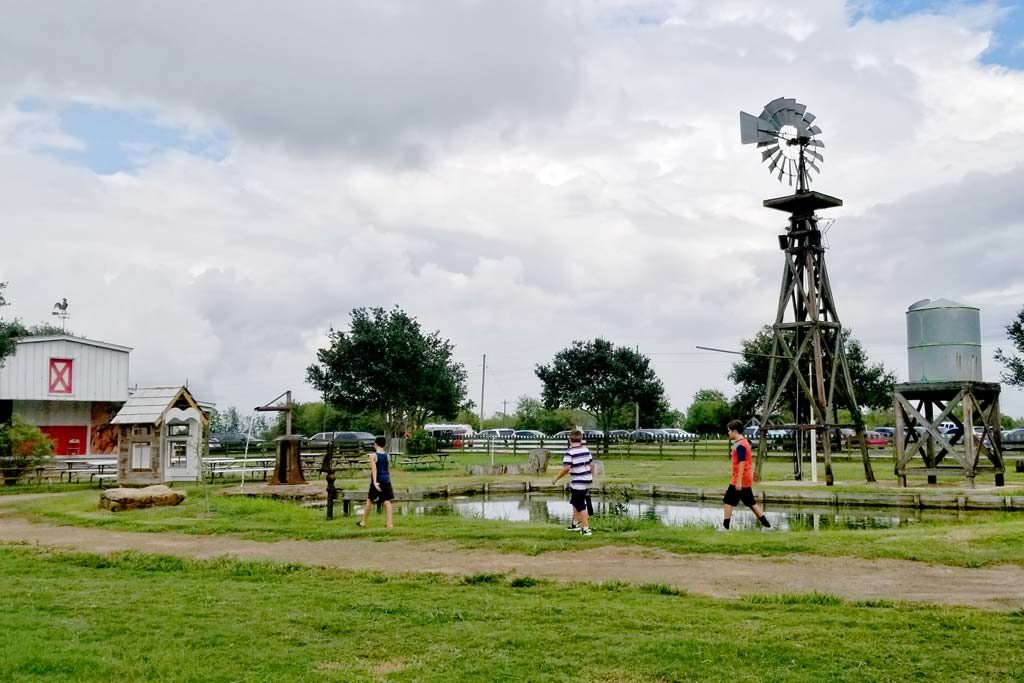 WHAT TO EXPECT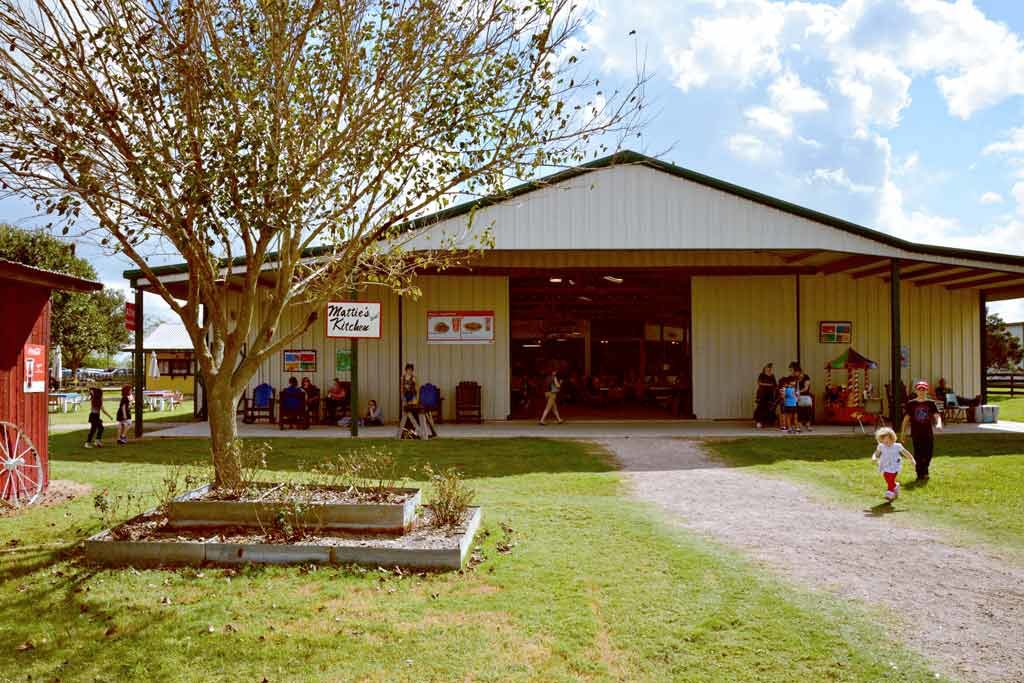 DINING OPTIONS
Dewberry Farm has many options for food. There are several cuisine options like BBQ, Hot Dogs, pizza, and more. The prices are comparable to what you might pay at the zoo.
Alongside the meal options are several stands that can cater to your every whim. There are snow cones and kettle corn and fried Oreos, oh my!
And, if none of this works for you, packing lunch is always an option. No alcohol or glass but anything else you desire can be wheeled in. There is not a place to check them so plan on hauling it around. A folding utility cart is probably your best option. We saw a lot of people with them. They are reasonably priced and you can pick one up anywhere for under $60.
There were water coolers for refilling water bottles at the red kettle corn barn near Mattie's Kitchen.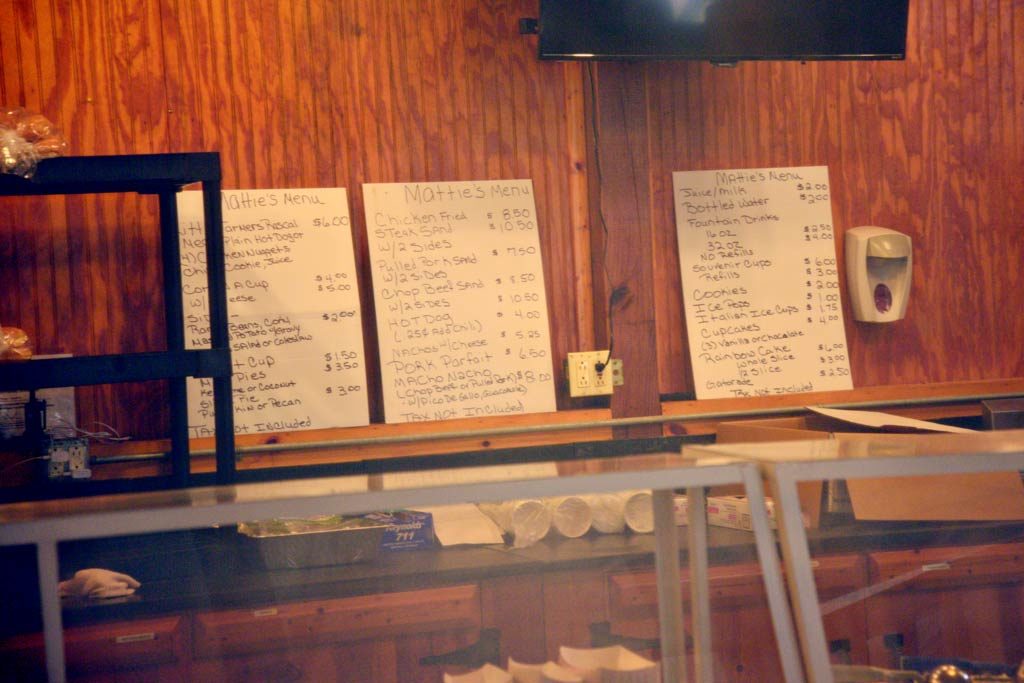 TICKETS
Admission is a flat rate and includes everything except pony rides & Face painting. So, no rationing or having to keep up with tickets!
Everyone ages 3 and up need a ticket.
Tickets can be purchased online in advance or at the gate.
DISCOUNTS
Military, Veterans, First Responders and their immediate family receive a $3 per ticket discount.
Seniors (age 55+) are only $15. This includes the main farm and if you want to accompany a child on another attraction you can buy individual tokens.
Groups of 15 or more also are eligible for a small discount.
For details check the fine print HERE.
The best deal can be had by joining your child on their field trip for $8-$10 (child/ adult). There are limited activities but not by much! It is a great opportunity and they are guaranteed to run out of time before they run out of things to do.
FALL SEASON & HOURS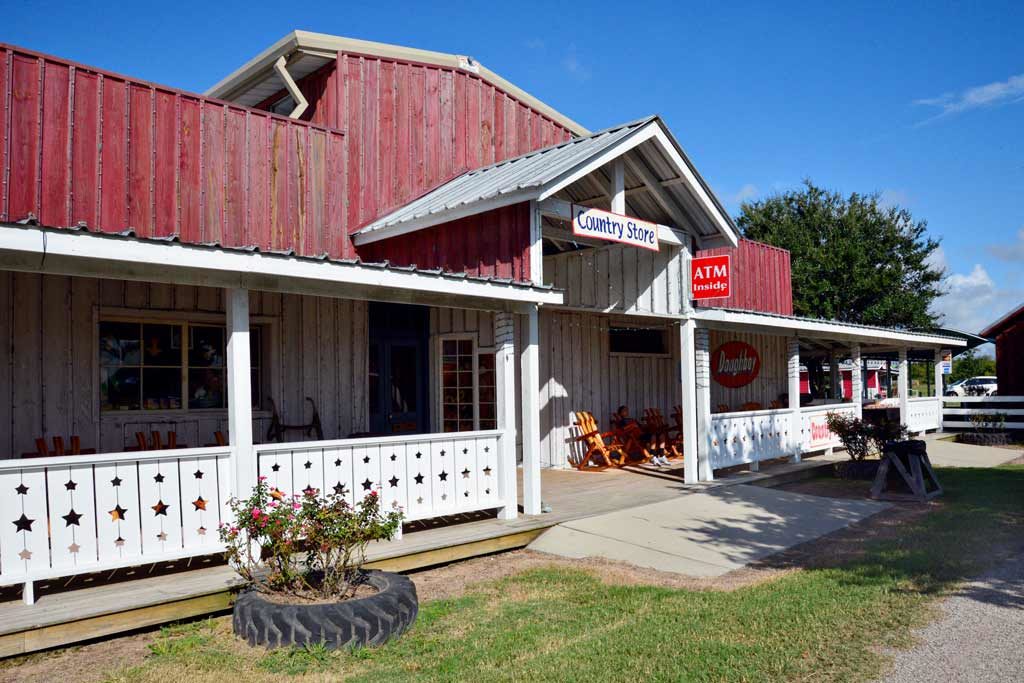 Dewberry Farm Fall Festival
September – November
Saturdays 10am-6pm | Sundays 11am – 6pm
Tips:
Come early or wait until later to avoid lines
If you visit on one of the late nights be sure to bring a blanket to sit on to watch the fireworks and bring flashlights as the farm is not lit throughout.
It is an outdoor activity – closed-toed shoes will keep your feet safe and clean (er).
GETTING THERE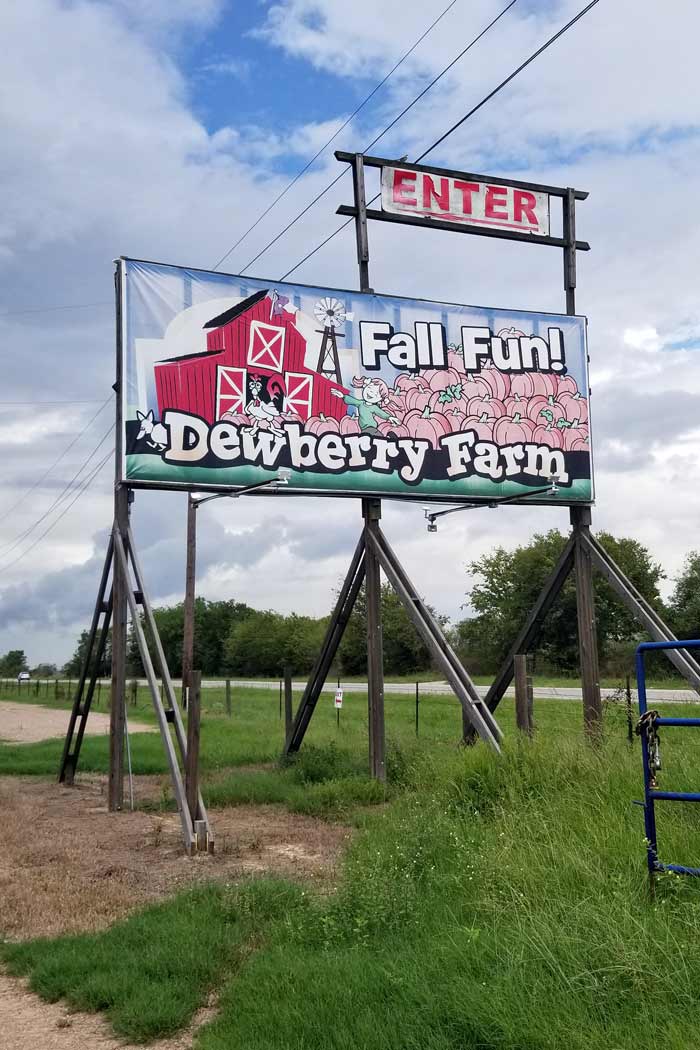 The farm is very easy to get to. Everything maps right to it and it is very well marked. The area is growing (like the rest of Houston) so you may run into some construction related to the newer subdivisions and roads infiltrating the scenic countryside.
The upside is there is now a gas station quite close so, if you are like me, and like to see just how accurate your vehicle's gas range estimator is you are in luck of not being stranded!
Have a great time (How could you not)!