Sleeping in a Castle in Texas (Yes, You Can Stay Here!)
Castles are cool. And, that we have one in our backyard is extra awesome. From Houston, you can arrive at the drawbridge of Newman's Castle, in Bellville, Texas, in just over an hour.
We took our scout pack and hit the road. The castle is just outside of Bellville heading north on Highway 36. You turn off onto the unassuming Old Highway 36. The road is definitely old. It is rutted with asphalt repairs and peppered with potholes.
Finally, you turn off the paved road and head into the forest. The signage is few but the maps are well marked. About a quarter mile the road forks, stay to the left and you are in the kingdom. A few minutes further the castle loop road begins, stay to the right to get that awesome view when you drive up!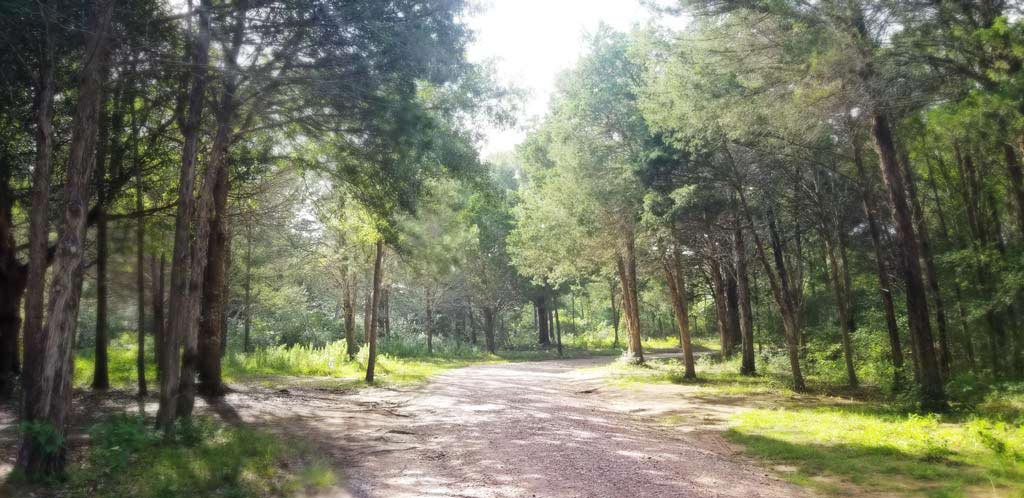 Visiting the Kingdom
As it is a castle you should expect it to be home to royalty. In this case, the king is Mike Newman. He also owns Newman's Bakery in downtown Bellville and with certain tours you will meet there.
For our overnight, we drove directly to the castle. Upon arrival we were greeted by King Mike and his Irish Wolfhound. He gives a brief overview of expectations and knights the kids. Upon knighthood wooden swords are passed around for the kids to use during their stay.
Things to Do at Newman's Castle
On many of our scout events every moment is planned. The castle is not like that and it is wonderful. The kids want to run around, explore, and play. And they do. Without any sort of instruction they keep themselves busy. That is not to imply there is nothing to do. There definitely is.
Outside the castle is a working trebuchet – hopefully, you will get to see it in action. The scouts loved it! Then you enter by crossing a working drawbridge and portcullis. From there the adventure begins. Nearly every nook and cranny (aside from private quarters) are available for exploration.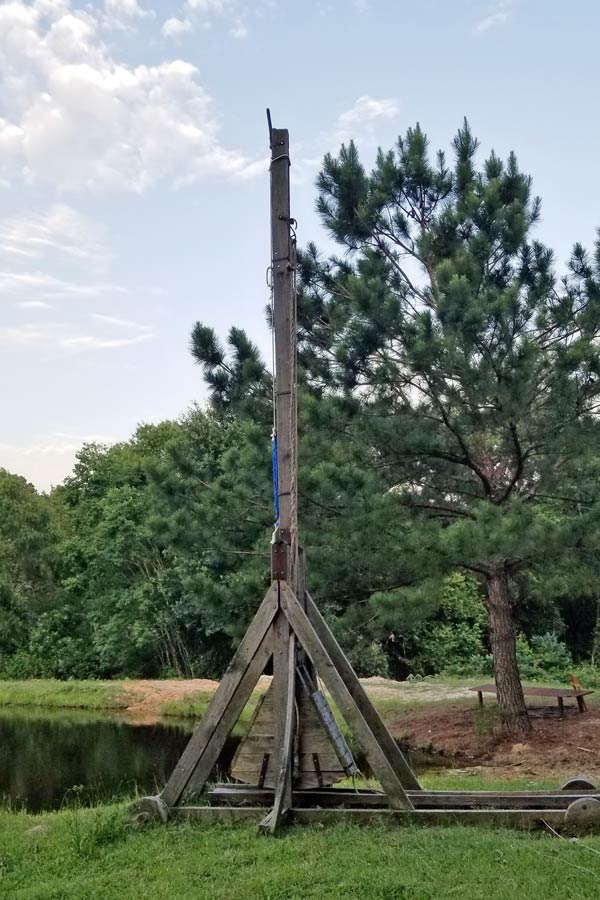 Newman's Castle has five turrets, a chapel, halls, and a central keep. You can climb up and around in all of them. Some house guest rooms. The kids' favorite has medieval torture devices.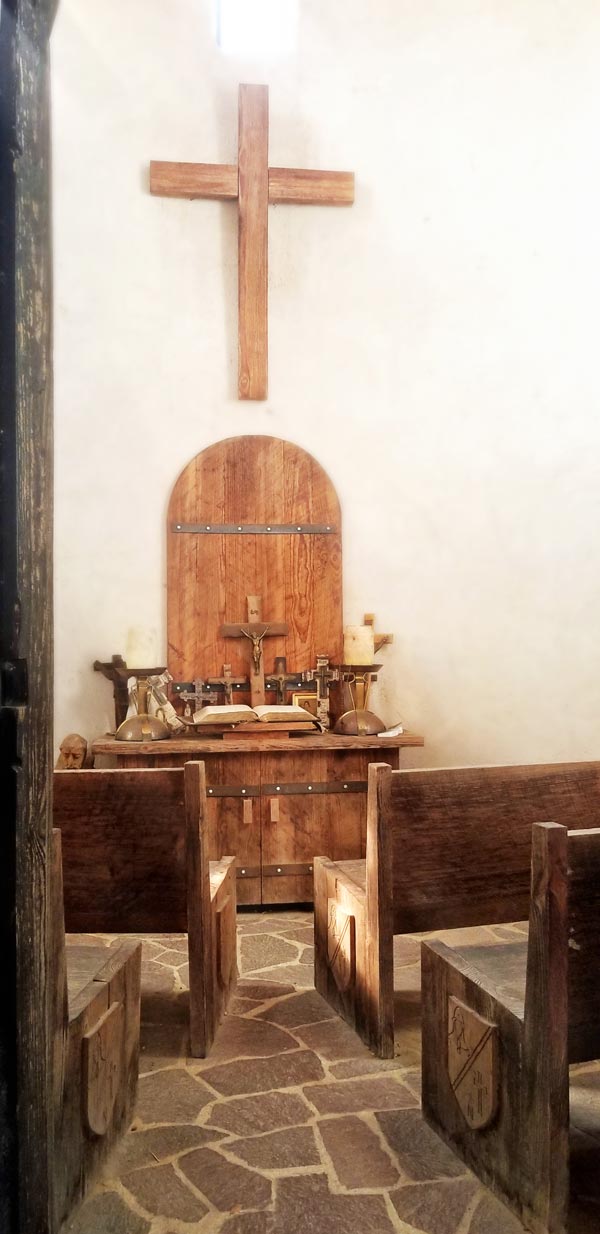 If the kids are getting crazy there is a pillory that will slow them down or perhaps a nap on a bed of nails?
Still need to work off some energy? Climb the keep to the top and see the bells.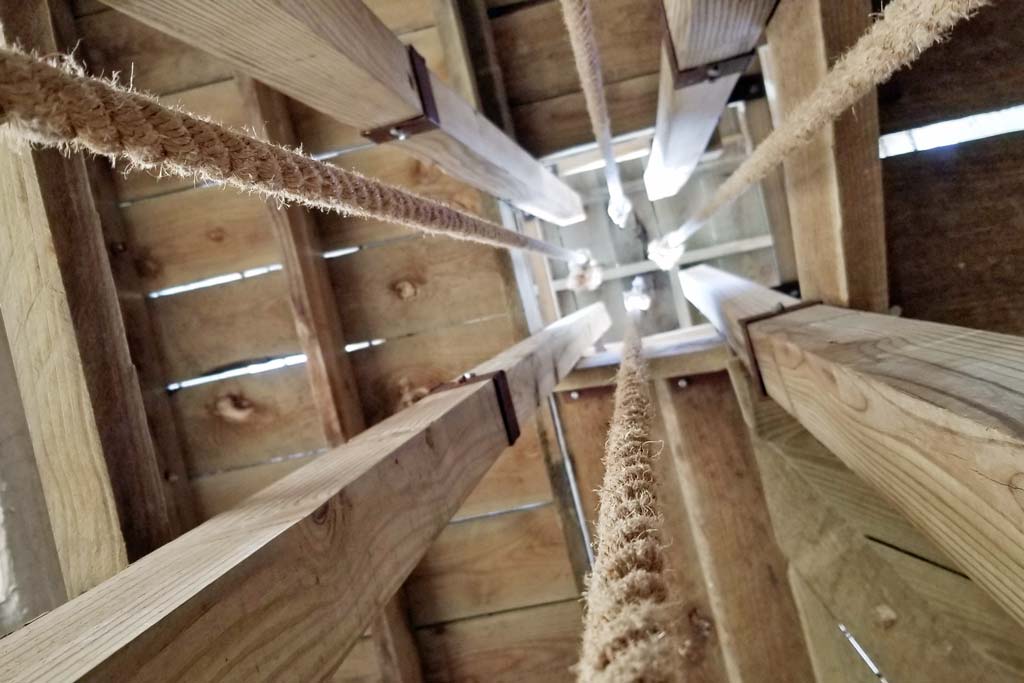 Not to mention the large courtyard which is prime for sword fighting and other training befitting a knight.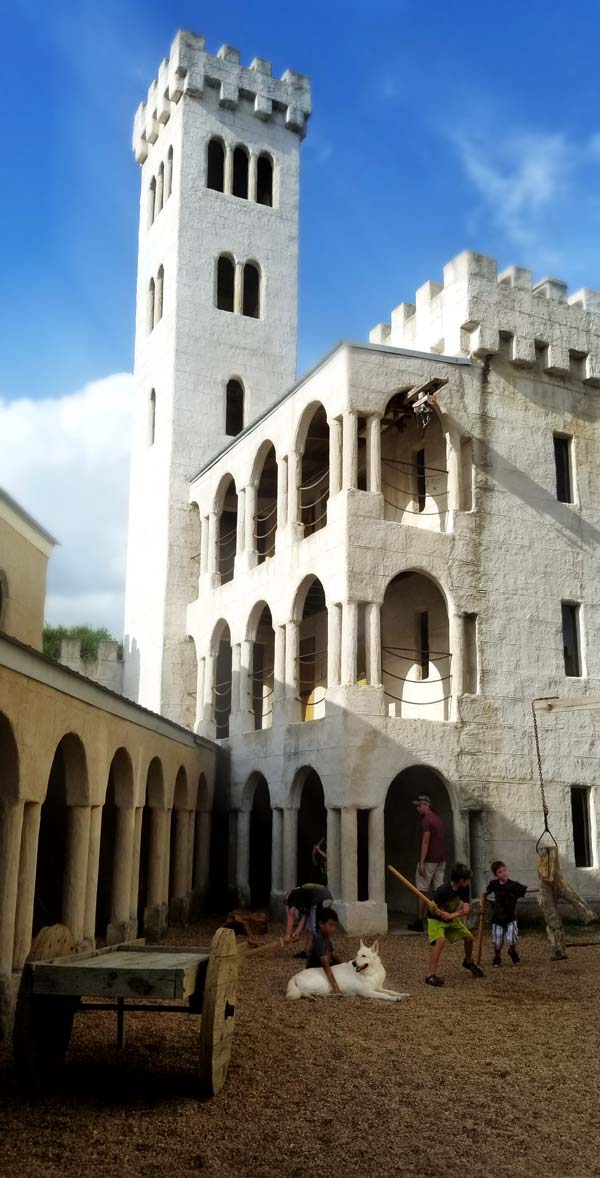 Staying Overnight at the Castle
Sleeping in a castle is pretty much the coolest thing a kid can do. That being said what are the logistics like?
If you are going on your own or part of a small group there are some bedrooms available.

We were quite a large group. As such, we had a very medieval experience. People pretty much slept wherever they could. The most important detail for Texans: everyone slept in air conditioned areas. But, when I say wherever – I mean wherever. One of the rooms our group was in was the hall. We pushed the tables against the walls and kids literally slept on and under them. The rest rolled out sleeping bags in the two lofts and across the ground. There were other rooms and spaces we fit our group in as well. We had somewhere between 30-40 adults and kids. It would be hard to take a group much larger.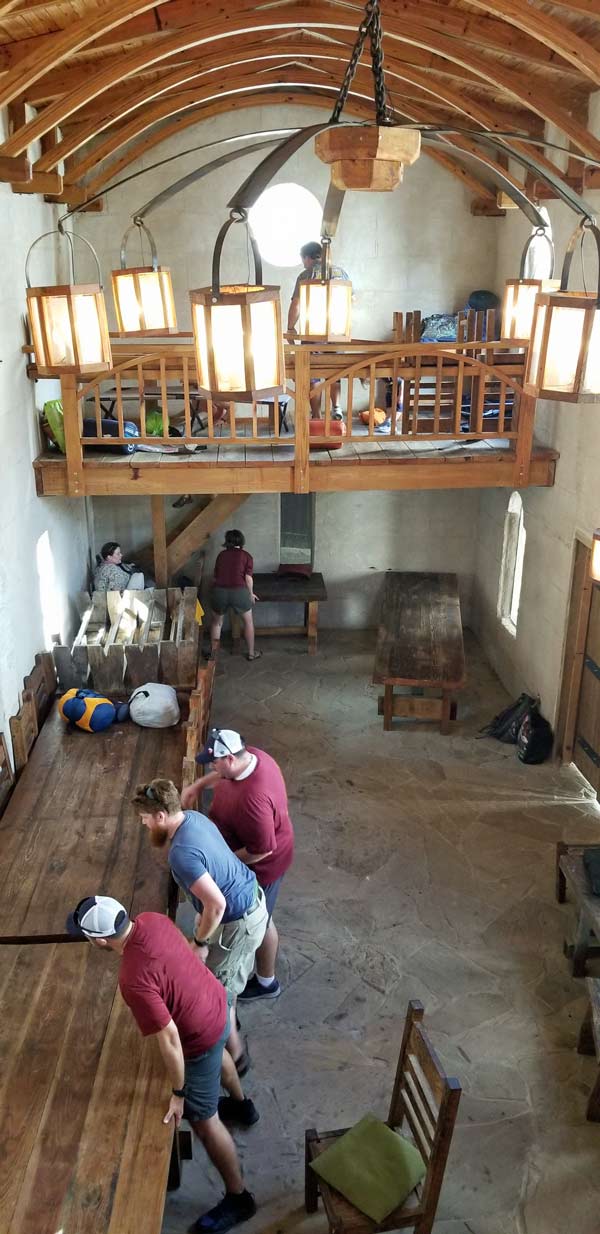 Feasting
One of the most memorable parts (perhaps more for the adults) is the food! King Mike owns a bakery. King Mike feeds his guests well! When we go out these scout overnights the food is rarely good. Often pizza or cafeteria style hamburgers. The Newman's Castle experience blew them all out of the water – by miles! They were hands-down the best overnight meals I have ever had.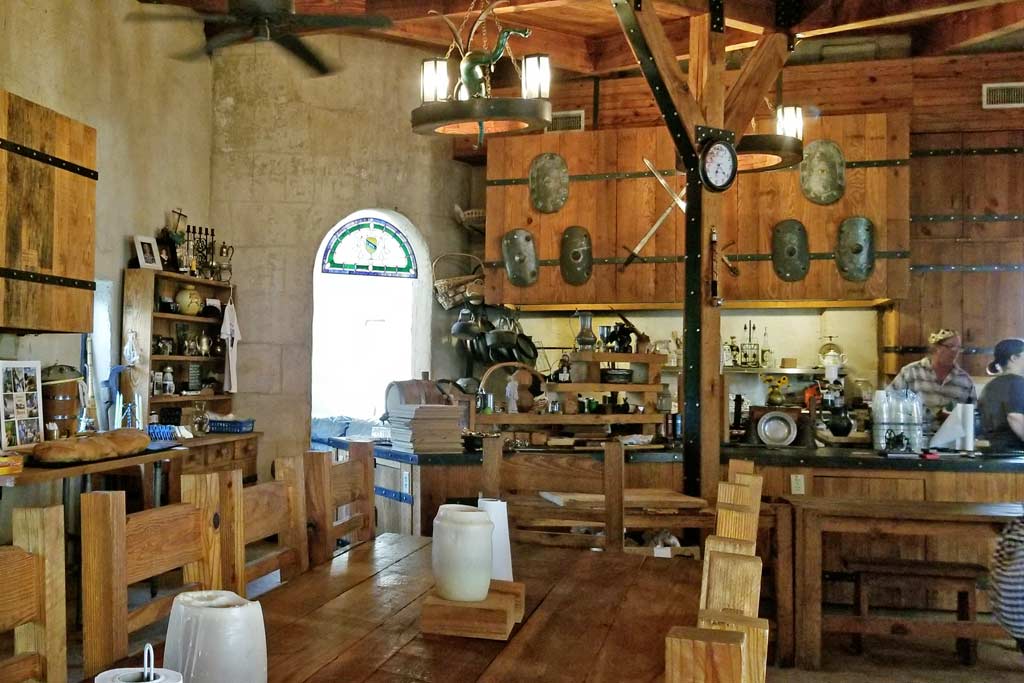 Our overnight included dinner and breakfast. Dinner was roasted chickens and sausage with roasted potatoes, carrots and freshly baked bread. It was ah-mazing. Oh, that's not all, my friends. There is pie. Such beautiful and delicious pie.
For breakfast? There were bakery pastries and pie (again). I mean, the pie was leftover from dinner but I will take breakfast pie anytime it is offered!
Reserving Your Visit & Tips for Newman's Castle
Newman's Castle is available for all sorts of events from day tours, field trips, weddings and other private events, and (as in our case) scout overnights. They are all by reservation only. To check availability and reserve your date call the bakery at 979-865-9804.
Tips
Make reservations. It is expressly requested. If you do not have reservations and are trying to "pop" by prepared to be turned away. At the very least go to the bakery in town to inquire before trying to unexpectedly show up.
The grounds are pretty but this would be a difficult trip for anyone with mobility issues. Terrain around the castle is uneven and the courtyard is rocky. Stairwells are very narrow.
This is a castle in Texas built in 1998. If you are looking for history this is not it. It is fun and a quirk.
Your kids will love it more than you.
Avoid climbing all the way up in the bell tower. There is not a great system for knowing when someone at the bottom will ring the bells so if you are in there not only will it be load but the the bells will be moving.
There are dogs. They are well behaved but they are large which can be intimidating for some who are not comfortable with dogs. Likewise, they are pets not trained service dogs if you travel with a service dog you should use judgement before deciding to bring them.
There are restroom facilities available. The latches can be a little weird so you may need to help kids.
Taking a group – you will have more fun if you keep your numbers under 50 – and for over nights 30.
Have fun!