DIY Halloween Costumes for Her
Gomez: How long has it been since we've waltzed?

Morticia: Oh, Gomez… hours.

THE ADDAMS FAMILY
Get your dancing or creeping shoes on it's Halloween! Here's our roundup of DIY Halloween Costumes for Her. These are some great ideas some are sexy but none are slutty and each is totally real-life doable.
---
Also check out our:
---
Joker
Lady Joker is perfect for Big Texas Hair. So dust of the hot rollers and teasing comb and you are half way there!
To pull it together use a Makeup Kit and Green Hair Color for the overall look. Then layer a Green button down under a purple tube dress or bustier with some short shorts. Some over-the-knee socks and a fierce bootie will polish off the look. No need to go subtle here.
Rosie the Riveter
Who doesn't love some original girl power? Plus, you get to be comfy all night. You'll need some denim and a little more denim, a red polka dot head scarf or band, some red Chucks, and a bold red lip!
Frida Kahlo
I love this one! Colors and flowers and you don't have to pluck your eyebrows for months!? First, you'll need the braids. Here's and nice quick tutorial for hair and makeup. Then add some floral accouterment! Finally, layer a black shawl over a colorful dress and add gold necklaces and earrings.
Leela
I love Leela. For reals.? This one will be a fun one to put together.? I have seen some very elaborate "eyes" out there, but my favorite is just to make one out of cardstock and hot glue it to a stick a la photo booth props. There are really good odds you have the gist of this costume in your closet and will probably only need a purple wig or spray and to steal a space gun from your kid. Otherwise, every woman I know is well stocked in tanks, yoga pants, and boots.
P.S. SyFy is about to start reairing the entire Futurama series in November. Just so you know!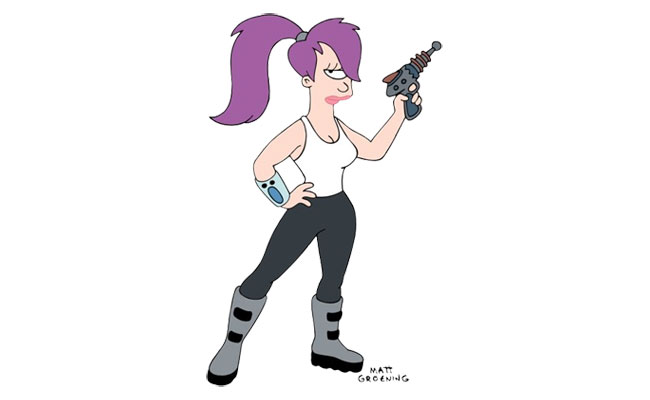 The Death Star
If you happen to be sporting a sphere this Halloween please consider being a death star. The one in this picture is legit. But you could always grab a pre-made shirt and embellish with your own stars and x-wings. Love it!
Need more inspirations? Check out some other DIY Costumes for Her: