This is the Ultimate Texas Hill Country Roadtrip for Families
Texas Hill Country – not just for wine lovers
The Texas Hill Country is well-loved for its beauty, accessibility, and reputation for fun. If you like to take trips in Texas it is definitely a can't-miss! But, a lot of the time it gets a bad rap for being an adult-only weekend type of place. Girls weekend? Head to Fredricksburg. Tubing? Pick a crystal clear river. Fortunately, the Hill Country is so much more and your kids will love it!
How we designed this Road Trip
Texas is big. Even our regions are big. The Hill Country is a geographic area that is fairly central. If you start in Fredericksburg and go out 50-80 miles in each direction you will be in the Hill Country.
To give you some scale the Texas Hill Country is about the size of Connecticut, Rhode Island, and half of Massachusetts. Another way to put it is that this one Texas region is similar in size to the countries of Belize, the Netherlands, and Israel (and, believe me, you want more than a few days in these countries!).
As such, you will not see it all in one trip. And, do you really want to?! You will want a reason to come back. I promise!
And, comeback we shall! This itinerary was constructed during our statewide quarantine orders and COVID-19 outbreak. As such, we had to be very flexible. Many things were simply not available. Many had entry requirements that were adjusted and updated weekly. You can see on our map below several locations with grey pins. These are suggestions for future trips or maybe they will work into your family's outing!
5-Day Itinerary, Texas Hill Country with Kids from Houston
Fredericksburg to Houston (by way of New Braunfels or San Antonio)
Day 1: Houston to Cedar Creek
(Drive time: about 2 hours)
Cedar Creek is tucked cozily between Bastrop and Austin. Why should you stop there? Because it has several family friendly destinations all packed into a little speck of Texas.
First stop – lunch at The Texas Road Stand. If you head out early on a Wednesday through Saturday try to swing by this local scratch kitchen for lunch. Be sure to call ahead if you are going to get there later in the day as sometimes they have to close early because they sell out! It is definitely a blink and miss it kind of place – but don't! They have a myriad of burgers, Roadstand pickles, cheesesteak, onion rings, French fries and everything you could want to eat at a picnic table on the side of Texas highway.
From there it is less than five miles to Capital of Texas Zoo. This zoo is not the neat polished big city zoo you may be used to. It is a privately owned labor of love. You will likely be checked in by the owner and founder, Michael Hicks. The zoo is well maintained and there is evidence of continual improvements everywhere. That being said it may be problematic for those with mobility issues. A stroller will be fine but uneven ground is common.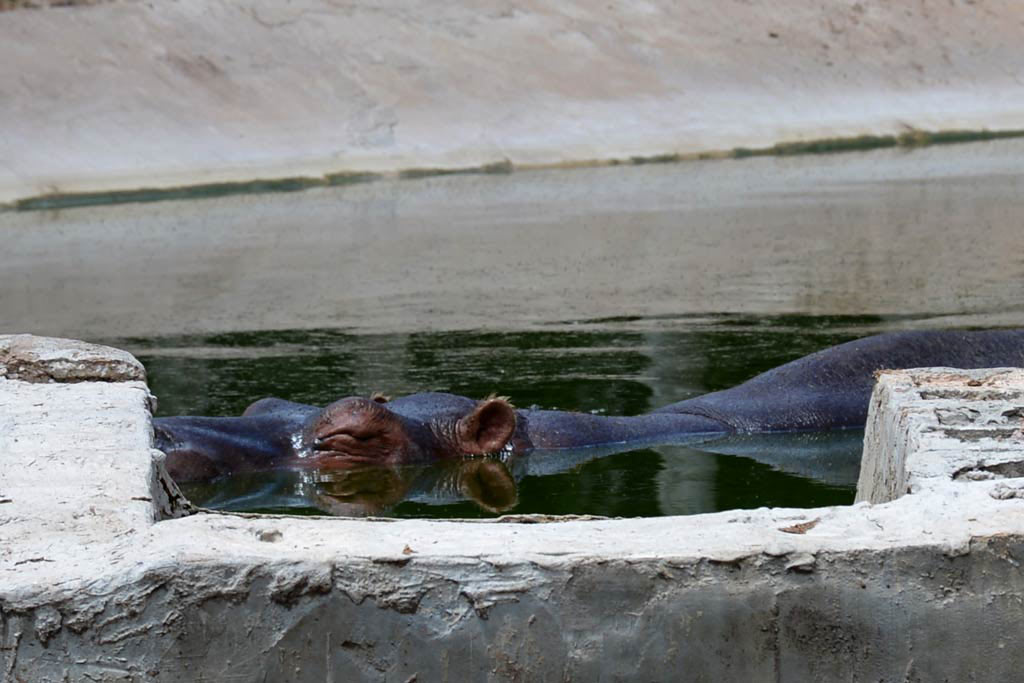 The zoo offers a lot of encounter opportunities but nothing alarming like cub petting. You can, however, swim with otters or feed Tank the Hippo! And, expect to see the free roaming peacocks calling to one another and prairie dogs running rampant.
After wandering around the zoo for a few hours you will likely be ready for some down time. This is the perfect time to check into the Hyatt Regency Lost Pines Resort and Spa. This hotel is definitely a splurge but one worth making!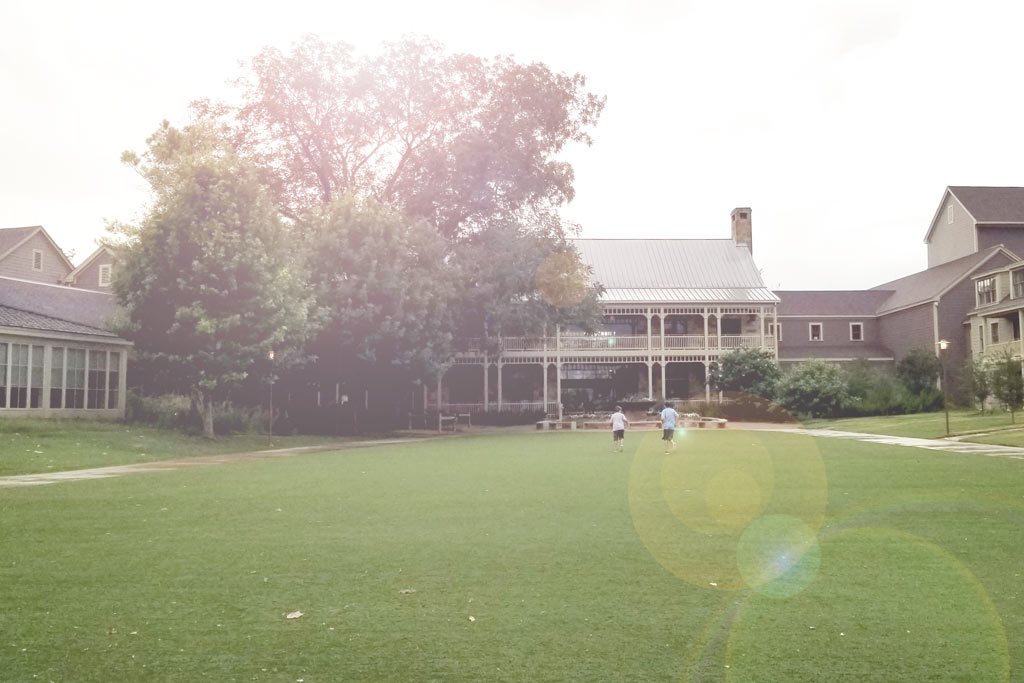 Day 2: Cedar Creek
(Drive time: less than 15 minutes)
A couple of days at the Hyatt Regency Lost Pines Resort is the consummate way to begin your Texas Hill Country adventure. First, you do not have to go anywhere. You can but just being on the property is a fantastic way to spend the day.
The resort has an amazing pool (complete with sand beach, lazy river, slides, and tacos!), bikes to check out and ride all around the property, animal mascots, games and playgrounds, as well as seasonal family programming, and nightly s'mores.
If that does not keep you busy enough, it is adjacent to McKinney Roughs Nature Park for a nice morning or evening hike. To get a better view head to the park and then go up on an adventure with Zip Lost Pines. For younger people (or those who would like to keep two feet on the ground), The Dinosaur Park, is directly across the street – it is shady, has a playground, and, naturally, life-size dinosaurs.
Day 3: Austin to Johnson City
(Drive time: about 4 hours, divided)
Our perfect Texas Hill Country itinerary with kids does not spend a lot of time in Austin. We do not ignore it, but Austin can easily be its own destination. Plus, if you are here for the family, for food and hotels, Austin is pricey and the traffic is horrendous. Rather, we use Austin as a layover.
In particular, if you are traveling with younger kids after an hour and half you are ready to get out of the car. And, that is about how long it will take you to get from the Hyatt Lost Pines to Kerbey Lane!
There are a few things you need to do if you are heading to Austin – especially if you have never gone before! Eat breakfast at Kerbey Lane and eat ice cream at Amy's (there are several locations for each depending on where your day takes you, you will be sure to find one nearby!).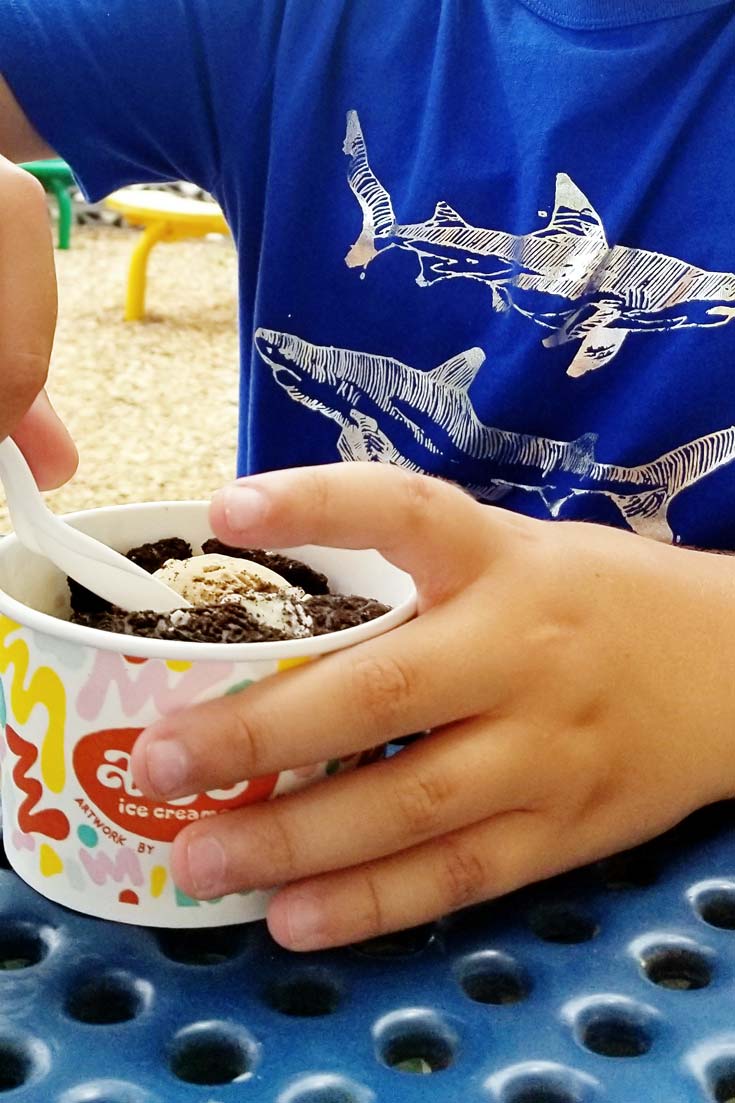 First, stop pancakes! Kerbey Lane is famous for their gigantic pancakes. They have classic options but also rotate through some amazing seasonal and monthly specialties like blueberry cornbread or s'more pancakes. Additionally, there is a robust menu of non-pancake items that are equally delicious!
After breakfast swing by the Cathedral of Junk. Swing is the casual way and you may not see much beyond the tower because it is in a neighborhood in the creator, Vince Hannemann's backyard. If you want to actually get back there and see it give him a call 512-299-7413. However, it is quirky and weird – which is why you came to Austin, right?
The next part is very open to what most interests and is appropriate for your family and, due to health restrictions, is open. For us, we headed to the Austin Aquarium. I would recommend it with caveats. The aquarium is much more fun inside than its strip-center façade implies. We had some issues with some employees not being particularly nice so I do not want to ding the entire place based on a couple of ill-behaved college students.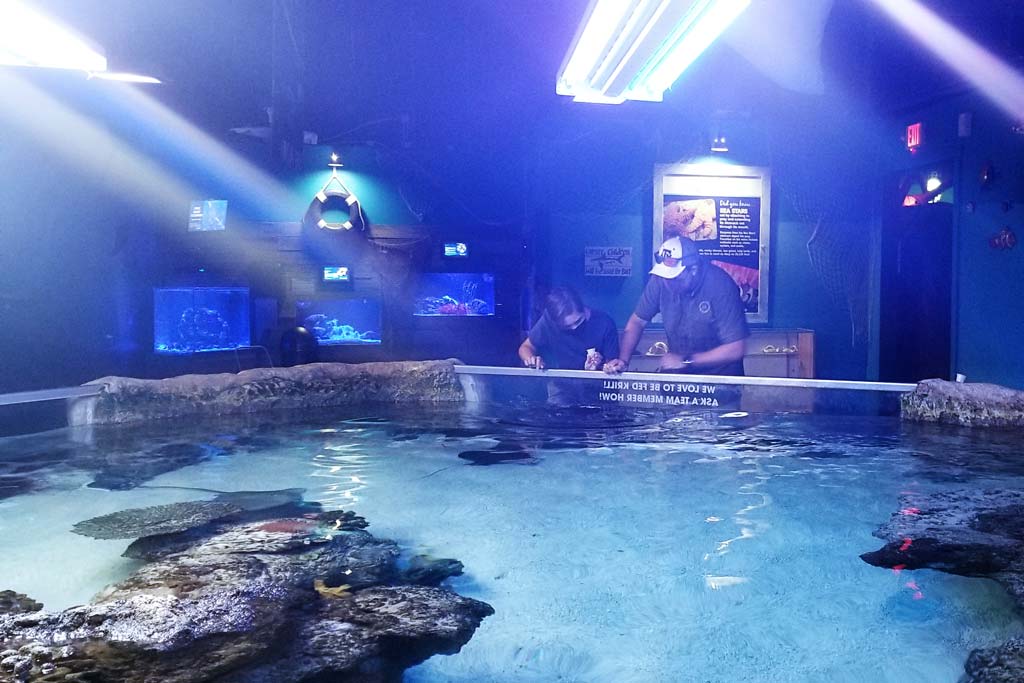 Some great options for your day in Austin are:
On your way out of town you will want to swing by HEB or another grocery store to stock up on some dinner and breakfast supplies. The next two nights you will have a kitchen or kitchenette so you can make breakfasts and lunches, if desired. Now head further west into the Texas Hill Country – next stop: The Exotic Resort Zoo!
Yep, you get to sleep in a zoo!
The Exotic Resort Zoo is just north of Johnson City and should take you about an hour to get to from Austin. They offer tractor rides or drive-through options but you can take the tour tomorrow. Tonight, just check-in and relax.
Your cabin is in the middle of the driving loop (in a fenced-in area). Along with the cabins are a pool & playground for cabin guests, a fishing pond, and a private petting zoo. We recommend making dinner in, visiting the petting zoo, taking the kids swimming, and generally relaxing!
Day 4: Johnson City, Burnet, and Blanco
(Drive time: about 2 1/2 hours, divided)
Every time you drive in and out of the zoo you will be on the drive-through loop (there is a bypass for cabin guests). So, when you check-in, make sure you grab a bag of food so you can feed the animals and give yourself a little extra time for coming and going. Once on the road head north to the Longhorn Cavern State Park.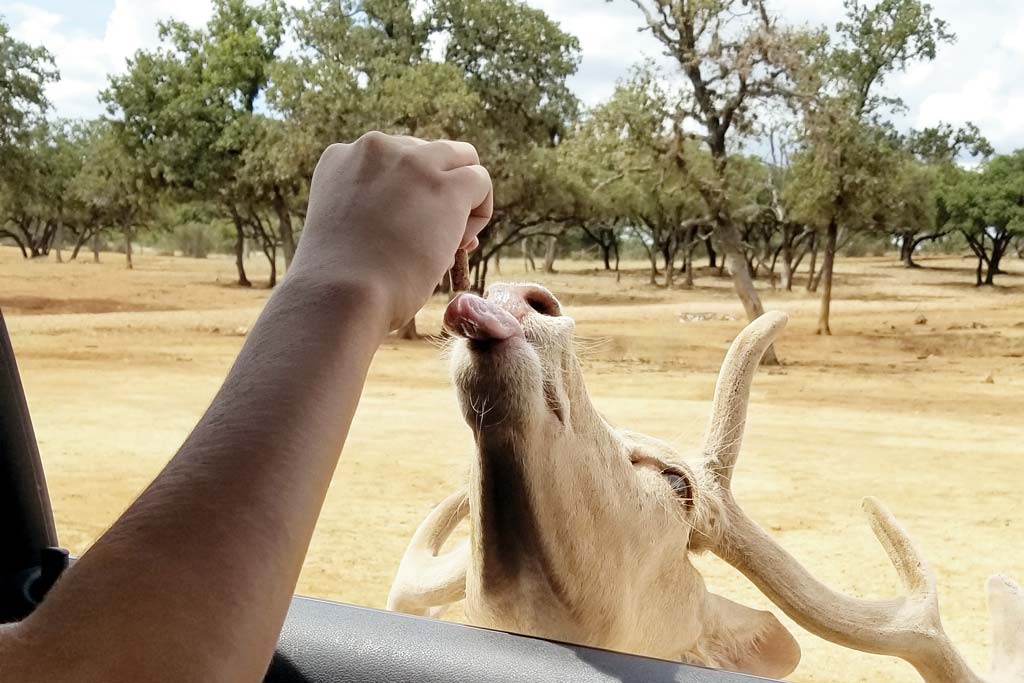 The tours run regularly and are an enchanting experience. The guides are well-informed and the temperature in the cavern is constant year-round so likely to be a respite from the surface temperatures.
After the caverns head up to Burnet for lunch at Storm's Drive-In then head back to the south and stop by the Highland Lakes Squadron of the Commemorative Air Force. The hours are limited so even if it is not open you can still see some aircraft and tanks outside.
After taking in the planes head back toward the Exotic Resort Zoo. If you are traveling with younger children this might be a good time to stop by for naps or swimming. If you have older kids or troopers continue into Johnson City to visit the Lyndon B. Johnson National Historic Park.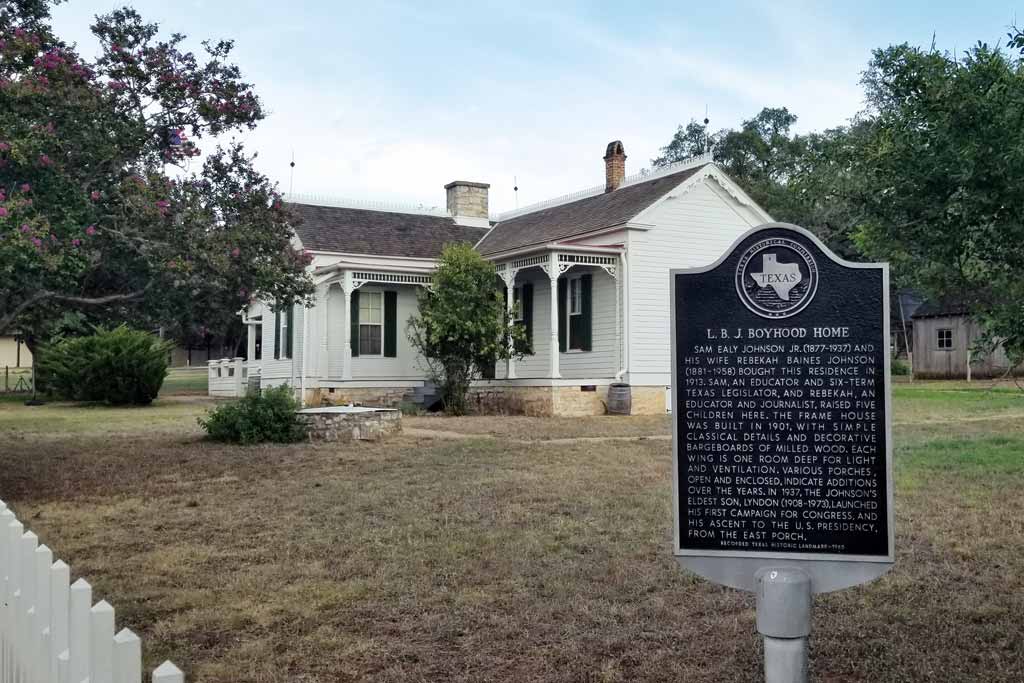 The LBJ National Historic Park has a few indoor areas but many are closed and much of the facility is outdoors. Here, you will be able to see LBJ's boyhood home. This makes it a great stop if you happen to be going south a little later in the day and just want to tour the grounds.
After touring the grounds head a few minutes south to Blanco. It is hard to suggest a trip to the Texas Hill Country without finding a way to step into the pristine crystal clear rivers that it is so famous for. Blanco State Park is a perfect stop. The park is small. Really, the only attraction at Blanco SP is the river. Find a shady spot along the bank and climb in for awhile. It is beautiful and refreshing.
The park has restroom facilities. When you get hungry just clean up and head over to Josie's Kitchen. The restaurant is just outside of the park and the food is perfect for families. There really is something for every age from grilled cheese sandwiches to the G.O.A.T. Burger.
After this fun filled day, head back to your cabin and enjoy the sunset with the deer and camels.
Day 5: Johnson City to Fredericksburg (and Luckenbach!)
(Drive time: about 1 hour and 45 minutes, divided)
Day five of the Texas Hill Country tour has you leaving your cabin and heading toward Fredericksburg. First stop is the Science Mill.
The Science Mill is an hidden gem easily on par with larger city's science museums. It is naturally more compact but the displays and activities are top notch. Geared toward children, the Science Mill, is enjoyable for all ages. I spent a long time in the hydroponic garden.
Outback, there are several over-sized interactive exhibits and it all backs up to the Longhorns at LBJ National Historic Park. The museum is wonderful, the scenery first rate, and the fun limitless!
When you leave the Science Mill you head west toward Stonewall, but just before you get there stop at the blink-and-you-will-miss-it Hye Market Deli & Eatery for lunch. It will be hard to find bad food choices out near Fredericksburg so you will not be disappointed here.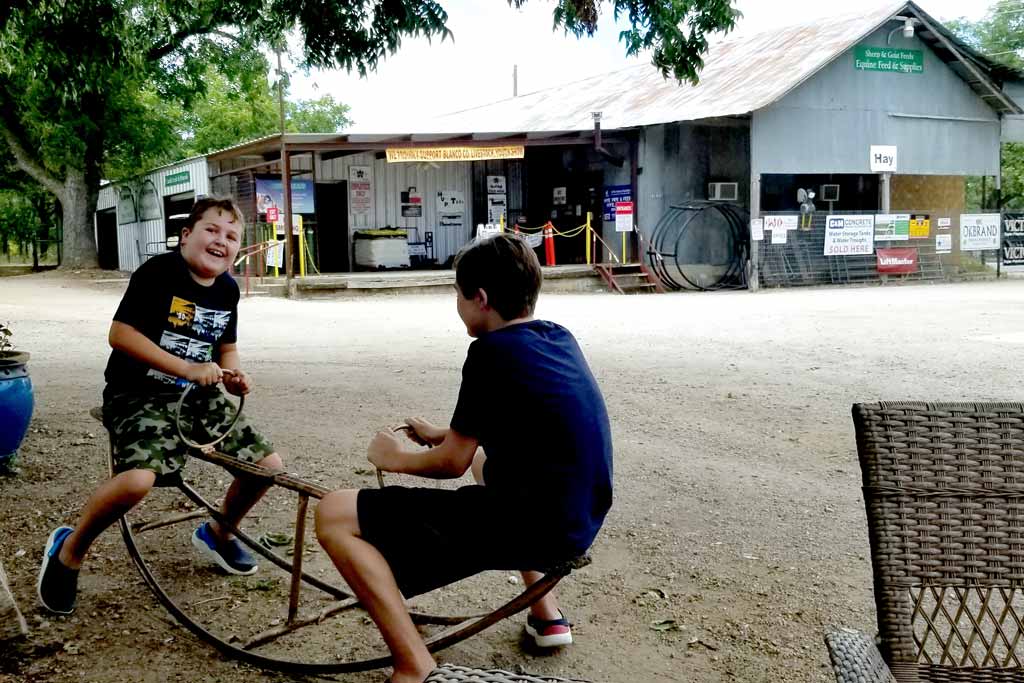 After you fill up continue down the road about five minutes to the Lyndon B. Johnson State Park and Historic Site & the LBJ Ranch (which is part of the LBJ National Historic Park). Your interest and what is currently open will determine the amount of time you spend here. We took the self-guided driving tour to see the ranch (get a permit at the LBJ State Park Visitor Center – they are free). And, there is an app for this check it out before you start your drive.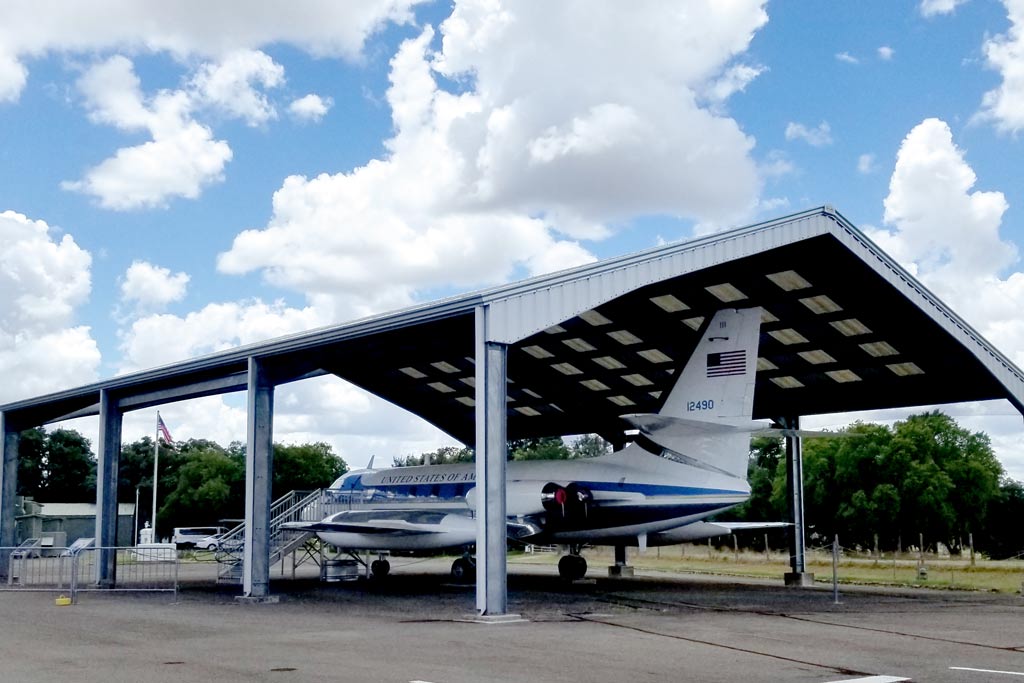 After the LBJ Ranch tour it is finally time to head to Fredericksburg! We went to the National Museum of the Pacific War. If this is a bit mature for your crowd some alternate places to consider are the Pioneer Museum, the Texas Rangers Heritage Center, and Fort Martin Scott. Or, it may just be time to check into your hotel for a nap!
There are so many great choices for hotels or AirBNBs in Fredericksburg. We knew this would be a busy day and did not need to be in Fredericksburg for this trip. We were not looking for quaint and full of ambiance, we just needed the basics – a clean place to rest. As such, we saved a little money by staying outside of the main city and stuck with a chain that provides breakfast, the Fairfield Inn and Suites.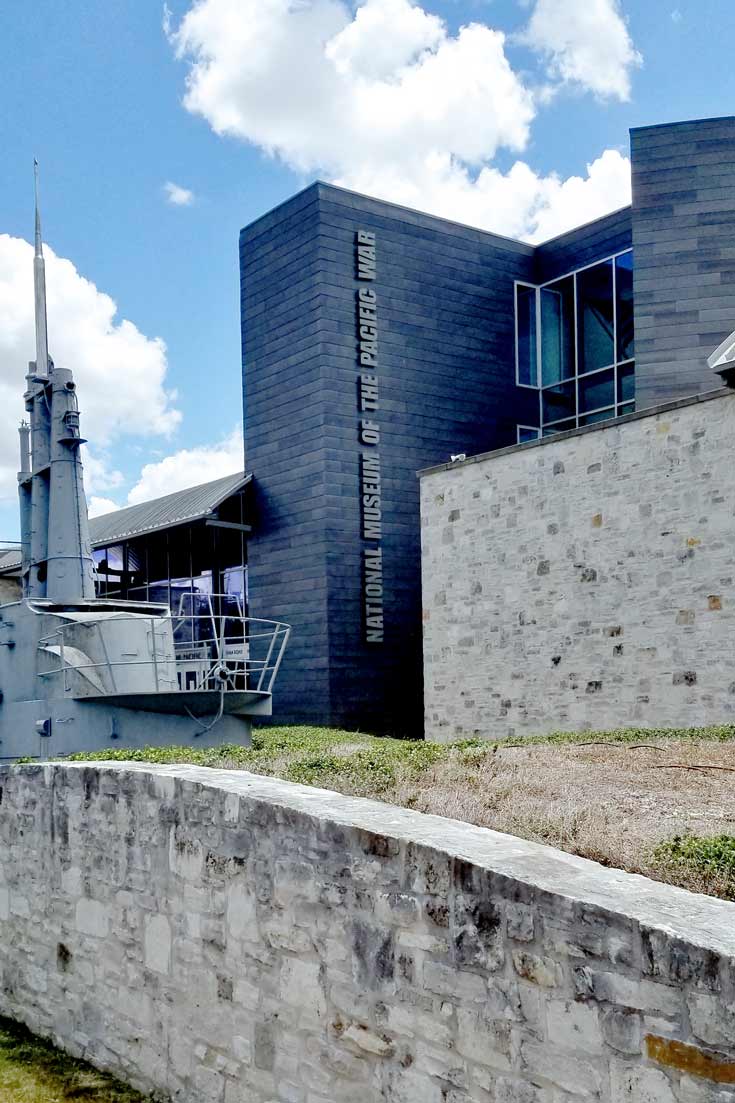 After the museum we checked into our hotel and took a little break before dinner. But, dinner was heading down to Luckenbach so we also made sure we had enough time to not feel rushed there.
Luckenbach is only about 15-20 minutes southeast of Fredericksburg so it makes a perfect dinner option when you are heading to a twilight bat chat at the Old Tunnel State Park. It is a quintessential Texas Hill Country experience. Outdoor dining, country music, perfect photo ops, and a gift shop to commemorate your visit! (If someone is house or dog sitting for you it makes a great place to grab a thank you gift!)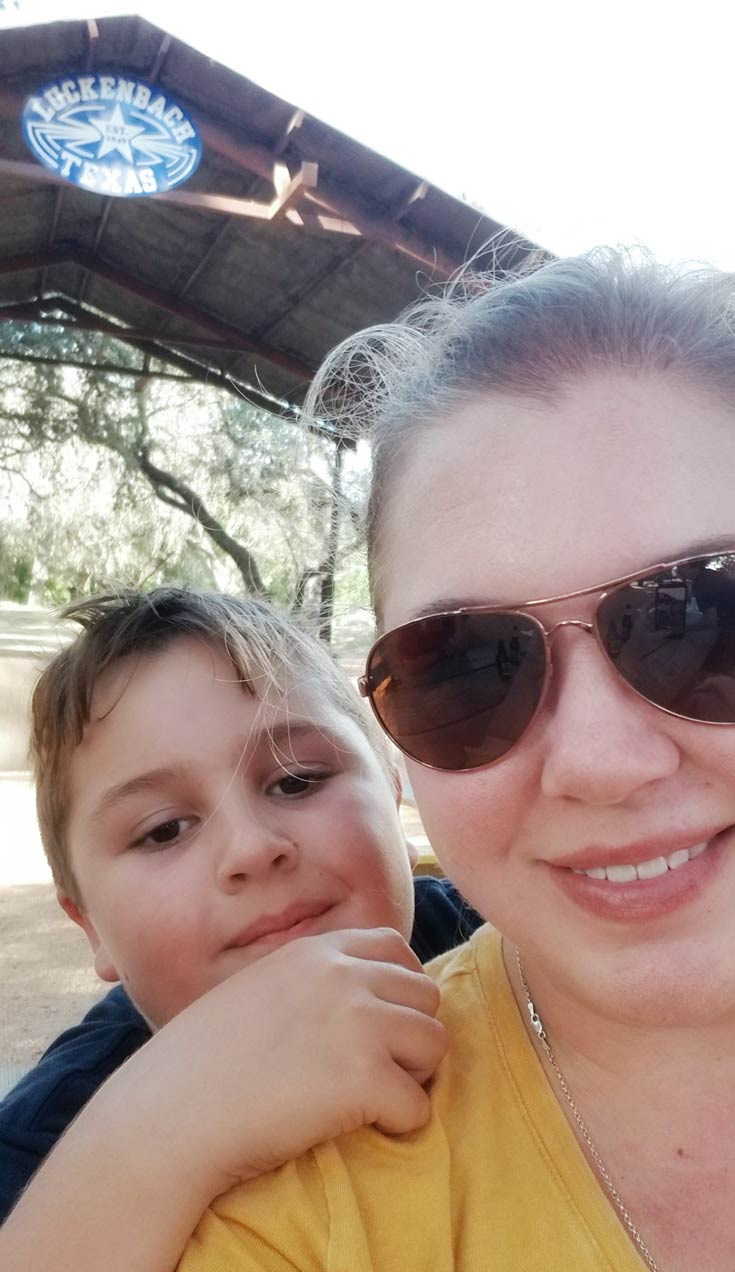 After dinner it is time to turn off the paved road! Not really. But things are a little less polished for this part of the drive. You will need to purchase tickets in advance for the bat emergence viewing at Old Tunnel State Park (well in advance if you are visiting on a weekend).
Both viewing areas are great. You will get a different experience from the Lower than the Upper so there is not really a "better" spot. However, the Lower Viewing area ticket also includes an education program about the Mexican free-tailed bat (the ones that will be emerging).
The experience is worth the advance planning and waiting around. They are bats not robots so no one can say exactly when they will emerge. Sometimes they come out early, sometimes they take their time. But once they emerge expect a show. The swooping, the vortex they create so they can get lift, the sound of thousands of bat wings is an experience like none other!
Day 6: Fredericksburg to Houston (by way of New Braunfels or San Antonio)
(Drive time: about 4 hours, divided)
Finally, it is time for your Texas Hill Country adventure to end and start heading home. Depending on the time of year you could drive straight home. The most direct route will take you about four hours.
Or.
Or, you could swing by Schlitterbahn in New Braunfels. This detour only adds twenty minutes to your drive time. The park is open from May through September. If you are up for a longer trip a night here would be amazing! I recommend not telling them about this one – surprises are the best! If you have been to Schlitterbahn Galveston this one definitely worth a stop. It is a completely different experience.
If you are traveling October through April another option would be to spend the day at Six Flags Fiesta Texas. Suprisingly, it only adds ten minutes to your overall drive as you do not actually have to drive into San Antonio to get there.
Texas Hill Country Roadtrip for the Family
We love roadtripping with our kids. Fortunately, they are great travelers – start 'em early! And, we are so blessed to call Texas and all of its wide open spaces home. There are not many places you can drive for ten hours and still be home!
Where are your family-friendly favorites in the Texas Hill Country or anywhere in the state?