October 2023 | What to Read this Month
Autumn, in all of it's gloriously cozy (but sometimes too warm because, hey, it Texas!) weather is in full swing. It is officially patio sitting time. Now, we can curl up with a good book and a blanket and enjoy (fewer) mosquitos and crisp(er) air.
And, we have some spectacular (spooktacular?) picks for this month:
First, we have a small town murder, a rumor of a vampiric creature, and just enough creepy occurrence to kick off a hunt to discover the secrets of Bottom Springs. Then we switch gears to something a little lighter with a witch who keeps the secret that she can talk to ghosts…but the wrong person sees her use her power…or is it just right?
Keeping with the spooky season Kelley Armstrong has a stand alone horror novel where someone doesn't want Laney to leave Hemlock Island alive. Our non-fiction pick returns to the writing of Hilarie Burton Morgan (of One Tree Hill) and the importance of crafting your own family grimoire.
Feel like getting lost in books for a week? The Four Horsemen Series draws you into the apocolypse in an unexpectedly gritty and sexy end of the world. It is engrossing to the say the least!
Finally, we have two picks for kids. A middle grade origin myth about the Iñupiaq Messenger Feast, a Native Alaskan tradition. Following, we have a children's picture book perfect for lower elementary that takes young readers deep into the wonders of caves. If you are planning any type of cave trip with kids this would be a fantastic book to add to the night time reading rotation!
What will you read this month? Head over to our Facebook Discussion Group where we are happy to talk all things books. Or catch up with us on Instagram. And, for more book talk, read along with me and you might get a sneak peek of future books. I bookstagram at VictoriaIsBooked.
Let's turn pages!
October 2023 | What to Read
Publishing Date
October 3, 2023
GENRE
Literary Fiction | Women's Fiction
A twisted tale of murder, obsessive love, and the beastly urges that lie dormant within us all…even the God-fearing folk of Bottom Springs, Louisiana. In her small hometown, librarian Ruth Cornier has always felt like an outsider, even as her beloved father rains fire-and-brimstone warnings from the pulpit at Holy Fire Baptist. Unfortunately for Ruth, the only things the townspeople fear more than the God and the Devil are the myths that haunt the area, like the story of the Low Man, a vampiric figure said to steal into sinners' bedrooms and kill them on moonless nights. When a skull is found deep in the swamp next to mysterious carved symbols, Bottom Springs is thrown into uproar―and Ruth realizes only she and Everett, an old friend with a dark past, have the power to comb the town's secret underbelly in search of true evil.
A dark and powerful novel…is an examination of the ways we've come to expect love, religion, and stories to save us, the lengths we have to go to in order to take back power, and the monstrous work of being a girl in this world.
Publishing Date
September 26, 2023
GENRE
Paranormal Romance, Women's Fiction
Aline Weir, a witch who can talk to ghosts, has kept her talents hidden ever since a disastrous middle school slumber party, choosing to be invisible and use her powers in secret to help lost souls reunite with the keys to send them home. All the while, she finds solace in a bookstore and the three mysterious women who run it… until Aline discovers the book of Mischief, and her powers are enhanced.
Living a solitary life until the age of thirty, Aline's life takes an unexpected turn when the wrong (or perhaps right) person witnesses her using her powers and she is invited to a town that doesn't exist on any map. Arriving in Matchstick, Aline learns of a lost magic that desperately needs to be found and only her unique powers can do it. But what she's not told is that Magic is a person. One that is dangerous and seductive and has been waiting for a witch with a power like hers for centuries.
Laney Kilpatrick has been renting her vacation home to strangers. The invasion of privacy gives her panic attacks, but it's the only way she can keep her beloved Hemlock Island,… But broken belongings and campfires that nearly burn down the house have escalated to bloody bones, hex circles, and now, terrified renters who've fled after finding blood and nail marks all over the guest room closet, as though someone tried to claw their way out…and failed.
When Laney shows up to investigate… There are tensions and secrets, whispers in the woods, and before long, the discovery of a hand poking up from the earth. Then the body that goes with it… But by that time, someone has taken off with their one and only means off the island, and they're trapped with someone―or something―that doesn't want them leaving the island alive.
Publishing Date
October 3, 2023
Since childhood, Hilarie Burton Morgan has felt the call to record, keep, and catalogue life in all its strange wonder. It was a whimsical habit, with no clear goal. And then, when she became a mother, the importance of all that collecting snapped into focus.
In an effort to patchwork together an anthology of traditions, curiosity, and magical thinking that she could pass down, Burton Morgan realized she was crafting a grimoire.
In her most intimate book yet, Burton Morgan shares how she's creating an inheritance of mischief and magic that will outlive her. What's more, she shows readers how they too can look at the elements of their lives and collect the pieces into a tangible collection of a lifetime of learning. Because in its purest form, a grimoire was a guide to keep you alive.
Publishing Date
August 15, 2023
GENRE
Series, Post-Apocalyptic Romance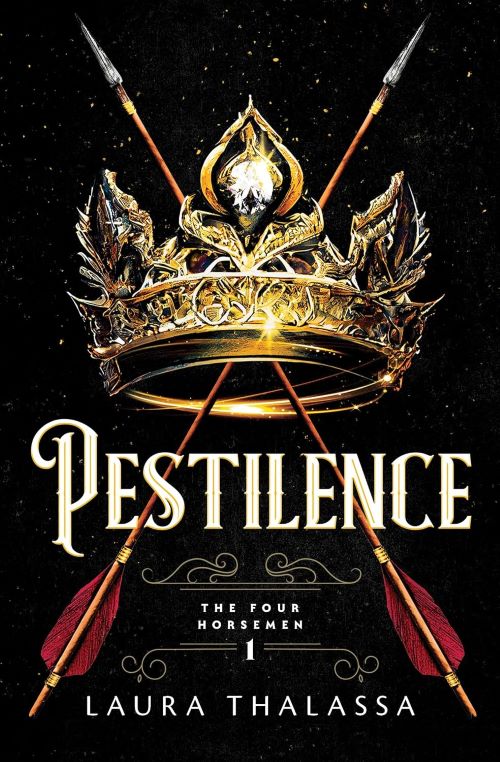 If these covers alone aren't enough to make you check this series out then let me tell you: These four books were consumed in a week! You might think the basic storyline would get repetitive, but Thalassa does an excellent job of differentiating each horseman, the woman in the story, and they storyline (within the one where they're all doing their part to end he world).
They came to earth―Pestilence, War, Famine, Death―four horsemen riding their screaming steeds, racing to the corners of the world. Four horsemen with the power to destroy all of humanity.
They came to earth, and they came to end us all.
Publishing Date
September 12, 2023
GENRE
Middle Grades, Sci-Fi & Fantasy
As his family prepares for winter, a young, skilled hunter must travel up the mountain to collect obsidian for knapping―the same mountain where his two older brothers died.
When he reaches the mountaintop, he is immediately confronted by a terrifying eagle god named Savik. Savik gives the boy a choice: follow me or die like your brothers.
What comes next is a harrowing journey to the home of the eagle gods and unexpected lessons on the natural world, the past that shapes us, and the community that binds us.

Publishing Date
October 3, 2023
GENRE
Children's Fiction (4-8), Picture Book
Join two young explorers and their trusted guide as they head off on a wonder-filled underground adventure. Slip through crevices, creep through passageways, and stop to admire the beauty of a fascinating ecosystem. From stalactites and stalagmites, to dripstone, shelfstone, and pearls – there is something to discover at every turn. Troglobites, glow worms, spiders, and bats make your acquaintance before your return to the light and familiarity of places above.
With a lyrical, rhyming text, and illustrations that illuminate and bring warmth to an otherwise dark and damp environment, IN A CAVE is sure to please science and nature lovers of all ages.
LAST MONth's Popular Book Club Picks
Which ones will you be reading this month?
Note: Many of our books were read courtesy of NetGalley ARCs. While this does give us a sneak peak all suggestions and opinions are our own – we have no obligation to provide positive reviews. We will never recommend books we would not read ourselves or share with our own family. Additionally, italicized descriptions are from the publisher. Throughout the month we are so excited to discuss our opinions on all these picks – please join us here, on our Bookstagram, and in our Facebook discussion group!
---