Houston to San Antonio & Six Flags Fiesta Texas
Big Bend Road Trip Day One (The First Leg): Houston to San Antonio and Six Flags Fiesta Texas
Driving from Houston to Big Bend will take about ten hours, excluding stops. My kids could do it. They are great travelers. But, it is pretty much no fun and everyone would be completely exhausted. Plus, we had a secret from our kids – Six Flags Fiesta Texas invited us out to the park!
Our kids are complete roller coaster junkies we could not wait to surprise them. So, we left Houston to cloudy skies around 7:30 am. Including all requisite stops (Whataburger & Buccee's) we made good time.
There is so much to see between Houston and Big Bend. If you don't need to rush then don't. You can easily spend a day in San Antonio or just a few hours. Either experience would be great and it also gives you the flexibility of still working day one of your trip (if you need to preserve vacation days) and cutting three hours off your drive without everyone being exhausted at the end of the day.
Arrival at Fiesta Texas was amazingly uneventfully. There was no line or wait of any kind. We drove nearly up to the gate to park and once we took the turn and could see the roller coasters the kids were buzzing!
Fiesta Texas Parking, ATMs, & Crowd Strategy
Side note, there is a Bank of America ATM at the shopping center across the street, the RIM. Also, some people report trying to park for free over there and walk across the road to save money. I would definitely not recommend this. It is quite a walk and security is definitely watching. Chalk that move up to: more trouble than it's worth.
Unfortunately, those Houston clouds followed us to San Antonio with a smidge of rain and lightning. When we entered the park at 11 a.m. all the rides were closed! Fortunately, my handy radar app showed everything clearing so we meandered to the first ride area (Six Flags has a handy app too, I would get it while you're there). After a ten minute wait, we got the all-clear and the rides began operation.
Normally, we work parks like, Fiesta Texas, from back to front or clockwise, but it was a Friday in April and crowds were blessedly few so we took the typical right-hand turn and toured the park in a counterclockwise manner.
I was concerned a lot of things would be closed due to the time of year but all the major rides were open and probably about 80% of the minor rides (the waterpark was closed but that was clear before we arrived). And, some of the shows even opened later in the day. There was plenty to see and do!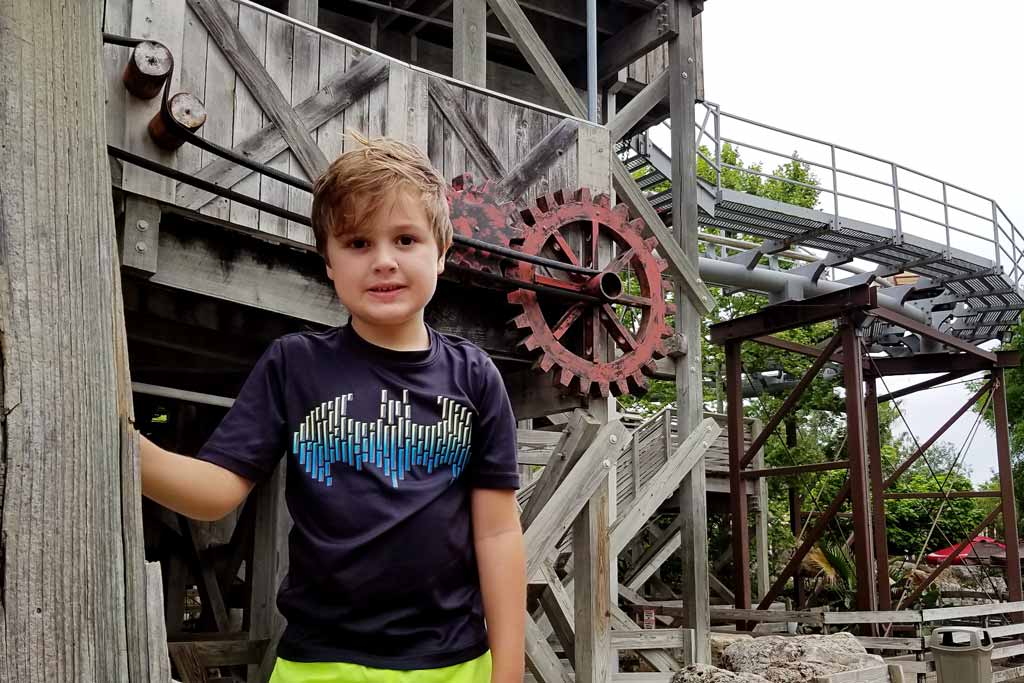 Go, West!
The first ride we came to was Road Runner Express. It turned out to be my six-year old's favorite ride and before we headed out we came back for one more ride!? The first time we rode it was unexpectedly jerky, but once I was ready for it, the second time around, it was much more enjoyable.
Next door to Road Runner Express is the Iron Rattler. If you are as old as me you will remember this as the all wooden roller coaster that opened Fiesta Texas called the Texas Rattler. It is the same coaster but it is no longer all wooden. The ride has been revamped and rethemed and is one of the smoothest rides I have ever been on. It was far and away our favorite!
Only Happy Kids Should Ride Coasters
My six year old was nervous but went for it and had a great time. Never force a kid to ride a roller coaster!? I cannot tell you how heartbreaking it is to see screaming children forced on to roller coasters before they are ready. Six Flags parks offer a rider exchange program so parents can take turns without waiting in line. Use it if you need to. Scarring kids is not family time.
Another option is letting the little ones ride Foghorn Leghorn's Barnyard Railway and Yosemite Sam's Wacky Wagons, which are conveniently located near the exit of the Iron Rattler and have no minimum height requirements, while the taller and braver people take on the big rides.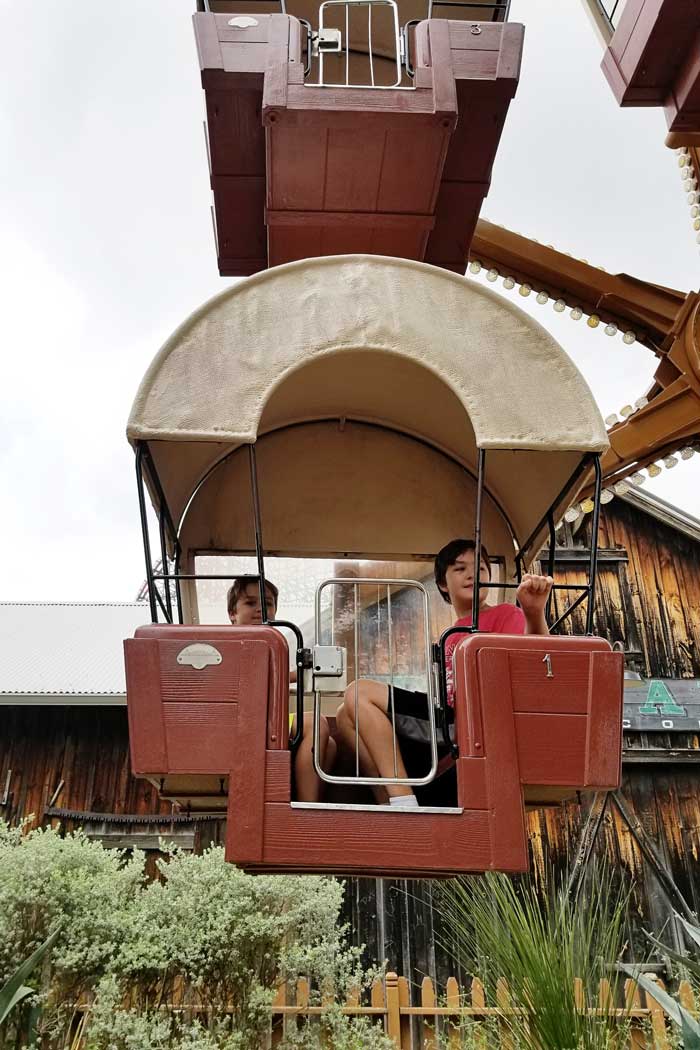 If you continue along you will come to the train depot and the Gully Washer. The train will circle the entire park so we saved it for later. The Gully Washer is a ride where you and your family can sit in a circular tube and swish along a raging river. Plan to get wet. It was too early for us to get wet so we proceeded past the waterfalls and through a vine-covered tunnel to the section of the park fashioned to look like fair rides, Spassburg.
Spassburg
The big draw in Spassburg is the Superman Ride. It has a minimum height of 54″ which eliminated my little one from riding, but Kidzopolis is in this area so we did bumper cars (many times), the pirate ship play area, and all the kiddie rides. Fiesta Texas is set up well with big rides mixed in with little rides so no one should be sitting around being bored.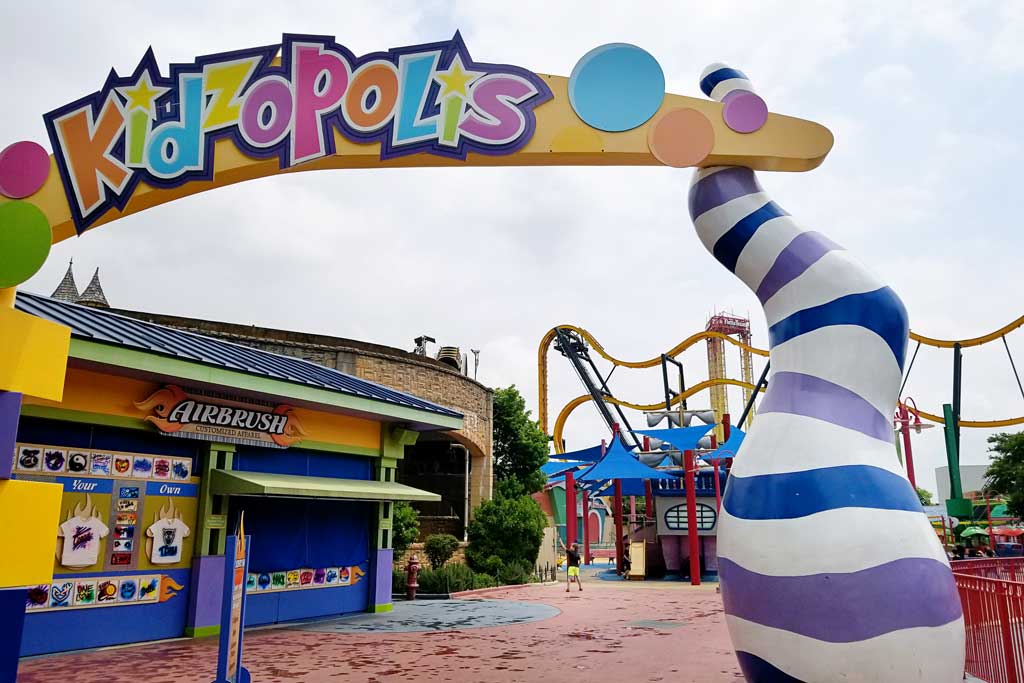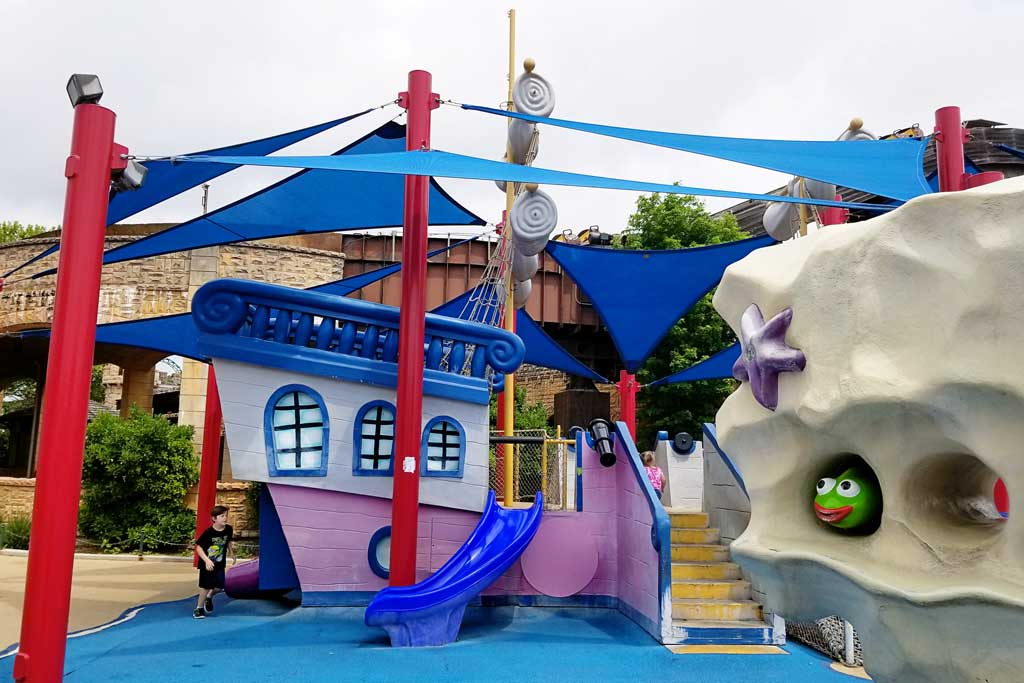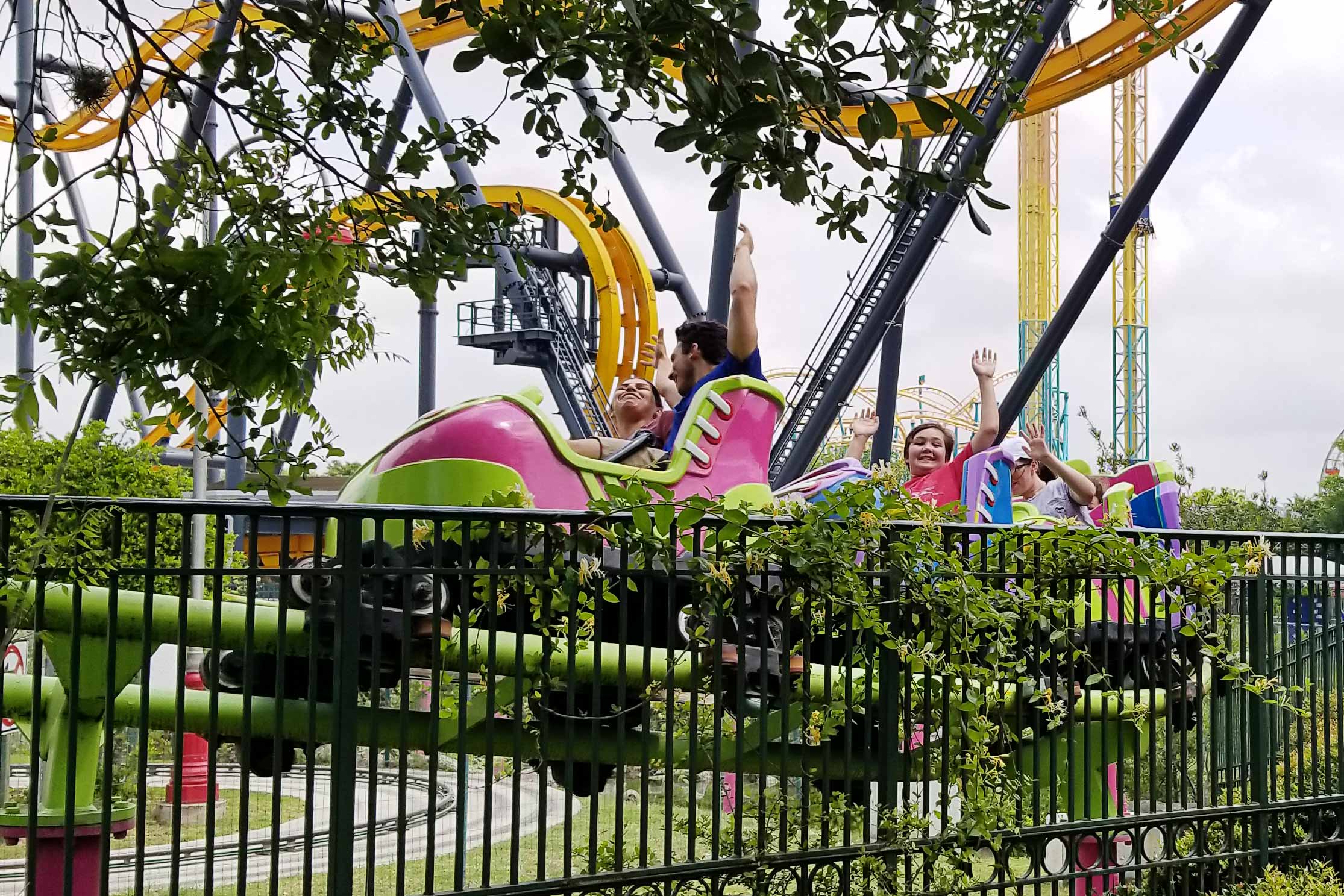 As you make your way through this area of the park there is a carnival game type area and a Johnny Rockets. We were not quite ready to eat so we moved into the next area, Rockville. The theming here is pretty fun and it sort of looks like you are on an old main street.
Rockville
The big draw here is Batman: The Ride (and the to-be-opened-any-minute Wonder Woman ride – if you want to see it in action check out the San Antonio section of our Instagram Story Highlights). The theming on the Batman ride was great, there are some air-conditioned areas, movie props, and an actual Batmobile – the kids loved it. The ride itself is one where your feet dangle. It is fast and you squeeze in tight! I would hate to get stuck on this one. It was fun but not one I would need to do multiple times.
This was the part where we got hungry so we went to Primo's Pizzeria. Price wise everything we found at Fiesta Texas was amusement park-reasonable. We ordered an entire pizza for the family and got water. It was around $20. If you are soda drinkers the family deal may be a better option. Most restaurants seemed to have one and they ran around $45 for a big entree, sides, and four drinks. Some other prices we saw were $13.99 for a meal deal and $9.99 for a kid's meal (which included a drink). Drinks will run $4-7 and they have an all season unlimited refill cup option. But, you know, glasses of water are free and what your body needs on a hot day…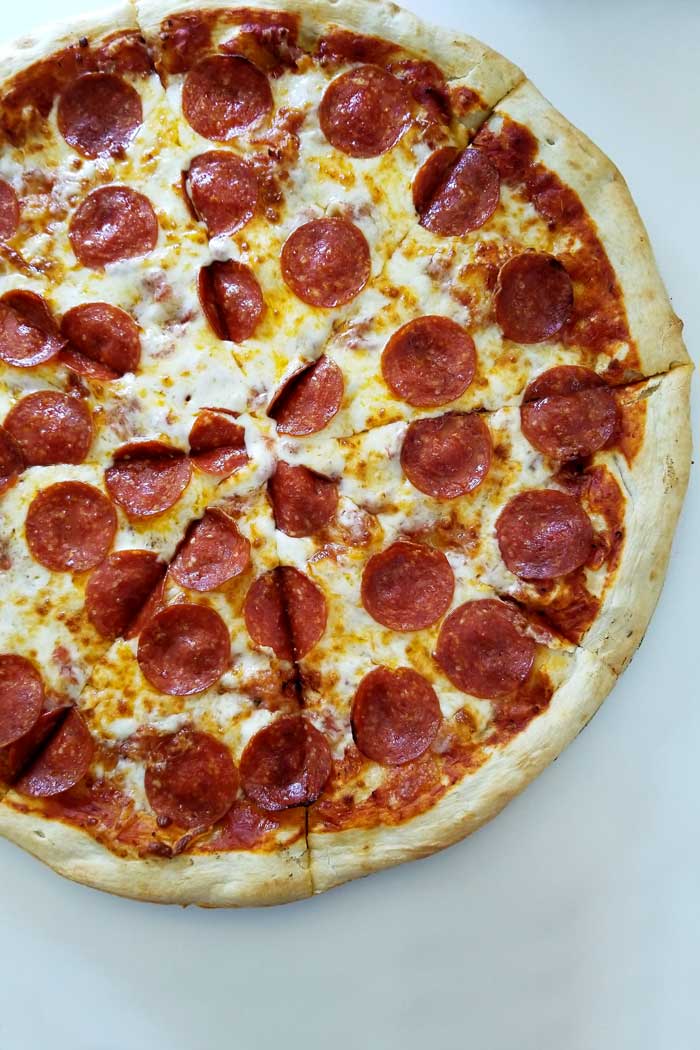 From lunch we had a quick bathroom break which is right next to Hustler, a spinning teacup style ride themed after a game of pool. Everyone but my husband loves some spinning so away we went.
Fiesta Bay Boardwalk
Then we were off to Fiesta Bay Boardwalk. I really enjoyed the laid-back vibe of this area. There are a lot of spinning style rides here so the hubs was out but that is okay because they have a lot of shady spots with comfy red rocking chairs.
At the entrance is another swing ride. I think I counted about three variations throughout Fiesta Texas. My kids love these and there is a really big one, Sky Screamer, back by Superman, but my little guy (though tall enough) has a thrill line and apparently heights are involved. Taz's Tornado made him much happier!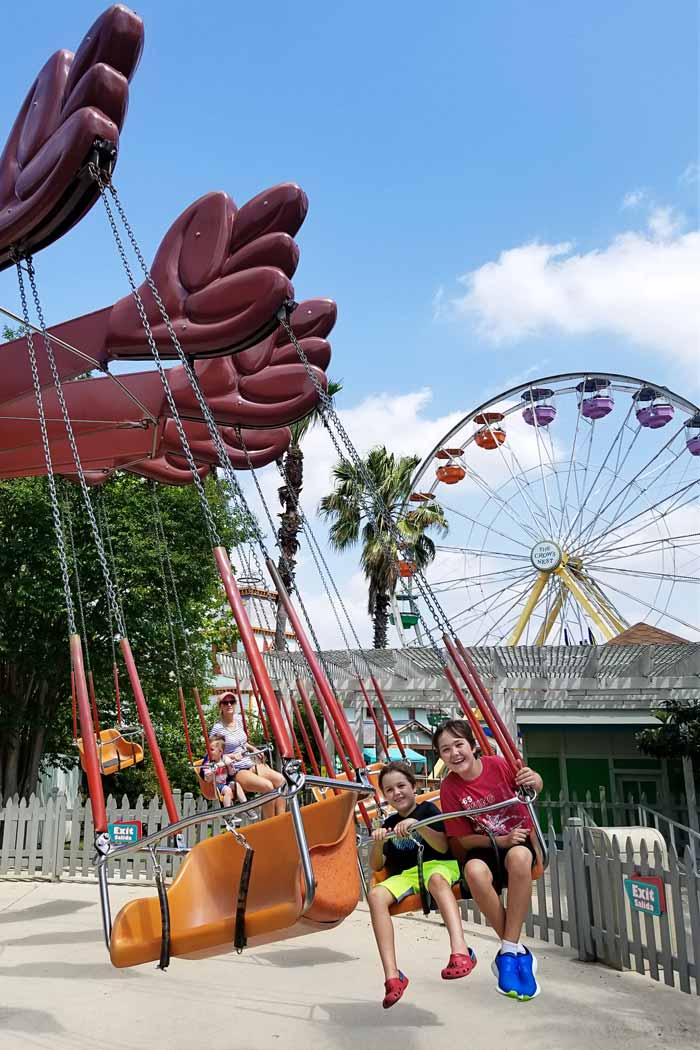 I rode Pandemonium with them, which is like teacups on a roller coaster track.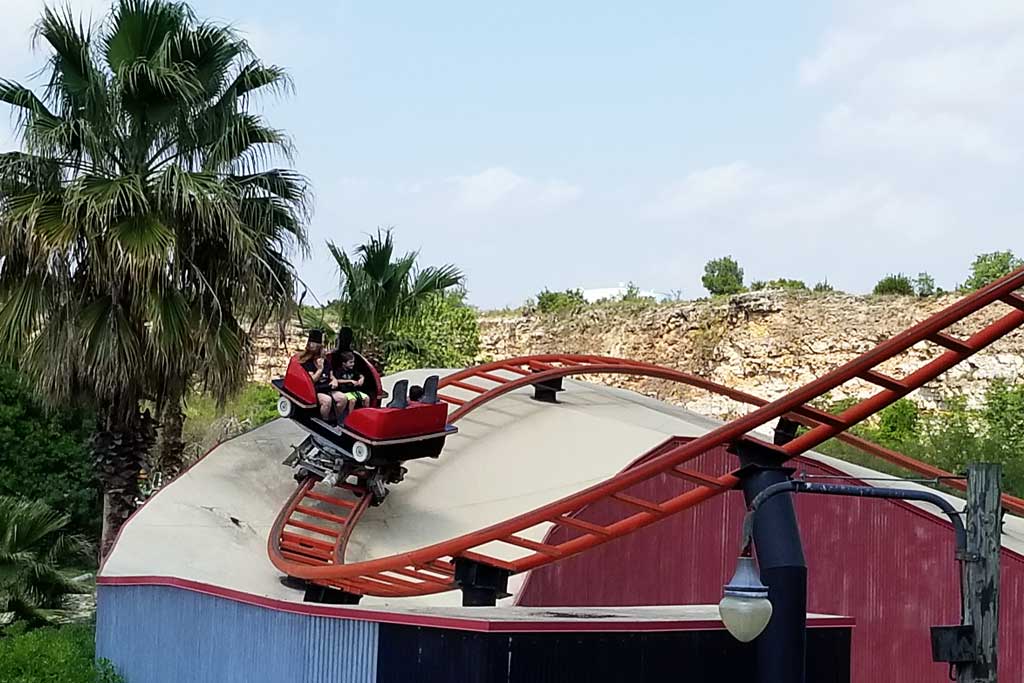 Then we let them take on Hurricane Force 5. In this one, you sort of stand up and face out. Then the whole disc spins and slides up and down along a track. There are some of those red chairs here. So, we watched the kids on this one. In all honesty, my little guy is an independent soul who learns things the hard way. He may have gotten in a little over his head here. He wanted to do it but definitely did not want to do it again. No tears but he found the edge.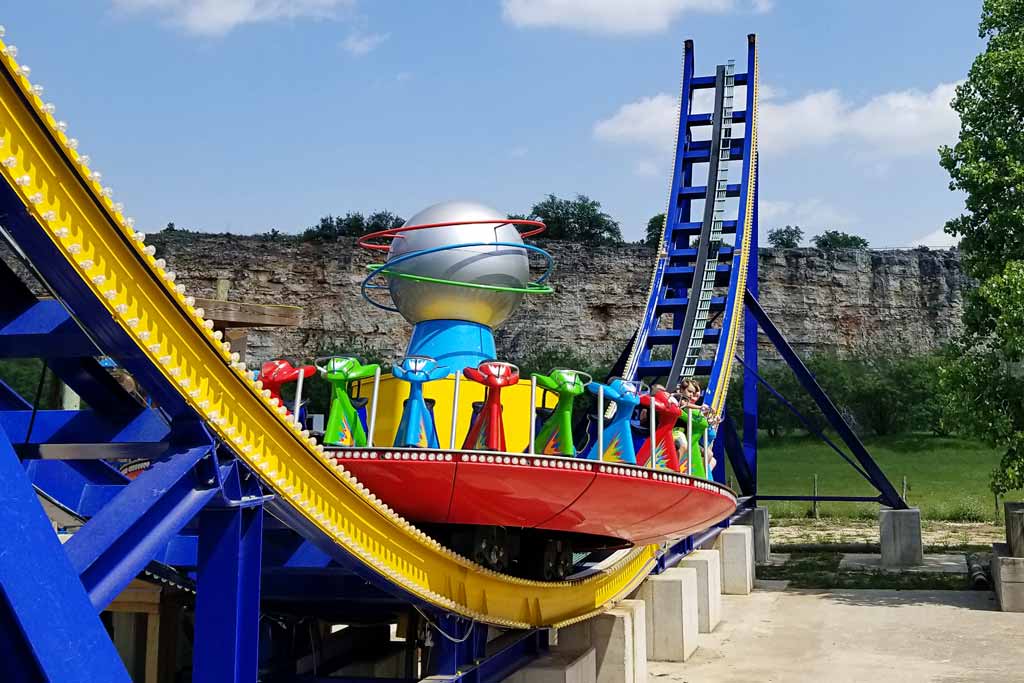 Choo-Chooing to the Finish
After Hurricane Force 5 the little one was ready for a break. We hung out and got some water while the tall guys rode Poltergeist. Then we all headed to the train for a little break. The kids wanted ice cream and to ride the Road Runner Express one more time before we left. The train dropped us off right near ice cream and it was a short walk, on the way back to the front, to ride the Road Runner Express again.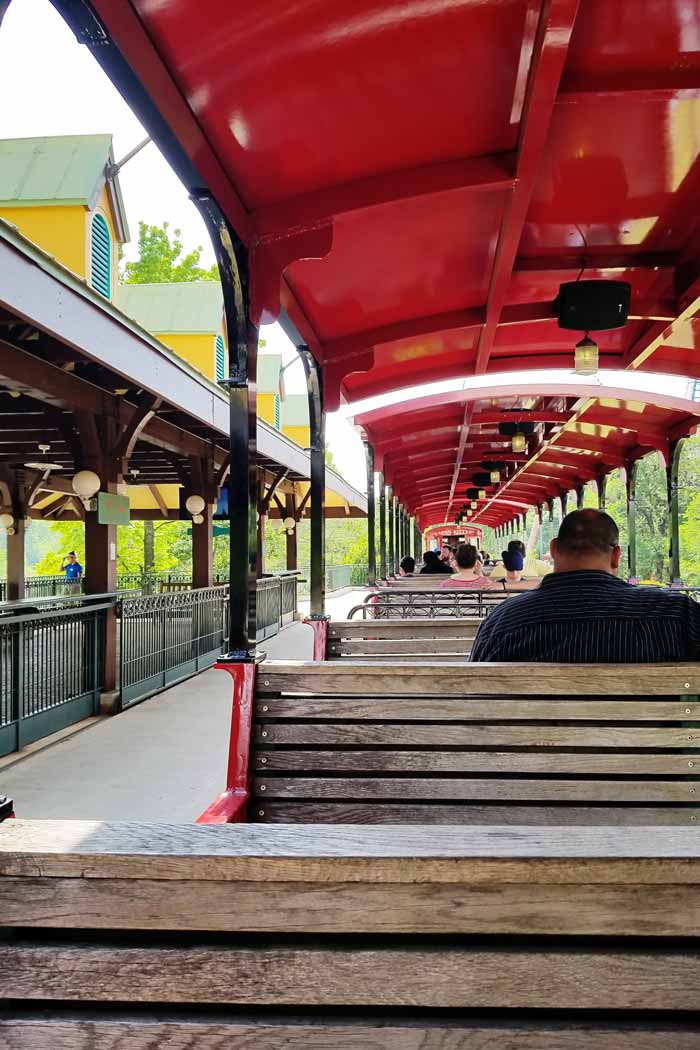 After this, we were done. We definitely wanted to end on a good note instead of overtired whiney kids and we did. We had such a good time and loved coming out with the family to enjoy the park. Finishing up around 5:30 p.m. gave us a fair amount of time to enjoy San Antonio.
San Antonio in the Evening with Tired Kids
There are a lot of great places to stay around Fiesta Texas but we like the Riverwalk so we headed into town (only about a twenty-minute drive) and stayed at the Omni La Mansion del Rio on the River Walk. Omni hotels are great places to stay with kids. Besides being nice they welcome the kids with little activity backpacks. The building is a historical colonial style and it has a great location to restaurants and Alamo Plaza.
The Alamo was our ultimate destination. Just far enough to get a little walk in after stuffing ourselves on tourist trap Mexican food. And, it is always nice to see. If you still have energy there are things around the Alamo that are open like Ripley' Believe it or Not and some ice cream parlors. We chose to let the kids swim a little before bed.
This day was fun and even though we were "going" all day it had enough breaks and a leisurely pace that getting up and heading out on another big day was not going to be a big deal.
Fiesta Texas & Amusement Park Tips
Don't skip the kiddie rides – they build confidence and everyone likes to throw their hands up, even little kids!
Go left. If it is busy work the park "backward." Most people instinctively turn right.
Dress. Shower, hair, light makeup. Yeah, it's probably going to be hot and humid and you might even get drenched but I know I feel better about taking a pic if I've done at least a baseline for looking human. It also helps with number three…
Be in the pictures. Take pictures of your kids for sure. No matter how hot sweaty and frizzy-haired, you are there too. Take a selfie, ask someone to help, set a timer, but get in that picture, Momma! (And, if nothing else do it first and then go get drenched in humidity. P.S. convert your pics to black and white, it is universally flattering)
Don't force a kid to ride a roller coaster. Use the rider exchange so you both parents can still ride and you will not have to wait in line again.
Water, water, water. Just because the restaurants offer sodas doesn't mean they don't offer water. You need it. Drink lots. Make your kids drink lots. Plus, it's free!
Take a rest in the courtyard near Bubba's River Cafe, in Crackaxle Canyon. There are bathrooms, a Dippin' Dots, and a place to get Icees (in case you have kids who don't want the same treat) AND it is right by the shoot where the Gully Washer rafts are heading back in. The riders think they have survived unscathed but what they don't know is up above are coin operated water jets where spectators can try and soak them!? Seriously, fun people watching time.
We watched the guy in this video feed the water jets quarters for about 15 minutes. Fun was had by all at Fiesta Texas!