Sky High Chocolate Peanut Butter Whiskey Layer Cake
Do you know a peanut butter lover? A chocolate lover? A chocolate peanut butter lover?? And, they like whiskey?!? This is your cake.
This cake is not for the faint of heart.? It is massive and massively delicious.? And worth every decadent calorie.
Looking for something special to whip up for Father's day?? This is it!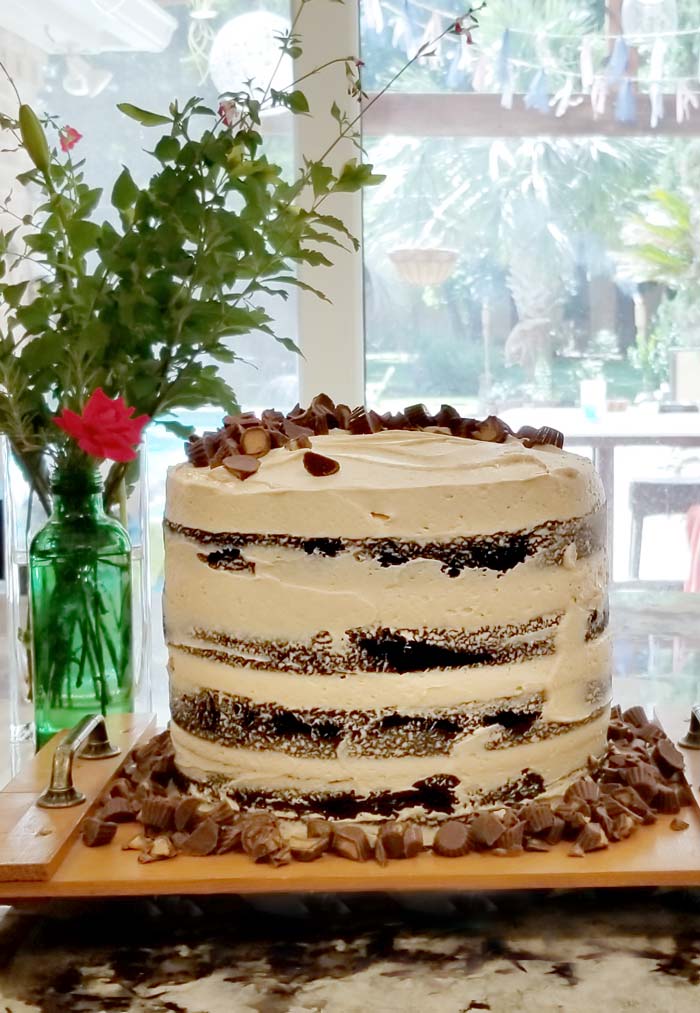 The recipe below makes 1 two layer 8-10 inch cake. The one pictured is a double recipe. If you want a tall cake to feed the masses then double it so that it will be sky high. If you are feeding a few less people then proceed as the recipe is written (you can make cupcakes out of this recipe too – just adjust your cooking time down to 18-20 minutes). Or, if you still want it sky high use six inch round cake pans, though if it is too skinny you may want to run a couple of bamboo skewers through it so that it does not start leaning.
If you double this recipe and make a ten inch four layer cake the cake will be heavy enough that it will support itself. You should not need any skewers or dowels. If you are traveling you may want one or two just for insurance, but this cake is heavy and does not want to budge.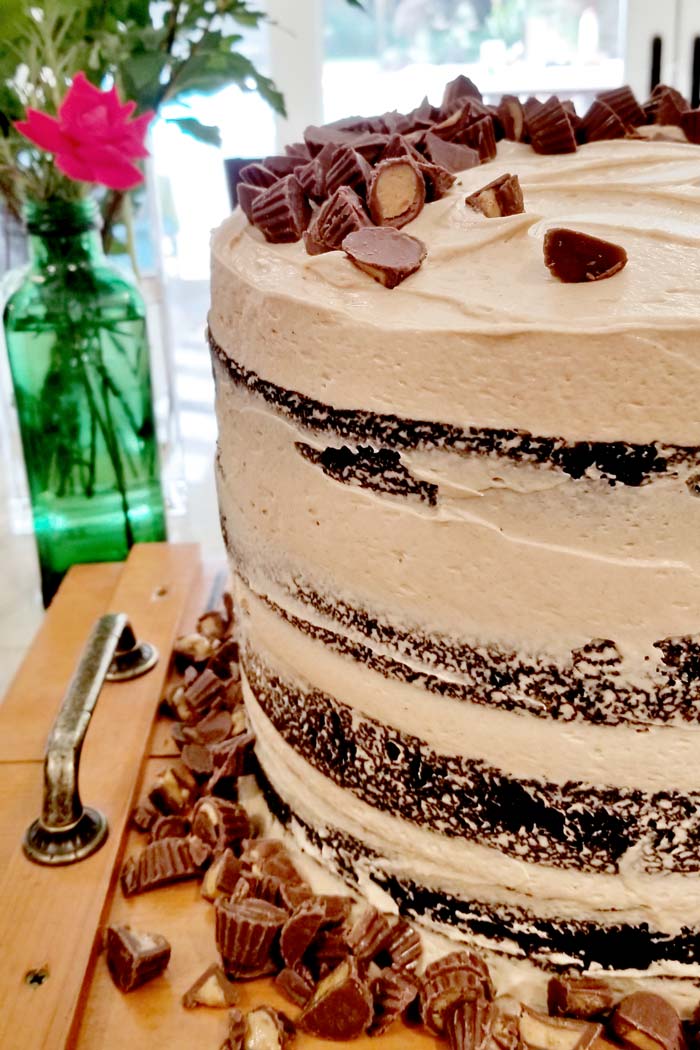 I prefer to make it in two rounds because it is a lot of batter and getting into that situation where you are about to overflow your bowls is not fun. However,?the frosting can be doubled and beaten together quite easily.? If you are going for a rustic look you may not need to double the frosting.
Speaking of frosting the whiskey can be omitted. It will still be delicious. You can replace it with milk or just use less sugar.
One thing you may find helpful to ensure even layers is to weigh them. If you plan to do this before you begin, weigh the empty bowl the batter will be in and cake pans.? That way you can then weigh your batter and know how much you need to spoon into each cake pan.
Be prepared, this chocolate peanut butter bit of heaven is so substantial that we only served it two layers at a time!
If you are wondering what to make the chocolate peanut butter lover (ahem, most of us call him Dad) this is it. Now, go sacrifice some butter and get to work.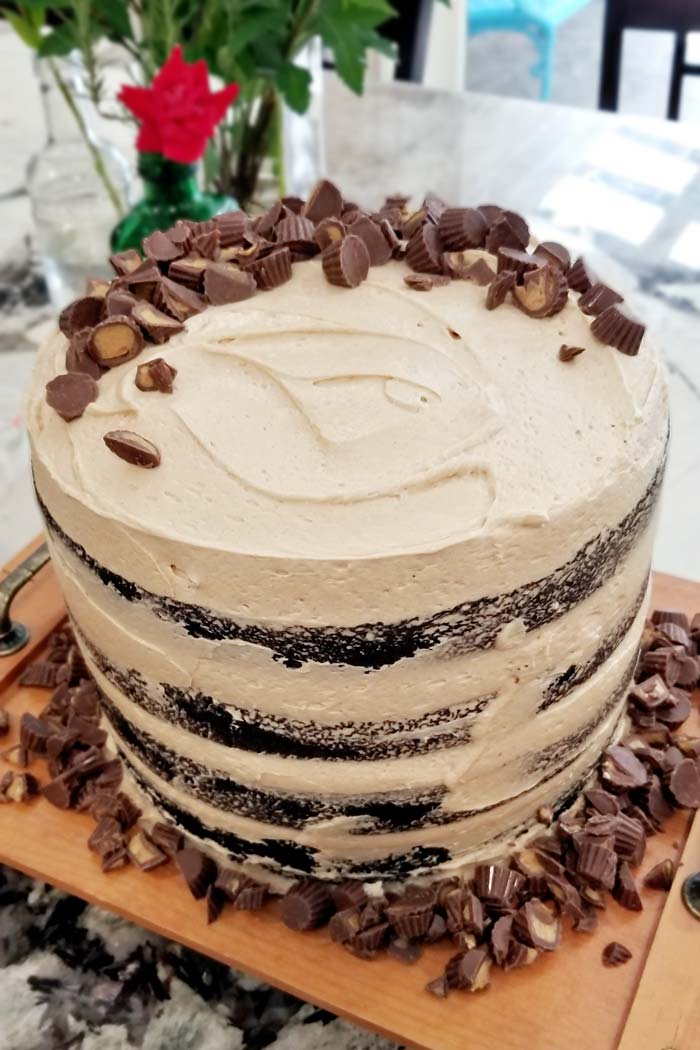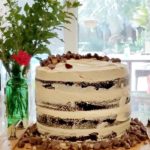 Print Recipe
Sky High Chocolate Peanut Butter Whiskey Layer Cake
A classic pairing of chocolate a peanut butter spiked with a hint of whiskey and given a rustic styling!
Ingredients
For the Cake:
4

cups

flour

(508g)

4

cups

granulated sugar

(792g)

1 ½

tsp.

salt

4

sticks

unsalted butter

(2 cups or 1 lb.)

½

cup

special dark cocoa powder

(a heaping ½ cup)

1

cup

strong black coffee, hot

1

cup

buttermilk

4

whole beaten eggs

2

tsp.

baking soda

2

tsp.

vanilla extract
For the Frosting:
6

sticks

unsalted butter, cold

(3 cups)

4

cups

creamy peanut butter

¾

cups

whiskey

(Go Bourbon suggest Wild Turkey 101 pairs nicely with chocolate and peanut butter)

1

tsp.

vanilla extract

4-6

cups

confectioner's sugar

20-30

mini peanut butter cups, chopped
Garnish
10-20

mini peanut butter cups, chopped
Instructions
Recipe:
Preheat oven to 350 F. In a mixing bowl, combine flour, sugar, and salt. In a saucepan, melt butter. Add cocoa. Stir together. Add hot coffee, allow mixture to boil for 30 seconds, then turn off heat. Pour over flour mixture and stir lightly to cool. In a measuring cup, combine the buttermilk, beaten eggs, baking soda, and vanilla. Stir buttermilk mixture into butter/chocolate mixture. Pour into cake pans and bake at 350-degrees for 30-40 minutes. They are done when a toothpick comes out clean or the middle firms up and springs back when lightly pressed.
The Frosting:
For the frosting, cut the butter into pieces then, in the bowl of an electric stand mixer fitted with the paddle attachment, whip the butter until pale and fluffy, about 5-7 minutes.

Add the peanut butter and mix until smooth and incorporated.

Mix in 2 cups of powdered sugar and mix on low until incorporated. Add the whiskey and vanilla, mix to combine. Add two more cups of powdered sugar beat on low until combined then increase the speed to medium-high for 3 minutes. If necessary, add more powdered sugar ¼ cup at a time until the frosting reaches the desired consistency.

Add up to 1 Tbsp. of whole milk if the frosting becomes too stiff.
Assembling:
Assemble the cake by placing one layer on the cake pan. If desired, level off each cake round with a serrated knife (cut off the dome) but this cake is heavy and I found this step to be unnecessary for this cake.

Pipe a spiral of frosting across the cake, sprinkle with chopped peanut butter cups and repeat with each layer (except do not sprinkle the peanut butter cups on the top layer).

Using an offset spatula, level the frosting on the top layer as desired. Smudge frosting around the edges and smooth off for a naked rustic look.

Garnish the top with a pile of chopped peanut butter cups.

Dig in!