Gingerbread Cupcakes with Molasses Caramel Frosting
Y'all.
No, really, y'all.
Y'all, these Gingerbread Cupcakes with Molasses Caramel Frosting might be the most amazing things I've ever made. They're AH-mazing! The frosting. The cake. It is just a marriage of flavor and happiness. Your brain is going to be so happy when you eat these. Your dopamine signals are going to be exploding. Plus, you'll win your kid's holiday party snack war (not that there is any such thing as mommy-competition, nope).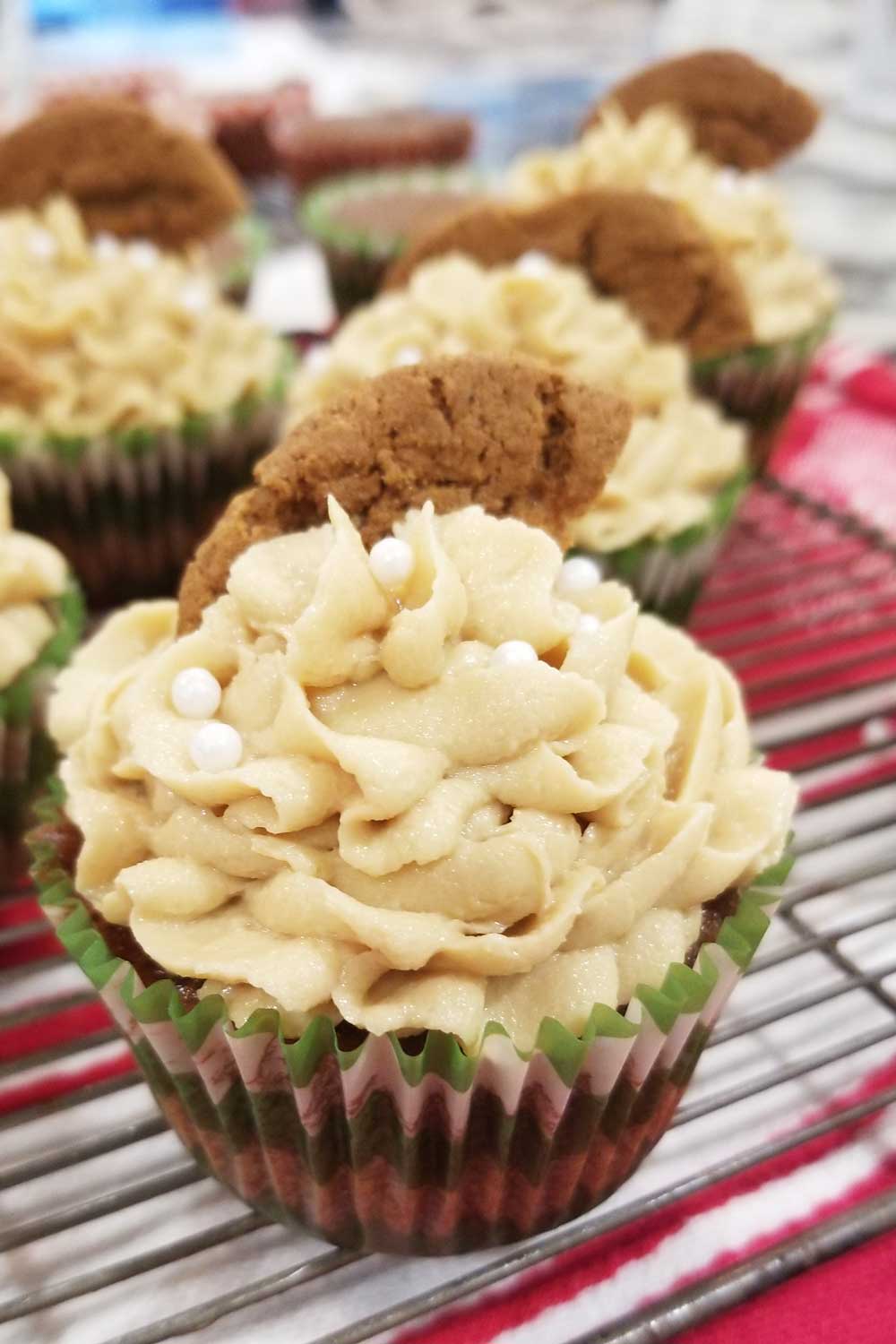 All in all, on the cupcake side, they are fairly straightforward. The frosting has an extra step but it is worth it. You will need a candy thermometer. If you have never used one they are not a big deal. In fact, candy thermometers make the recipe easier because then you don't have to guess is this a simmer has this thickened enough? Really, it is about making life easier! Also, they're super cheap at the grocery store, less than $5; as long as it is long enough to reach the bottom of the pot and has a clip to hold it to the side you are golden.
Also, you may note there is a huge range of the amount of confectioner's sugar that the recipe calls for, 4-8 cups. That is because it depends on several factors. First, how humid is it where you are making your frosting. It's pretty humid here in Houston. I almost always need more confectioner's sugar to bring frosting together than is typically listed in Intenet recipes. Second, are you piping the frosting? If you are piping it you are going to want it to be fairly stiff. That means more sugar. It is unlikely you will need less than 4 cups, but not unheard of to use the whole bag. If, somehow, you end up too stiff just add a splash of milk or cream to thin it back out.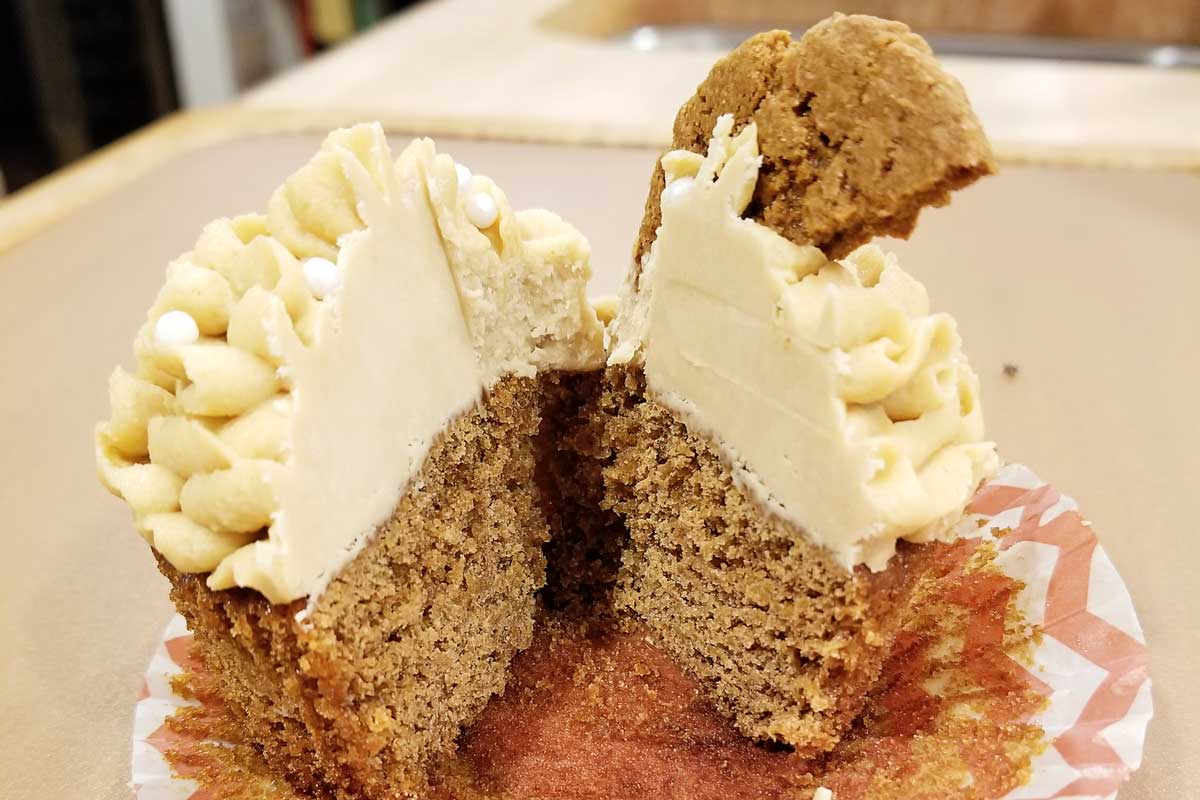 Enough with the talking, on with the cooking…but in case you're wondering you could make these a day ahead of time and keep them in the refrigerator until you are ready to eat them. Just set them out to thaw. Also, the frosting is amazing and if you have any left over you could use it as a dip for ginger snaps (…I've heard).
---
Gingerbread Cupcakes with Molasses Caramel Frosting
Yield: 20-ish cupcakes
Ingredients: Cupcakes
2 c. (254g) all-purpose flour
1 c. (198g) brown sugar
1/2 tsp. baking soda
1 tsp. baking powder
2 1/2 tsp. ground ginger
3/4 tsp. ground cinnamon
1/4 tsp. ground cloves
1/4 tsp. salt
1/4 tsp. ground nutmeg
1 c. salted butter, at room temperature
2 eggs
1 tsp. vanilla extract
1/4 c. buttermilk (or a scant 1/4 c. of whole milk with a splash of white vinegar)
1/2 c. coffee
Ingredients: Frosting
1 c. butter, divided
1/2 c. (99g) brown sugar
2 Tbsp. molasses
8 oz. cream cheese, softened
4-8 c. confectioner's (a.k.a. powdered) sugar
1-2 Tbsp. milk, if needed to thin the frosting
Ingredients: Garnish
Recipe
Preheat your oven to 350 F. Line cupcake tins with paper liners.
In the bowl of a large mixer cream the butter and brown sugar until light and smooth.
Meanwhile, in a large measuring cup/bowl (I like to use something with a spout, a 4 cup is a good size) whisk together the remaining dry ingredients. Set aside.
In a smaller bowl/ measuring cup beat the eggs then whisk in the vanilla, buttermilk, and coffee (a 2 c. is a good size).
Alternate adding the dry and wet ingredients to the mixer until everything is just incorporated. Never mix more than you have to.
Fill the cupcake liners halfway (1/4 cup scoop is usually the appropriate size). Bake about 18 minutes. Until you can gently press the top and it springs back up.? Remove from tins to a cooling rack as soon as you are able.
To make the frosting, in a pot over medium heat add 1/2 cup butter, brown sugar, and molasses. Mix and heat to soft-ball (240 F). Keep an eye and continually stir once you begin to see bubbles.? Set aside to cool.
In the bowl of a large mixer cream the butter and cream cheese until smooth. Add 4 cups of powdered sugar and continue mixing until smooth. Once the caramel sauce has cooled to at least warm add to the mixer and incorporate until smooth. (If you want to speed up the cooling you may put your pot in a cold water bath. I would not use an ice bath as it will turn your caramel more solid very quickly and it may be hard to pour at that point. Stay with it as it will cool very quickly this way.) Begin adding powdered sugar 1/2 cup at a time until you reach the desired consistency of your frosting.
Enjoy!