December Family Book Club
It is time for the December Family Book Club! This month is going to be crazy busy and fun and exhausting and exciting and all the things! I hope you find some time to read along with us!
The pick of the month is a quick read full of suspense, The Girl from Widow Hills by Megan Miranda. Being from Houston and it threw off major "Baby Jessica" vibes. If you are not from Houston (or a bit younger), Baby Jessica was a sensational news story of a little girl who fell into a well pipe. There was continuous news coverage of her rescue and years later there have been follow ups.
In The Girl from Widow Hills the main character, Arden, as a young girl was swept away in a flashflood and rescued three days later. Similarly, there was intensive news coverage and follow ups. The novel, of course, takes a more sinister turn and follows Arden as she grows up and has changed her name to escape the media interest. However, the twentieth anniversary is coming up and things start getting creepy – she starts sleepwalking again and then a body appears outside her remote home.
If you like murder mystery thrillers The Girl from Widow Hills delivers.
Ready to dive in to the December Family Book Club picks? Head over to our Facebook Discussion Group or catch up with us on Instagram where we'll be discussing The Girl from Widow Hills all month.
After, you have your reading secure there are some great options for the entire family below. Be sure to peruse our family picks for December – there is something for everyone. Let's read!
---
December Book Club Pick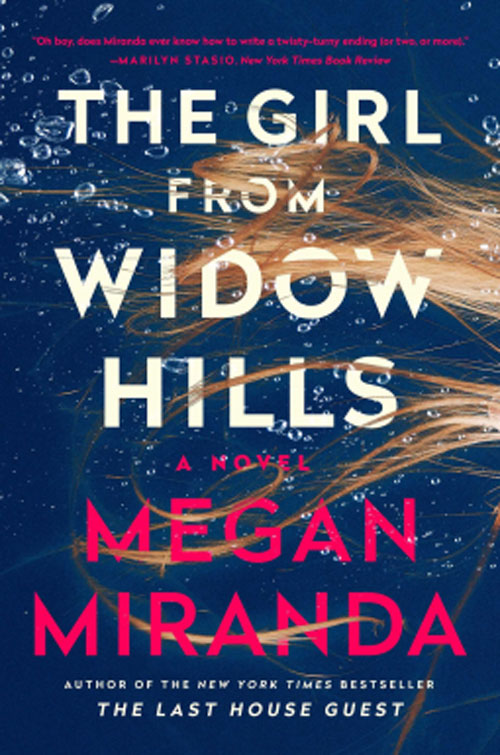 by Megan Miranda
Everyone knows the story of "the girl from Widow Hills."
Arden Maynor was just a child when she was swept away while sleepwalking during a terrifying rainstorm and went missing for days. Strangers and friends, neighbors and rescue workers, set up search parties and held vigils, praying for her safe return. Against all odds, she was found, alive, clinging to a storm drain. The girl from Widow Hills was a living miracle.
Arden's mother wrote a book. Fame followed. Fans and fan letters, creeps, and stalkers. And every year, the anniversary. It all became too much. As soon as she was old enough, Arden changed her name and disappeared from the public eye.
Now a young woman living hundreds of miles away, Arden goes by Olivia. She's managed to stay off the radar for the last few years. But with the twentieth anniversary of her rescue approaching, the media will inevitably renew its interest in Arden. Where is she now? Soon Olivia feels like she's being watched and begins sleepwalking again, like she did long ago, even waking outside her home. Until late one night she jolts awake in her yard. At her feet is the corpse of a man she knows—from her previous life, as Arden Maynor.
---
Non-Fiction
Just in time for awkward holiday party small talk!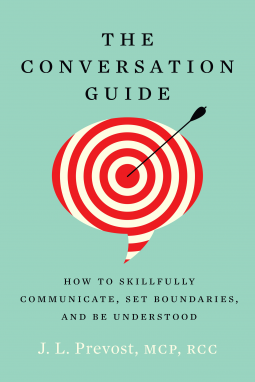 by J.L. Prevost
Most of us have everyday conversations with ease, yet we can get tripped up when the topic turns serious or emotional. We may fumble or freeze. We may fear saying the wrong words, making things worse, or getting stuck in an endless argument cycle...
Grounded in gold-standard techniques from communication and psychology models, the 10 skills will give you the confidence and know-how to prepare for, start, and structure conversations. Through relatable anecdotes, common dialogue examples, and valuable tips, this guide offers practical solutions you can implement right away, without having to wade through pages of communication theory.
The Conversation Guide will teach you skills to:
Stop avoiding confrontation
Set and enforce personal boundaries
Structure difficult conversations
Establish common goals
Support yourself post-talk
---
Picture Book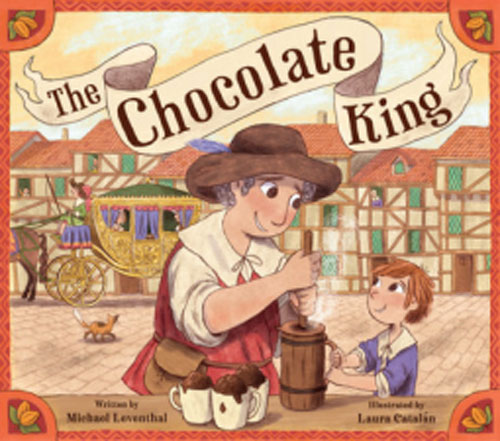 by Michael Leventhal
This book would make a great addition to any cooking unit or a chocolate unit! Homeschoolers and parents will both enjoy the gently nods to history as well as the explanation of cocoa processing in the back of the book.
Benjamin loves chocolate. He also knows a lot about it. But one person knows more – his grandfather Marco, otherwise known as the Chocolate King.
Benjamin's family arrive in France at the beginning of the 17th century, having escaped the Spanish Inquisition. They have nothing but the clothes on their backs and as many cocoa beans as they can carry.
Back in Spain, Benjamin's grandfather Marco was El Rey de Chocolate, famed for his delicious hot chocolate drink, a recipe he claims he learned from an intrepid Spanish explorer. But now, if the family are to make a living, they must persuade the people of France to fall in love with Marco's strange mud-coloured concoction. Benjamin is desperate to help, dreaming that he might grow up to wear the Chocolate King crown.
Then, one day, Benjamin causes chaos in the kitchen. Covered head-to-toe in chocolate, he stumbles into the street and straight into the path of the real King – the King of France. Finally, the family get the breakthrough they need, and all of Benjamin's dreams start to come true.
---
Family Read Aloud
Our Read Aloud pick, The Hobbit, is a timeless classic. One of our favorite things to do after a read aloud is watch any movies that have been made – and, you know this one has a wonderful screen adaption.
---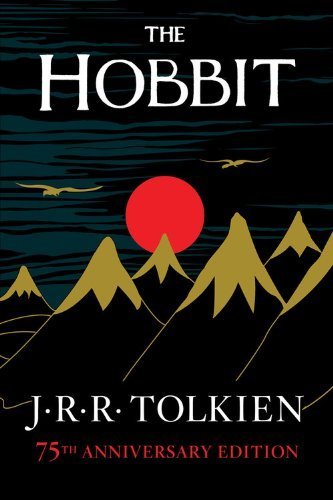 by J.R.R. Tolkien
Experience the world of a curious boy, a greedy Bilbo Baggins is a hobbit who enjoys a comfortable, unambitious life, rarely travelling further than the pantry of his hobbit-hole in Bag End. But his contentment is disturbed when the wizard, Gandalf, and a company of thirteen dwarves arrive on his doorstep one day, to whisk him away on a journey 'there and back again'. They have a plot to raid the treasure hoard of Smaug the Magnificent, a large and very dangerous dragon…
---
Tween | Middle Grades
By the Light of the Fireflies is a fictional account of the "female Paul Revere," Sybil Ludington. She is hailed as riding twice as far and in the rain! There is some debate about whether the ride ever actually happened but this account is infused with a lot of history, a heavy dose of patriotism, and a little magic.
Older elementary and middle grades kids will enjoy this account of revolutionary war history and family life. Aside from the obvious educational value kids will love the spy craft, horses, and adventure!
---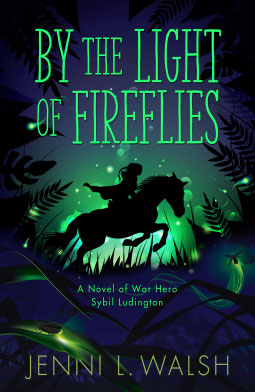 by Jenni L. Walsh
Sybil Ludington believes in the legend of fireflies—they appear when you need them most. But it's not until her family is thrust into the dangers of the Revolutionary War, and into George Washington's spy ring, that Sybil fully experiences firefly magic for herself—guiding her through the darkness, empowering her to figure out who she's supposed to be and how strong she really is—as she delivers her imperative message and warns against a British attack.
Themes present to note for young readers: Very light flirtation
---
Young Adult
Our Young Adult pick is a fun sci-fi/ fantasy Nordic adventure – a perfect pick for tucking in while it is chilly. If your tween/ teen is into supernatural mythology this one is a great choice.
---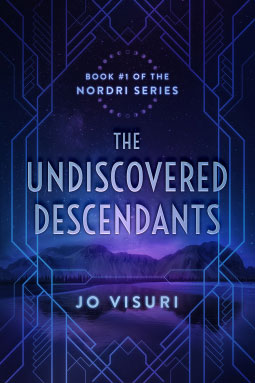 by Karen McManuby Jo Visuri
A remote island. Old secrets. And a cascade of unintended consequences.
Long ago, four clans from earth's four corners were given special abilities to help save humanity from oblivion. For generations, their descendants have lived in hidden communities and occasionally intermingled with regular humans—leading to whispers of unforeseen consequences. Now, for unknown purposes, one Clan desperately seeks the rumored, undiscovered offspring.
In the heart of a northern archipelago, Elin Bodil leads a perfectly ordinary, happy life on Auor Island with her family. When, through accident and circumstance, she meets both a motorcycle-driving stranger and the new mysterious boy next door, Elin's world is turned upside down.
As Elin is drawn into a brewing supernatural conflict—with her two unusual acquaintances on opposite sides, she must decipher who to trust while unearthing her island's secrets and those buried deep within herself. But when the search for answers triggers the Clan's sinister schemes, Elin and her companions will have to confront far bigger and deadlier secrets than they ever imagined. And they'll need much more than themselves to survive.
Welcome to Auor Island, where nothing is quite as it seems!
---
Which ones will you be reading this month?
Note: Many of our books were read courtesy of NetGalley ARCs. While this does give us a sneak peak all suggestions and opinions are our own – we have no obligation to provide positive reviews. We will never recommend books we would not read ourselves or share with our own family. Additionally, italicized descriptions are from the publisher. Throughout the month we are so excited to discuss our opinions on all these picks – please join us here, on our Bookstagram, and in our Facebook discussion group!