Top 8 Things to do with Kids at MFAH
Art for All
The Museum of Fine Arts, Houston (MFAH) is a world-class experience nestled in the oaks of our bustling and ever-improving museum district.
Museums, particularly art museums have a certain aura. An air that sets them apart as a bit quiet, contemplative, and, perhaps, a bit intimidating. Art can be intimidating. The trick is to immerse yourself. To know that it is just for you. An artist may have borne a work and created something from nothing but it is you who decides how it will rest on your soul.
Art is a gift to the soul. Art must be shared with children. MFAH is a welcome and open place for children. They are wanted and encouraged across each exhibit and space.
When you visit the Cloud Column there is a direct line from a splash area. If that is not inviting a child to run straight to its gleaming tower in wonderment nothing else could.
When you visit the MFAH bring your children and try not to miss out on all it has to offer them!
---
Top 8 Things to do with Kids at MFAH
1. Create Art
If you plan your trip on certain Sundays your kids can create their own work inspired by different artists or works. The museum provides high-quality materials and tools so your little ones can truly understand different artistic techniques.
The Family Studio is best enjoyed by those ages five and up and can be found on the lower level of the Beck Building in the SW Bell Studio (near the MFA café) – there are usually two sessions offered (1 p.m. & 2:30 p.m.).
2. Go Into the Light
It would be hard to miss The Light Inside by James Turrel because it is in the Wilson Tunnel which connects the Beck Building to the Law Building, but it is a not-to-be-missed experience. The changing colored lights and the fully immersive experience are exciting for kids of all ages!

3. Focus
Each Sunday from 1-4 p.m. MFAH hosts the Sunday Family Zone on the Go. Here children are invited to delve into a specific exhibit through various activities and storybook circles.
The location rotates to different areas of the museum (either ask the visitor's desk upon arrival or keep an eye out for a wheeled cart).
For the youngest family members there is a Storybook Circle offered on Tuesdays at 11:30 a.m., as well.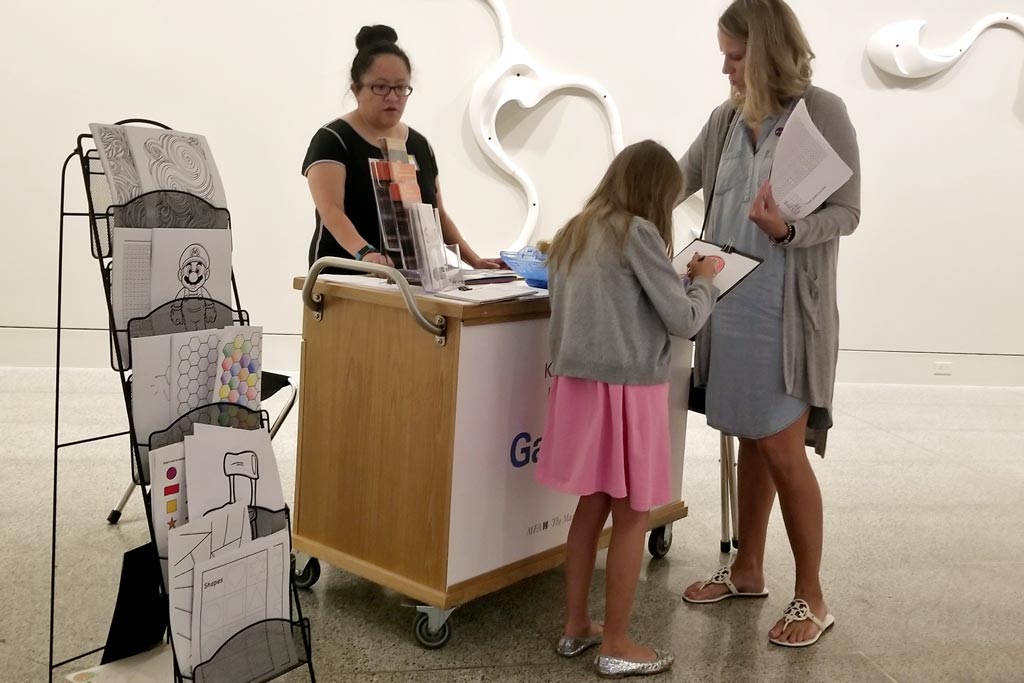 4. Experience Exhibits & Exhibitions
If you view the map of the galleries you will notice significant tan colored areas. These are the spaces reserved in each building for changing exhibits and exhibitions. Not every exhibit will be of interest or appropriate for younger children but give them space to explore because what piques their interest may surprise you.
And, do not feel like you have to see it all in one go. Art is an experience and sometimes we need to sit with them a bit to fully feel the weight.
Currently, the The Art of M.C. Escher from the Michael S. Sachs Collection is on exhibition. It features "more than 400 prints, drawings, watercolors, printed fabrics, constructed objects, wood and linoleum blocks, lithographic stones, sketchbooks, and the artist's working tools." This is a great one for kids of all ages.
5. Stroll through the Sculpture Garden
Once you have proceeded through the Law building you can cross Bissonnet Street and stroll through the Cullen Sculpture Garden. You may not like it all but it is a nice space with plenty to talk about. After being inside for awhile kids will love the opportunity to stretch their legs and move about in a more kid-friendly way.
6. Party on the Plaza
Kids need space and The Brown Foundation, Inc. Plaza, in front of the Glassell School of Art, is that space. The plaza is a lovely place for families to relax; sometimes there are food carts and live music.
Two impressive sculptures bookend the one-acre greenspace. The Song of Strength stands stoic and heavy on the Glassell end, its cutouts and space make ready for a game of peek-a-boo, while Anish Kapoor's much-discussed Cloud Column entreats visitors with a dizzying contrast of light and reflection.
Between the two are tables and seating and an architectural fountain that children will want to spend time daring to run through it before the jets of water stream high into the air.
7. Climb on the Roof
Although there is not much to do on the BBVA Compass Roof Garden but enjoy the view, kids love climbing things and what is more inviting than a roofline that starts at ground level! Walking up to the roof is an easy climb of short steps with generous footing. The view is nice and you can take the elevators from inside the lobby of the Glassell School of Art Building, if stairs are a problem.
8. Rock On!
Make the BBVA Compass Roof Garden your first or last stop and download the MFAH's Spotify Playlist.   Use the list and the pdf to make your way through (or back through) the public spaces.  Bonus, all the spaces on the playlist are free to access.
---
Location
The physical address is: 5601 Main Street, Houston, TX 77005
Know Before You Go
There are deep discounts available for General Admission: Children 12 and younger are free daily; Ages 18 and younger are free on Saturdays and Sundays with any Texas public library card; Bank of America cardholders are free on the first full weekend of the month; Active duty military members and up to five family members are free from Memorial Day through Labor Day; and, Thursdays general admission is free for everyone.
There are two MFAH parking garages available. One near the Glassel School and one near the main buildings. If it is raining park in the garage on Binz and you can use the tunnels to access the museum.
Get a lay of the land by checking out the gallery map. Due to the layout, it can be easy to miss things if you don't have a general plan.