Ready to celebrate Father's Day and the guy in your life who keep everything moving along?! Whether you go all out or have a simple day, it is always the right day to be nice to someone and let them know they are appreciated, loved, and you want to see them on a regular basis – and, if you need an annual reminder, Father's Day is here for you. So, Sunday, June 19th is this year's reminder to tell the guy in your life that you are glad he's been a part of your world. If you like to seal it with a gift, then, like all gifts, it should be meaningful and/ or useful. Without further ado…
---
Father's Day Gift List
1. Bathing Suit
It's the right time of year so, why not? No one wants to see dad hanging out (maybe literally) in a faded, stretched out suit from before you were born. Plus it's a great gift no matter your time constraints or budget. Maybe pair it with some time together. Throw a bbq or pool day.
2. WeatherTech
If you don't know what WeatherTech is your husband must not have bought you floor mats for Christmas (yes, really).  Alas, they're great, especially if you are one of those families with children or pets. Prices vary based on your vehicle's make and model and if you aren't ready to go all in, the cargo liner is a lifesaver.
3. Survival Kit Paracord Grenade
The Survival Kit Paracord Grenade just has a cool factor. And, it is really useful!
4. Fun Socks
If you are going with something typically ordinary find a fun way to make it unique! Alternatively, expensive socks. If your dad is a hiker or runner, nice socks can get pricey – particularly wool ones. Now might be a good time to invest in some new ones for the Old Man.
5. Books
Books are easy to personalize. If your dad follows a popular author then grab the newest of that. Shockingly, the Clive Cusslers and Stephen Kings of the literary world tend to put out a book in June! If he's not much of a fiction guy then something in his wheelhouse, like a biography of someone who is a leader in his chosen hobby or even a book of Sudoku. Whatever works. There are no rules – he's your dad! Here are some great options (and here are some more!):
Poking a Dead Frog: Conversations with Today's Top Comedy Writers, by Mike Sacks
"[Go] deep inside the mysterious world of comedy in this fascinating, laugh-out-loud-funny book. Packed with behind-the-scenes stories—from a day in the writers' room at The Onion to why a sketch does or doesn't make it onto Saturday Night Live to how the BBC nearly erased the entire first season of Monty Python's Flying Circus…" – Amazon
Praise the Lard: Recipes and Revelations from a Legendary Life in Barbecue, by Mike & Amy Mills
With a title like that how could you not?! Written by a father-daughter duo who "dispenses all the secrets of the family's lifetime of worshipping at the temple of barbecue. At the heart of the book are almost 100 recipes from the family archives…"
Ready Player One, by Ernest Cline
"If you identify yourself as a nerd, geek, gamer, 1980s history buff, a fan of science, fantasy, or dystopian fiction, otaku, 1980s movie fan, romantic, someone who grew up in the 1980s, or a human with emotions—you will enjoy Ready Player One. If you identify with two or more of the above, it's a guaranteed new favorite novel." —Sacramento News & Review
Apollo 8: The Thrilling Story of the First Mission to the Moon, by Jeffrey Kluger
"The full story of Apollo 8 has never been told, and only Jeffrey Kluger―Jim Lovell's co-author on their bestselling book about Apollo 13―can do it justice. Here is the tale of a mission that was both a calculated risk and a wild crapshoot, a stirring account of how three American heroes forever changed our view of the home planet." –
Amazon
Dark Matter: A Novel, by Blake Crouch
"Jason Dessen, a quantum physicist, once had a brilliant research career ahead of him. But after a girlfriend's unexpected pregnancy and the birth of a son, this future was derailed. Now Jason is a professor at a small Chicago college, content with his warm and loving family life until he's abducted into a world in which his quantum many-worlds theory has become a fully realized technology for inter-dimensional transfer. In this world, Jason didn't marry his girlfriend and never had a son. Jason is determined to get back to his family and his own world, but nefarious powers in the alternate reality conspire to stop him from revealing the criminal lengths they have gone to create the world-hopping technology." – Publishers Weekly
6. Dad Clothes
Your dad likes what he likes. Get him a spiffed-up version of a favorite. There is no point in trying to change his style at this point. You will just end up disappointed if he doesn't wear it and waste your money. Golf shirts, fishing shirts, geek-chic it's hard to go wrong here if it's something he'll love.
7. New York Times Custom Front Page Puzzle
This puzzle from Uncommongoods is custom printed to the day of your choice. Fun stuff!
8. Drive a Tank or Fly a Plane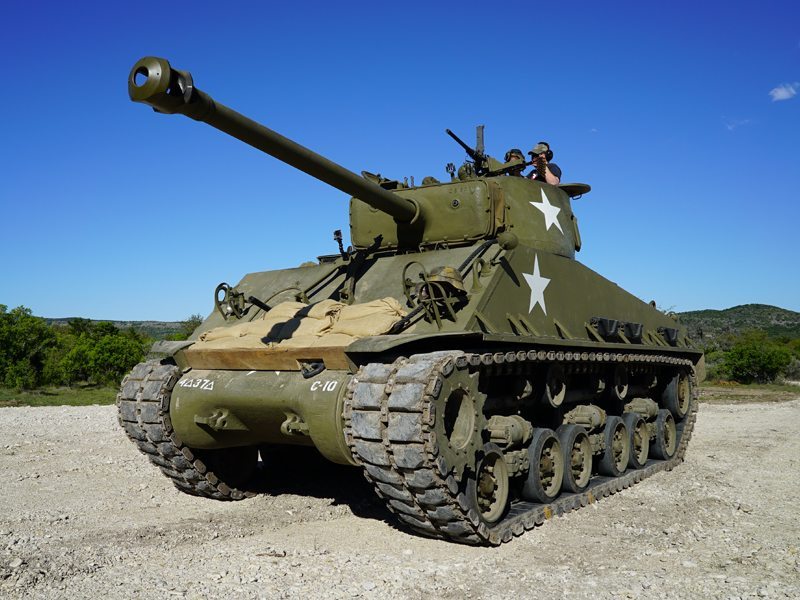 These are budget busters but, hey, it's a tank!
Drivetanks.com will even let you live fire while driving your tank and you can add on crushing a car. Prices start at $450 and go up to a full day extravaganza for $8,250. This one is located in Uvalde, TX – about five hours from Houston.
To stay local or take a flight check out our previous post Way Up in the Sky! B-17 Rides! These fly out of Hooks Airport in Northwest Houston and Conroe, just north of The Woodlands. Prices start at $475 and up to $995 – however, up to 75% is tax deductible.
9. DIY
Father's Day is a great opportunity for DIY-ing a little heartfelt gift. Check out our Pinterest board CELEBRATE: Father's Day for options for young and old!
---
Looking for more ideas? Check out our original gift guide or these in our store.
Happy Father's Day!