Buffalo Bayou Boat Tours – See Downtown Houston on the Water!
Spirit of the Bayou
Did you know there are boat tours of downtown Houston?! Me neither!
I had previously heard of kayaking in Buffalo Bayou, but I never felt my immune system was up to that if I fell in (that sounded a bit snobby, huh? Oh well, moving on).
Spirit of the Bayou is the pontoon boat that provides various tours of downtown. The boat seats 21 and is open to ages four and up, however, 12 and under will need to wear a life vest. You are welcome to bring food and beverages on board. There is a closet/bathroom. I did not check it out, for all I know it's a bucket. I did not tell my kids it was there or they would have had to go (probably five times).
Available Tours:
There are private 1 1/2 hour tours for $500. You can add a historian as a tour guide for an additional $175. The boat captain is nice and will point out the big stuff, but if you would like something more in-depth you will need the tour guide.
30 Minute Tours, the cost is $5 for kids (ages 4-12) and $7 for adults. There are no reservations and you pay with cash as you board.

Second Saturday Boat Rides during March, April, May, and October, the boat runs from 10am – 2pm (last departure is at 1:30pm).
Christmas Cruises are during December from 5-8pm.
Summer Twighlight Tours, the boat runs from 6-8:30pm (last departure at 8pm).

Waugh Bat Colony Boat Tours on the 2nd and 4th Saturday of April through September. Reservations required. This tour is 1 1/2 hours and will depart 30 minutes before sunset. All riders are $30 and must be at least 4 years old.
Foodie Floats from 6-7:30pm, the cost will vary from $50-100 and local chefs and food purveyors will provide food and beverages.
Getting There:
While the website says tours leave from the Sabine Promenade at 150 Sabine Street we departed from Allen's Landing and the instructions hereafter are for that, so please verify your departure point before traveling.
To depart Allen's Landing you will need to park near Commerce and Fannin St. There is a lot of parking so finding street parking shouldn't be difficult.
If you street park you will need to find your parking area number and use the app to pay. Save some time by downloading the Parkmobile app and filling out all of your information before you go. That way you aren't standing on a downtown street outside of legal buildings, trying to keep two kids out of the street, and avoiding eye contact with questionable characters while you pull out your credit card on a street corner (not that, that is what I did). The box will look like this: Â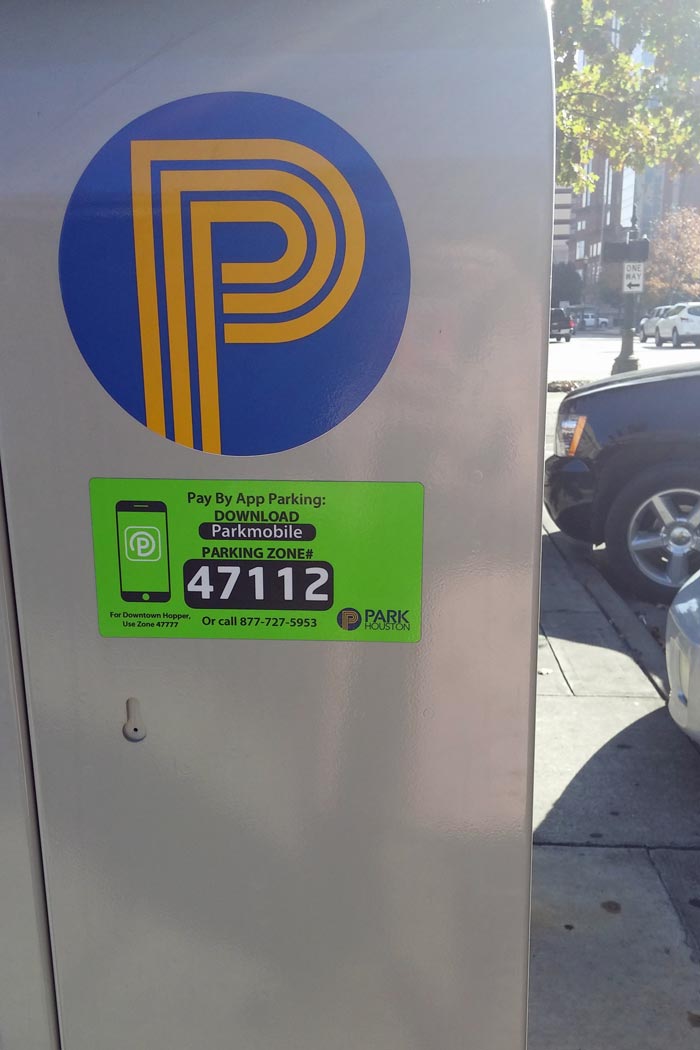 Then you need to walk over to Allen's Landing, which hopefully isn't far, and since you are going on a boat tour you should look for some stairs. If you see this, then you're in the right place: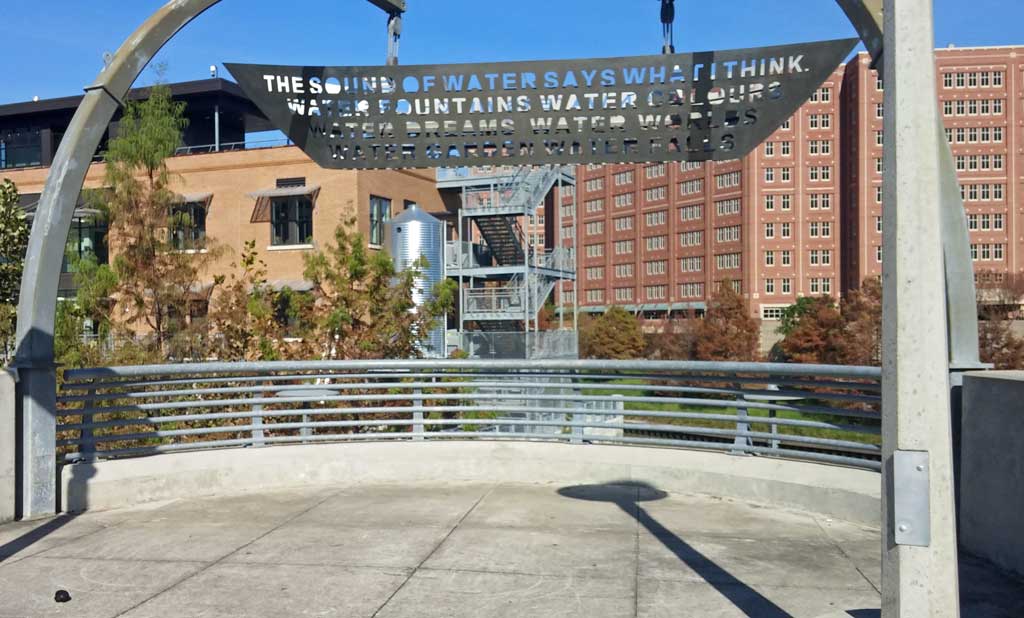 That building just to the left with the metal stairs is the Sunset Coffee Building which has been restored and housea the main offices of the Buffalo Bayou Partnership and home to Houston First Corporation. Also, this will be where to rent paddle crafts and bikes. On a side note, do not confuse it with the building on the right, that is the Harris County Jail. Fun fact, the windows are fake.  
On each side of the Sunset Coffee Building are stairs leading down the bayou. Once down you will see the newly renovated Allen's Landing: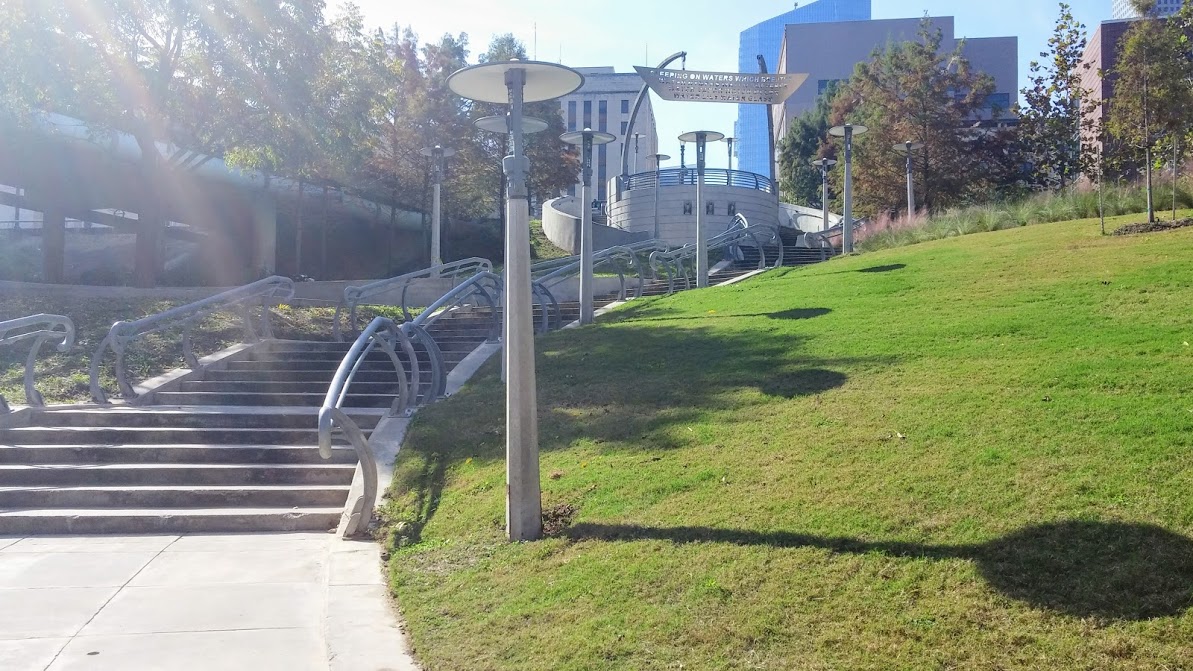 Boarding is simple and straight forward. I would recommend the 30-minute tours if you are taking children. Especially since they are going to be wearing life jackets. They are pretty much done with that by minute 10, but hopefully, you can eek it out to 30 minutes. Many of ours were being worn as belts by then. The boat with only 21 people does not feel overcrowded so kids do have a little room to move, but if it's hot or cold or they're kids 30 minutes is a nice run. Our tour was about 45 minutes. It started at Allen's Landing we went West to down past Bayou Place, you will definitely see the Aquarium and Ferris Wheel so prepare for your kids to want to go there next! ?We then came back and turned up Whiteoak Bayou a short distance to see Championship Park.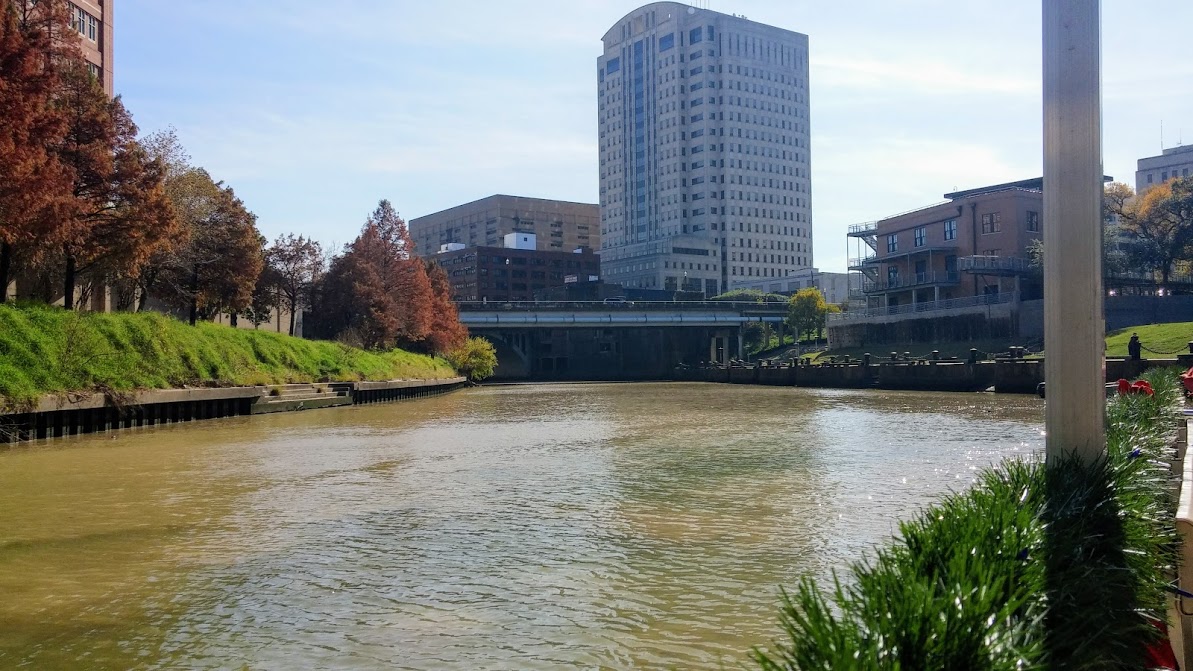 You will be returned to where you began and the only thing left will be lunch or dinner. If you aren't being dragged to the Aquarium the Spaghetti Warehouse is within walking distance (or, if you plan ahead you could just park there and walk to Allen's Landing).