Moody Gardens Ice Land: Pole to Pole
Moody Gardens Ice Land: Pole to Pole is happening right now!? We just visited as part of our Homeschool Day and it is really great. One of the holiday events that is absolutely worth your time and money. Although, if you go during regular events I would definitely suggest a combo ticket and see the lights too!
Upon entering the Moody Gardens Ice Land: Pole to Pole tent you are treated to a seven-minute film about the construction. A lot of that ice comes from just up the road in Bryan as they are one of the few places that still make the big blocks. And, they start freezing them in February!? It is not a long video and at the end, it "snows" on the kids so definitely worth hanging around for.
After the video you move to the next room where you pick up your rental parka. We wore our own jackets, gloves, and scarves and they all fit well under the parkas. I did not regret a single layer it is cold in there!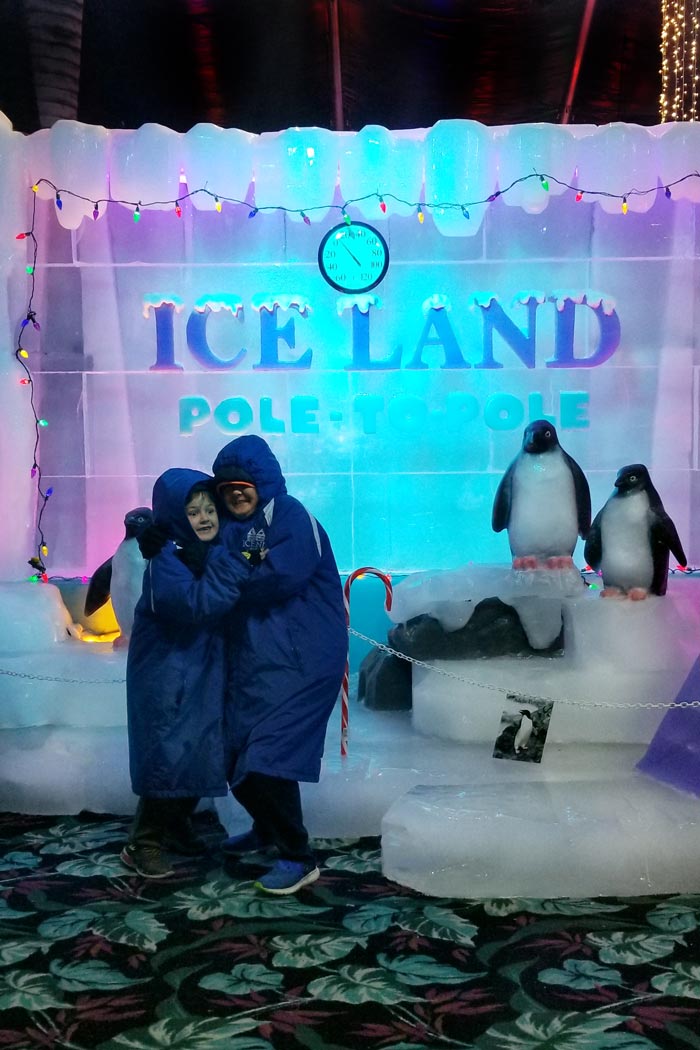 How Cold is it?
The exhibit is a frigid 9 degrees. We took our time but it did not take long for the cold to seep into our bones. Thankfully, our only exposed parts were our cheeks and they were definitely rosy? We also kept moving – a definite must for those temps.
We moved through an ice tunnel with carvings (it reminded me of that scene from Ice Age where Sid sees all the things frozen in ice – just small scale.) It's a tunnel who doesn't like walking through a tunnel?!? Well, if you do not then you can skirt around the side and still end up in the same place.
Most of my favorite carvings were towards the beginning. The narwhals are definitely tops and if they had an ice Buddy the Elf it would have been amazing (hang on I need to send in a suggestion). The hard part for the little people is keeping their hands to themselves. The wooden boat looks so real and is just sitting there I would like to think all the kids are so amazed that their hands just gravitate toward it…not just my kiddos.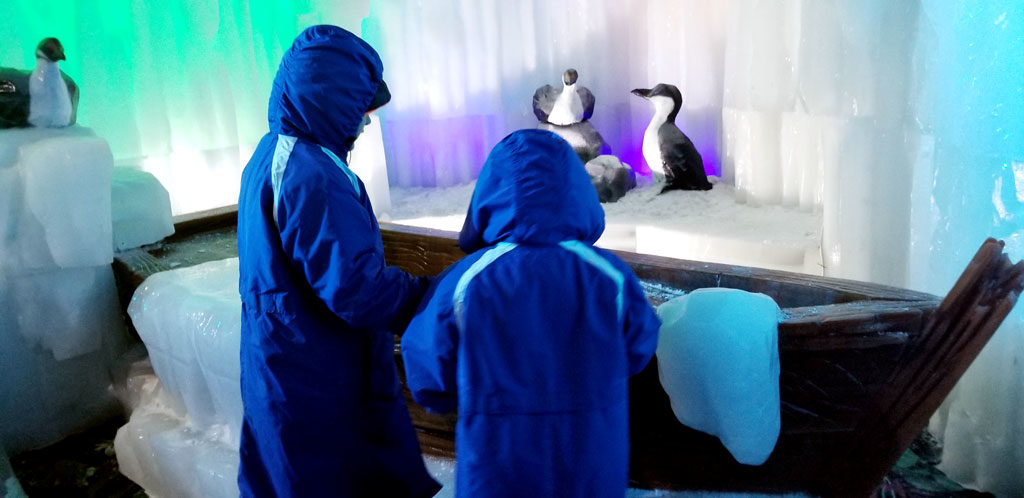 As you wend your way through the exhibit there are some familiar faces and lead directly to a giant ice slide. This you get to touch!? Next to the slide is an Ice Bar. We were definitely feeling all nine of those degrees by this point so I cannot imagine there being many people lingering in the bar but maybe with enough ice shots? Whether you are a teetotaler or not the bar is very cool (no pun intended) with a slick Native American theme.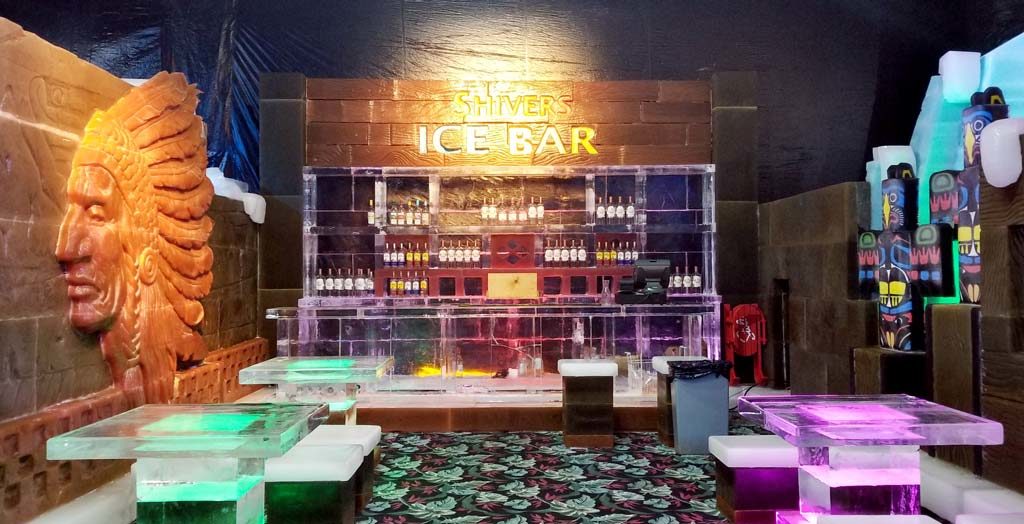 On the way out are some human-size Russian nesting dolls and a spacecraft, complete with astronaut. The entire Moody Gardens Ice Land exhibit was an amazing experience and we had a blast! A very cool blast!