9 Most Expensive Houses in the Houston Market
Confession Time: I am an HAR.com and HCAD stalker.
Really. If we've ever met I have probably looked up your house. I love real estate. I've probably missed my calling…but, I digress.
If you are in the market for big and fancy now is the time to buy to get situated for the school year! ?These houses are amazing and lovely and all the things you want for more than $10 million. ?Some of them are not big and amazing, but you can just knock those down and build big and amazing…
*Prices and listings are current as of 8/2/2017 – links to HAR.com listings are via the main picture of each home.
9. George R. Brown House – $9,995,000
This one is Old Houston to the letter. It was even the former residence of George R. Brown. I must say, wallpaper, mixed patterns, teal, and pink are not usually my taste but this house has been styled beautifully. I've never seen a deer skin rug this big either. Unfortunately, unless you are good at mixing patterns and color you will probably need to hire a designer to help you furnish and decorate it tastefully. And, hey, if you don't like this one but like the location #3 on the list is just down the street.
8. Lot Value with Major Location, Location, Location – $10,000,000
This is a unique listing because it is actually for two houses and two lots 61 & 65 Briar Hollow Lane. Combined the lots are 1.7 acres which is a lot size that is absolutely impossible to find on Buffalo Bayou with views into the back of Memorial Park. Man, if I had $10,000,000 plus house construction this would be an awesome property…
7. Lot Value in Down South – $10,000,000
This one is absolutely being sold for lot value. The photos of the house are perfunctory, at best. For $10 million you too can own a 3 bedroom/ 2 bath 1,924 sq. ft. house on 4-6 acres. In fact, the listing seems a bit confused on size. It says 4.10 acres (which is congruous with the Brazoria county appraisal district) but the description says 6.7 acres and references abutting acreage that is for sale (that is not). Maybe it's including the lake that you get to own half of? In any case, I'm no real estate professional and certainly not one in this area but I feel these people may be very disappointed at the end of the day if they are really expecting millions of dollars. P.S. I'm confused why there is a picture of shipping containers. Do they come with the lot? Is this a selling point I don't know about. Hmm….
6.Classic John Staub Grand Country House in the City – $10,400,000
This house has a nice location in Memorial just off I-10 & 610. It is located in a small gated community – you'll only have six other neighbors so if people aren't your thing this house may be (though, that's probably true of all these houses). The home is 10,153 sq. ft. on 4+ acres. Some of it's features are it's manicured gardens, I'm a huge fan of all the different flooring throughout this home it is perfect as a nod to it's style. And, the butcher block island in the kitchen – is it possible to be in love with a piece of wood?! The designers of this home really knew how to use wood.
5. Montgomery Retreat – $13,500,500
This one is a bit further out but you get 420 acres and it is still quite accessible to Houston. The property boasts abundant wildlife, natural spring fed creeks, a huge craft room (I'm pretty sure that's some sort of crazy room-sized sewing machine in there), and pool house. The home is a 9 bedroom/ 6 bath ranch house but compared to some of the other listings it is not going to feel so grand looking through the pictures. A lot of the money here is the land and it's a whole lotta land!
4. NW Houston Ranch Retreat – $13,750,000
Arguably, if this estate was in town it would be the most expensive, but it's in the 'burbs that used to be the country. It's okay though because you still have 64.3 acres which is great because your new home will be 23,502 sq. ft. (I wonder if it comes with a Segway in case you ever want to travel to the kitchen). Aside from your 4 bedroom/ 6 bath home your new ranch includes: 3 swimming pools (one of which is a private competition length lap pool just off the master), 2 lakes, a guest house (naturally), an equestrian center (covered arena, 8-stall stables and 2-stall stable with equipment garage), a covered sports court for tennis, basketball, & volleyball, a huge air-conditioned garage (it should fit 10 cars comfortably) with two sitting areas and huge windows all around (so your car collection doesn't get claustrophobic), covered party pavilion, and separate living quarters for staff.
3. River Oaks Property – $14,950,000
This one has been on the market for over a year and is price reduced. They may be ready to deal! It is 16,931 sq. ft with 6 bedrooms and 10 full baths (you could get really clean here!). The master bath has so much room there are two arm chairs next to the tub and a fireplace. ?I suppose you could also entertain while you bathe – very cozy. ?I also feel the the full-size wooden track for the ride-on Thomas the Tank Engine (pictured in bedroom 4) should be part of the negotiations. ?This is a very traditional house. If you are going for a modern Downton Abbey feel in your next home, this one might be for you.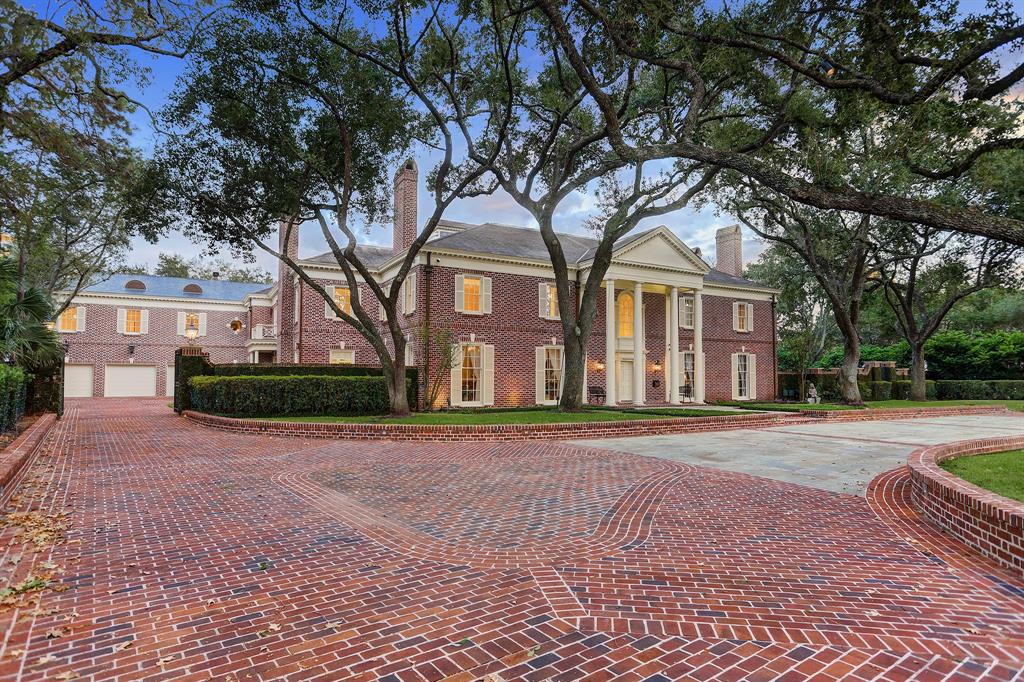 2. Museum District on Longfellow Lane – $16,500,00
This home was?first designed by Harrie T. Lindeberg and his protege, John Staub. It is also listed in the National Registry of Historic Places. ?It is a generous 5 bedroom/5 bath comprised of about 12,808 sq. ft. on a ?1.72-acre lot in the Museum District. And, when I say in the Museum district I mean you can walk to all of the museums. HMNS, MFAH, and the zoo are each .3 miles away. It is naturally perfect for entertaining and the guest suite is over the carriage house. ?You will enjoy all the expected amenities (pool, location, guest house, multi-car garage) as well as some bonus rooms (exercise room, governess suite, expansive formal gardens).
1. On the Bayou Property designed by Howard Barnstone – $19,500,000
On 5.23 acres this 11,676 sq. ft. home has room for you and a few friends, but don't worry they won't cramp your space there's a guest house! It has a pool and frontage to Buffalo Bayou – not to mention location, location, location! It's only recently listed so don't dally. My favorite part is when you look at the house from Google Street view they have a giant jack-o-lantern cut out attached to their gate – fancy and fun!
Don't hold your breath for an Open House! But, I'm sure if you frequent HAR you'll find the house of your dreams.
Happy Hunting!