Yesterday a-storm a-came. We were prepared. We made it to Chick-fil-a AND back with our Chicken Minis before the monsoon started. It seemed like the perfect day to get some stuff done. I warned SBW that the power might go out. But, he was all like, "I totally got this, Mom." Okay, not really, but he definitely had a plan – the Lego man flashlight. Like manna from Heaven, it reappeared after a year long hiatus (I hope he had fun, maybe a beach vacation, ahh, a beach vacation…but, I digress).
For some reason, only logical to a four-year-old, there has been much demand for clothes for the Lego Man. Now, it should be noted, we have 25 million stuffed animals – none have ever needed clothes. And, Lego Man needed a wardrobe. The request was: underwear, pants, shirt, belt, and hat (you know, so he didn't get wet in the rain).
I said I could maybe whip up a shirt; even, maybe, a belt. Logically, I managed to get out of underpants and pants, since those wouldn't fit the tiny space between Lego Man's legs. The rain hat I simply deferred. I am not quite ready to branch out into outerwear.
A shirt it was. We picked out some fabric from scraps – a nice manly red plaid. Then, did some whip-crack eyeballing and got to sewing. I opted to leave him sleeveless since his arms needed to spin (to crank the flashlight part) and besides, how nice and butch is a classic sleeveless frayed plaid shirt? Of course, Lego Man has a gigantic head so the shirt morphed into a jacket. I didn't really want to learn how to do button holes – especially since the power was off and on – so, I instead offered decorative, non-functional buttons. Little man chose the blue ones from my little button hodge-podge. They just happened to be gigantic blue hearts. We did manage to find another blue one – a dainty silk powder blue. In any event, we strategically attached them. I think it turned out looking a bit like a little capelet. It's adorable. Really. Didn't even need the belt!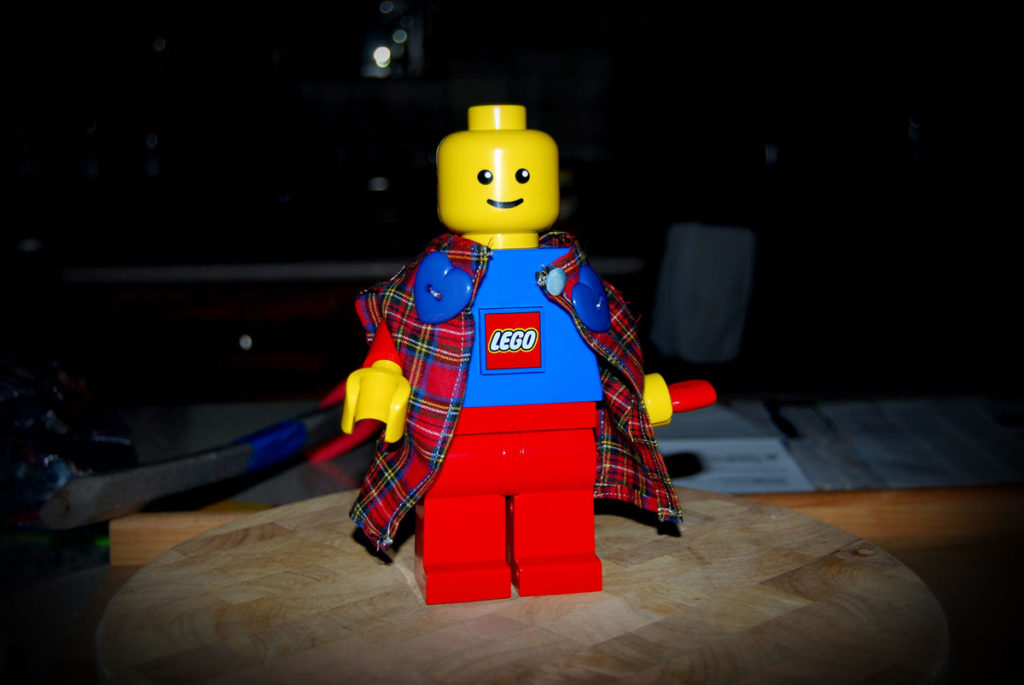 I really felt like a super mom with this little 15-minute project.  Until I saw the exact replica of an Angry Red Bird my friend's mom just whipped up (full patterns and everything) one Saturday afternoon. Granted, she has experience. But, it was so awesome it made me not want to even look at poor sad little Lego Man in a plaid cape. I felt bad for him just knowing that if he lived in a different house that 15 minutes could have probably gotten him some underwear and a rain hat.
Poor Lego Man.
But, happy kiddo!