Perot Museum of Nature and Science – Things to Do in Dallas
WHAT TO EXPECT
The Perot Museum of Nature and Science experience begins well before you step through the door. Every detail is maximized for wonder, participation, and joy.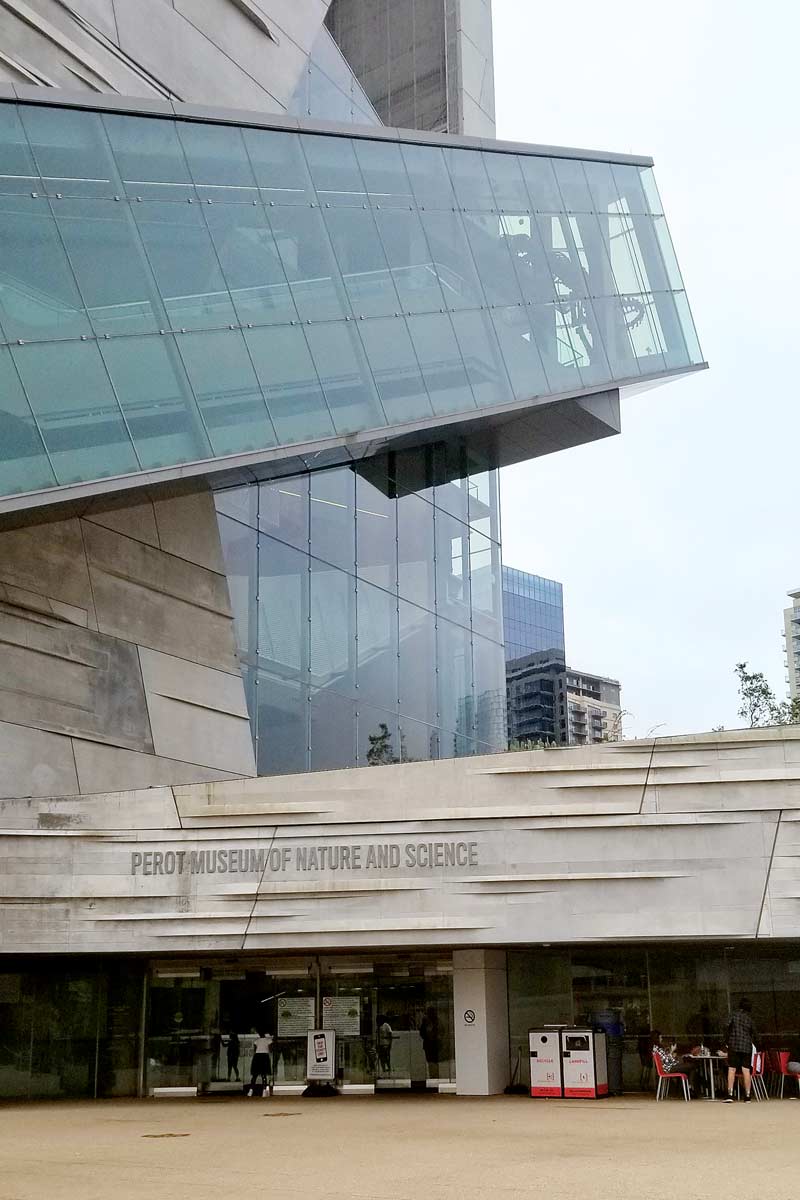 Upon arrival at the Perot Museum, there are three not-to-be-missed areas: the outdoor music instruments, the hopping frogs, and the river. Don't worry about missing them – if you are with kids they will find all of them!
We were able to talk our kids into playing in the river until after the museum. So if you don't want to deal with wet feet, be prepared for it if you think your kids will plunge right in!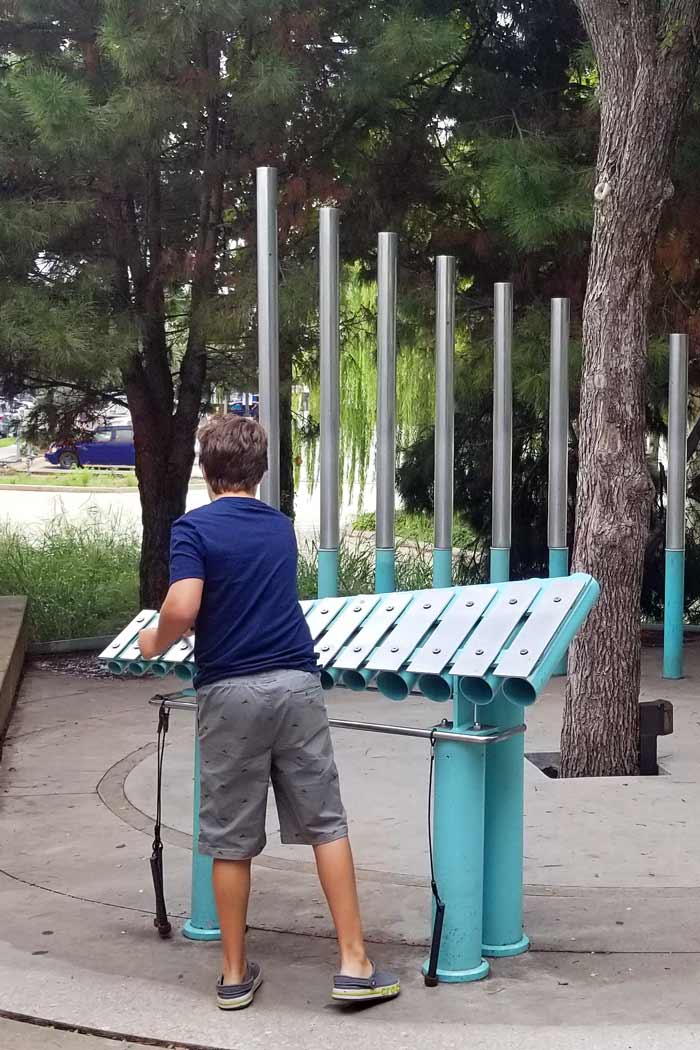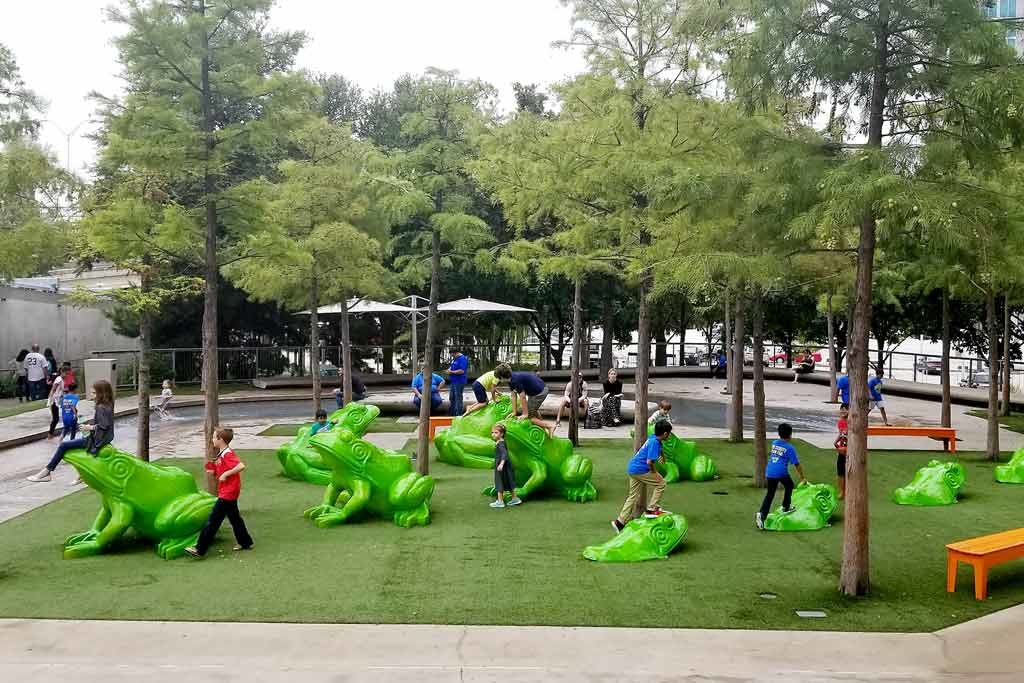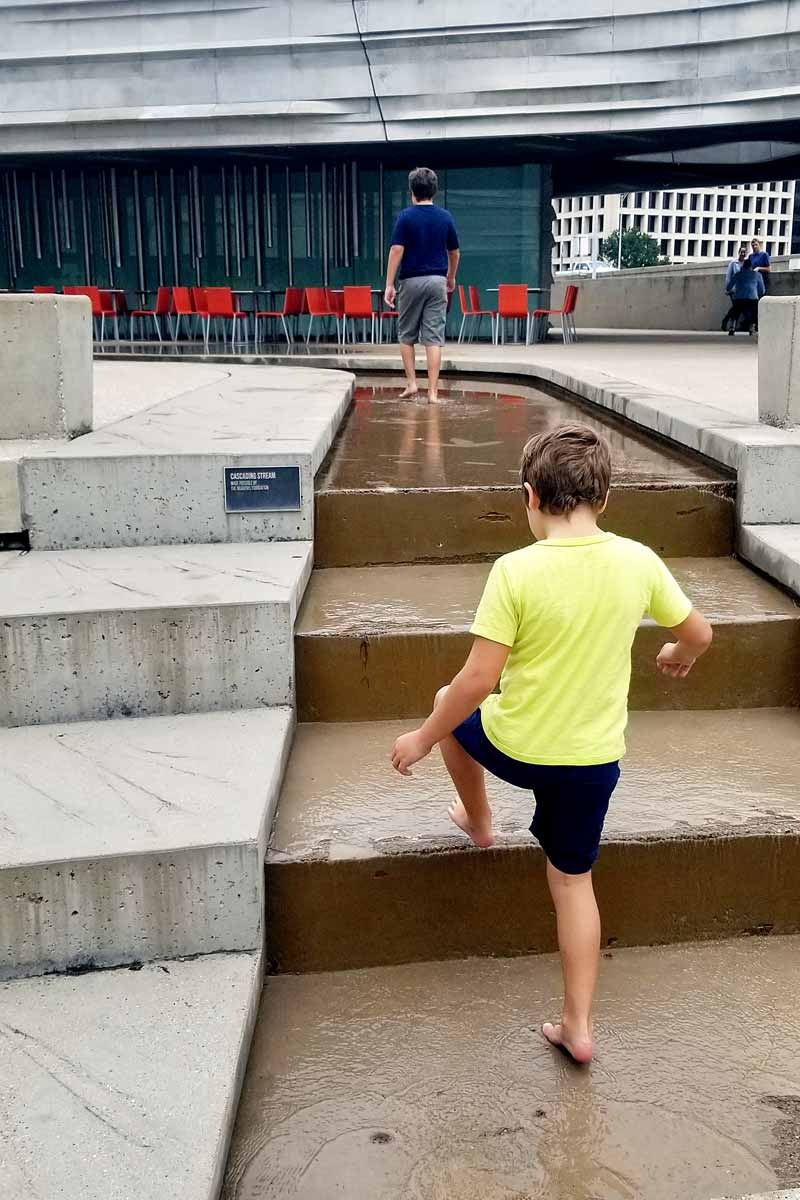 CAFE
The Perot Museum of Nature and Science has all the usual accouterment as well. A well-stocked gift shop is on-site as well as a cafe. The cafe was probably our low point in the entire experience. It was not bad but it was excruciatingly slow and they ran out of hot dogs. However, the prices are not atrocious and the servings are reasonable.

TICKETS
Just inside the main entrance is an easy to navigate lobby which will lead you to the ticket counter. Here you can customize your experience. The Perot Museum's permanent exhibits are quite enough to fill your day so if you are on the fence about special exhibits or a film you will want to come back anyway – just do it then. However, if you are in it to win it purchasing their Total Experience bundle will save you a significant sum.
Basic entry is $13-20, children under 2 are free.
DISCOUNTS
This post may contain affiliate links. Please read our disclosure for more info.
Many discount programs are also available for the Perot Museum.
Educators who can show proof of current teaching status at a K-12 institution can attend for free.
Membership at another museum they may offer reciprocal entry through the Association of Science-Technology Centers Travel Passport Program. (The list is nationwide)

Currently, Houston museum memberships that will get you in for free or a discounted rate are Children's Museum of Houston, The Health Museum, and Space Center Houston.

CityPASS – if you plan on visiting other attractions around town the CityPASS offers a 39% discount
WHAT YOU CAN FIND
Once you have your tickets are ready to enter the museum it is time to decide where to go – up or down? If it is very busy I would suggest going all the way up and working your way down. It is counter-intuitive to how most people naturally circulate so you may be able to bypass some traffic or go against the flow.
We went down.
This was the first surprise – the stairs are musical! Each step plays a note. The little details of making the mundane extraordinary are what set the Perot Museum apart.
On the Lower Level, you will find the traveling exhibit, the Children's Museum, and the Sports Hall.
The Children's Museum has an Art Lab, Farmer's Market, Dino Dig, live animals native to the Dallas area, and more! It also houses a nursing room.
The Lamar Hunt Sports Hall is a great place to burn off some energy! You can try to race a T-Rex, cheetah, or a NFL running back. Then you test your reaction time and learn how technique improves performance.
Moody Family Children's Museum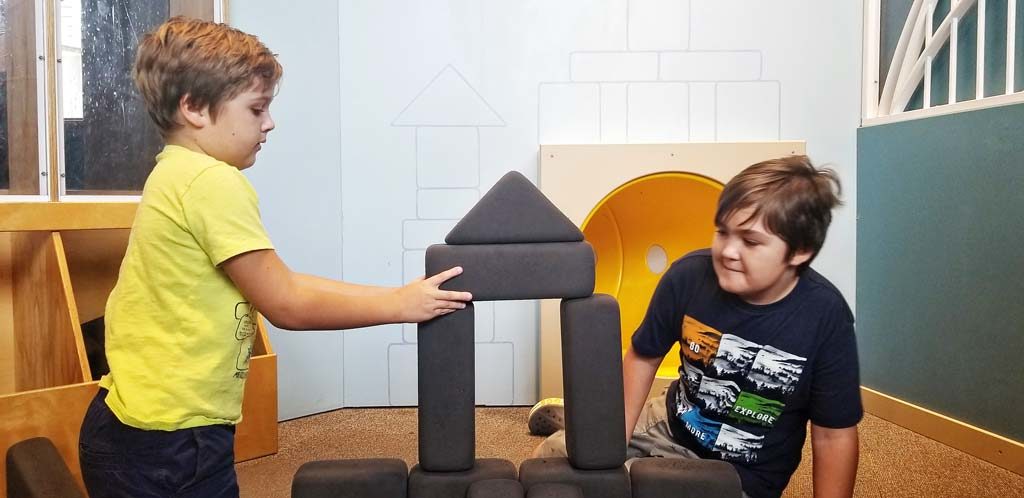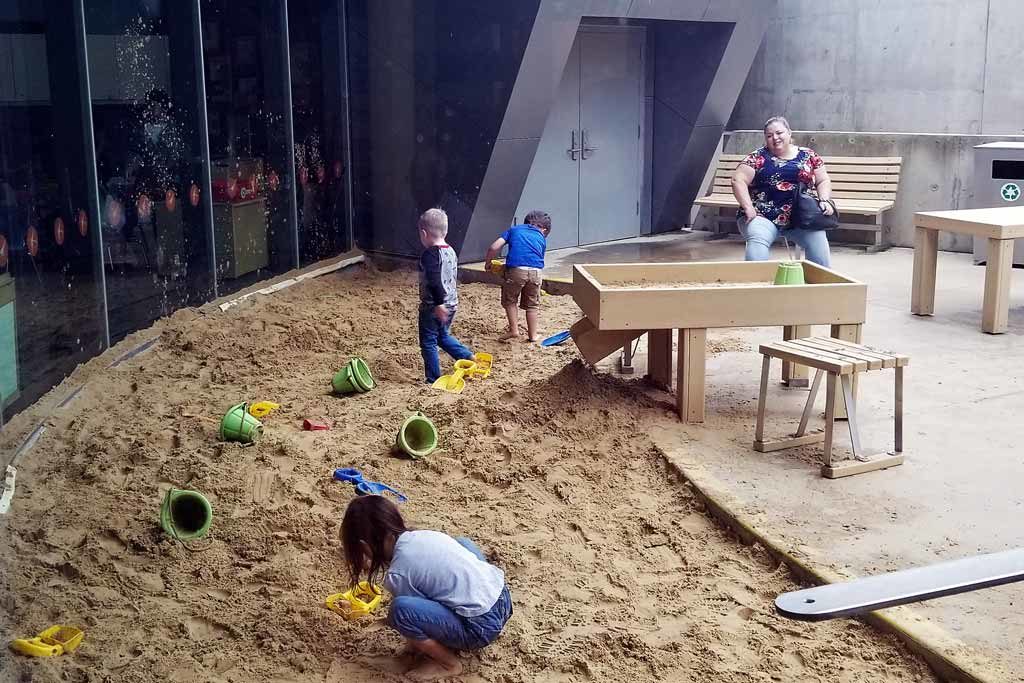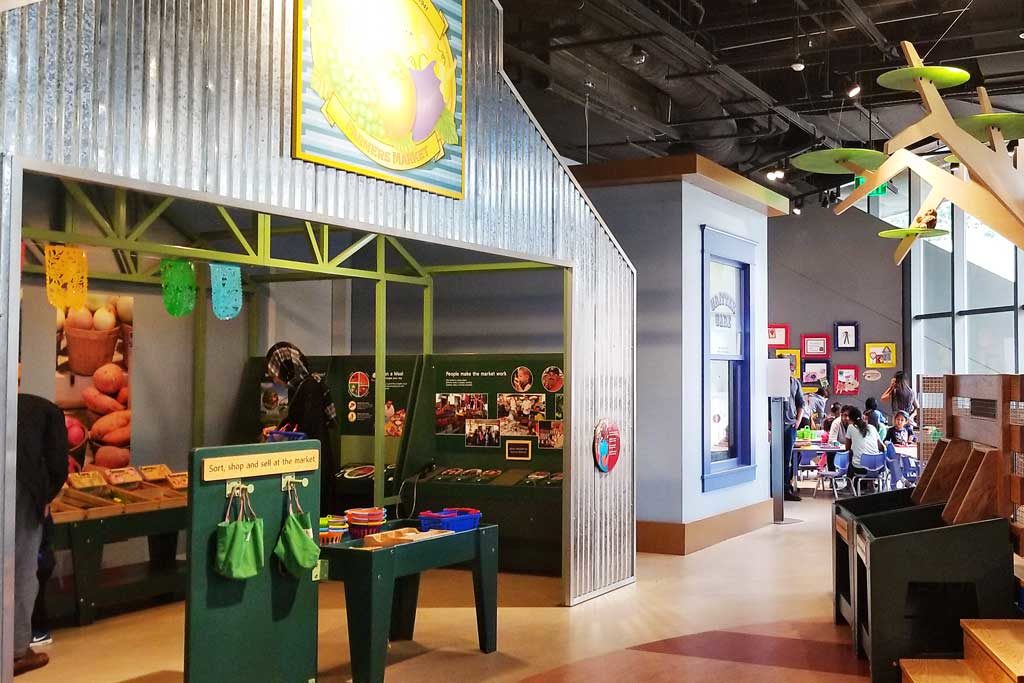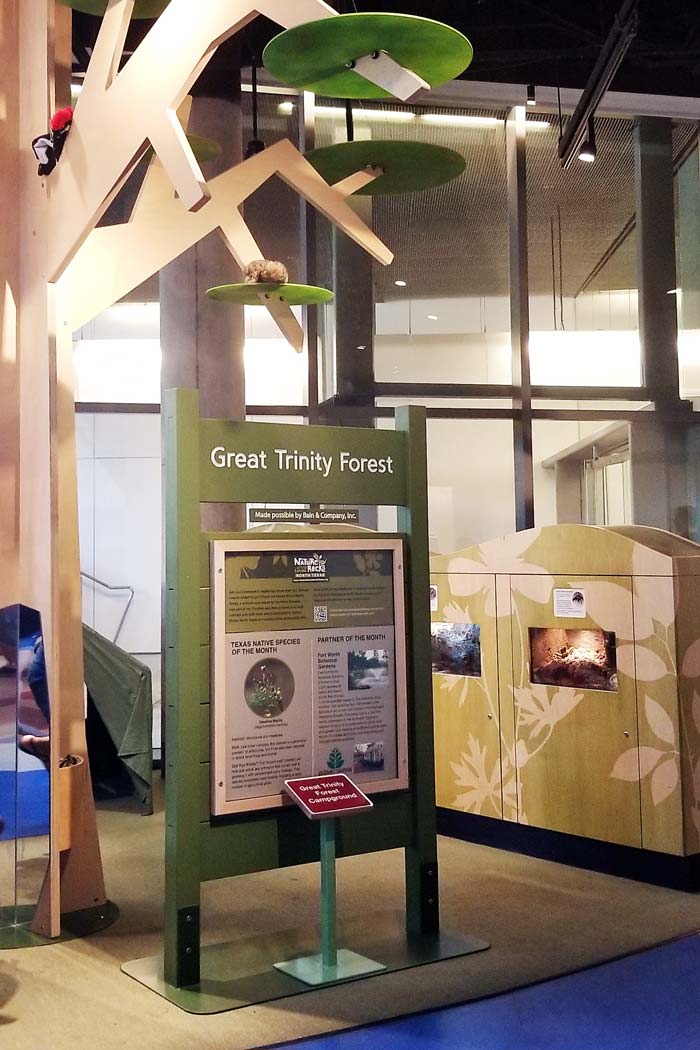 After we exhausted the Lower Level we headed all the way up to the fourth floor and made our way down. On Level 4 you can explore the Expanding Universe Hall, T. Boone Pickens Life Then and Now, and gain access to the Level 4 Mezzanine which is home to the Rose Hall of Birds.
In the Expanding Universe Hall, we explored the cosmos and picked up bowling balls that were weighted to simulate gravity on different planets.
Expanding Universe Hall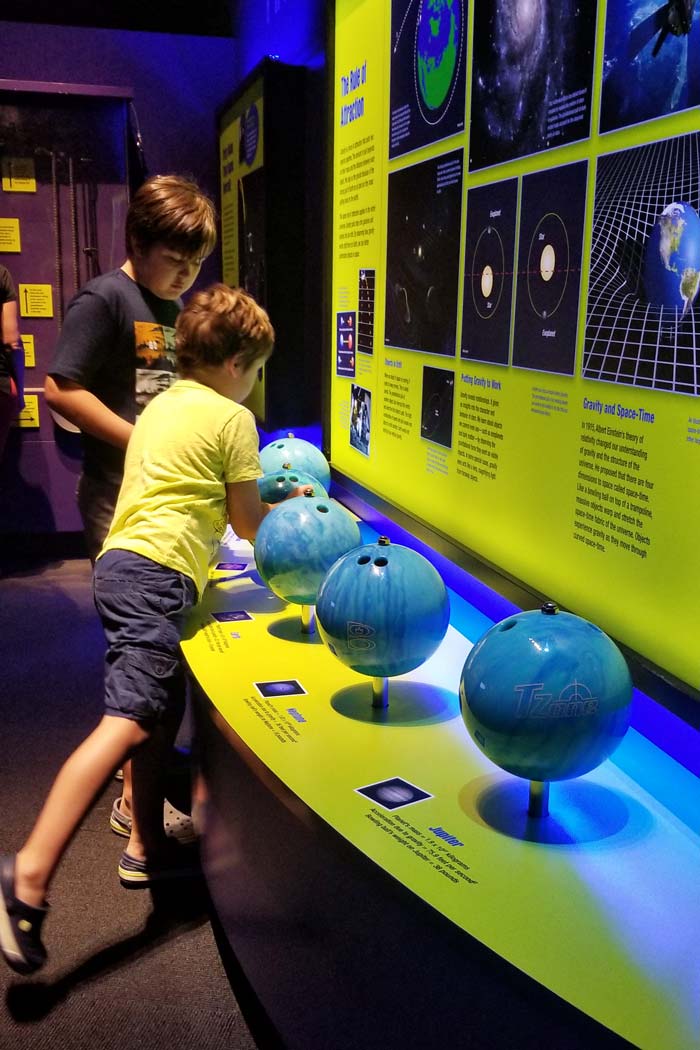 From the Expanding Universe, you meander around the corner to the Dinosaur Hall! Here you can peek into an actual working Paleontology lab, see the Perot Dinosaur, or grab a bench and take a break (like a certain little boy in yellow…).
T. Boone Pickens Life Then and Now Hall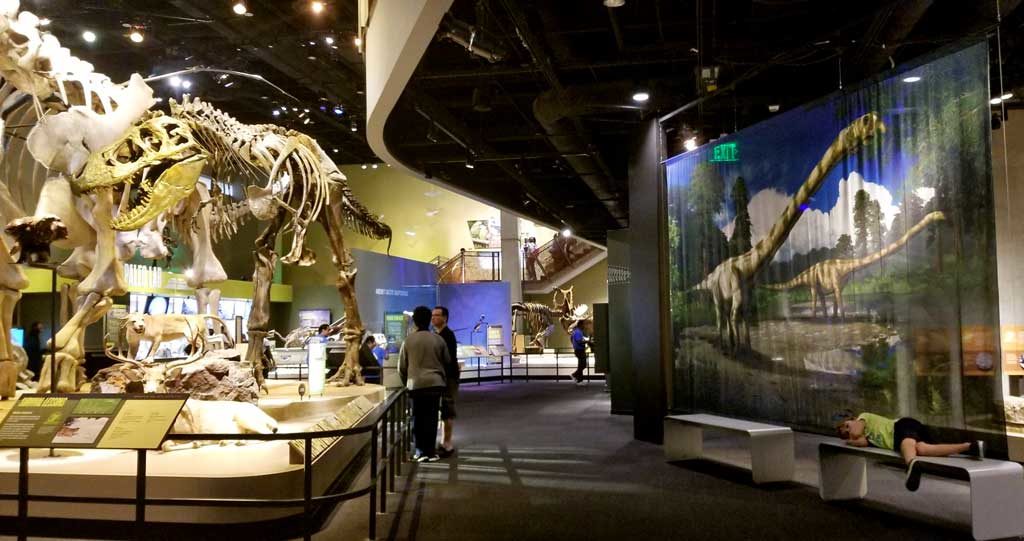 In the same room as the Dinosaurs is a Mezzanine that overlooks the Life Then and Now Hall. It is accessed on either end by a set of stairs (and an elevator). This area is the Rose Hall of Birds.
This area is not to be missed! My kids loved the entire area. There are several stations. First, you build your own bird. Then you visit the various stations to find out about different aspects of being a bird.
There is also an area you can spread your arms and give virtual flying a try!
Rose Hall of Birds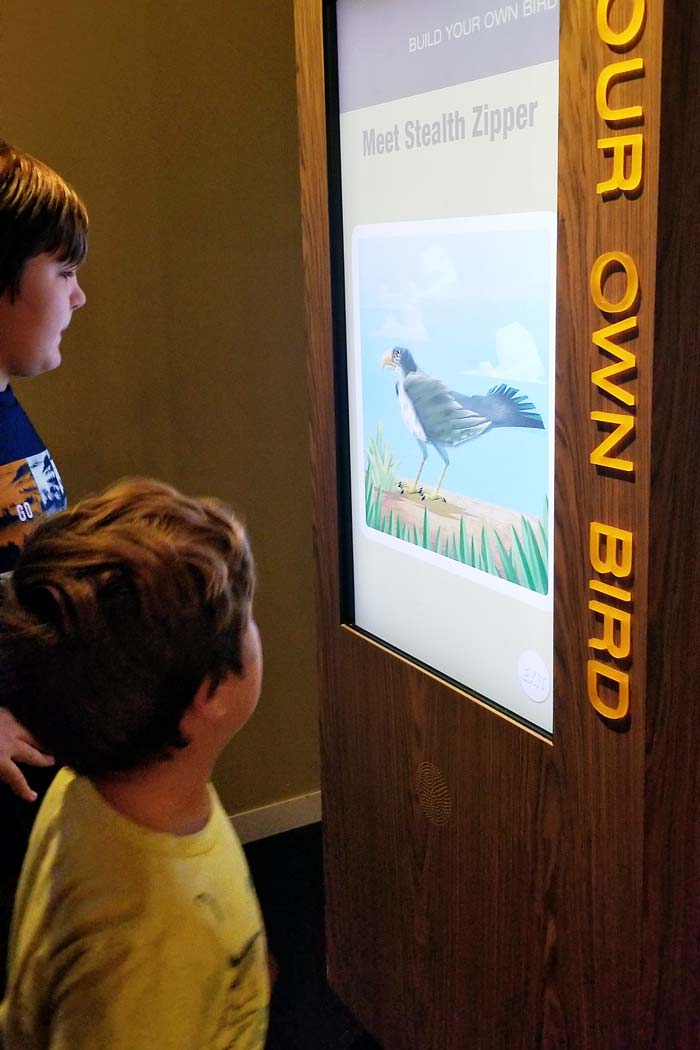 After we went to the birds we headed down to Level 3. The escalator will give you a great spot to take a selfie with a T-Rex and nice cityscape for the 'gram.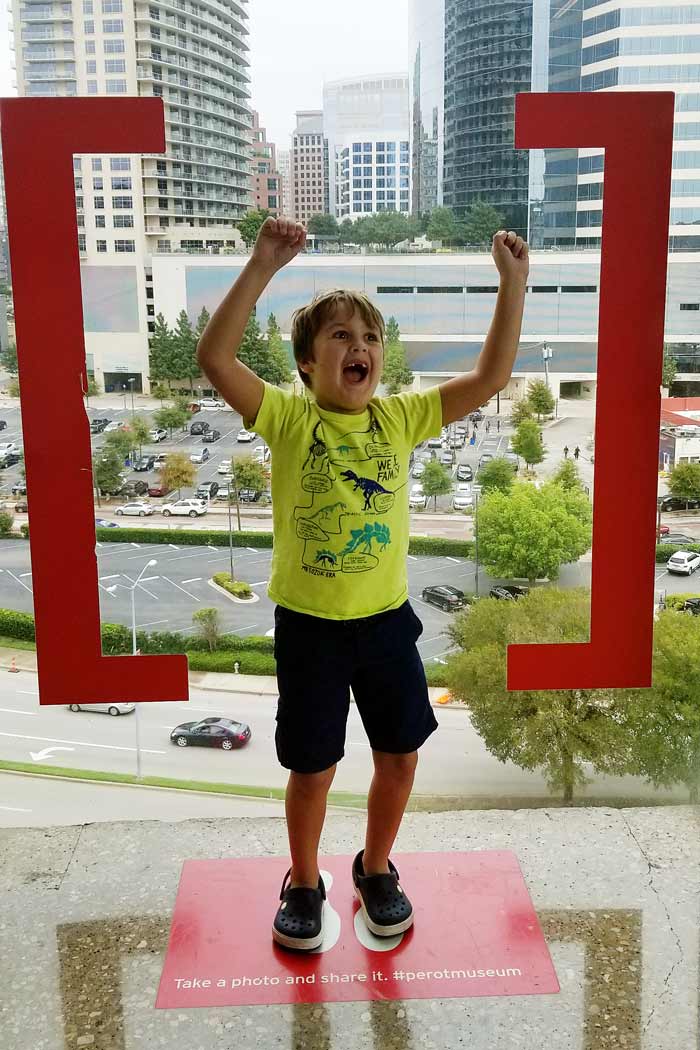 This Level is about energy, gems and minerals, and our dynamic earth.
We looped through the energy hall first. The virtual ride deep into the earth is a great experience. We also enjoyed all the hands-on displays.
Tom Hunt Energy Hall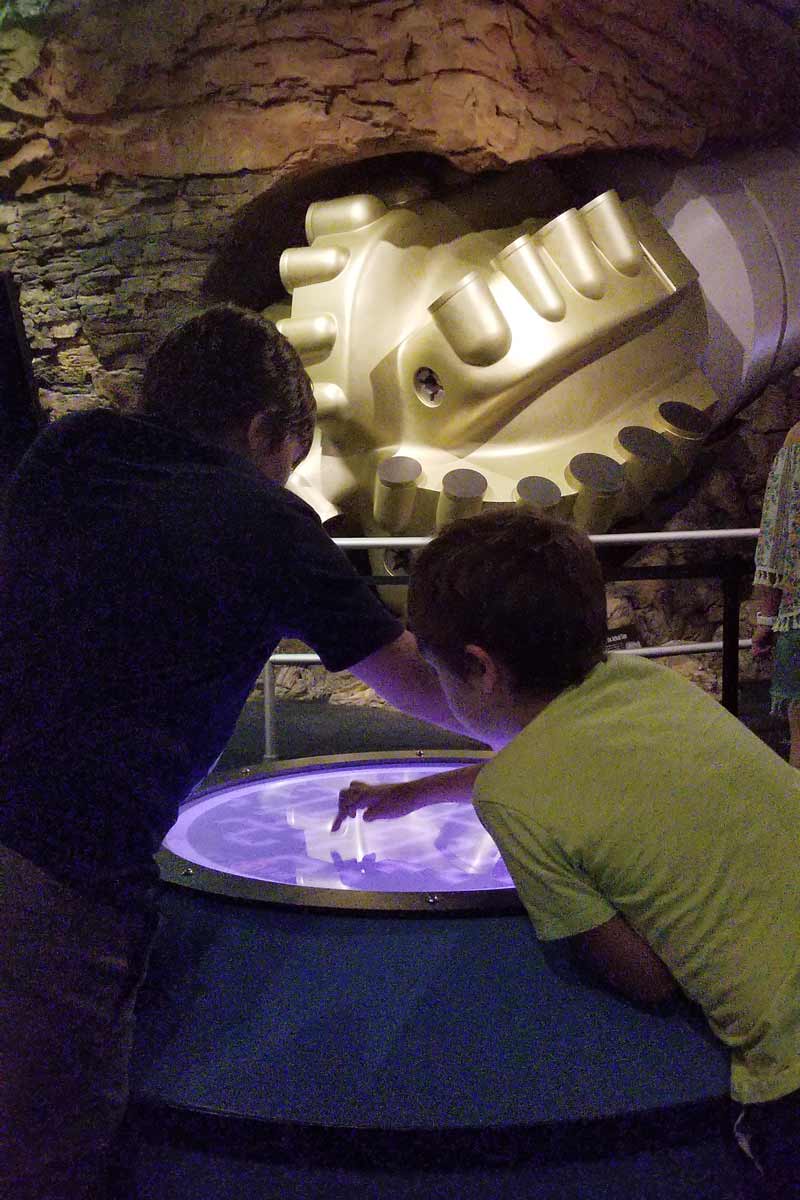 In the Dynamic Earth Hall, you can experience the power of an earthquake as you make the earth move under your feet. More hands-on fun happens as you touch a tornado and try to grab a cloud!
The Rees-Jones Foundation Dynamic Earth Hall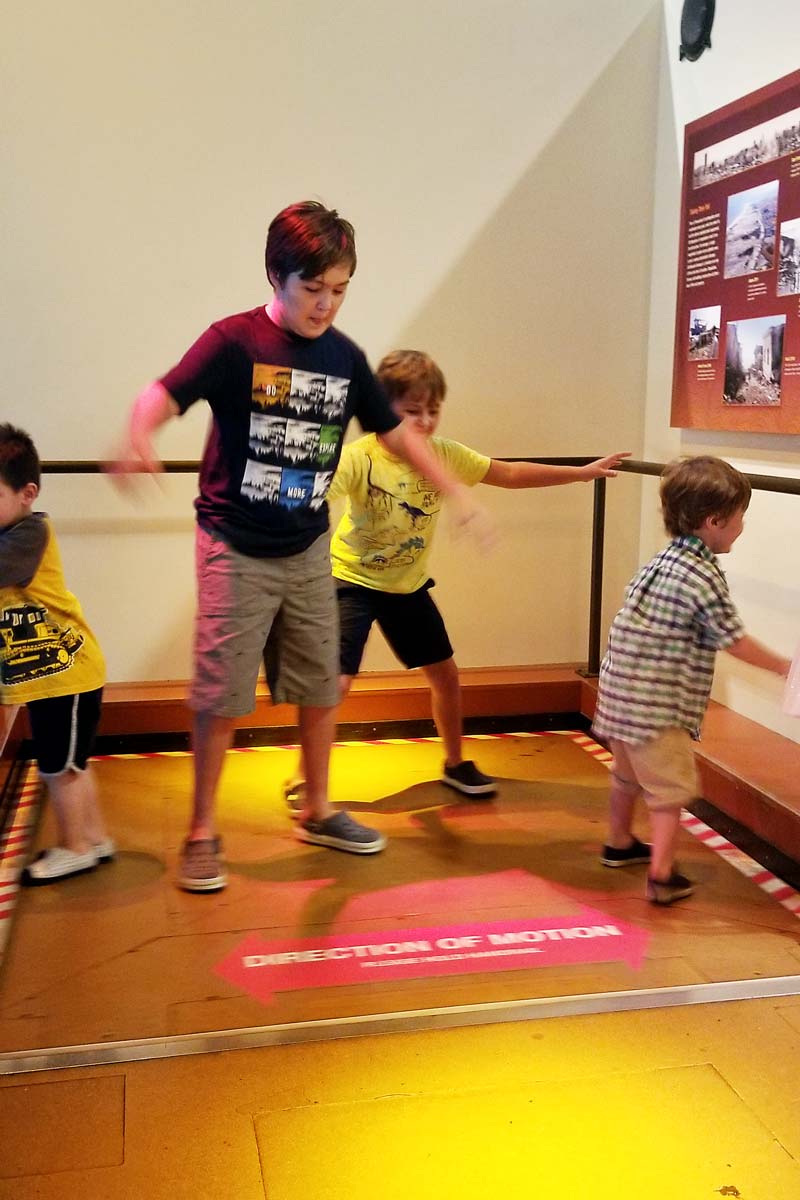 One of the best features I have seen in a gem hall is found in the Perot Museum Gem & Mineral Hall. There is a huge, 5-foot tall amethyst geode that has been sliced in half and mounted. A large wheel can be cranked to open and close it! It is simple but it really brings a kinesthetic vibe to an exhibit that is usually just walls of display cases.
Lyda Hill Gems and Minerals Hall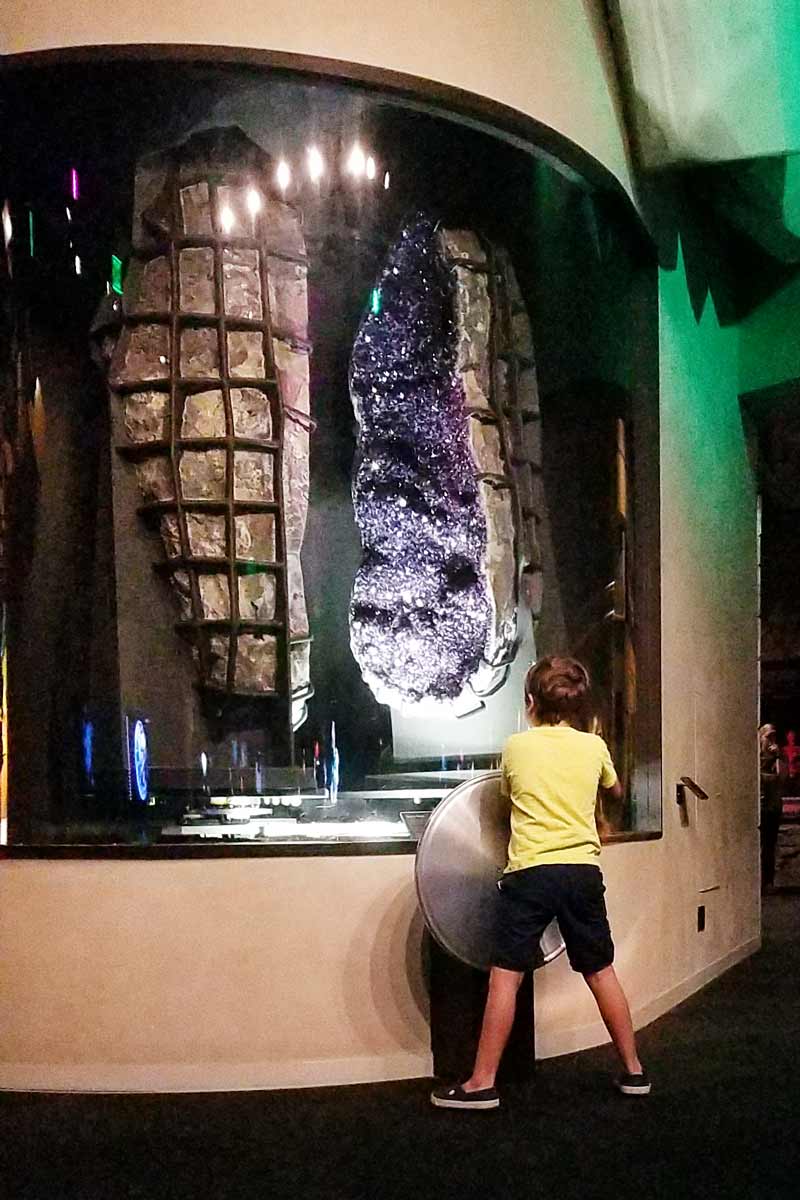 Lastly, we hit Level 2. Here there are three more great interactive exhibits. The Discovering Life Hall explores fossils, genetics, and ecosystems. The Being Human Hall s all about us! From our DNA to a 360 degree specimen of a human brain all aspects of what builds a person is covered here.
The interactive exhibits are always a hit. We really loved the balance challenges!
Being Human Hall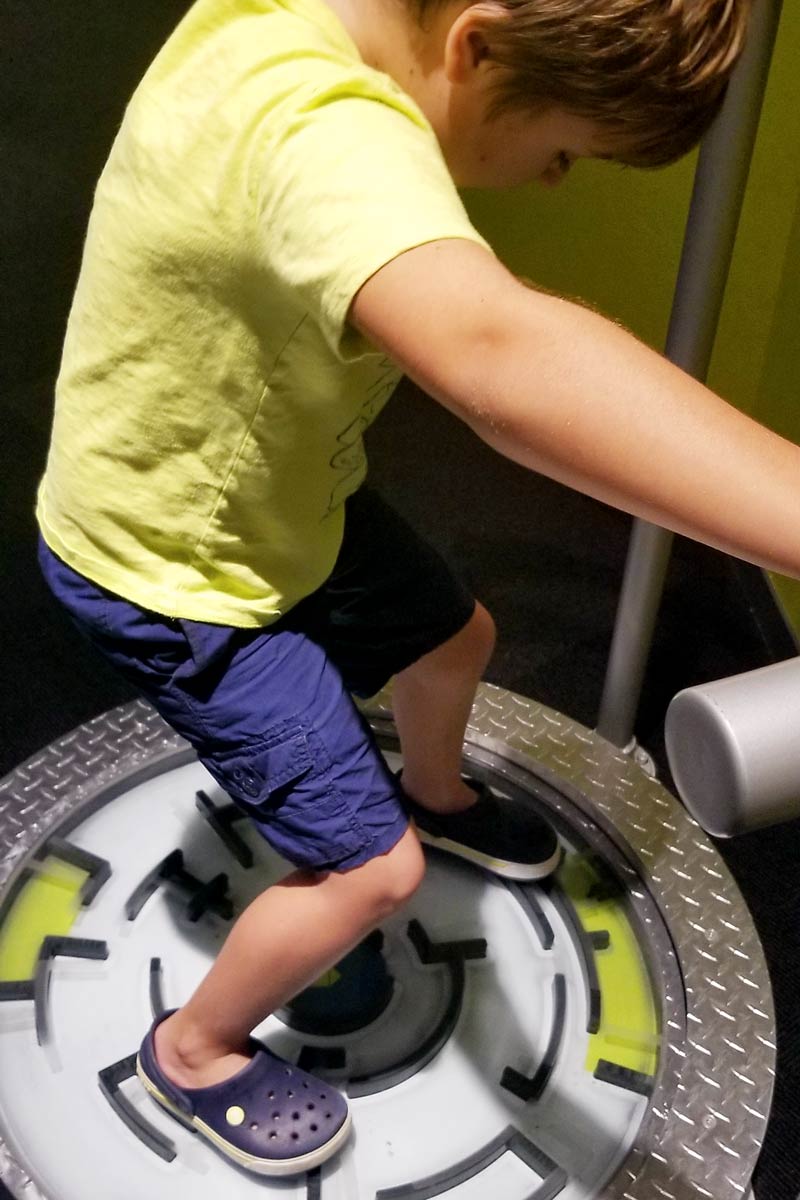 Our last exhibit was the engineering and innovation hall. If your family is into this I would switch it up and come here sooner because we were definitely getting tired by this point and it is such a great hall you do not want to shortchange it.
The robot arena is awesome! Definitely a great way to burn off some sibling energy!
Texas Instruments Engineering and Innovation Hall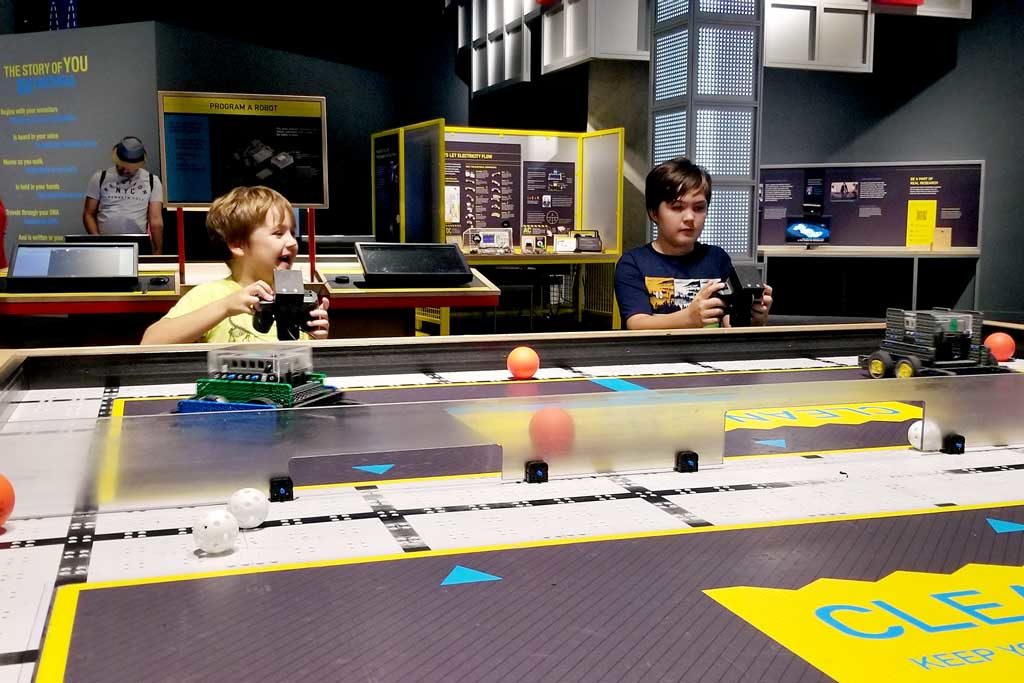 After this, we headed back outside to play on the frogs and walk in the stream. It is a nice place to decompress before packing into the car and heading off to your next adventure!
PEROT MUSEUM OF NATURE & SCIENCE HOURS
Verify the hours before you visit as there are extended hours available to members and planned closures – as well as, adjusted holiday hours.
Generally, their hours are:
Monday – Saturday 9am-5pm
Sunday 10am-5pm
Last exhibit entry: 4pm
GETTING THERE
The Perot Museum is located near downtown at 2201 N Field St, Dallas, TX 75201. It is easily accessible by foot or bike (it was 0.7 miles from our downtown hotel). Additionally, there is ample parking and it is within a few blocks of many bus stops and the free M-Line Trolley.
WHERE TO STAY NEAR THE PEROT MUSEUM
The Perot Museum of Nature and Science has a great location near downtown. Finding a place to stay will be easy and with enough notice, you should be able to book within your preferred budget.
Splurge:
The Adolphus
The Adolphus, Autograph Collection
1321 Commerce St, Dallas, TX 75202-4294
The Adolphus is like stepping into a modern rendition of Gatsby. It has a classic Barber Shop, roof-top pool, and if you can leave without wanting to go home and lacquer something in your house it will be amazing.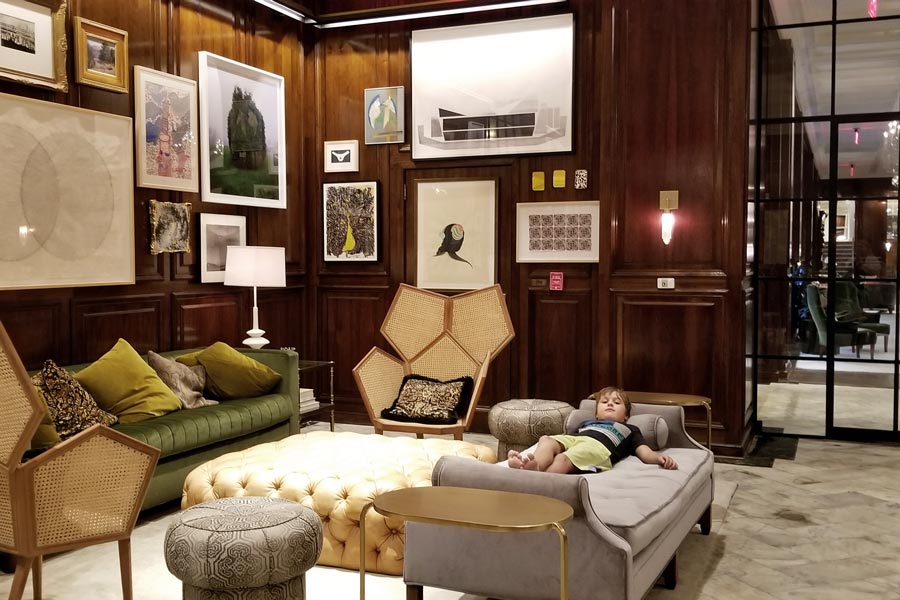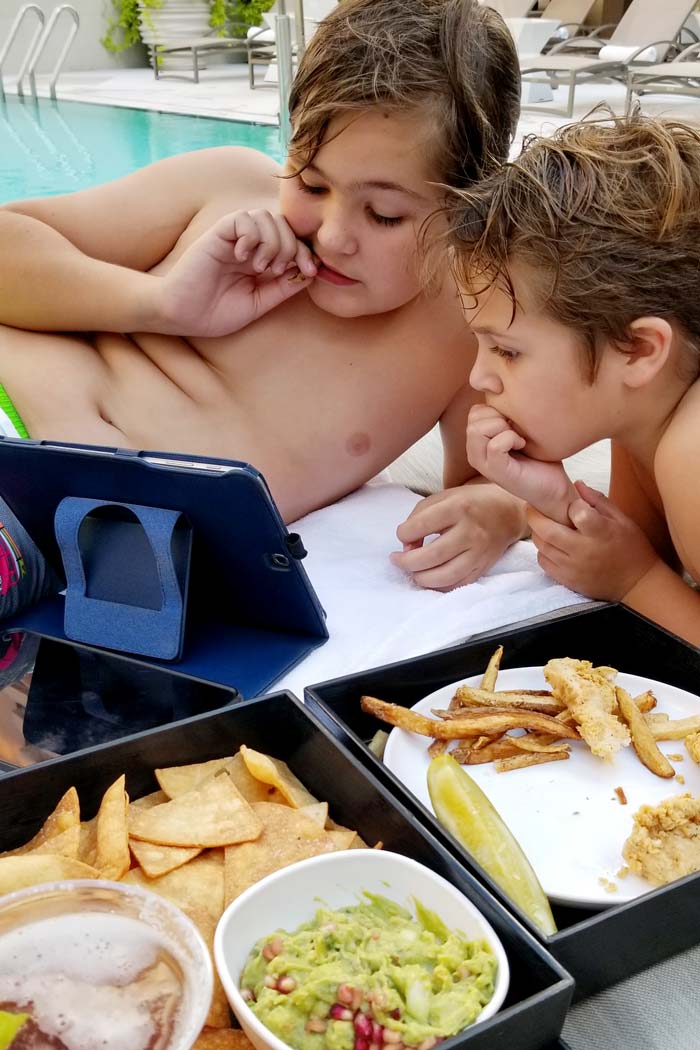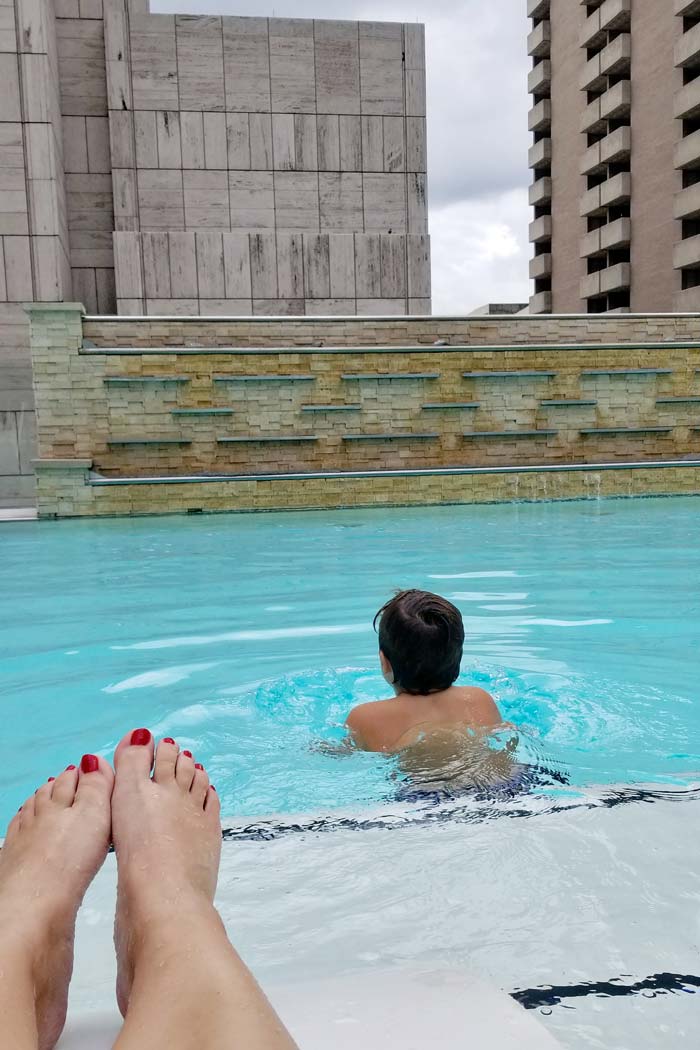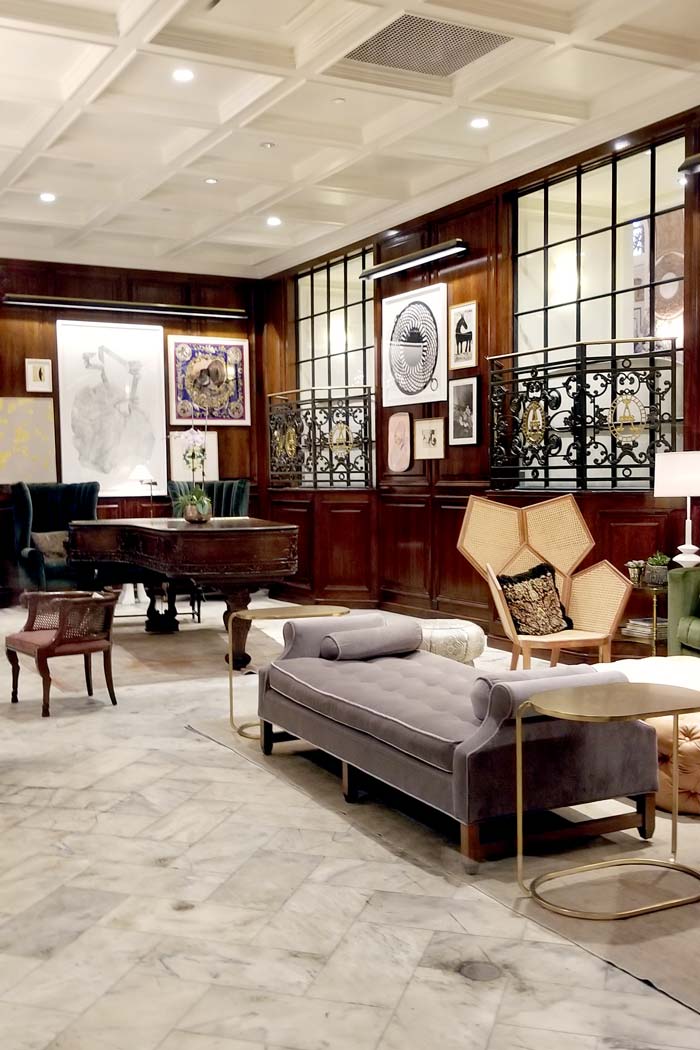 Enjoy a Boutique Hotel at Mid-Range Prices:
Magnolia Hotel Dallas Downtown
Magnolia Hotel Dallas Downtown
1401 Commerce St, Dallas, TX 75201
You will always be able to find your way home! The Magnolia Hotel is home to the iconic Pegasus, the Flying Red Horse, that lights the Dallas skyline. It is a renovated historic building with all the creature comforts.
Stick to your budget:
Hampton Inn & Suites
Hampton Inn & Suites Dallas Downtown
1700 Commerce St, Dallas, TX 75201
The Hampton Inn and Suites is a well-loved family-friendly hotel. It has a great location, free breakfast, and family rooms (even an allergy-free room).
Have a great trip!