How to Homeschool High School – Resources for Texas Families
HOMESCHOOL HIGH SCHOOL
Time to homeschool high school! As our young homeschoolers turn in to older homeschoolers their needs change drastically. And, that means it is time for the parent/ teacher to evolve too. Now you are the parent, teacher (that actually needs to assign grades), guidance counselor, and college admissions consultant.
Fortunately, students tend to become much more independent at this stage. But, there is still a lot to keep on track – particularly if your child is college bound.
Another Consideration
Another consideration, as we head into the final stretch, is if you are considering reenrolling in pubic school then you may not want to begin homeschooling high school. There are no requirements for school districts to accept your transcript or even place your child in an age-level grade. It is extremely common for a district to deny all records – even those including dual enrollment classes from a junior college. All that to say, homeschooling high school should involve serious consideration because there will be serious commitment (and possibly consequences) needed from the entire family.
(One exception is using accredited curriculum – most parent-chosen curriculum is not, nor is it required to be in Texas. In fact, TEA – the Texas Education Agency does not "regulate, index, monitor, approve, register, or accredit programs." So, it is impossible for homeschool curriculum to be accredited in Texas. The only truly accredited "homeschools" are, in fact, public charters. However, this may be a path you choose and there are some resources below.)
The Bare Minimum
This is not meant to dissuade you from homeschooling high school but to simply ensure you are aware of the possibilities. If your child is not college-track some of this will be less important, but having a transcript or educational resume is more than likely a bare minimum that all homeschool high school graduates will need.
Also of note, some resources on this page will not be Houston specific because so much is available online. Please feel free to drop a comment below or send us an email if you know of an invaluable resource.
If you are looking for a homeschool class please refer to our page Homeschool Days and Ongoing Weekly Houston Homeschool Classes, Events, & Activities. Just need an a la carte style class? Check out our article Nine Unconventional Education options in Houston or our main Homeschool Directory page.
*GHM has no affiliation with the below-linked resources. Always independently verify times, prices, etc.
---
Looking for something else?
---
Homeschool High School Resources
---
Transcripts
Texas Homeschoolers must follow a "bona fide visual study of reading, spelling, grammar, mathematics and good citizenship." As such there is nothing specified for what is required for a homeschool educated child to graduate. However, the minimum TEA recommended high school program consists of earning 22 credits: English Language Arts (4 credits), Mathematics (3 credits), Science (3 credits), Social Studies (3 credits), Foreign Language (2 credits), Physical Education (1 credit), Fine Arts (1 credit), Electives (5 credits). Another track for homeschoolers is to opt to take a GED test.
If your child is likely college-bound it would behoove you to find out what the admissions requirements are of a few schools of interest and make those your minimum.
Another big change for many Texas homeschoolers is keeping grades and a transcript. Neither are required in Texas but as you embark in the homeschool high school years you should. The benefit is it gives your child more flexibility and options. Plus, if you keep one as you go along your life will be easier come senior year if all of a sudden they decide to go to college and need one – it will save you a lot of time and stress.
Detailed documentation of the high school years will be paramount.
If you need help creating a transcript this is the template I use for my homeschool high school student. It autofills the courses and grades as well as a course description page. Also, two versions of the transcript are included – an unweighted and a weighted option. The grade scale is completely customizable. Further inclusions are a page for tracking extracurriculars and volunteer work as well as a page with transcript "best practices."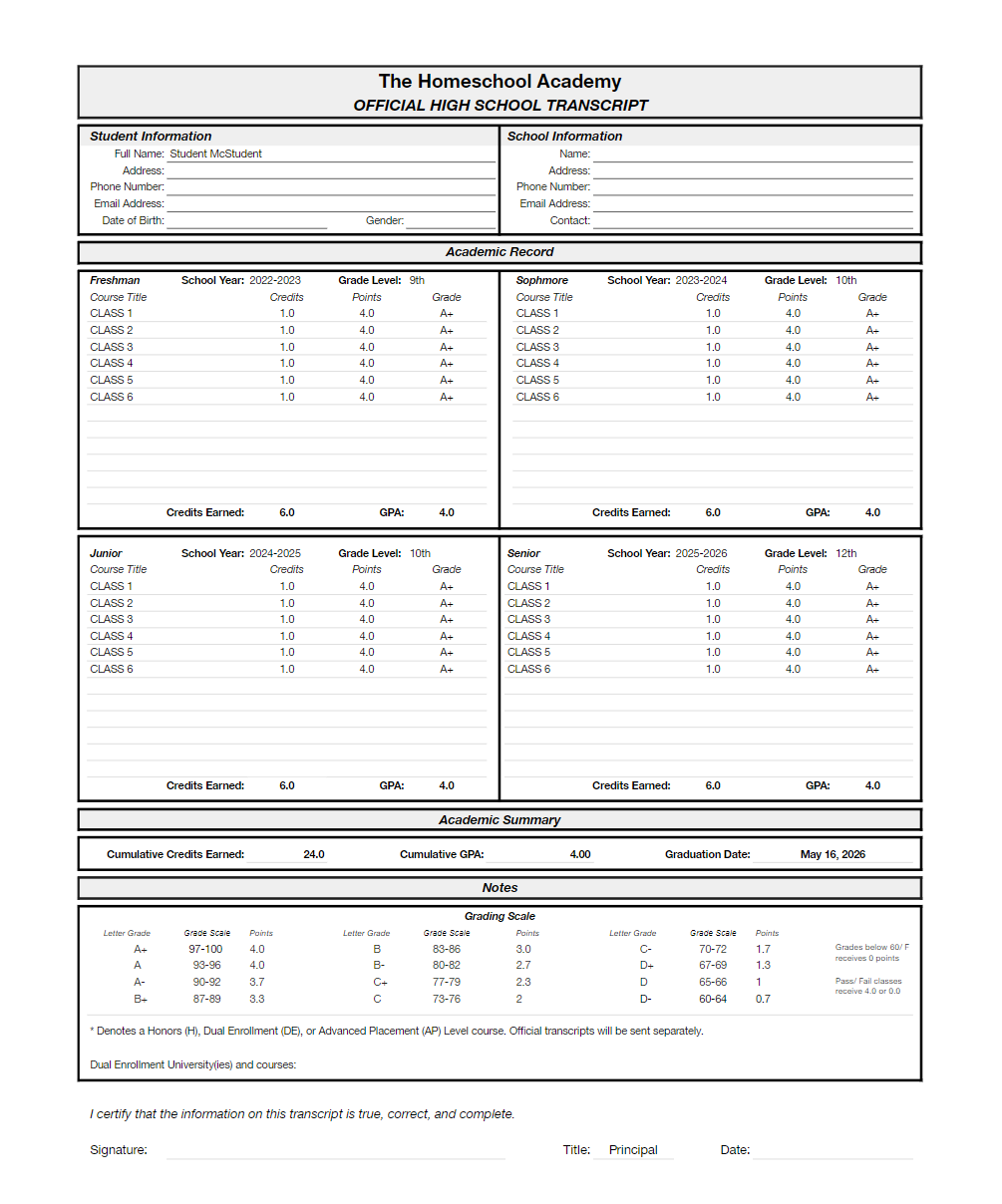 Check out our Homeschool: Records & Transcripts board for more ideas.
---
AP Classes for Homeschoolers
Homeschoolers can receive Advanced Placement (AP) credit but they must take official AP tests. Should you take an unofficial AP class they cannot be called AP but can be weighted as honors courses on your transcript. Currently, no local schools advertise that they allow homeschool high school students to take AP tests but you can always contact them to ask. Use the AP Course Audit tool to find an authorized administrator and contact them as soon as possible (prior to November 15). Also, due to scoring dates AP classes will be most beneficial if they are taken before a student's senior year.
---
PSAT Testing
The PSAT is a practice test for the SAT usually given in 10th or 11th grade. It also counts as the National Merit Scholarship Qualifying Test if taken in fall of the junior year of high school (there are slightly different rules if a student is graduating early or in 5 years). It is also one of the tests that can be used for exemption from the TSI, Texas Success Initiative (the entrance exam for Lone Star College).
The PSAT is only offered once a year on a Wednesday in October and you cannot register on your own at the test website (you can for tests like the SAT and ACT). You must register through a school. There are a few private schools who, historically, have allowed homeschool students to register and test with their students. Policies are always subject to change but you can contact these schools as a place to begin:
---
Dual Credit
A valid alternative to AP testing that many homeschool high school students and families prefer are Dual Enrollment (DE) classes. These are taken for college credit. On a homeschool high school transcript you can consider them Honors level classes. If you are on a budget and only want to pay for one path to college credit, you will arguably get more bang for your buck with a dual enrollment course. First, they are much easier to come by. Finding someone to administer an AP test is a non-issue for DE credits. Any qualified student can enroll in community college courses.
For general questions or comments, please contact EducationalPartnerships@lonestar.edu
---
State-Accredited Online High Schools
Accredited homeschool high schools may be an attractive option for those who do not want to mess with choosing curriculum, grading, keeping a transcript, or believe enrollment in a public school may be a possibility for their child. These schools are technically public schools and students are subject to all state testing and may require a year in-person school before you can enroll.
---
For Parents
While we want our kids to be independent, as homeschooling parents you are the teacher, principal, guidance counselor, etc. You get to wear all the hats so do not feel bad helping your kids. If they were enrolled in a government run school you can bet they would have help and resources available to them. The resources we list below are by no means exhaustive but a nice launch pad for some general information. For sure, once you and your child get to this point you are on an individualized path and there will not be a one-size fits all answer book. However, here is a general timeline of things to do:
Four Year Homeschool
High School Timeline
Freshman Year
SEMESTER ONE
Discuss college plans
Research admission requirements at colleges of interest (COI)
Plot a course plan for the next four years (you can always adapt and change but it is good to see the pace you need) – determine if you want to pursue AP or CLEP testing
Become involved in or continue extracurricular activities, clubs, and sports.
Find somewhere you enjoy doing volunteer work
SEMESTER Two
Research the financial commitment of your COIs
Learn which tests (SAT, ACT, etc.) are preferred and scores needed to be competitive at your COIs
Summer
Find a summer job, internship, or volunteer opportunity for the summer
Read quality literature over the summer
Begin visiting colleges
Sophomore Year
SEMESTER ONE
Review your previous year's college plans – narrow down the list
Focus on specific programs your COIs offer
Become involved in or continue extracurricular activities, clubs, and sports.
Add at least 5 minutes of standardized test prep into the daily routine (ACT if you plan to take it in the spring)
Find a place to take any anticipated AP or CLEP tests
SEMESTER Two
After the ACT switch test prep to the PSAT
Monitor financial costs at COIs
Begin researching financial aid and scholarship options
By April or May find a place to sign up for the PSAT that is administered in October
If you complete an AP or CLEP-able course take the test in May
Summer
Find a summer job, internship, or volunteer opportunity for the summer
Continue reading quality literature
Visit colleges
Practice for the PSAT
Begin networking with people in your major of interest to learn more about the day-to-day, actual workload, requirements, what helped them, and what did not.
Junior Year
SEMESTER ONE
Again, review your college goals and plans – make any necessary adjustments to your course of study. Your list of COI should included 20 or fewer schools. Get on their mailing lists – find any junior preview days.
Should you decide a non-collegiate path: research your alternate options and narrow down a list of career interests, apprenticeships, military options, and/ or trade schools
Become involved in or continue extracurricular activities, clubs, and sports.
Continue to test prep. Take the PSAT in October. After begin prepping for the ACT.
In December schedule your February ACT
SEMESTER Two
Continue to test prep for the ACT
February take the ACT. Switch test prep to SAT.
By March find an AP and/ or CLEP location to test
SAT option in March
Build a resume
Start applying for scholarships
If you complete an AP or CLEP-able course take the test in May
April ACT option; Register for May/ June SAT
Summer
Find a summer job, internship, or volunteer opportunity for the summer
Continue reading quality literature
Request information from top COIs
For athletes, register with the NCAA Initial Eligibility Clearinghouse
Practice writing application essays
Continue to prep for standardized tests, if you plan on taking them again
Senior Year
SEMESTER ONE
Enjoy your final high school year! Spend time with family and friends.
Review and adjust your plans and course of study (if necessary). Remember these are plans you can change them. Hopefully, you have focused on a solid foundation that can adapt to other pursuits.
Compile a list of people you can ask for letters of recommendation. Get them requisite information early.
Keep seeking out scholarships
Stay involved in your activities and volunteer work
Compile information needed and complete your FAFSA (save pay stubs) by the end of the year. Alternately, make understand the family's financial plans for the college years
November: Mail early decision applications
December: Mail all other applications with all requisite addenda. If necessary, take the ACT and/ or SAT
SEMESTER Two
Send thank you notes to any mentors, teachers, etc. who wrote you letters of recommendation for your applications
Update your resume
By March find an AP and/ or CLEP location to test
Decide which school you will attend. Notify the other accepted colleges, in writing, of decision to decline their offers.
If you complete an AP or CLEP-able course take the test in May
Submit final requisite documents to choice college – housing, transcripts, financial aid, etc.
Summer
Determine your finances for year one (apply for a job etc.)
Have a great summer!
---
Homeschool High School Parent Guides
Career and Aptitude Guidance & Tests

Give us your best homeschool high school tips and resources below!