Copywork & Handwriting for Grade One: 36 First Lines from Classic Children's Literature
Copywork, dictation, and narration are essential parts of a Classical or Charlotte Mason-esque homeschool. The virtues of copywork are well documented across the Internet. It develops natural skills necessary for spelling, grammar, and writing – so I will not take that tangent. However, if you are unfamiliar with it I suggest starting with the two links above and give the utilization of copywork a bit of study.
Granted that you are here, I will presume you are interested in and/ or are in search of a bit of fantastic copywork!
A few eons ago I ran across an article of lists (are there any other kind, anymore?), "100 best opening lines from children's books". This one is from a UK site Stylist. Around the same time I was looking for handwriting passages and felt copywork would work.
Owing to that, I became inspired to create this little copywork/ handwriting printable based on the opening lines catalogued in that list. And it's free here for you!
Five Options in One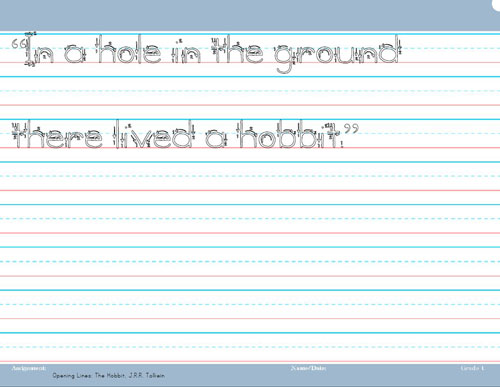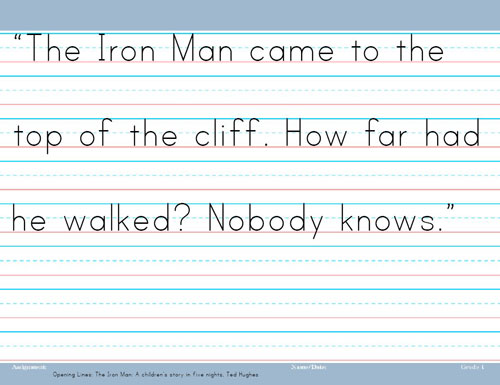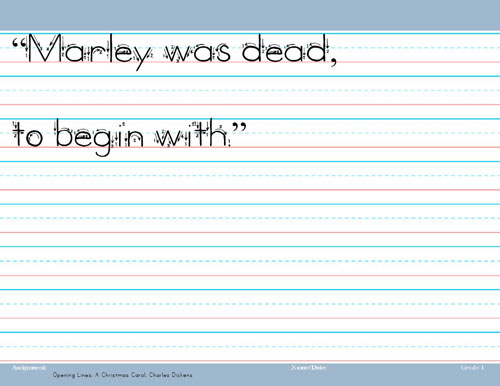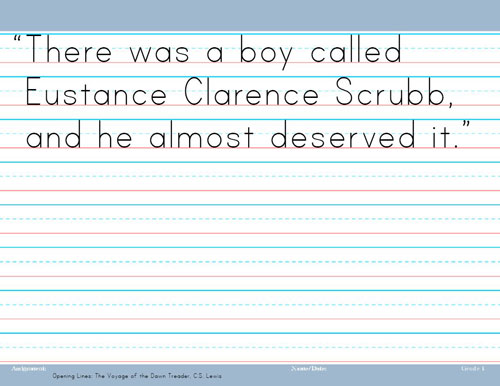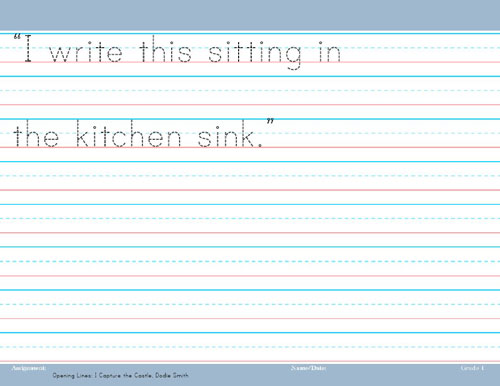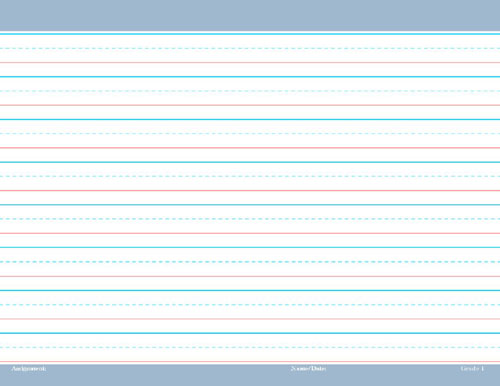 In homeschools it is very common to have several children doing the same thing at different levels. Or, a child on a different "level" than they would be in traditional schools. As such, I have organized the pdf in one file but the same 36 passage are provided in five different options.
There are four different fonts included to adapt to young writers at different levels. The final one has the passage at the top (no skipped lines). I've also included a blank Grade 1 paper for your own inspirations!
The passages are really fun and are from the great works of authors such as Charles Dickens, J.M. Barrie, Edith Nesbit, Roald Dahl, Tolkien, and others. In any case, here it is in all of its graphological glory.
*This copywork can be used for other grades. Comparatively, the line spacing is consistent with Zaner-Bloser first grade 5/8″ horizontally ruled handwriting paper.
Get 36 First Lines Copywork from Classic Children's Literature
Use the button below to subscribe to our mailing list and we will get you access to the 36 First Lines Copywork ASAP!
Have a great day!
More blank handwriting pages HERE