Not Just a Neighborhood Park
When you first arrive at Telge Park it certainly has the feel that you have driven up to a private neighborhood park.  It is in the suburbs and you are, in fact, beginning to drive into a neighborhood. There are houses directly across the street. But, like Transformers, there is more than meets the eye; it is a bit of a hidden gem.  Driving by it looks like many other parks, but it is a Harris County Precinct 3 Park that encompasses 111 acres and backs up to Cypress Creek.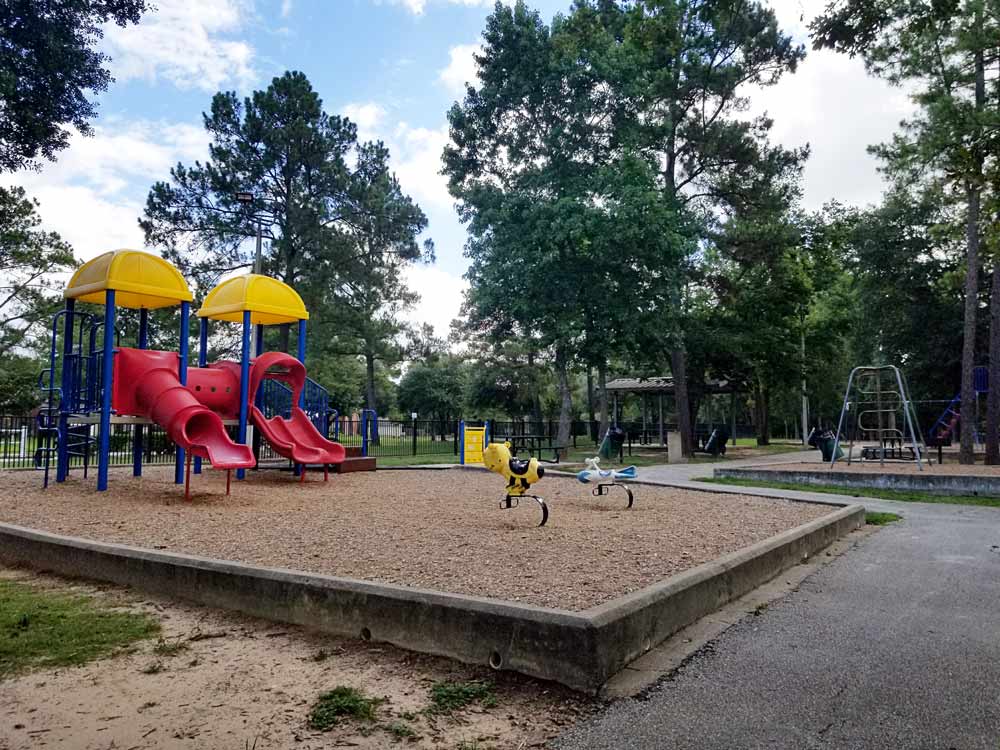 It has the typical play structures but has retained some of the classics too – springy ride-ons, metal climbing bars to nowhere, and a nice high slide (but not the metal kind that burn like fire in the heat of summer).  There is a large amount of open space for games, running, or just exploring – but it is great because it is clear and you can see the kiddos being kiddos.  The wooded areas are quite a way back from the play area.  This is the kind of place you can actually let your kids run and explore their independence, but feel safe that they are still within view.
Additionally, it is a great park as an intro to nature hikes with little ones.   The loop is less than a mile.  The main trails are quite wide, so even if they are a little muddy they are still navigable.  There are smaller trails that people have forged up to the creek but are still well worn enough that you don't have to climb through the brush to get through.  These are great trails for meandering.  If you like plant identification all the locals are here and pretty easy to point out to the kids.  You should easily be able
If you like plant identification all the locals are here and pretty easy to point out to the kids.  You should easily be able to identify beauty berries, muscadine grapes, blackberries, and probably some poison ivy (which is good to know how to identify).  The best part is you are easily in cell signal so you should have no problem Googling on your walk. One of my favorite sites is Merriwether's Foraging Texas – it is awesome.
Location
The physical address is: 12400 Pleasant Grove Rd, Cypress, TX 77429
Parking
There is a small one-way lot.  When overflow parking is needed there are a few spaces on the grass or on the street. Easy to find.
Know Before You Go
There are bathroom facilities available.
There is one first-come-first-serve pavilion with electricity, many benches & picnic tables, and a couple of built-in charcoal grills.
This is an older park so it has a lot of mature trees which lend a lot of shade.  It's a good summer park.
Fishing is allowed in the creek.
Get a lay-of-the-land by checking out the Park Map
Bud Hadfield Park is directly across Telge Rd., but it does not have play structures.