Giving Thanks…with a Full Plate & a Plan
Last year I was just not feeling Thanksgiving. And it was a spectacular mess. This year I feel the spirit and I am really looking forward to a house full. You know what they say? Attitude is everything! But, just in case attitude isn't enough I will be putting all my holiday power into making this a light stress holiday. Step One is a fabulous Thanksgiving Menu. The rest of my Stress-free Thanksgiving plan looks like this:
Plan:
Plan the Thanksgiving menu, the cleaning, the decorating – basically anything in my power. This includes letting others help. Allowing guests to bring a dish takes one thing off my very full plate, frees up the oven space, and lets everyone feel like they are apart of the festivities. Giving yourself the gift of housekeepers the week before an event is also a sanity saver. Otherwise, I suggest a cleaning schedule that saves the vacuuming and mopping for last.
Prep:
Most sides and desserts can be made in advance of the big day. Have you ever noticed how good leftovers are? Yeah, that basically just gives you permission to make everything ahead. It will taste better!
Enjoy:
What gets done gets done. What doesn't – doesn't. There. That's it. I'll do my best until I'm done or tired or turning into a crazy person. Then I will stop because what I will have done will be enough and my family likes me better when I am nice and sane. They don't really care if everyone gets a hand-lettered place card.
---
Thanksgiving Menu
Appetizer
Main Dish
Rotisserie Turkey: If you have never rotisseried a turkey this is definitely something you should do!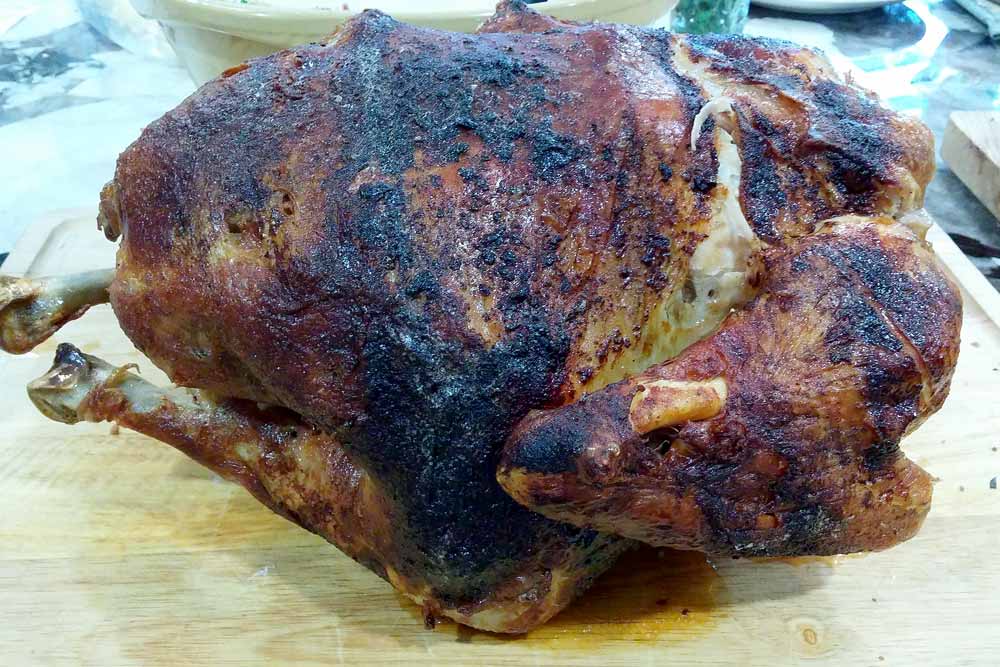 Side Dishes
Simple Dressing (a.k.a. stuffing when you don't shove it up a bird's backside): Normally I do an awesome cornbread dressing with chestnuts and cherries and deliciousness. But, in an effort to streamline my Turkey Day I will be giving the Epicurious "Simple is Best" Dressing a go. It definitely is simpler than baking my own cornbread and then turning it into croutons. (Update: It was great and everyone liked it. Like the LBD of dressings)
Pan Gravy: Pan gravy is an art, following a recipe for it is hard. Read some recipes, watch some videos (thekitchn.com has a nice tutorial), but in the end, you are going to have to rely on your senses smell it, taste it, watch it. In general, for two cups of gravy, you will need 1/4 cup fat (add butter or oil if you do not have enough), 1/4 cup of flour, and 2 cups pan drippings combined with stock. To kick it up add salt and pepper to taste and a tablespoon of soy sauce.
Crockpot Green Bean Casserole: My guests are bringing these but if you are responsible I love the idea of doing these is a crockpot. Again saving that precious oven space is paramount. This is the recipe I would try this year, with the fresh green beans option. This recipe calls for cheese. If it is against your Thanksgiving morals to put cheese in the green beans then you can definitely just omit it. The rest of the recipe is quite traditional.
Praline Sweet Potatoes: This year one of my lovely guests will be bringing this dish, but this recipe is one I have made for years and is wonderful!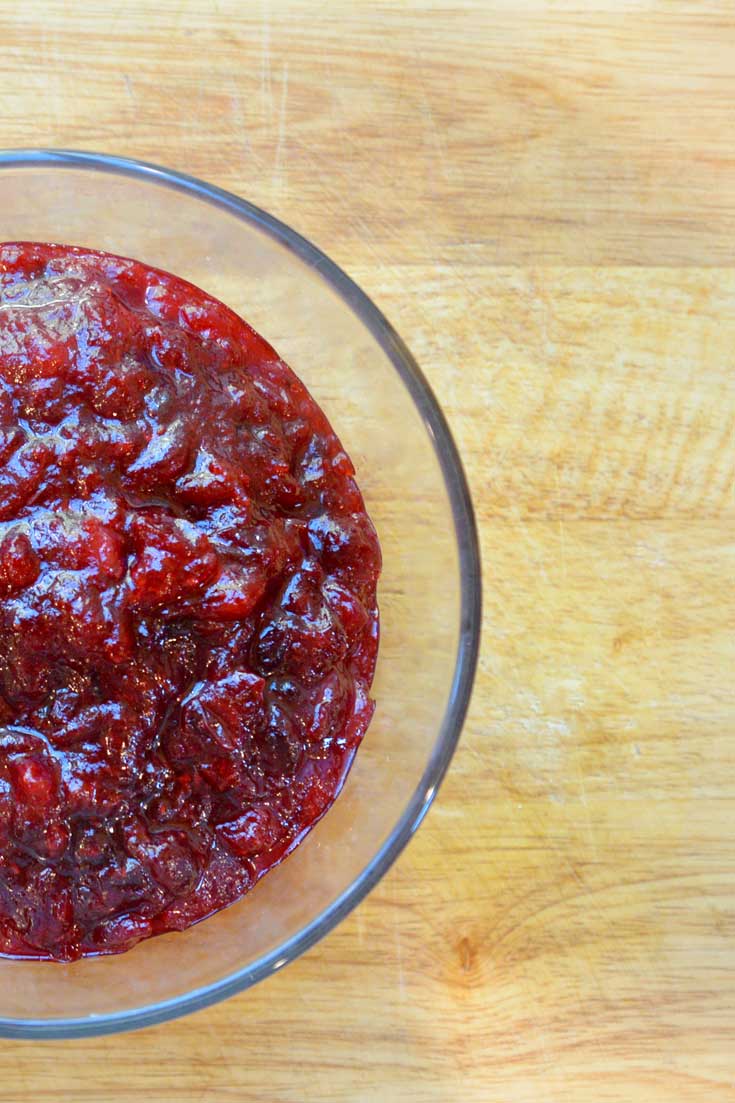 Crescent Rolls – Or brown and serve, just do something easy and purchase them already made or can style.  This is one place extensive effort will be wasted.
Desserts
Cherry Pie: Use the filling from this recipe but you can substitute canned sour pitted cherries (in water and drained) for fresh it is way cheaper and easier!? But, definitely add more cherries, at least 3 cups. I prefer this pie crust recipe (that says explicitly how to freeze it) and it also makes a bit more. I like having more to work with!
Pumpkin Pie with Whipped Cream: See side of the can, Libby's has pretty much nailed this one (though we do like to double all the spices). One trick for a smooth and creamy pie is to run your pumpkin puree through a food processor. Fresh whipped cream is my favorite but if you run out of time Cool Whip is a crowd-pleasing option. This whipped cream won't melt so you can make it a little in advance.
Drinks
Coffee, Soda, Water
Beer and Wine
Hot Butter Beer – I've been telling my kids we would make this for two years, seems like a good opportunity! Plus, we'll have that fresh whipped cream on hand…(Update: We did it and they were super excited. It was great!)
---
Thanksgiving Week Plan
The Weekend Before
Decorate & Plan: Set up your table and figure out what furniture, flatware, serveware, etc. you are missing or need. Arrange to get or borrow those ASAP.
Shop: Groceries – this is a great week to grab some frozen pizzas and ready-to-eat meals, too!
Monday
Cleanup: Bathrooms
Shop: Liquor Store
Decorate: If you haven't already dusted off your decorations do that now and sift through what you will be using.
Cook:
Orange Amaretto Cranberry Sauce (doubled)
Praline Sweet Potatoes (doubled) – Peel and boil sweet potatoes, mash and blend recipe up to the part where you cook and prepare the topping, cover and refrigerate. Prepare the topping but leave store it in an airtight container. Crumble on top before you bake on Thanksgiving day.
Tuesday
Cleanup: Dust Furniture & Clean glass surfaces
Decorate: As desired, make sure to put out your kids' handprint turkeys!
Cook:
Make 2 Pie Dough recipes and freeze the four dough discs
Make pumpkin and cherry pie fillings, store in airtight containers
Wednesday
Cleanup: Kid's Tidy Rooms; General House Pickup; Sweep, Mop, and Vacuum
Decorate: As desired, try to be done by today.
Cook:
Goat Cheese Log
Dressing (2 – 13″ x 9″ pans)
Thursday
Cleanup: Make beds; Empty Dishwasher; Take out Trash; Whatever mess is still mucking about stick it in a basket and/or shut the door.
Prep: When you finish coffee in the morning immediately clean and set up a new pot, so it's ready to turn on after dinner.
Cook:
Crockpot Green Bean Casserole (doubled) – Get this going about three hours before it's time to eat
Praline Sweet Potatoes (30-45 minutes) – spread topping and bake
Turkey (give yourself 15 minutes per pound – defrosted and unstuffed, as well as time for it to rest, about 30 minutes)
Rolls in the oven while turkey rests and you make gravy
Gravy (doubled: 1/2 cup fat (add butter or oil if you don?t have enough), 1/2 cup of flour, 4 cups pan drippings combined with stock, salt, pepper, and a tablespoon of soy sauce (optional)
Whipped Cream (doubled) – this should take less than ten minutes so I like to make it fresh after dinner.? But, it could be made earlier in the day as well, this recipe will stay stable for several hours.
Butter Beer (tripled)
Here is a printable version
---
Thanksgiving Menu Shopping List
Need a shopping list? Well, we have that too! This is everything referenced in the above Thanksgiving Menu. (Note: I am scaling all my recipes up to feed 12-16 people, plus leftovers, and the quantities below reflect that)
Produce
1 bunch fresh parsley (I prefer Italian Flat-Leaf)
Fresh Sage
Fresh Rosemary
Fresh Thyme
3 lbs. fresh cranberries
2 oranges (for zesting)
6 large sweet potatoes
3 lbs. green beans
9 yellow onions
1 bunch of celery
Misc. produce for stuffing inside the turkey and putting in the dripping pan (carrots, onions, celery and a lemon)
Dairy
1-8 oz. log of goat cheese
1 1/2 c. orange juice
16 eggs
4 c. heavy cream
1 3/4 lb. butter (7 sticks) + butter for basting your turkey
16 oz. sour cream
7 c. milk
1 c. shredded cheddar cheese
1/2 c. shredded parmesan cheese
Meat
Turkey
Bakery
2 lbs. good-quality white bread (if you are buying this on your regular grocery run be sure to store it in the refrigerator so it doesn't mold)
Middle of the Store Miscellany
1/3 c. Dried Cranberries
1/4 c. walnuts
2 1/2 c. + 1/4 c. pecans
Crackers/ Crostini (for cheese log)
2-10.5 oz. can Cream of Mushroom Soup
2-6 oz. cans of French Fried Onions
5 c. chicken broth
3 c. shortening
3 c. canned or frozen sour pitted cherries, drained
1-15 oz. can Pumpkin Puree
1-12 oz. can evaporated milk
Butterscotch topping
3 c. cream soda
Coffee
Soda/ Tea
Water
Pantry (items you are likely to have on hand)
Cinnamon
ginger
cloves
Honey
3 3/4 c. granulated sugar
2 3/4 c. packed brown sugar
1/2 c. confectioner's sugar
8 c. all purpose flour
10 tsp. cornstarch
1/4 c. + 1/2 tsp. vanilla extract
1/4 tsp. almond extract
1 tsp. garlic powder
1 Tbsp. White Vinegar
Soy Sauce
Salt and pepper
Other
Vanilla Ice Cream
6 Tbsp. Amaretto
Beer & Wine
Get a printable list here.
Happy Thanksgiving!
For more ideas check out our other menus and Thanksgiving Day Plans (2016) and our Thanksgiving Board on Pinterest