Oh, Christmas Cards! Oh, Christmas Cards!
I am not sure if anyone has ever noticed but I love my computer.  I love how fast it connects, how much data it can store, and how it makes my little projects look so pretty.
What used to take me hours and endless test print pages now, well, it still takes hours (but the output is so much better and it's mostly because I'm a little OCD and now I can easily change variables on my projects with ease and aplomb).  Long ramble shortened, whenever you see one of my wee little computer-assisted creations I probably have made at least four other variants.
This year, instead of the usual Publisher cards (though, don't worry or forsake me I still love you Publisher) I looked to a bit more professional help.  I'm out of time.  My brain is fried (Congratulations 2010, if that was your diabolically evil plan, you have succeeded).  My creative juices are shriveled.
So far, in my many incarnations of card hunting (am I really saving myself any time?) I turned to Shutterfly.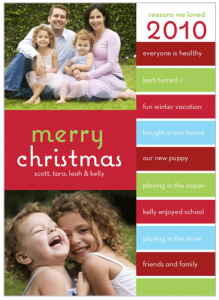 I really love this card (not much pun intended – it's name is Love 2010).  I like hearing about other people's lives.  So when I get one of those year-in-review cards I sit down and read it.  Unfortunately, as much as I blog about myself and family, I just cannot figure out how to get my own year-in review written in a way that I don't feel like I'm bragging or complaining.  So, when I saw sweet little Love 2010 I thought surely I could come up with nine slots worth of info.  Believe it or not, my nine slots were full of bragging and complaining or other people's business.  It went a little something like this:
5 Trips to the Zoo
Saw snow in Denver
A sibling's divorce
Broke my SLR
New House
Another sibling's divorce and etc.
Dave impaled himself with a palm tree
Baby Sister spent the summer with us
Baby Sister broke my heart by giving up on my Aggie dream for her
Lasik
Our sweet little pig-dog Lola died
Amazing trip to Israel
Deep, unfathomable, useless, Depression and Anxiety regarding the fear my Lasik flap will fall off and I'll be blind forever
Wonderful visit to Washington.
See?  A little depressing.  I know that's more than nine but I'm long winded…
Basically, that means the year in review card is out.  (And, upon further reflection I don't think that card would have worked, just on principle.  I did not Love 2010.)  Fortunately, there were so many other good choices.  Here's another one I considered: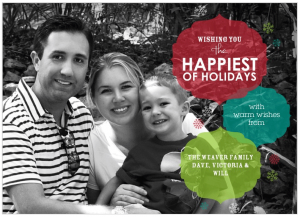 Wouldn't we look adorable! Like a family!
I think this turned out to be more work than just making one myself!  Anyway, Merry Christmas! Happy Holidays!