The Best Eco-Friendly Laundry Detergents…and some to Avoid
What do eco-friendly laundry detergents have to do with potty training? Well, way back in time I had a boy who was completely potty trained except for one small hitch. The occasional bed wetting and a diaper request to stand in a corner and poop.
For real.
This is where my foray into eco-friendly laundry detergents began. I did not have a glorious sunny moment full of lavender scented dreams when I decided to look into cloth diapers. I had an economical moment where I realized I was literally buying something for my son to poop in and throw away. And, I thought to myself, that is a gigantic waste of money!
Then I fell down the cloth diapering rabbit hole. It is a world in and of itself and could easily take over this post about finding the best eco-friendly laundry detergents. So, I will not digress but to say that cloth diapers have their own unique laundering needs and most eco-friendly laundry detergents are appropriate to use with cloth diapers.
Me being me did not feel like messing with multiple detergents so the entire family's laundry switched. Turns out, updating the family to eco-friendly laundry detergents was a good choice because our second son has sensitive skin and always gets bumps if we use regular detergent. Now, after using the unscented (or mildly) for so long I find the smell of regular detergents too strong and unpleasant. But, too each their own! If you are here you are probably looking for the same things I look for in laundry detergent – an economical eco-friendly laundry detergent with cleaning power.
Not to mention eco-friendly detergents have the added bonus of helping to create a healthier ecosystem by avoiding adding phosphates and surfactants to the environment. They are gentler on your fabrics and your skin. And, many are small family run businesses – so there you go supporting them!
---
Environmentally-Friendly, Eco-Friendly, Green, Natural
Eco-friendly laundry detergents are available far and wide. The market has evolved rapidly. Many people still make their own. However, you cannot make a chemical detergent at home and soaps do tend to leave build up.
And, awesomely, there are many more budget-friendly options than there were ten years ago. So, in the interest of my time being worth money, buying eco-friendly laundry detergent has become my preferred go-to.
But, what makes it eco-friendly? Unfortunately, these terms can be used with aplomb. The only certified seal is the USDA Organic seal which ensures that at least 95% of the ingredients are organic. A few things to look for are:
Biodegradability
Freedom from 1,4-Dioxane, petrochemicals, and formaldehyde
N.O.P.-certified organic essential oils (a USDA certification)
Safer Choice designation from the U.S. EPA
We will also reference each detergent's EWG rating. The Environmental Working Group is a non-profit, non-partisan organization that rates all sorts of products on an A-F scale in the interest of clarity for the consumer about a product's ingredients and process. However, be aware that some products do not divulge their ingredients and as such EWG cannot rate them.
How to Measure the "Best"
We will take several factors into consideration when looking at eco-friendly laundry detergents – Price, Eco-Friendliness, Reviews, and Availability. The best detergent in the world is not going to be a staple if you have trouble getting it in a timely fashion. Or if it is cost prohibitive. Many people use special detergent for their cloth diapers or kids' clothing just for this reason. At the end of the day, we want to know if you like it and how well it works!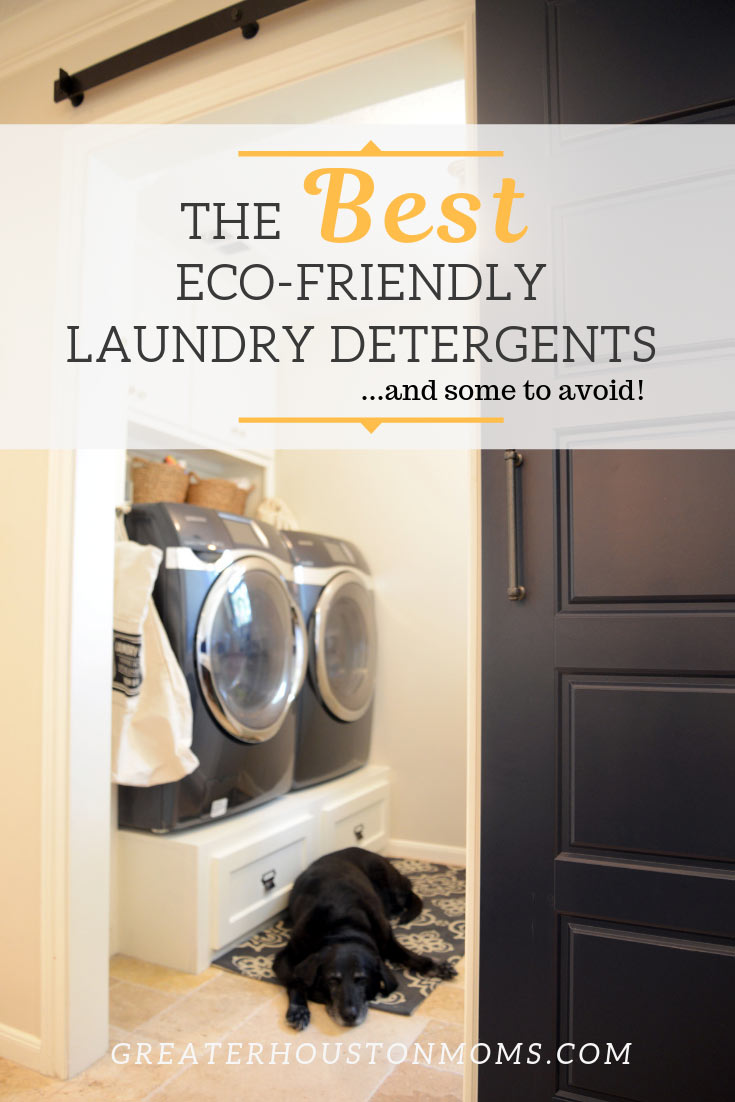 ---
25+ Eco-Friendly Laundry Detergents
---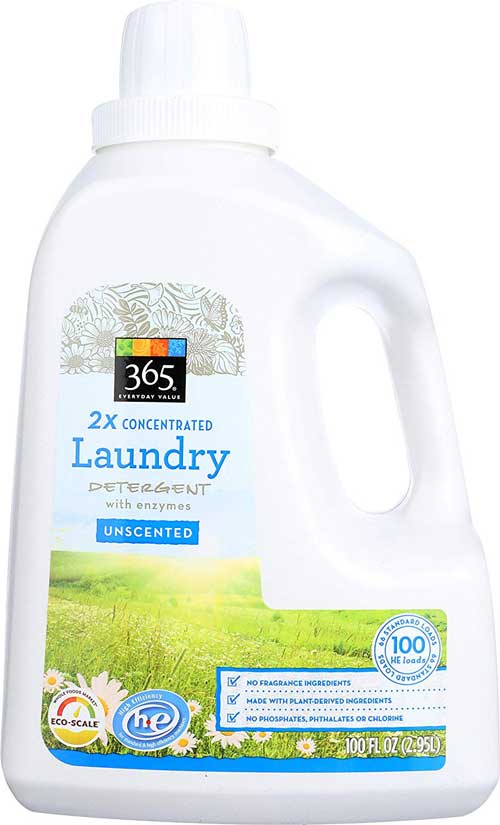 365 Everyday is a well-vetted affordable eco-friendly detergent. If you have Prime Delivery it makes it a widely available option as they will deliver it to your door in 2 hours.
Price per load: $0.15
Eco-Friendly: EWG Rating A
Reviews: This is a solid five-star detergent. Nearly every negative review was in reference to packaging. Users are happy with its cleaning power and safety for those with skin sensitivities.
Availability: Amazon and Whole Foods
Septic Safe: Yes
---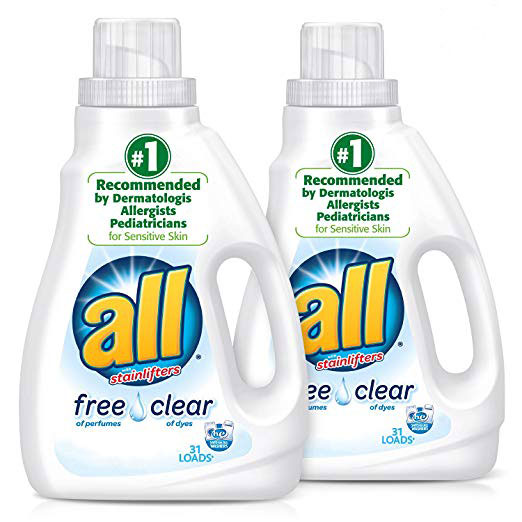 If you are running to the store and don't know what to grab. Probably wearing the cleanest dirty clothes you have. This is an easy one to grab. You can find it in many stores and it ticks all the boxes of economical, no dyes or fragrances, and good washing power.
It does not claim to be eco-friendly (its EWG score reflects that) – it is made by a super large corporation. But, it does clean well, is hypo-allergenic, and comes in at a nice price point. Plus, you should be able to find coupons for it.
Price per load: $0.10 – $0.12
Eco-Friendly: EWG Rating D
Reviews: This is a highly rated detergent. Particularly those with skin issues appreciate it truly being "Free & Clear."
Availability: Easy to find in stores and online – Amazon, Target, Walmart, Costco
Septic Safe: Yes
---
Attitude Laundry Detergent, Pink Grapefruit, Little Ones Fragrance-Free & Night Laundry in Soothing Chamomile, Sensitive Skin & Baby Laundry Detergent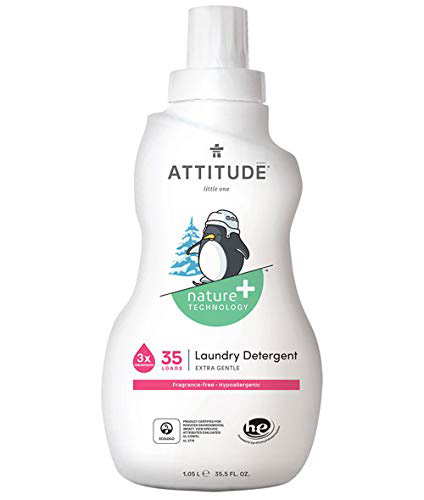 This detergent brand is well-liked for its commitment to the environment (biodegradable, low aquatic toxicity), no animal testing, and helping with allergy prone skin (endorsed for those with eczema).
Price per load: $0.41 – $0.54
Eco-Friendly: EWG Rating A (the Ylang-Ylang, Lavender & Grapefruit, and Eco-Pouches all rate lower)
Reviews: With the exception of the Little Ones Fragrance-free all the other variations rate average to good. The Little Once Fragrance-Free is rated very highly. Reviewers say it is good with stains, good for skin conditions, and is fragrance-free. Most negative reviews on this brand are is a reference to packaging – some bottles from Amazon leaked or were damaged. However, Amazon replaced them. Another issue is the consistency is quite thick and many felt they needed to use more than the recommended amount. Which significantly increases the price per load.
Availability: Amazon and Walmart
Septic Safe: Yes
---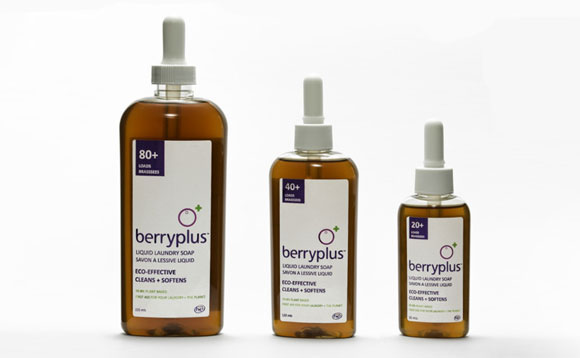 Berryplus is one of several relying on the Sapindus tree – the one that grows soapberries. They pride themselves on producing an extremely eco-friendly product – touting that their detergent "grows on trees." More than 95% of the ingredients are simply berries and water. It is super concentrated which also means less packaging.
All that being said, if you find it for sale it is probably old as the domain is for sale and no new product has been produced for several years. What is available is old stock or fake.
Price per load: $0.25 – $0.55
Eco-Friendly: EWG Rating A
Reviews: Gentle for your skin as it has no fragrance or allergens.
Availability: Highly limited – they are out of business
Septic Safe: Yes
---
Well liked detergent. Many remarked it does well with colors but you should pretreat stains. A large pump refill is available.
Price per load: $0.22 – 0.24
Eco-Friendly: EWG Rating A
Reviews: Has the most positive comments about the scent. People really enjoy it. Overall, it is rated a little lower than similar products on cleaning power.
Availability: Online an in some stores, like Bed, Bath, and Beyond
Septic Safe: Yes
---
Biokleen is a very popular green alternative. It is widely available and as such price varies based on store and variation. You should easily be able to find it on the lower end of the price scale and it is available on services like Amazon's Subscribe and Save for an extra percentage off. It's Citrus Essence Laundry Liquid as 100 percent plant-based. Cardboard bottles for refills reduce waste.
Price per load: $0.07 – $0.34
Eco-Friendly: EWG Rating A for all detergent variations
Reviews: Excellent reviews with few negatives
Availability: Online and in some stores
Septic Safe: Yes
---
Boulder's price varies greatly on the type of machine you have. Like most other dual-purpose detergents HE machines will get twice as many loads. It is Leaping Bunny certified, biodegradable and free of a lot of nasty stuff. If you are looking for a green option do not let the EWG rating necessarily scare you away. There are a couple of ingredients of note but it is still going to be a better choice than a lot of mainstream detergents.
Price per load: $0.20 -$0.42
Eco-Friendly: EWG Rating D for packs and F for liquid
Reviews: The majority are positive and the scent is described as mild.
Availability: Online and often at Whole Foods
Septic Safe: Yes
---
Charlie's Soap Powder has a bit of a cult following in cloth diapering circles. You can find thousands of reviews and the majority are positive. It is our experience, that like many of this type, it is probably good for clothes that are not too dirty but you may need something stronger for heavily soiled clothes and stains.
Price per load: $0.15 – $0.18
Eco-Friendly: EWG Rating A (the liquid version only receives a D)
Reviews: This is one green cleaner with thousands of reviews. The vast majority love it. Some claim that it leaves a film in front-loading washers with hard water and build up in pipes. There are also reports of skin rashes.
Availability: Easy to find online and several places in stores
Septic Safe: Yes
---
Common Good's detergent is certainly on the pricier side but it has excellent reviews. Also, their dedication to limiting non-recyclable plastics is on point. Previously, they only relied on refill stations located throughout the country. But, now they are offering refill boxes. Either way, this means you can reuse the recyclable bottle over and over again. The detergent itself is made from 100 percent biodegradable compounds. While available on Amazon, the best price we found is through their website.
Price per load: $0.30 – $0.47
Eco-Friendly: 100% biodegrable compounds, not rated on EWG
Reviews: Excellent, particularly in regards to the scent
Availability: Online
Septic Safe: n/a
---
Eco-Me is fairly well rated. There is only one size packaging option and it is not very large. It is available on Amazon but not on its own company's website which may be of concern for continued availability.
Price per load: $0.21 – $0.30
Eco-Friendly: EWG Rating A
Reviews: More good reviews than bad.
Availability: Online but currently out of stock on their own website.
Septic Safe: Yes
---
Eco Nuts are completely natural. It is a box of dried soapberries, which contain a naturally occurring surfactant which cleanses laundry. They are also reusable and affordable. The company does recommend their liquid detergent for front-loading HE machines.
Price per load: $0.08 – $0.12
Eco-Friendly: n/a
Reviews: Many really love this option, a minority amount were ambivalent or did not like their cleaning performance.
Availability: Online
Septic Safe: Yes
---
Extremely well reviewed, readily available detergent with a great price tag. Low EWG rating due to certain ingredients and most low or critical reviews are in regards to skin irritation. If you have sensitive skin you may want to try another detergent.
Price per load: $0.08 – $0.14
Eco-Friendly: EWG Rating C
Reviews: Excellent
Availability: In store and online
Septic Safe: Yes
---
The Ecover Zero Laundry Liquid Concentrate is readily available online (often called Ecover ZERO 2x Laundry Detergent). It has excellent reviews. The unscented has a high EWG rating but the Lavender Field is only rated a C. Though, they are both reviewed well in regards to cleaning power.
Price per load: $0.23 – $0.36
Eco-Friendly: EWG Rating A
Reviews: This detergent is very highly rated for laundry efficacy. Most critical reviews are in relation to packaging and the bottle design leading to dripping.
Availability: Online
Septic Safe: Not Specified
---
Fit Organic Baby Laundry Detergent has a wide range of prices depending on where you purchase, how much you purchase at once, and how much you use. Though, it is readily available online. The reviews of this detergent are some of the strangest with many reports of the detergent working fine but shortly growing mold. Not a great thing for cleaning your clothes!
Price per load: $0.06 – $0.21
Eco-Friendly: EWG Rating A
Reviews: Those who say it works say it works well. Many report mold growing shortly after opening.
Availability: Online
Septic Safe: Not Specified
---
Available as a pod and loose powder. Overall, very good reviews and many say it works for stinky gym clothes. The pods are more expensive and you will need to use two for larger loads, which will up the price per load. One of their fragranced options is available for Subscribe & Save on Amazon which, if you use this service, could save you up to 15% and free shipping.
Price per load: $0.15 – $0.27
Eco-Friendly: EWG Rating A
Reviews: Mostly very good in regards to washing power. Most of the critical reviews were in regards to their scented options (which have an EWG rating of B) for being too strong. However, many people remarked that they loved it.
Availability: Online
Septic Safe: Yes
---
Greenshield Organic's price varies wildly across the Internet and is largely based on how you use it (standard or HE machine) and how much you buy at once. But it is widely available. If you shop at Vitacost or the like you will get the best deal.
Price per load: $0.14 – $0.42
Eco-Friendly: EWG Rating A
Reviews: Mostly positive for use as a basic detergent. Several reviewers mentioned they used something else for very dirty work/ workout clothes. Many of the bad reviews reference packaging issues unrelated to the product.
Availability: Online
Septic Safe: Yes
---
While the reviews available are positive it is only available two places online. If you live near Denton, TX you may be more inclined to give this one a try. The price is reasonable for this type of detergent (and the same in both places it was sold). If you are looking for a break you will probably have to keep watch for shipping coupons.
Price per load: $0.15-$0.16
Eco-Friendly: EWG Rating A
Reviews: Due to its low availability there are also few reviews. The ones we found were positive.
Availability: Locally in Denton, TX area and in their online store
Septic Safe: Yes
---
There are not many powders on our list and that may be because they are so easy and cost effective to make at home that many manufacturers opt for liquid detergents. The price for the powdered detergent is variable based on your machine but the reviews are good. If you are leaning this route I would encourage you to try your hand at whipping up a batch of detergent at home. It will be a lot cheaper. There are about 4 cups of detergent in the packaging. You could make 4 cups of detergent at home, with comparable ingredients, for about a third of the price.
Price per load: $0.15 (standard) – $0.30 (HE)
Eco-Friendly: EWG Rating A for all scents. Low waste packaging and they even give you an option whether or not you would like the plastic scoop.
Reviews: Most reviews are very positive. There are some negative from those who either found it ineffective or too dusty. If it is anything like the stuff you can make at home the "dustiness" should settle or you could put it in a bigger container that pulls less of a vacuum when you open it.
Availability: Online only
Septic Safe: Yes
---
Like its 4x counterpart below, Method 8x is very well liked. This option can definitely be on the pricier end of choices but it does offer a refill which is nice and can bring costs down if you continue to use the product. However, if you are a large-load family this may not be cost-effective – even in a concentrated option.
Price per load: $0.18-$0.32
Eco-Friendly: EWG Rating B (Fresh Air & Lavender Cedar Scents scored a C). 85% of the ingredients are derived from plants. The packaging is made from 50% recycled plastic.
Reviews: People really like this detergent. Many negative reviews are more about shipping practices so if you buy online do so from a reputable vendor that will handle any issues, should they arise.
Availability: Online and in stores
Septic Safe: Yes
---
Method has high visibility and availability. This is an option that can be picked up while you are out running errands or put on an automatic subscription service. If you like scented detergent it has some of the best reviews for smells.
Price per load: $0.17-$0.20
Eco-Friendly: EWG Rating D; The bottles are made from 100% recycled plastic. The detergent formula is plant derived and free of formaldehyde, parabens, chlorine, phosphates, phthalates, and DEA.
Reviews: One of the main things people like about this detergent is also the thing other people dislike – the scents. If you like scents Method might be good option. If not you should try the option without scent or another product. Overall, people liked the cleaning ability.
Availability: Online and in stores
Septic Safe: Yes
---
Molly's is well known in the cloth diaper world. It is not the cheapest or the most expensive and the reviews on it are good but not great. Those who love it really love it and those who don't really don't.
Price per load: $0.16-$0.20
Eco-Friendly: EWG Rating A – No harsh chemicals, no fillers, no essential oils, no enzymes, no fragrance
Reviews: It is definitely a great soap for cloth diapers and many are happy switching over to Molly's for all of their laundry needs. However, some people noted reactions and many with hard water did not like it.
Availability: Online retailers
Septic Safe: Yes
---
Mrs. Meyer's has name recognition galore, cute packaging, and great scents. While their products generally are natural and free of many questionable ingredients there are some ingredients that may trigger sensitive skin so take time to research your options. In a pinch, it will probably be an okay choice.
Price per load: $0.15-$0.24
Eco-Friendly: EWG Rating C (except Scent Free which is scored an F), 97% of the ingredients are derived from plants
Reviews: The reviews for Mrs. Meyer's are all over the board. Some love the scent, some hate it. Generally, it is reported as working really well – even getting deodorant out without issue. Others say it can't conquer the unique stench of teen boy. It is also purported to irritate skin issues like eczema. It does tend to be a bit pricey but one bottle goes pretty far.
Availability: Readily available in stores and online.
Septic Safe: Yes
---
This one fluctuates in price a bit. As long as you can snag a good deal it is a good pick for eco-friendly laundry detergent. I used this one for several years when we cloth-diapered until I could not find it locally for a while.
Price per load: $0.21
Eco-Friendly: EWG Rating A, 100% biodegradable and not tested on animals, does not contain any added fragrances, dyes, artificial brighteners, enzymes or synthetic preservatives.
Reviews: Very well rated and reviewed detergent.
Availability: Occasionally in stores and easily found online
Septic Safe: Yes
---
These well-reviewed packs come individually sealed in dissolvable PVA film. So, even if they get crushed in shipping you can still throw the entire pack in the washer and it will dissolve and release the detergent. These types of detergents are great for travel and this one is well-rated enough you may want to give it a try.
The non-pack powdered versions are also rated equally well without the pack problems of dissolving – Free & Clear, Real Citrus & Wild Lavender, and White Flower & Bergamot.
Price per load: $0.25-$0.29/ load
Eco-Friendly: EWG Rating A, Free from fragrances, dyes, or artificial brighteners. EPA Safer Choice Certified Product and USDA Certified Biobased Product 94% made with plant-based ingredients.
Reviews: The main complaint is when they do not dissolve all the way. More often than not it is people reviewing cold water loads. This may be a good option as long as you can use at least warm water. But, when they work people are generally very happy with their efficacy.
Availability: Some grocery stores and major online retailers.
Septic Safe: Yes
---
This is a Goldilocks of detergents in that it is well liked, eco-friendly, good for standard or HE washers, hot or cold water, hard or soft water, and affordable. For those mamas who have been making your own detergent and you are tired. This one could be a viable alternative.
This is on regular rotation in the GHM household.
Price per load: $0.10-$0.14/ fl. oz.
Eco-Friendly: EWG Rating A, 100% Plant-Based Ingredients, No Harmful Synthetics, Perfumes, Preservatives or UV Brightener, Kosher, Vegan, Cruelty-Free & Made in the USA
Reviews: Reviews are much more positive than negative. Some of the negative comments were about the scent being off but more recent reviews have stated that the problem was corrected. Perhaps buy one bottle to try out the scent before committing to the big one.
Availability: Readily available online at major retailers. Possibly it will be found in stores.
Septic Safe: Yes
---
If you are looking for something completely different, this is it. Tangie's Laundry Paste looks like a bar of soap but is softer so you can easily cut it. Each bar makes 1 gallon of detergent. By providing just the concentrate Tangie's is dedicated to being a responsible manufacturer and reducing waste. You can reuse an old
laundry jug and just add water and let your concentrate dissolve.
Price per load: $0.09/ load
Eco-Friendly: EWG Rating A, the base of the concentrate are soap nuts and several other natural ingredients. It is phosphate-free, dye-free, and free from optical brighteners. They have not gone through the expense to become certified organic but are Leaping Bunny and Green America certified. Made in the USA
Reviews: This is a small company and though there are fewer reviews they are all very good. If you are serious about reducing your waste this is the one to try!
Availability: Available online
Septic Safe: Yes
---
This detergent is appropriate for regular and HE machines. It is a pricey option and probably not the place to start unless you are building a box on The Honest Co. and just need a filler.
Price per load: $0.32/ load. And it is suggested you use two packs for large or heavily soiled loads.
Eco-Friendly: EWG Rating A. Made without SLS/SLES, Fragrances, Dyes, MEA/DEA/TEA, Formaldehyde Donors, Chlorine Bleach
Reviews: Overall, reviews are fairly poor. Some negative reviews are from the pods arriving as crushed up powder others say the pods are so hard they don't even dissolve in hot water. On the positive side they are grab and go and good for travel.
Availability: This item seems to have been dropped from many retailers. It can still be purchased from The Honest Co. site and a few other online retailers.
Septic Safe: Not available from The Honest Co. but the Amazon page mentions it beign septic-safe.
---
This detergent is appropriate for regular and HE machines. It is a well-liked option though not an entirely green one. It may be a good option for die-hard Tide families looking to take a step into the eco-friendly world. Or for the occasional load that milder detergents just can't get the funk out of.
Price per load: Between $0.15-$0.30/ fl. oz.
Availability: Easy to find in stores and online.
Eco-Friendly: 65% of the ingredients are derived from plants, the rest contains some petroleum-derived ingredients. Formula made with 100% renewable wind power electricity and made at a zero manufacturing waste to landfill site. Free of dyes, chlorine, phosphates, and optical brighteners (unscented is also free of perfumes)
Reviews: Generally a four to five-star detergent. Many of the negative online reviews are related to the bottles not being full or suspected dilution.
Septic Safe: Yes
---
Final Thoughts on Eco-Friendly Laundry Detergents
This has become quite lengthy so we will conclude by saying if you do not see a detergent here there may be a few reasons. The first is that it may be hard to get. If it is only available in one place it likely got skipped. Another reason is – it is new. We just may not have gotten there yet. And, lastly, it may be out of business. There is a lot of overstock on the web. But, if the parent company is caput we likely passed on it.
If you are still having stink problems – like gym or yard clothes – consider a few options. First, try a 30 minute to an hour pre-soak of vinegar and water. Another option is using hot, hot water and reducing the amount of clothes you put in the washer. Give them room to move and swish. You can also add up to 1 cup of baking soda to the wash. And, my favorite is using white vinegar in place of fabric softener.
Now, check out the simple round up of eco-friendly laundry detergents and let us know your opinion below in the comments!
Highly Rated
Economical – All available for under $0.10 per load
Widely Available
Don't Bother
Best Smelling
Most Eco-Friendly
What is your experience with eco-friendly laundry detergents? Do you have one you love?